Davis Who? How a 28th-round pick turned into the Blue Jays' August surprise
Gaelen Morse / Getty Images
CLEVELAND - If one collected every player to ever take the field in major-league history and placed them in Fenway Park, there would still be plenty of seats available. Davis Schneider debuted in the 111-year-old ballpark last week to become the 23,036th player to play in the majors.
And what the Toronto Blue Jays' rookie sensation did there with his second big-league swing, lifting a ball over the 37-foot wall in left field, puts him among even more select company. The number of players who've homered at Fenway stands at 2,170.
Rarer still is to be one of the 1,334 players who've homered there multiple times. Schneider did just that when he went deep again in only his third career game.
Among these extremely small fraternities, Schneider is one of the least likely members.
Blue Jays fans probably know some of Schneider's story. His late draft slot - the 28th round in 2017 - no longer exists in baseball's slimmed-down selection process. Schneider could be the last player with such a story.
To make him more beloved, he wears a thick mustache and rec specs. He grabbed the Mizuno infielder's glove he uses from the lost-and-found at the offseason training facility where he coaches (many minor leaguers need second jobs).
"I like the way it looks. I thought it was kinda cool," Schneider told theScore this week in Cleveland. "I practiced with it in the offseason. I said, 'I'm just going to use it.'"
But the best part of Schneider's story is how he got here.
His story is one of work, waiting, doubting, keeping faith, and a lot of ground beef (more on that below).
The only school that offered Schneider a scholarship out of Eastern High School in Voorhees, New Jersey, a suburb of Philadelphia, was in-state Rutgers, hardly a college baseball powerhouse.
Later-round high school picks often elect to go to college to try and improve their draft standing. But Schneider, the 849th overall pick in 2017, bet on himself and took the $50,000 bonus.
"It might be the only chance you are going to get," Schneider said. "I might do terribly in college during the next three years. I might not get a chance again. Whether it was the 28th round or the first round, I thought I was good enough to get my foot in the door and run with it."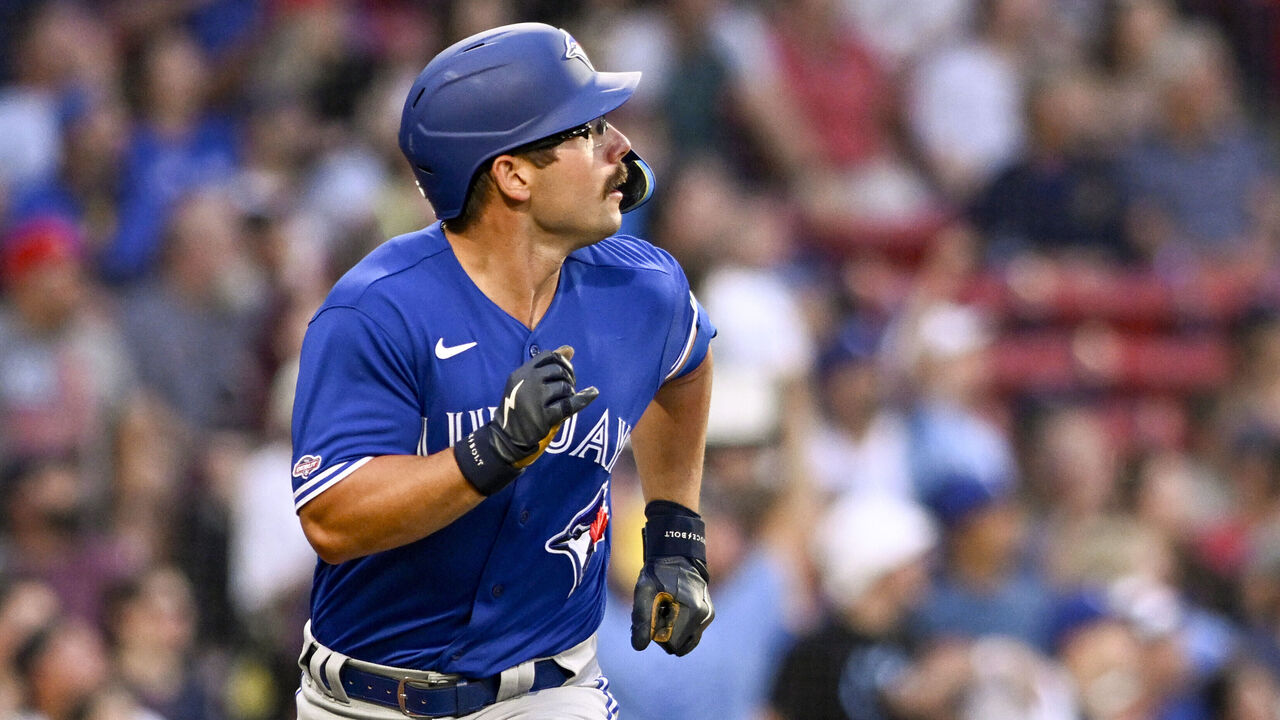 But not all draft picks are treated equally. That's the hard truth of the business, says Joe Sclafani, the Blue Jays director of player development.
Even if all minor leaguers have the same access to coaching and training resources in the system, playing time is scarce. Prospects get the playing time, not the Davis Schneiders of the world.
"He was never a priority - that's unfortunate to say," Sclafani said. "There were always guys who were ahead of him priority-wise to get playing time up until last year. He wasn't that guy.
"Generally, you have to earn those opportunities. Others are going to get chances before you. That's the unfortunate reality of our game."
Schneider signed in 2017, but never exceeded 216 plate appearances in his first four minor-league seasons. It's difficult to get better at baseball when you're not a regular.
"When you don't play that regularly you get a little anxious, you get a little out on that front foot," Sclafani said.
Schneider spent the first two years of his professional career (and part of a third) at the lowest level, rookie ball, where he hit a combined .259. Those numbers don't scream future major leaguer. In 2021, after the lost COVID season when Schneider wasn't part of the select group sent to the alternate site, he hit .229 over two levels of A-ball.
On those long bus rides in the High-A West league in 2021, from Toronto's affiliate in Vancouver to places like Spokane, Eugene, and Everett, he wondered if this was ever going to work. He began his career younger than most teammates at each respective level but was now closing in on the median age in his fifth year.
"There were times where (I asked), 'Man, is this ever going to happen?'" Schneider said. "Am I going to have a future? …
"I felt the work I put in is going to pay off someday. I stuck with it."
While his playing time wasn't regular, the Blue Jays always liked his attitude and work ethic. He always showed up looking to get better, asking good questions, and trying to get the most out of his 5-foot-9, then-160-pound frame.
Blue Jays manager John Schneider told reporters that he's "kind of a dirtbag." That's a compliment in baseball vernacular; it means a player willing to do anything to get better, who loves being at the ballpark or training facility.
Jays officials noticed that even when Schneider wasn't an everyday player in the lower minors, he was genuinely happy for players above him on prospect lists. Sclafani said he's one of the most "beloved" players in the system.
Despite the middling batting averages and low homer totals earlier in his career, it wasn't the bat the Blue Jays were initially concerned with.
The club liked his swing decisions and plate discipline. He's posted a double-digit walk rate everywhere he's played. They generally liked his swing mechanics and bat path, too.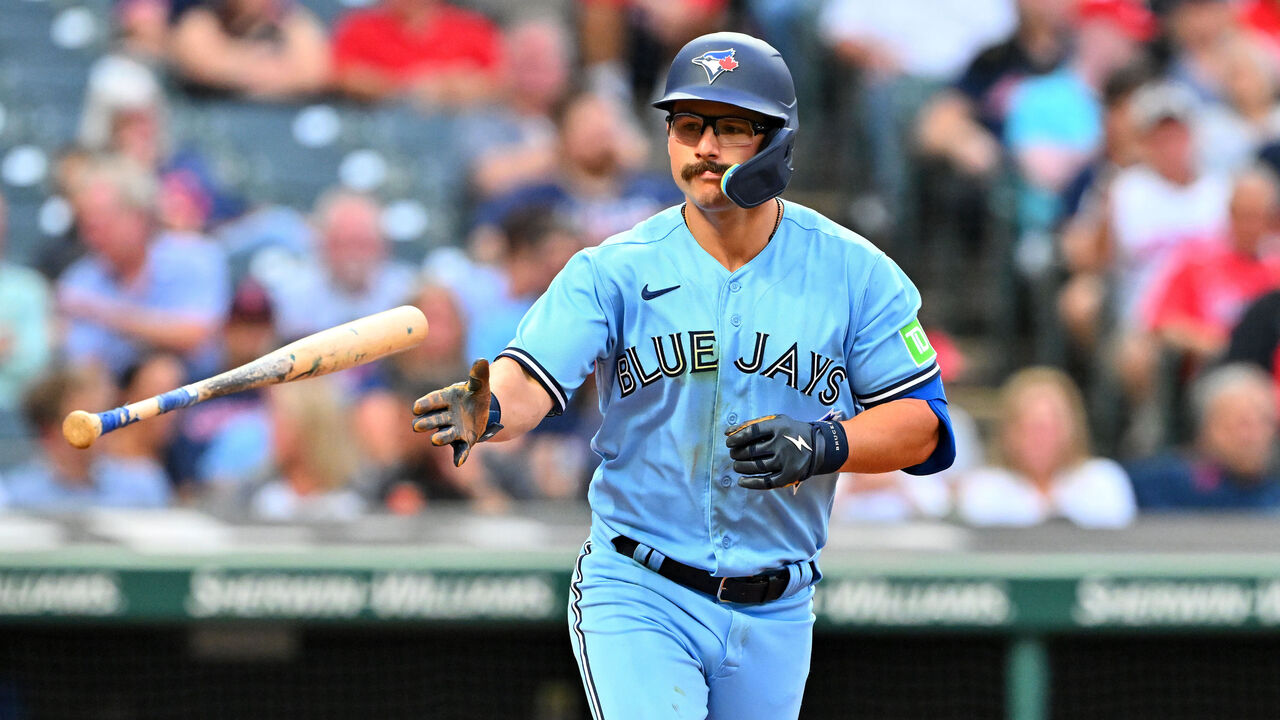 Rather, the initial focus was on making him a serviceable and versatile defender.
"The biggest thing we always focused on was he's not the most physically gifted mover," said Sclafani, who helps create individualized development plans for all players in the system. "So defense was always a big piece of it. Making him playable at multiple positions so that he could find a way in the lineup."
To do so, they had to improve his arm strength.
To do that, they had Schneider on a long-toss regimen, throwing sand-filled plyo balls, and tossing special practice balls designed to promote proper grip to improve backspin, Sclafani said.
In infield drills, he threw from different angles and on the run. He worked on his footwork and agility with ladder drills.
"We threw the gamut at him and he was down for it," Sclafani said.
He needed to play multiple positions to give himself a future - to give the club options with him.
He was limited to first and third base in his first pro season. He played some second base in his second year. And, last year, he was also used in left and right field - in addition to second and third - giving him five spots where he could help a club.
"It doesn't look the smoothest out there, but he's pretty reliable," Sclafani said. "He makes all the plays he should."
While the glove - VUK's old one - became more versatile, it's the bat that made him an everyday player in the minors and forced Schneider to the major-league roster despite his lack of size and pedigree.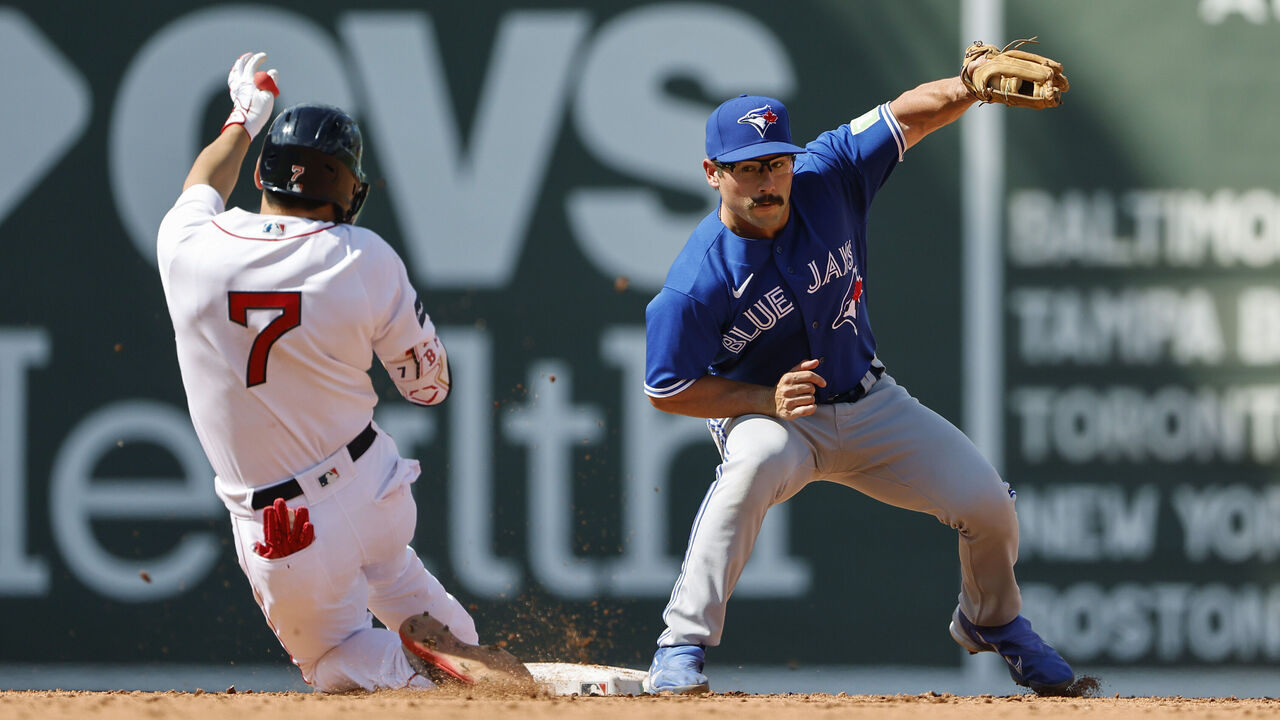 He's always hit fly balls. His unusual breakout story with the bat is not like those of Justin Turner or J.D. Martinez, who went from fringe players to stars last decade by ushering in the fly-ball and launch-angle revolution.
He's never worked with an outside hitting coach or much new-age technology.
"I hit on my own, with buddies," he said of his offseason work.
He's even pulling balls at a slightly lesser rate, so it's not about optimizing batted-ball spray angle.
No, his breakout story with the bat is different: it's mostly about adding strength. He showed a hint of pop in 2021; despite a .229 average, he produced his first season with an OPS over .800. But his breakout story centers around dietary and workout regime changes following that season.
"I've always been a fly-ball hitter. I feel like I just got a lot stronger this past year, and the warning track fly balls I used to hit are going over the wall," Schneider said.
He said he added 10 pounds "of good weight" in the last year-plus, and the results followed. He hit double-digit home runs for the first time in 2022 (16) and reached Double-A for the first time, advancing to Triple-A by the end of the season. He continues to work with a team dietician who plans meals for players, including how many grams of protein, and offers meal times.
"Ground beef," he said of his go-to protein for its recipe versatility. "Lots of ground beef."
He also made a slight swing change this year, adding a toe tap. It was Triple-A hitting coach Matt Hague's idea. He believed it would help Schneider consistently get into his lower half as quickly as possible, adding more bat speed.
With the added strength and toe tap, he hit 21 home runs in Triple-A in 87 games this year, and swatted two more so far in the majors.
Sclafani shared the underlying improvement. In 2019, Schneider's peak exit velocity was 101.5 mph. This year it reached 108 mph in Triple-A, and he's already hit a ball 107 mph in the majors.
His average exit velocity on balls hit in the air was 93 mph in Triple-A this year, up from around 90 mph earlier in his career.
"When he realized he needed to hit the ball a little harder, he really dove into that and added that weight," Sclafani said. "He doesn't fill out the uniform in a super impressive way, but if you see him during BP, he is a brick house."
The results seem like magic.
When he walked to the plate last week for that first MLB at-bat, he was telling himself not to strike out. He also thought to himself that the lighting is indeed a lot better in a major-league ballpark. With his second swing, he cleared Fenway's green monster.
During Schneider's debut, Sclafani was on assignment in Charleston, South Carolina, at a restaurant with a group of baseball personnel. They were not going to miss the at-bat. He pulled the game up on his phone. They likely startled some diners.
"For him to do what he did, we lost our minds," Sclafani said. "Just so happy for him. No one deserves it more."
If it was all a dream, Schneider wasn't ready to wake from it in Cleveland this week, the second stop of his major-league career. It's been a whirlwind from getting the call in the road clubhouse at Lehigh Valley, Pennsylvania, to jumping on a flight, and being in the lineup the next day in Boston.
But it is nonfiction, a story that will be cited as an example throughout the Blue Jays system for years to come.
"His is a perfect example to point to, to show everyone it is possible," Sclafani said. "But you need to have the right attitude and do things the right way. We don't care where the help comes from. If you can help the big-league team win, you are going to get that opportunity."
He was never on any prospect list. He was never a priority. But here Schneider is, not only getting a courtesy cup of coffee, but getting starts for a team making a playoff push.
"He became a priority," Sclafani said. "He made himself a priority."
Travis Sawchik is theScore's senior baseball writer.