Get happy: How the Texas Rangers' offense became elite
Julian Catalfo / theScore
PITTSBURGH - It took the 2022 Texas Rangers until July 2 to score 329 runs. The 2023 Rangers got there on May 29.
Sitting atop the American League West, the surprising Rangers are battling the Tampa Bay Rays for the most runs scored in MLB (more than 30 clear of the third-place Los Angeles Dodgers). The Rangers ranked 12th in the majors last season and 28th in 2021 before they not only signed Marcus Semien and Corey Seager but overhauled their hitting staff. With the help of some outstanding pitching, Texas now owns the best run differential in the majors at plus-128.
This year-over-year surge is happening without much turnover in the lineup; seven of Texas' nine regular position players carried over from last season. Of the 11 Rangers with the most plate appearances this season, nine are enjoying career-best performances by weighted runs created plus (wRC+). And through just the first 50 games of the season, the Rangers put up 322 runs, which is tied for the 18th-highest total since 1901.
What on earth is going on in Texas?
Rangers first baseman Nathaniel Lowe, who brings a rare perspective, believes the answer is deceptively simple.
Lowe was the most notable Rangers breakout last season, the first year with the new hitting staff. He was also acquired from Tampa Bay, which is regarded as one of the top developmental organizations in the majors. His brother, Josh, is enjoying his own breakout with the Rays this season.
At his locker in PNC Park's visiting clubhouse last week, Nathaniel didn't hesitate to formulate an answer.
"Happy players. I'm telling you, man. When you get players happy together, I think you are going to find the best performance," he said.
Happy players want to show up, want to work, and want to share ideas, and they're fully invested in getting better, Lowe said.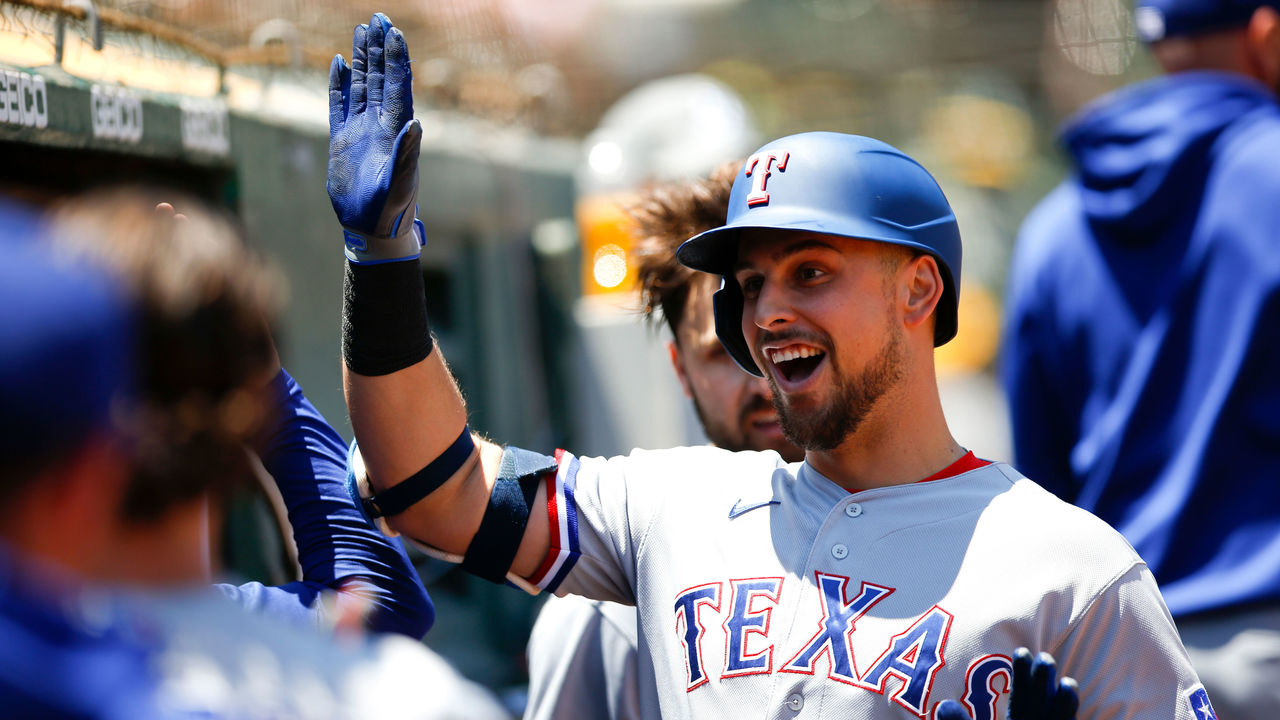 It's impossible to quantify what good clubhouse vibes mean to on-field production, but first-year Rangers manager Bruce Bochy believes they do matter, and he has three World Series rings on his managerial resume.
"You want to create an environment that is going to bring out the best in the players," Bochy said. "Have them comfortable. Have them play with freedom, freedom that you need to play with to be the best that you can be. Not feeling pressure or anything. It's a culture you want to have."
How do you create an environment where players want to come to work, where they aren't afraid to fail, where they can intently focus on improvement, and where they'll maximize the available resources? It takes a few elements, and Texas has put them in place.
The right kind of veterans
The humidity of summer was creeping in last Wednesday morning at PNC Park. The Rangers and Pirates had completed the second game of their series the night earlier and faced a tight turnaround for a 12:35 p.m. start on getaway day.
That often means an off day for veteran players. But Semien was in the lineup, as he almost always is. About an hour before the first pitch, he was taking ground balls on the infield, going through each aspect of his routine.
"I always think about it as if I was an NBA player. Would I go out there and not shoot around? I think most NBA players shoot around," Semien said.
Semien and Seager are not vocal leaders. The pregame visiting clubhouse in Pittsburgh was calm, relaxed, and quiet by MLB standards. They lead by example rather than coercion.
What both players are is routine-oriented and focused, said fellow veteran Brad Miller, who's in his 11th year in the majors.
"These guys are robots," Miller said. "That's why Marcus Semien is a great leader in my eyes, because of what he does every single day. I wish you could see this guy (behind the scenes). He is a machine. For instance, I know where Marcus is at all times because he does the same thing every day. Same with Corey. I know exactly what he is doing."
Miller recites some of Semien's schedule: The first thing he does when he arrives is take his supplements and eat a well-balanced meal in the clubhouse.
"He's not eating bullshit," Miller said.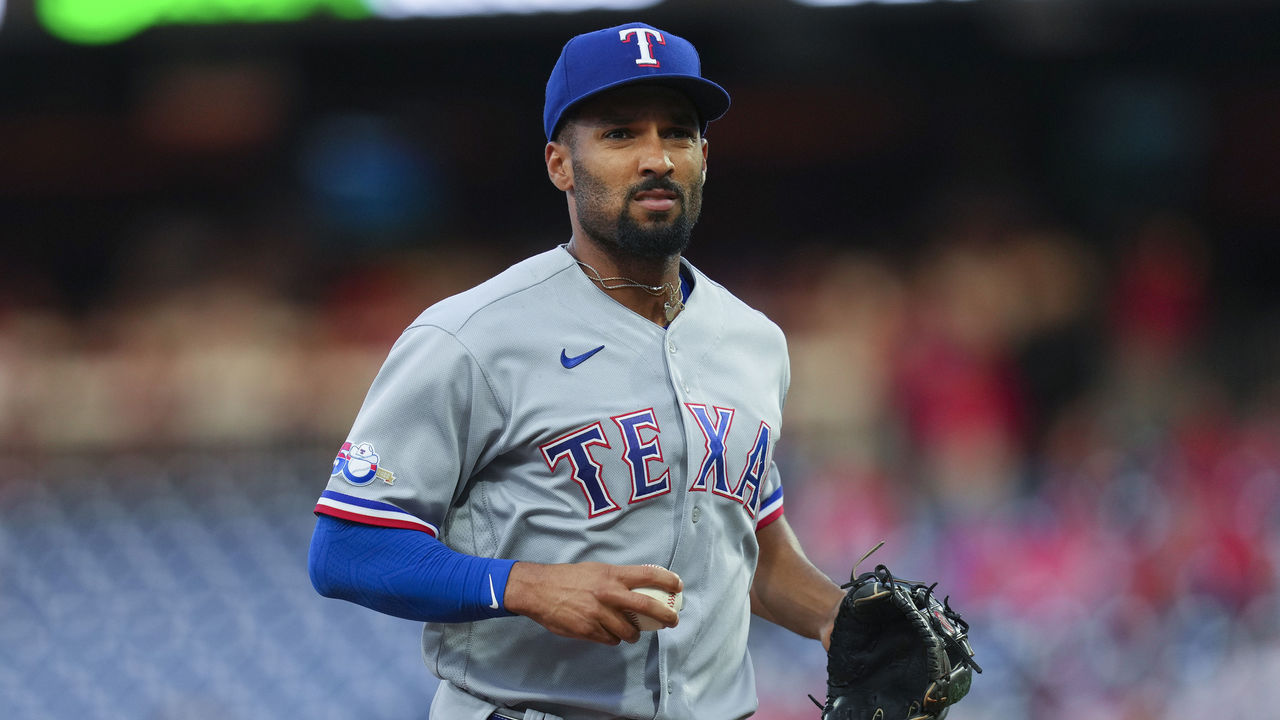 Then he goes to the indoor batting cage. He does the same muscle activation regimen every day, Miller said.
After that, Semien takes his ground balls and does "game prep," which includes going over scouting material.
"Then he has his coffee a half-hour before the game," Miller said. "And after the game, win or lose, he's going to the weight room for his postgame (routine)."
To Semien, leadership is about setting an example, not impassioned speeches. It's about consistency. He doesn't tell younger players what to do. He shows them.
"I was never that guy just blessed with talent to show up and do well," Semien said.
He entered play Tuesday, in his age-32 season, with a 136 wRC+. That's very close to his career best with Oakland in 2019 and a shade higher than 2021 with Toronto, when he finished third in American League MVP voting.
As for Seager, Miller said you'll see him carrying around a tripod every day prior to games. He records every practice swing and watches them.
Sure enough, Seager later appeared in the clubhouse toting his tripod. He carried it to the indoor batting cage with an iPhone and later sat by himself in the tunnel to the visiting dugout, watching swings on his phone with the tripod nearby.
Rangers second-year third baseman Josh Jung owns a 130 wRC+ and has already mashed 11 homers after struggling in his first 102 plate appearances last year, when he posted an 81 wRC+.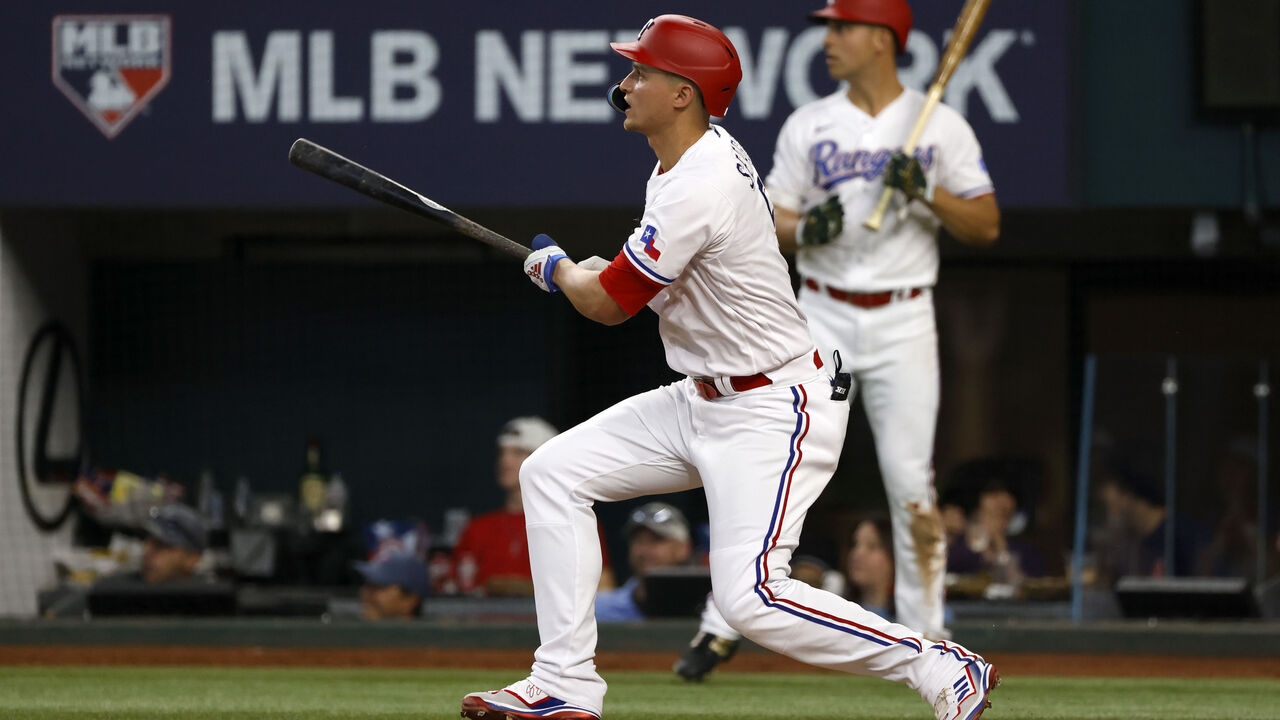 He said that watching Seager has taught him to work more efficiently.
"Seager's attention to detail is the biggest thing," Jung said. "Just the intentionality … I think that makes him who he is.
"When I get in the cage now, it's not about quantity, it's about the quality. It's about being super intentional. I've definitely taken each swing with full intent, not just going through the motions. That's really helping me."
Two winters ago, the free-agency signings of Semien and Seager were widely viewed as a first but totally insufficient step to help the Rangers catch up with the Houston Astros in the AL West. A couple of stars can only take a team so far in baseball. But the value of the right veterans' influence on the rest of the clubhouse was perhaps underestimated. The Rangers lead the Astros by three games.
"The younger guys see a guy like Marcus and go, 'OK, this guy is an All-Star, a franchise player. OK, I want to do what he does,'" Miller said. "I think leadership, in general, is actions."
Flexibility
How do you create an environment where players are excited to show up and give great effort? A happy and motivated clubhouse? Having a Semien and a Seager is a good start.
But Lowe says the right coaches might be the most important element.
"I think flexibility is the best for that," Lowe said. "Because you have to have coaches that are fine working for you instead of saying, 'This is the only way to do it. Here is how we are going to do it.' We have an even mix of players: some who might want more analytics, some guys who might want more swing cues. ... The staff has done a great job of allowing us to find out what does work, and doesn't work, and get the most out of ourselves."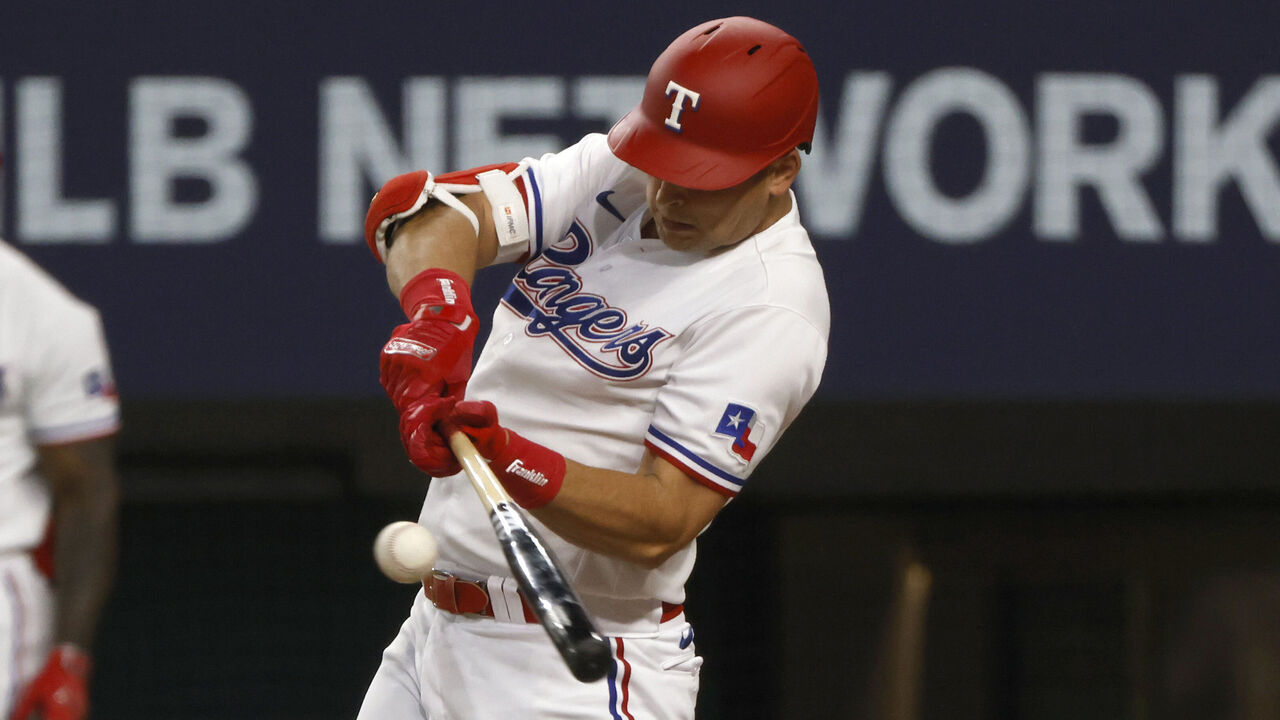 The Rangers revamped their hitting staff after the 2021 season, bringing in Tim Hyers as hitting coach and adding Donnie Ecker as "offensive coordinator."
In Tampa, and in his first year in Texas, Lowe hit the ball extremely hard - but too often, he also hit it into the ground. The point of contact - that is, where the bat met the ball - was …
"Deep," Lowe interjects, knowing where the question was going.
"Contact point is the most important thing for me," he said. "If I can get the ball out in front, then I'm going to do my damage."
While Hyers does have foundational beliefs, formed from interacting with scores of quality hitting minds over the years - including in Boston, where he helped Mookie Betts and Rafael Devers develop - he believes individualized instruction is key.
Lowe appreciates that Hyers and Ecker listen more than they dictate. They hear what the players have to say first and work from there.
"We're not trying to cookie-cut swings," Hyers said.
And Lowe didn't need an overhaul.
"He has incredible hands. His body moves in a unique way," Hyers said. "How can we get his hands in flow with his body? When that's happening, he's really good."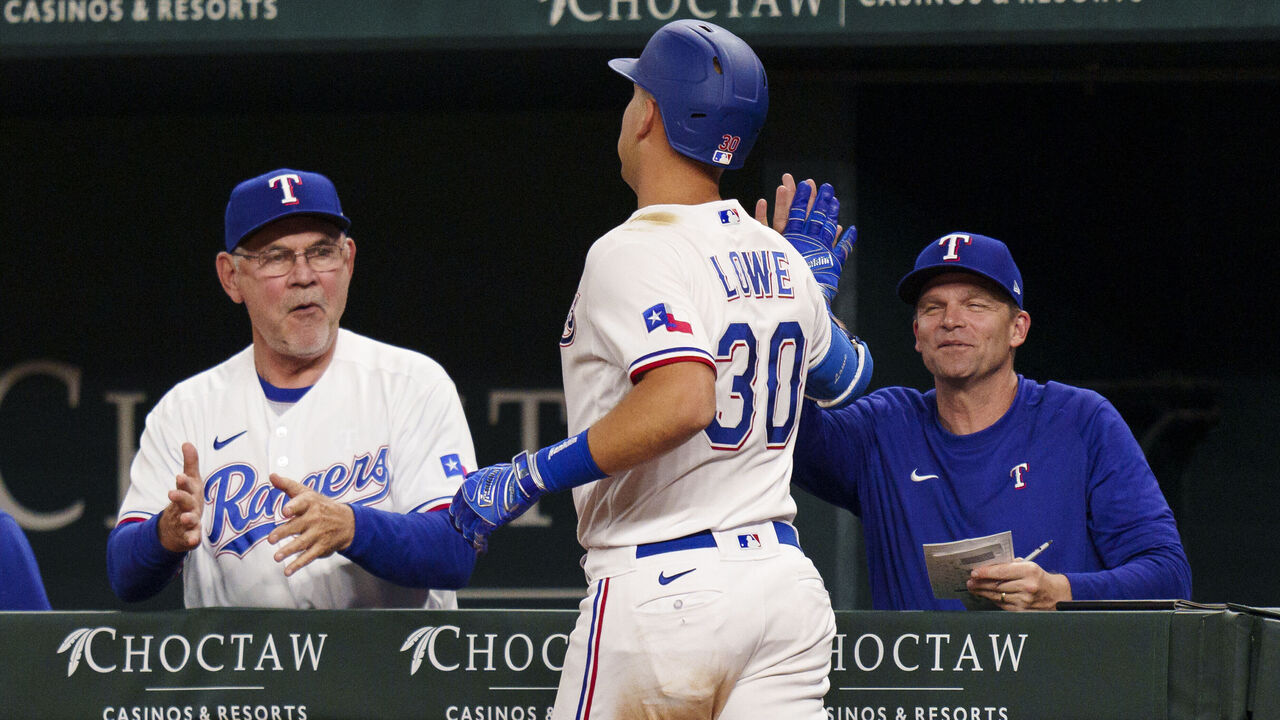 The biggest adjustment had nothing to do with Lowe's physical swing: It was his mindset. He was trying to hit too many pitches, cover too much of the plate, especially when ahead in the count.
Consider pitches he swung at when ahead of the count in 2021 versus since the start of 2022.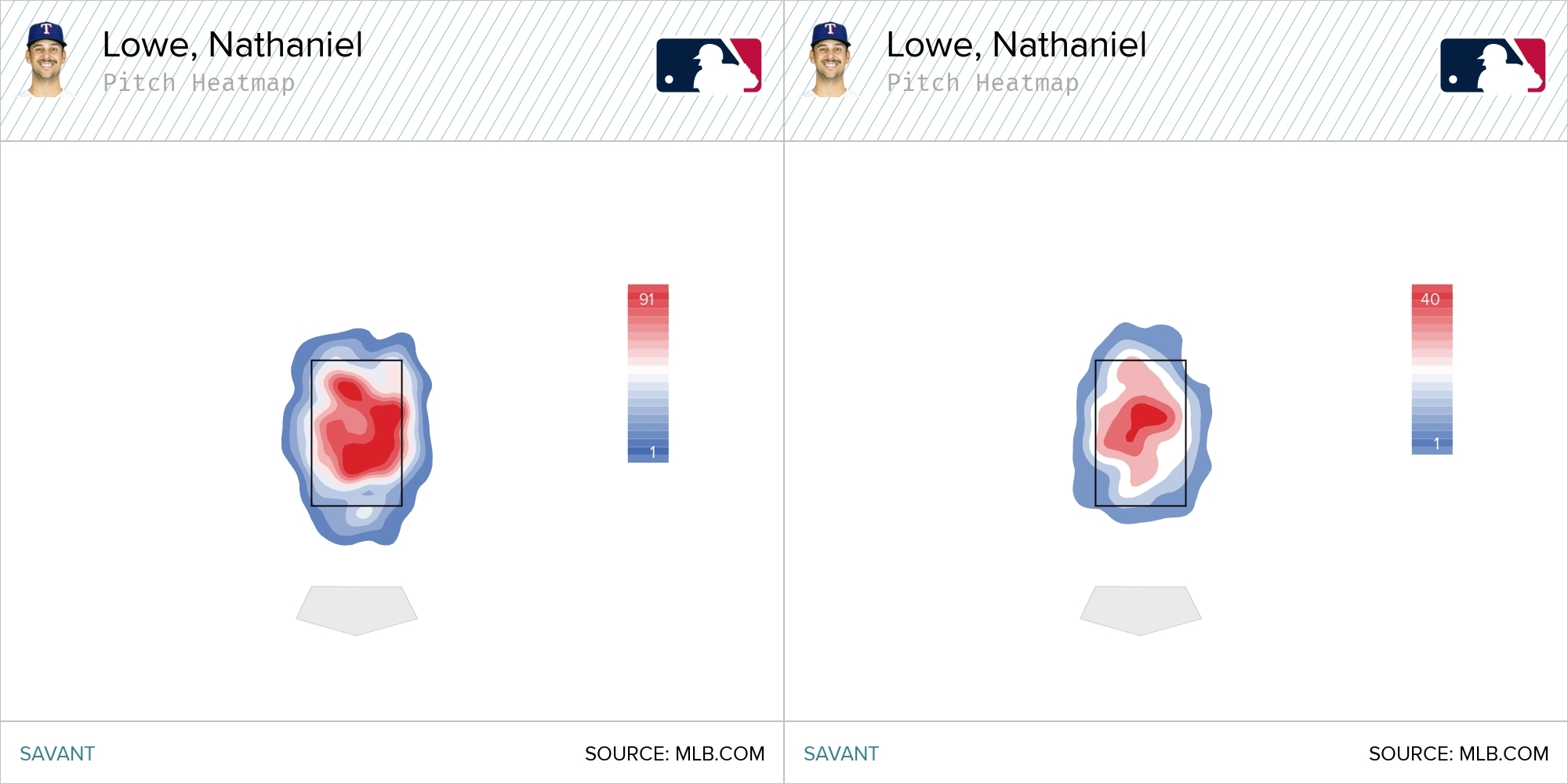 Where he swings now is more concentrated, more focused, in comparison to 2021.
"I think there were definitely periods where I was trying to do too much with pitches that shouldn't be hit out of the park," Lowe said. "I feel like when things really started rolling for me last year, I did my damage where I was supposed to do my damage.
"A good contact point comes from a good plan. You have to understand where you want the ball, in a good count, to do your damage."
Lowe was last season's great development story in Texas. Adolis Garcia is this year's big story and one of the best breakout stories in baseball.
Gamify
Players unhappy with their organization probably wouldn't skip a World Baseball Classic invitation to participate in regular spring training.
Garcia declined such an invite from Cuba. He didn't want to miss multiple weeks of spring training, and he thought the Rangers could help him get better.
That's a happy player - or at least a motivated one who believes in the support staff and players around him.
The Rangers didn't do much to change the swing of the majors' RBI leader (49). After all, when Garcia made contact, it was about loud as anyone not named Aaron Judge. He ranked in the 92nd percentile in average exit velocity last year.
Hyers said they did work on shortening his bat path slightly this spring, but the big change was being more selective.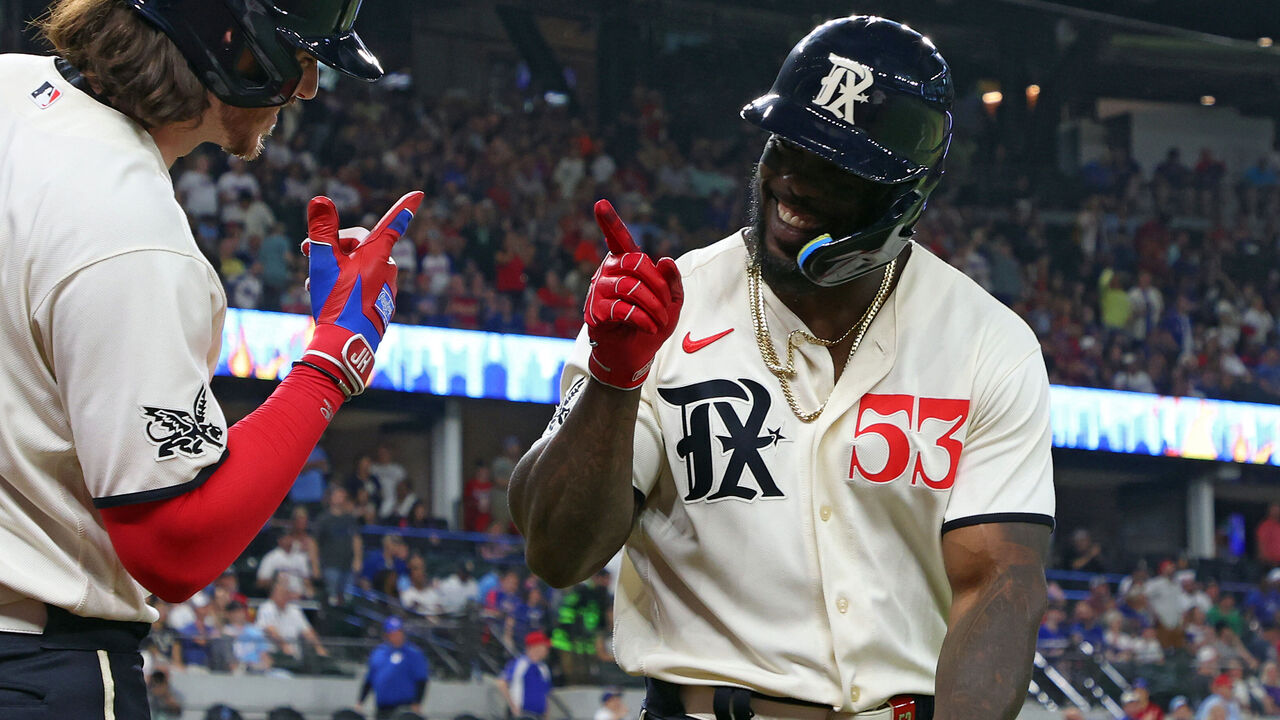 For years, plate discipline was considered impossible to teach. That was one of the tenets of the book "Moneyball" (recall how frustrated Billy Beane was with Miguel Tejada's approach). But that idea is changing.
The Rangers boast the fourth-greatest reduction in out-of-zone swings this year (minus-3.8%), trailing only the Reds, Tigers, and Pirates. This year, Garcia's lowered his out-of-zone swing rate by 10 percentage points - the second-best mark in baseball, behind only Luis Robert.
"His focus coming into spring training was to swing at his pitch more often," Hyers said. "'Pitchers know they can get me to chase in certain areas. You know what? I'm not going to let them do it.'"
Garcia's goal was to lay off sliders that start at the outside corner and break away and fastballs above the zone.
But how do you teach a skill that's been dismissed as impossible to learn? It takes new methods.
Ecker was part of a Giants coaching staff that tried to make practice more game-like in 2021. Around the same time, Hyers was having Red Sox hitters face more high-velocity pitches and breaking balls in practice before games.
This spring in Arizona, the hitting staff tested Garcia's swing decisions off high-velocity and spin pitch machines. Could he lay off the balls outside the zone and attack those inside the zone?
"A little more selective aggressive, not passive," Hyers said. "I give him all the credit. He bought into it. Kinda gave him a plan. We started in spring training. If you look at spring training, the numbers were really good."
What they did is gamify practice. It's not necessarily fun for all players, but it does create an environment that is more stimulating and that promotes growth.
"We call it 'game training,'" Hyers said. "Throwing some multiple (pitch) shapes at him. Challenging him at practice. And if you do that, it's going to show up at game time."
Would Garcia have embraced these new methods on another team? Would the training even have been available to him? It's tough to know, but the results suggest the work has paid off.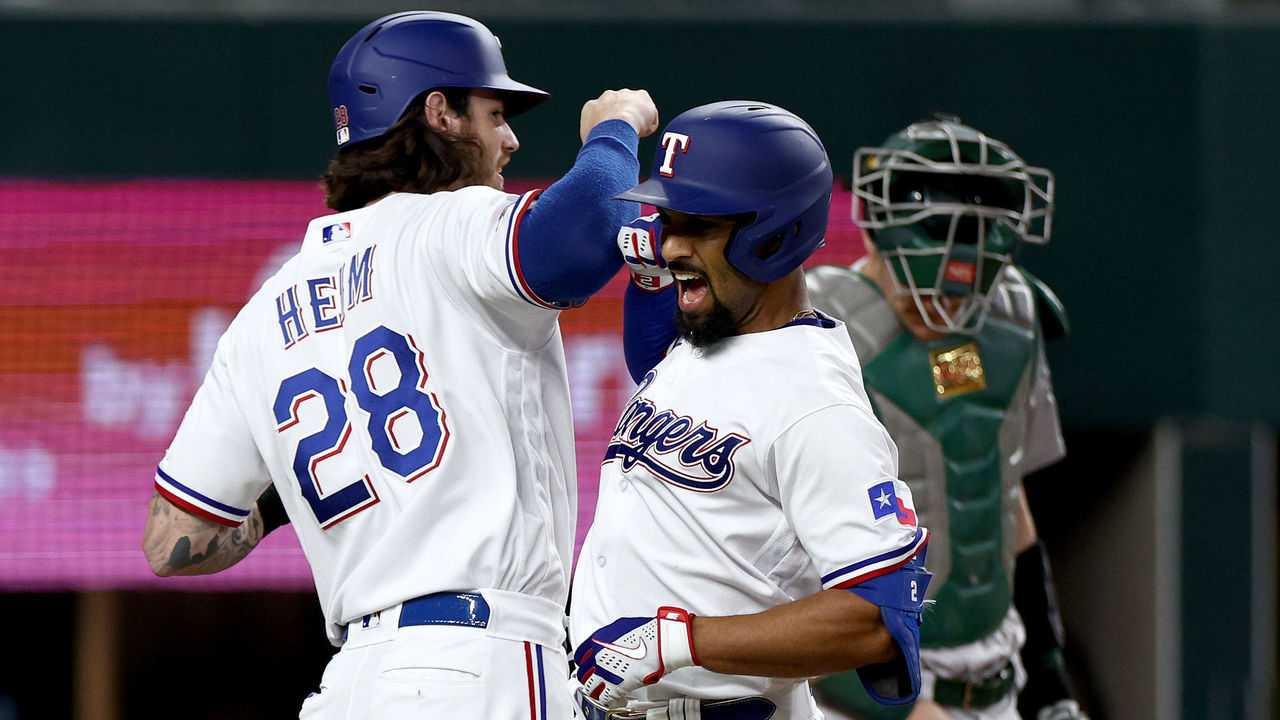 Players don't always love having their flaws exposed in intense practice. But in Texas, players are learning not to be afraid to fail in the cage or in game situations.
Miller credits Bochy for fostering an environment where there's little fear.
"As a player, you are always told to be the same guy every day. Boch is the same guy every day," Miller said. "We've had stretches where we don't play well, where we let a game get out of hand. Bochy will come in and say, 'OK, boys. Let's get them tomorrow.' He practices what he preaches. The second a manager panics, the players are going to panic. He's very steady."
Younger players aren't the only ones embracing new training tools and game-like preparation.
Semien said the Rangers have every developmental tool a player could want at Globe Life Field, and they bring some of the tools and gadgets on the road, too.
Semien likes to hit foam balls spit out of machines at high velocity to prepare for games.
"You're not jamming your thumb, you're not hurting your hand (with foam balls)," Semien said.
"I would never do that early in my career (hitting regular balls out of high-velocity machines). …. That's one thing I do every day. I want to make sure I'm ready to hit anyone's best fastball. Teams who hit fastballs the best and take chase pitches are going to be successful. That's what we are striving to do."
To illustrate just how well the Rangers' hitters are executing, consider what they did against Spencer Strider last week. Texas put on nine baserunners in five innings against Strider, the most of any team this season, and scored four times - also a rare feat.
Garcia homered twice off Strider, the first player to accomplish that in a game.
Before the game, Hyers had the Rangers hit off of the high-velocity machine with pitches up in the zone. They tried as best they could to mimic the rise effect and Strider's unusually low release point, too.
"Everything is based off the fastball," Hyers said. "Understanding the different movement profiles of the fastball. … We have technology now where we can train against it before we play against it. We've never had that before, so I think that's one of the bigger things.
"I wish I knew about fastball characteristics 10 years ago."
After ranking 27th in effectiveness against fastballs in 2021, the Rangers rank seventh this season. They've chased the seventh-fewest amount of breaking balls out of the zone.
"I think you can improve pretty much everything on the offensive side," Hyers said. "I think everyone can improve if there's a will to improve."
And there's a will to improve in part because the players have fun when they show up at the office.
"I think that's what the good ones and good teams do," Hyers said. "They look forward to coming here and preparing and, 'Let's go to battle.'"
The Rangers' secret?
"Showing up to work and having fun doing it, that's the way the game should be," Bochy said. "This game is meant to have fun."
Travis Sawchik is theScore's senior baseball writer.
Comments
✕
Get happy: How the Texas Rangers' offense became elite
  Got something to say? Leave a comment below!