MLB Roundtable: Rivalries, buyer's remorse, is the sticky stuff ban enough?
theScore's MLB editors Michael Bradburn, Josh Goldberg, Tom Ruminski, Simon Sharkey-Gotlieb, and Brandon Wile answer some of the biggest topics during the 2023 season.
What's the best rivalry in MLB right now?
Braves vs. Dodgers: Most people would think the Dodgers and Padres would be the rivalry to key in on, but after an entertaining battle in Atlanta this week, it's hard not to look at the Dodgers and Braves as the top two clubs in the National League. The teams met in the postseason three times in four years, including a pair of matchups in the NLCS. Despite having an uncharacteristically quiet offseason, the Dodgers appear primed for another run at postseason glory, and it wouldn't be surprising to see these two clubs renew hostilities with a World Series berth on the line in October yet again. - Goldberg
Blue Jays vs. Yankees: These two teams clearly don't like each other. Alek Manoah made headlines by calling Gerrit Cole the biggest cheater in baseball history during the offseason, while Vladimir Guerrero Jr. said multiple times he'd never play for the Yankees. Things got even more heated when Aaron Judge's dugout glances started the pettiest beef of the season. Coaches and players from both clubs were pissed, and that was before Domingo German got tossed for using a foreign substance. Kevin Gausman threw more fuel on the fire when he said New York owed Toronto three innings because German was allowed to record nine outs. It's too bad they don't play each other again until late September, because their rivalry is must-watch TV. - Ruminski
Rangers vs. Astros: I might be getting ahead of myself since it hasn't had time to mature fully, but who doesn't love a good in-state rivalry? The Rangers are the new kids on the block, performing well above expectations after back-to-back transformative offseasons. It's still very early, and some may doubt Texas is a legitimate threat, particularly since losing Jacob deGrom to injury. But the Rangers aren't just lucking into this position - they're walloping opponents with a plus-112 run differential. The Astros, meanwhile, entered the campaign as favorites to repeat and have been severely underwhelming until relatively recently. Jose Altuve's return seems to have righted the ship, but other key members of the lineup really struggled in his absence. The Seattle Mariners and Los Angeles Angels may also make some noise in the division, but right now, the AL West seems to go through Texas. - Bradburn
What's one performance you're most surprised by?
Yennier Cano: No one was expecting the best reliever in baseball this season to be Cano. The Orioles setup man, acquired from the Twins for Jorge Lopez last trade deadline, has been remarkable, posting a 0.68 ERA and 0.45 WHIP while striking out 29 across 26 2/3 innings. The 29-year-old has walked one batter and hasn't surrendered a home run. This comes after posting an 11.50 ERA and 2.33 WHIP in 18 innings in 2022. Hitters just can't square up Cano at all, barreling up just two of his 335 pitches thrown this season. And when teams actually do get runners in scoring position, Cano's completely shut them down, allowing just three hits in 24 opportunities (.125). - Wile
Nathan Eovaldi: The Rangers haven't missed a beat since losing deGrom to injury, thanks in large part to their other free-agent addition. Eovaldi was coming off a pretty bad year, at least by his career norms, posting a 3.87 ERA and 4.30 FIP over 109 1/3 innings. He really struggled with the long ball and had to deal with back and shoulder ailments. Eovaldi didn't seem like a good candidate for a multi-year deal, but that didn't deter Texas. The 33-year-old still doesn't strike guys out like the elite aces of this era, but he's missing barrels and limiting walks better than almost everyone. His 2.46 FIP ranks third in the AL. He could legitimately stay in the Cy Young conversation all year, and no one - not even Rangers executives - thought that might happen. - Bradburn
Homer-crazy Rays: What is in the water in St. Petersburg? Tampa Bay has hit a staggering 97 round-trippers through 52 games. The team is on pace to shatter the single-season MLB record, as 11 different players have gone deep at least seven times. This insane power surge comes after the Rays finished 25th in the majors with 139 home runs last year. Yandy Diaz is a perfect microcosm of the club's success at the plate. The 31-year-old has already hit two more homers (11) than he did all of last season over 137 contests. He's just four away from a new career high. - Ruminski
Lourdes Gurriel Jr.: Gurriel was the overlooked piece of an offseason deal with the Blue Jays, as most of the attention focused on Gabriel Moreno and Daulton Varsho. After hitting just five home runs in 121 games last season, Gurriel has already gone deep eight times in 2023 and is a strong candidate to break his career high of 21. He's showing improved plate discipline with the best strikeout and walk rates of his six-year career. With free agency looming at the conclusion of the season, the 29-year-old is positioning himself to secure a nice new contract. - Goldberg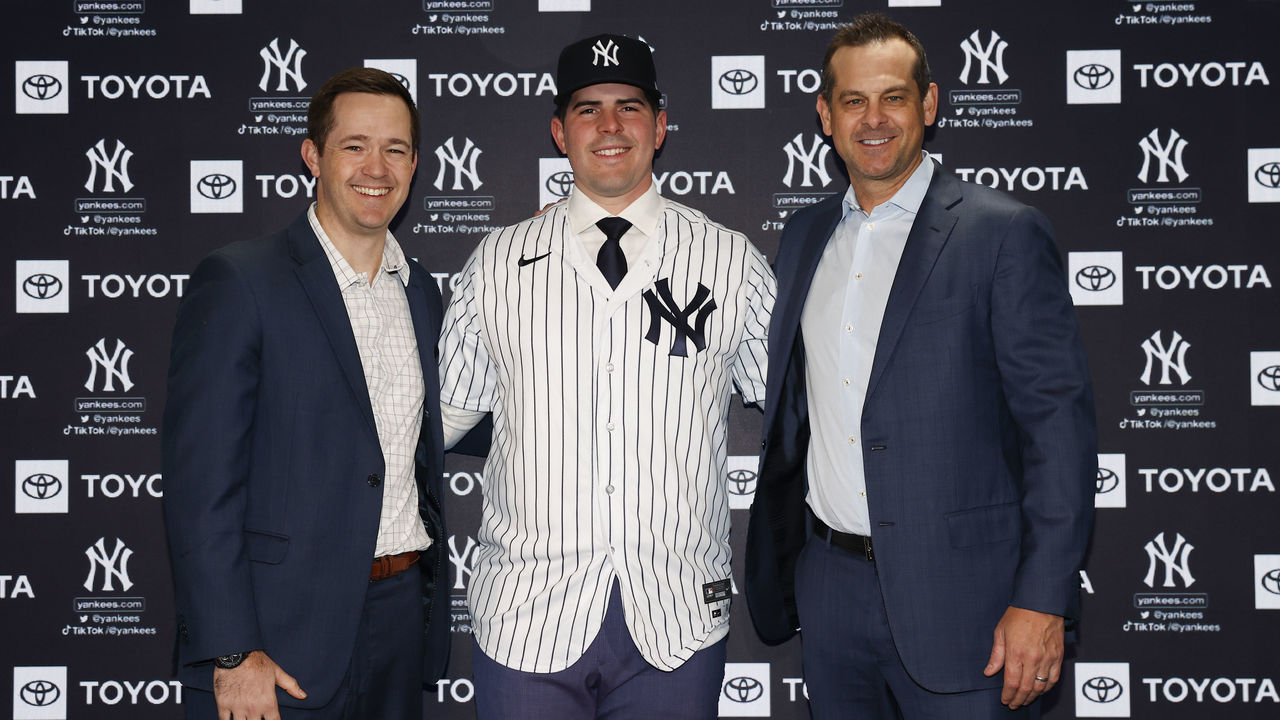 Which team is feeling some buyer's remorse?
Yankees: It was easy to see New York's six-year, $162-million investment in Carlos Rodon going sideways. Skeptics are certainly being proven right in Year 1. The 30-year-old has battled a litany of injuries throughout his career and is now dealing with a troublesome back issue that's left him without a timetable to make his debut. The Yankees have been able to weather Rodon's absence, but it's hard to see this contract aging particularly well as the hurler enters his 30s. - Goldberg
Twins: As someone who absolutely loved the signing of Carlos Correa, this one stings to admit. Minnesota is in a great spot, leading its division and ranking sixth in MLB by home runs. But the Twins have gotten very little help from Correa, who they signed to a six-year, $200-million deal after highly publicized injury snags prevented much more lucrative deals with the Mets and Giants. Now, Correa is sidelined with left foot injuries - the opposite foot that was flagged in his offseason medicals. Even if it ends up being minor, he's hitting .213/.302/.396 - all career lows by a very wide margin - over 44 games. There's still plenty of time to turn this around - and at least the Twins avoided the $350-million agreements - but this certainly isn't ideal. - Bradburn
Phillies: Philadelphia dished out a combined $372 million on Trea Turner and Taijuan Walker. However, the results haven't been there yet. The Phillies are off to a 23-27 start after reaching the World Series last season, while Turner and Walker have accumulated a collective 0.9 fWAR. Turner, who signed an 11-year, $300-million pact, is slashing .244/.288/.383 with five homers and six steals, and fans at Citizens Bank Park are already booing him. The star shortstop will still likely put up solid numbers, but he needs to start turning it around soon. Walker was supposed to provide stability behind Aaron Nola and Zack Wheeler in the rotation, yet he sports a career-worst 5.79 ERA. - Ruminski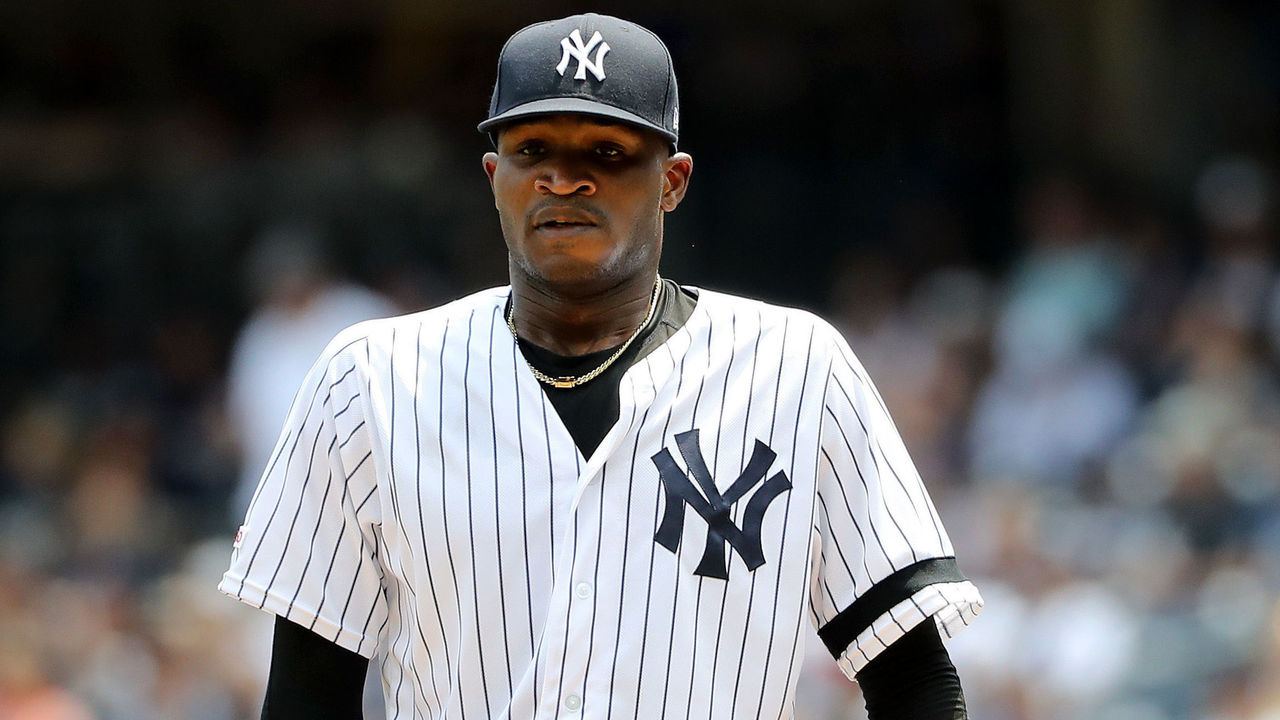 Is a 10-game sticky stuff suspension sufficient?
Yes: If a pitcher is caught doctoring the baseball in any illegal manner, they should be punished. In this case, the punishment fits the crime. Part of it is precedent, because 10-game suspensions have usually been the standard for this sort of thing. Knuckleballer Joe Niekro got 10 after he famously discarded a nail file and sandpaper from his back pocket in the 1980s. Michael Pineda got 10 after umpires found pine tar on his neck in 2014. The automatic 10-game ban instituted in 2021 during MLB's "sticky stuff" crackdown seems to be working, and so it should stay the way it is - at least for a first-time offender. The only thing I'd change is the appeal process, which doesn't seem fair. Both Max Scherzer and German pled innocent but chose not to appeal because they felt the league wouldn't hear their cases fairly. - Sharkey-Gotlieb
No way: Part of the reason the 10-game ban is so punitive is actually because the pitcher remains on the 26-man roster for the duration of the suspension and leaves his team hamstrung with a short bench. But does the punishment at an individual level fit the crime? MLB suspends first-time offenders who take performance-enhancing drugs for half the season. In what way is this measurably different? It's making a conscious effort to use a banned substance to gain a competitive edge. If MLB genuinely wants rid of this, it'll ramp up the punishment to match PED suspensions. - Bradburn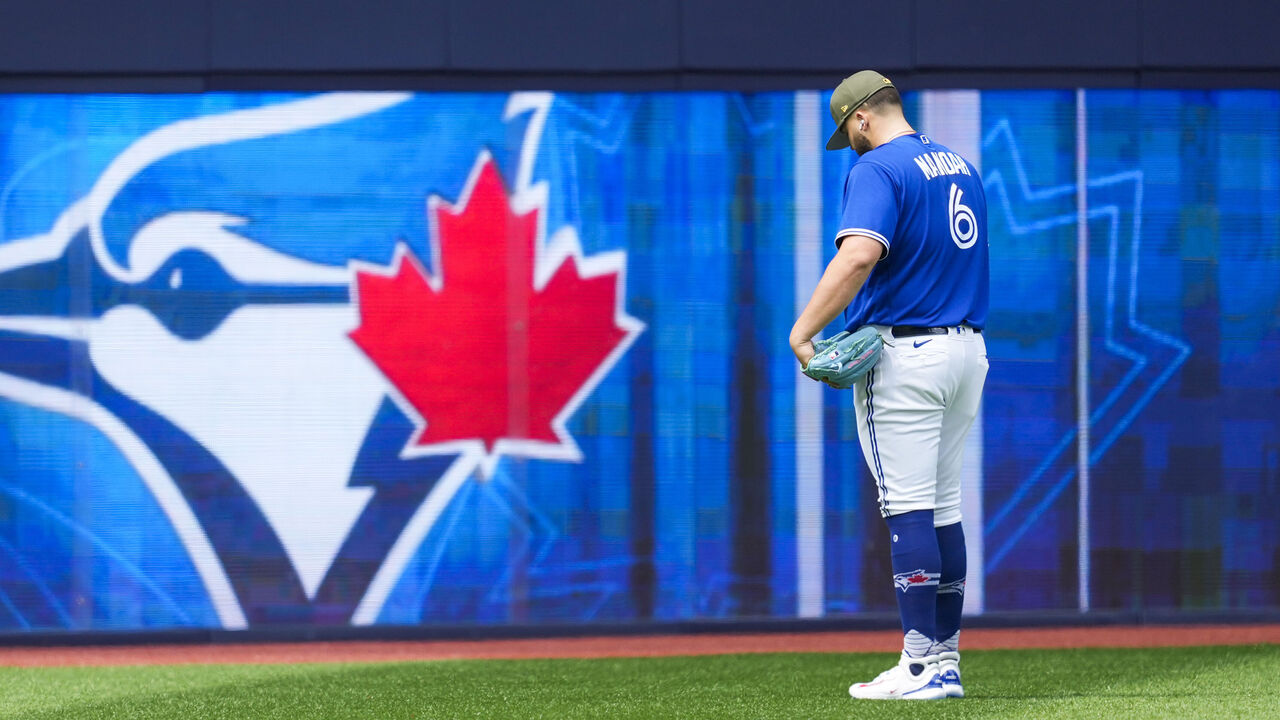 What is the biggest problem facing struggling preseason contenders?
Manoah's struggles: Coming off a strong 2022 in which he finished as a finalist in the AL Cy Young voting, most expected another excellent campaign from Manoah. However, the right-hander has struggled mightily so far, and there are some real concerns about whether he can recapture the form he displayed in his first two seasons. Manoah is struggling to command his pitches and is getting almost nothing out of his slider, which had been his most effective offering with two strikes in 2021 and 2022. There are also some worrisome trends offensively, but the Blue Jays will be in tough to make up ground in the extremely competitive AL East if Manoah can't find a way to get his season back on track. - Goldberg
Mariners not hitting consistently: This isn't a case of one guy having a slow start - just about every Mariners hitter, with the exception of Jarred Kelenic, shares some of the blame. Teoscar Henandez acquired in the offseason to be a middle-order anchor, leads the majors in strikeouts and owns the worst OPS of his career. Still, his nine homers rank second on the team. Julio Rodriguez is mired in a sophomore slump that's only gotten worse in May. Kelenic and rookie infielder Jose Caballero, who's only played 24 games, are the only two Mariners with an OPS above .800. Seattle's starting pitching has been tremendous and is the reason the team is playing .500, but those pitchers can only carry the load for so long. - Sharkey-Gotlieb
Padres' big four haven't hit stride: Juan Soto, Xander Bogaerts, Fernando Tatis Jr., and Manny Machado haven't been able to get hot at the same time. Soto got off to a slow start but now owns a .917 OPS after seven multi-hit games with 21 walks in May. However, he hasn't been getting much help. Machado, the reigning NL MVP runner-up, is hurt after slashing .231/.282/.372 with five homers over 40 games. Bogaerts started his Padres tenure on fire, amassing a .914 OPS in April, but he has just 14 hits over 90 plate appearances this month. Tatis has gone deep seven times but only played 30 contests. San Diego's success will be closely tied to its star sluggers performing like everybody expects they can. - Ruminski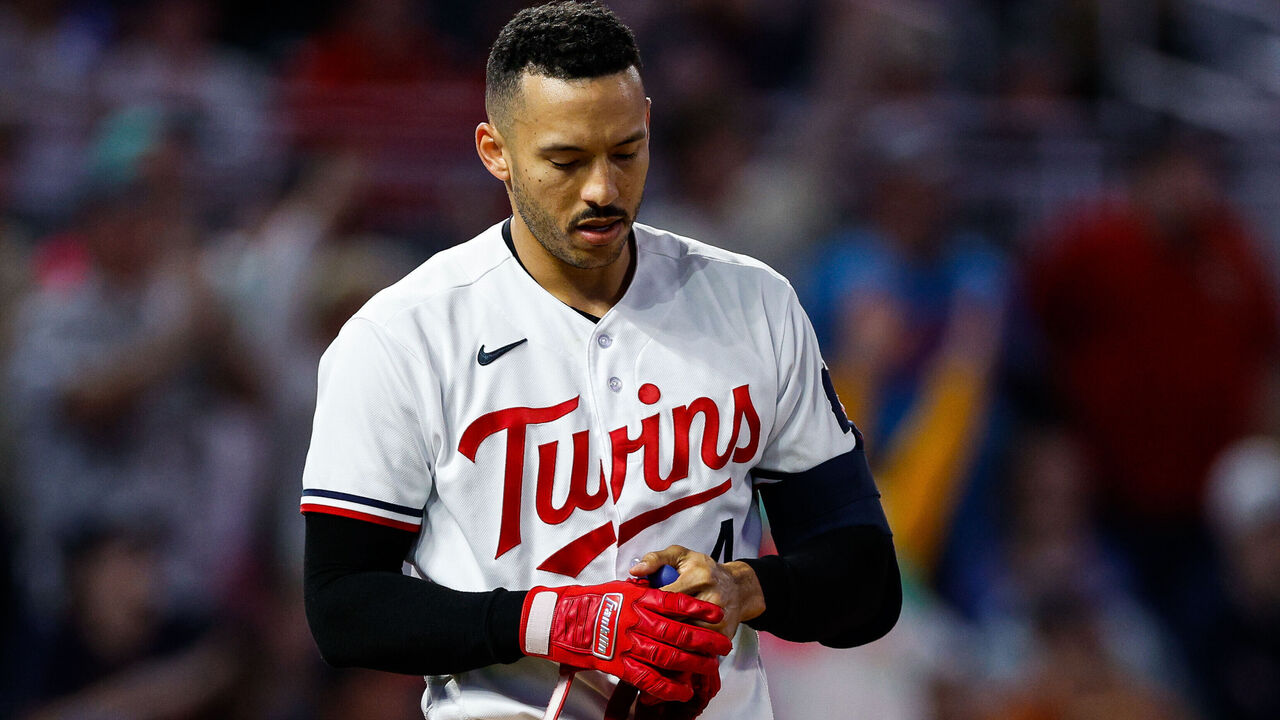 Correa said he maybe didn't want to play all 13 seasons of his failed Giants deal. Should there be a cap on years signed?
Yes: While I am very pro player and support securing the largest contract possible, I do think a cap on years would benefit the game. While adding additional years to contracts helps teams drive down the average annual value for luxury-tax purposes, it also hamstrings them well down the road by forcing them to pay large contracts to aging players. Of course, this is a problem owners clearly have no issue with after seeing some of the massive deals recently handed out. But having a cap of, say, seven years for teams re-signing their own players and six years for free agents could prompt more teams to get involved in signing free agents while also potentially driving up player salaries on an annual basis. It could also keep free agency interesting. With so many star players signing 10-plus-year deals, we're going to see a significant dip in talent hitting the market in the future. - Wile
No: A cap only in term length would serve no real purpose. And that's ignoring the fact that any cap on player earnings has been proven not to increase parity - it only drives down wages to keep more earnings in the pockets of owners. Some teams, in fact, will prefer to prolong contracts to drive down the AAV and have enough money per annum to address other concerns - either more signings or extensions for players on the roster. If Bryce Harper, for instance, hit the open market heading into his age-26 season and was beholden to a six-year free-agent deal maximum, what would that have even looked like? Around $40 million per year for a total of $240 million? Maybe $50 million for $300 million overall? How many teams could legitimately make that happen? And now, parity is perhaps an even bigger issue. - Bradburn