MLB The Show's season sim: Trout reaches playoffs, Yankees win it all
Sarah Stier / Getty Images Sport / Getty
Ahead of the real thing, we decided to simulate the season on MLB The Show 23 to see how the year plays out. Here are the results from the virtual season. Rosters were based on Opening Day projections. In-season injuries and trades were disabled. Please don't get mad at us.
Blue Jays: Toronto is elite on both sides of the ball. Not only does the offense post the second-highest OPS in the majors, but its pitching staff combines to allow the fewest runs.
Yankees: Aaron Judge follows up his record-setting season by only going deep 30 times, finishing second on the team in homers behind Giancarlo Stanton (34).
Orioles: Ryan Mountcastle has a breakout season, hitting a team-leading 38 home runs to go with a career-best .880 OPS across 142 games.
Rays: Led by ace Shane McClanahan, the Rays post the fourth-best team ERA in the majors but are slowed by an inconsistent offense. Only two players manage to hit at least 20 homers, while Wander Franco hits just 16.
Red Sox: Boston finishes last in back-to-back seasons, though at least Chris Sale looks good. The left-hander posts a 3.21 ERA and 190 strikeouts over 193 2/3 innings.
Guardians: Cleveland wins its fourth-most games in franchise history thanks to an incredible offense. Wait, what? The Guardians finish second in the AL in hits and are third in runs scored. Andres Gimenez has a monster season, clubbing a career-best 34 homers.
Twins: Byron Buxton, who is finally healthy as we disabled injuries during the sim, has the best season of his career. He hits 43 homers, 27 doubles, and steals 23 bases.
White Sox: Eloy Jimenez and Luis Robert Jr. combine for 64 homers, though the rest of the offense fails to show up. The White Sox pitching staff also struggles outside of Dylan Cease, who strikes out 223 for a third straight season of 200-plus Ks.
Royals: Salvador Perez remains one of the most under-appreciated offensive catchers. He goes deep a team-leading 30 times, while fellow catcher MJ Melendez hits 30 homers of his own. The Royals, however, finish with a losing record for a seventh straight season, and haven't finished with a winning record since claiming the 2015 World Series.
Tigers: It's another long and painful year in the Motor City. Javy Baez blasts 25 homers but slashes .248/.292/.443; Spencer Torkelson hits .190 and manages just 14 homers; not a single starter posts an ERA under 4.00.
Angels: Striking out to end the WBC really must have gotten to Mike Trout. The Angels star claims his fourth MVP after leading the league in average, doubles, triples, runs, walks, OBP, slugging, OPS, and WAR. Oh, and the Angels also won the division for the first time since 2014.
Mariners: Seattle actually equalled Los Angeles for the most wins in the AL West, but lost the tiebreaker. Still, it's another great season for the Mariners, who reach the playoffs in back-to-back years for the first time since 2000-2001. Three players (Teoscar Hernandez, Ty France, Eugenio Suarez) hit at least 30 homers, while Julio Rodriguez posts another 20-20 season.
Rangers: Texas is back in the postseason for the first time since 2016. The heavy investment in the pitching staff pays off as Jacob deGrom wins the AL Cy Young. The Rangers post the fifth-best ERA in the majors and sixth-most strikeouts.
Astros: Houston's streak of six straight playoff appearances is snapped as it posts its worst finish in the division since 2014. The Astros actually received strong contributions from their offensive core, and the pitching staff is solid, but it just isn't enough over a long season. After the run the team has been on over the last half-decade, a down year was eventual.
Athletics: Another season in the AL West basement was expected, but that doesn't mean there was nothing to cheer about in Oakland. Seth Brown puts together a monster season, hitting a career-best 39 homers in 143 games. Still, he somehow manages only 85 RBIs.
Braves: Ronald Acuna Jr. is back. The Braves outfielder hits 41 homers, steals 37 bases, and posts a .997 OPS to help lead the club to a sixth straight division crown.
Mets: Max Scherzer and Justin Verlander give the Mets everything they could have hoped, posting the second- and eighth-best ERA and WHIP in the NL, respectively.
Phillies: Kyle Schwarber and Trea Turner carry the offensive load, as the pair combine to hit 64 homers and drive in 186 runs. Philadelphia's MVP, however, is Zack Wheeler. The right-hander posts a 2.31 ERA and 1.06 WHIP across an MLB-leading 237 1/3 innings.
Marlins: Led by Jazz Chisholm Jr., Miami squeaks into the playoffs for just the second time in 20 years. Chisholm posts a team-leading 33 homers, 94 RBIs, and 20 stolen bases.
Nationals: Yikes. Washington records a second straight 100-plus loss season and the worst record in the NL. At least Joey Meneses proves last year was no fluke. The late bloomer clubs 37 homers to go with a .279/.336/.505 slash line to lead the club.
Brewers: And you thought the Brewers were heading in the other direction. Milwaukee wins its most games in franchise history thanks to the dynamic duo of Rowdy Tellez and Willy Adames. The pair combine for 70 home runs and 214 RBIs to help pace the offense. And then Corbin Burnes claims a second Cy Young in three seasons. That should help any future arbitration hearing.
Cardinals: St. Louis is one of the most disappointing teams in the sim. The Cardinals were the favorite to run away with the division, but fail to even reach the postseason. Paul Goldschmidt at least wins the NL batting title, finishing with a .346 average.
Cubs: There's not much to cheer about on the North Side as the Cubs finish with a third losing season in a row. Jameson Taillon's move back to the NL Central pays off in a big way at least. The right-hander posts a 2.66 ERA, and 1.06 WHIP, while reaching the 200-inning mark for the first time.
Pirates: At least they didn't lose 100 games. Andrew McCutchen hits just 11 home runs in his return to Pittsburgh; Oneil Cruz blasts 27 homers, but also strikes out 162 times; Ke'Bryan Hayes posts a subpar .708 OPS. Hopefully the real thing goes better.
Reds: Cincinnati posts triple-digit losses, but the pitching staff at least struck everyone out. The Reds lead the league with 1,318 strikeouts, led by Hunter Greene's 229 over 195 innings. Nick Lodolo finishes fourth in the NL in punchouts with 201.
Dodgers: Los Angeles actually looked a bit vulnerable coming into the season, and still manages to rattle off an MLB-best 107 wins. Led by Mookie Betts' 34 homers, seven players go deep at least 20 times as the Dodgers finish first in runs scored and hits.
Padres: What the hell happened in San Diego? Not only did they not make the playoffs, they didn't even finish with a winning record. The Padres' offense held up their side, finishing sixth in runs scored, but the pitching falters, ranking 20th in ERA.
Giants: San Francisco missed out on signing Aaron Judge and Carlos Correa, but Mitch Haniger does his best to play the role of superstar for San Francisco. He hits .259/.323/.495 with 39 homers and 109 RBIs to lead the club.
D-Backs: The future looks bright in Arizona. Corbin Caroll claims the NL Rookie of the Year, while fellow youngsters Gabriel Moreno and Alek Thomas have solid seasons. Zac Gallen is a legit ace, posting a 2.40 ERA across 225 1/3 innings.
Rockies: Dick Monfort's projection of playing .500 ball falls well short. Colorado doesn't do anything particularly well, finishing 21st in homers, 27th in runs scored, 29th in ERA, and 30th in pitcher strikeouts.
Playoffs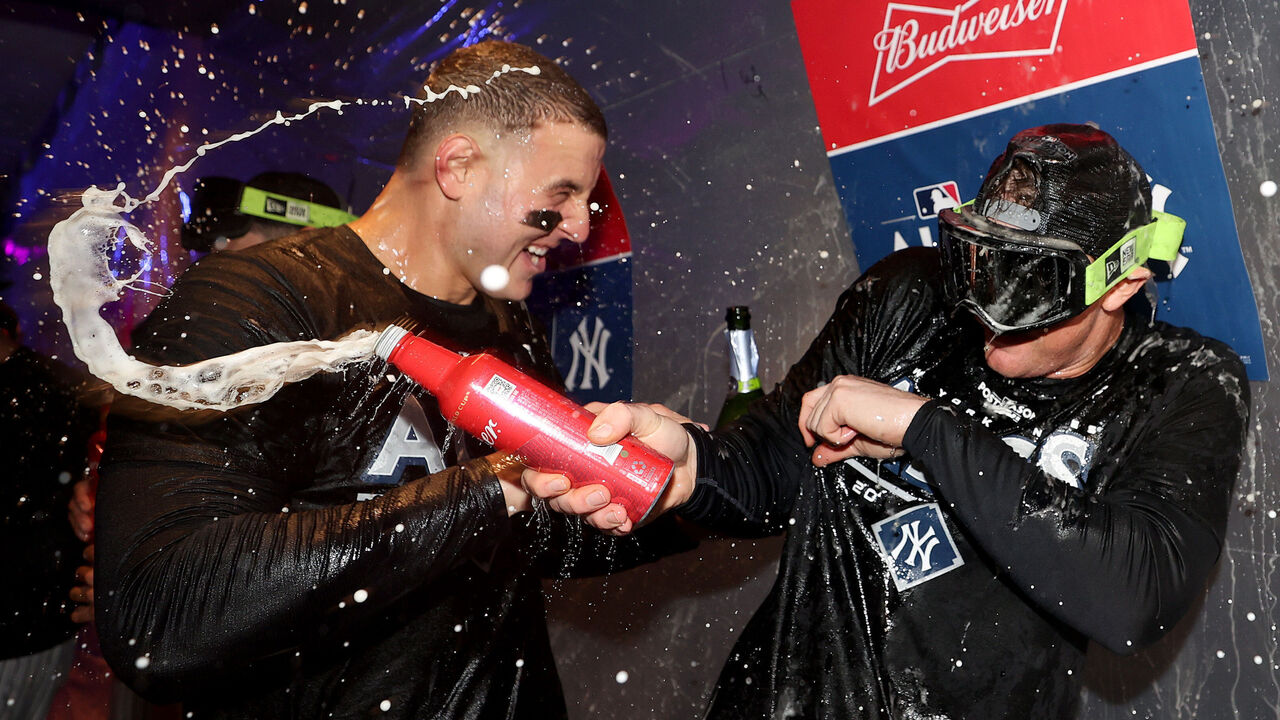 World Series: Yankees over Dodgers (4-2)
The Yankees benefit from the Astros missing the playoffs and are back atop the baseball world. New York knocks off the Dodgers in six games to claim its 28th World Series title, and first since 2009. Also, shoutout to the Marlins, who played the role of Cinderella, reaching the NLCS after posting the worst record of any playoff team.
AL wild card:
No. 5 Yankees over No. 4 Mariners (2-1)
No. 6 Rangers over. No. 3 Angels (2-1)

NL wild card:
No. 5 Phillies over No. 4 Mets (2-0)
No. 6 Marlins over No. 3 Brewers (2-1)
ALDS:
Blue Jays over Rangers (3-0)
Yankees over Guardians (3-2)

NLDS:
Marlins over Braves (3-1)
Dodgers over Phillies (3-0)

ALCS: Yankees over Blue Jays (4-0)
NLCS: Dodgers over Marlins (4-1)
Major awards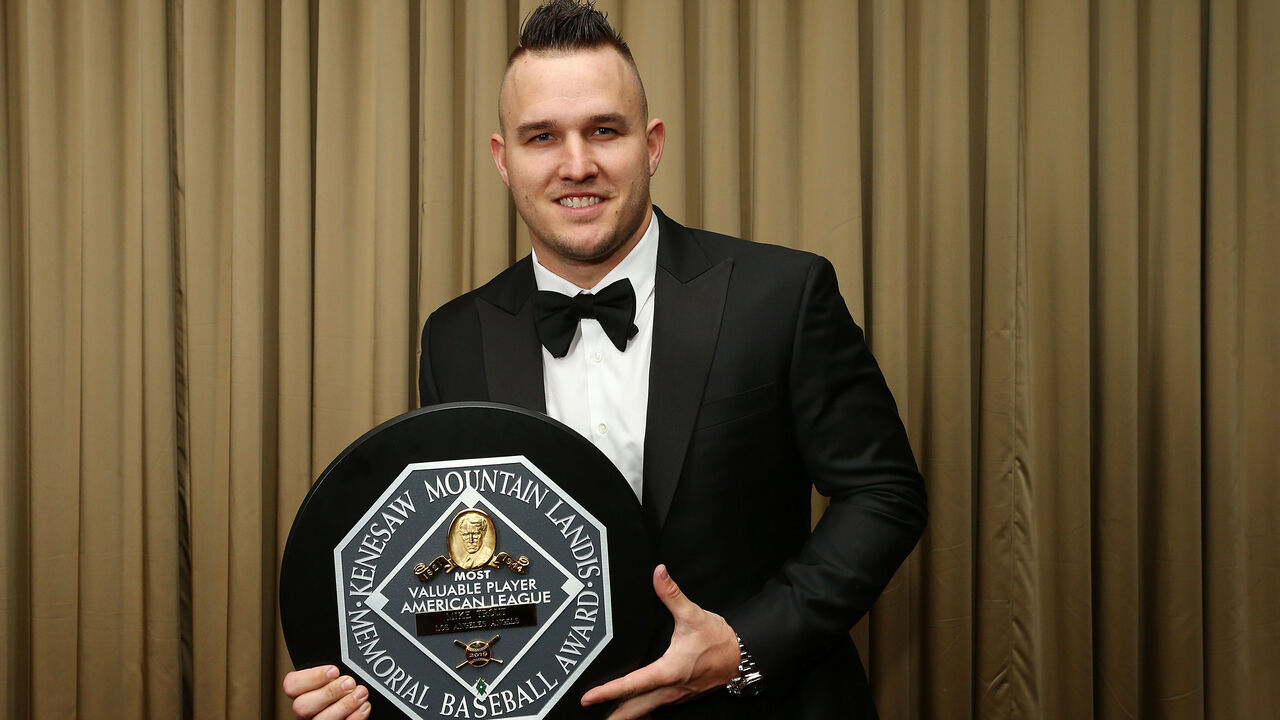 AL MVP: Mike Trout, Angels
| GP | R | HR | RBI | SB | OPS | WAR |
| --- | --- | --- | --- | --- | --- | --- |
| 147 | 113 | 39 | 122 | 5 | 1.067 | 9.8 |
NL MVP: Manny Machado, Padres
| GP | R | HR | RBI | SB | OPS | WAR |
| --- | --- | --- | --- | --- | --- | --- |
| 148 | 96 | 38 | 110 | 11 | .980 | 9.5 |
AL Cy Young: Jacob deGrom, Rangers
| IP | K | ERA | WHIP | WAR |
| --- | --- | --- | --- | --- |
| 236.2 | 275 | 2.28 | 1.04 | 7.0 |
NL Cy Young: Corbin Burnes, Brewers
| IP | K | ERA | WHIP | WAR |
| --- | --- | --- | --- | --- |
| 234.1 | 254 | 2.77 | 1.01 | 5.5 |
AL Rookie of the Year: Gunnar Henderson, Orioles
| GP | R | HR | RBI | SB | OPS | WAR |
| --- | --- | --- | --- | --- | --- | --- |
| 139 | 58 | 15 | 52 | 25 | .841 | 4.9 |
NL Rookie of the Year: Corbin Carroll, D-Backs
| GP | R | HR | RBI | SB | OPS | WAR |
| --- | --- | --- | --- | --- | --- | --- |
| 140 | 68 | 22 | 75 | 27 | .743 | 3.9 |
Comments
✕
MLB The Show's season sim: Trout reaches playoffs, Yankees win it all
  Got something to say? Leave a comment below!