2023 Baseball HOF preview: The curious case of Carlos Beltran
Joe Robbins / Getty Images Sport / Getty
With the Baseball Hall of Fame's class of 2023 announcement approaching, it's time to review this year's ballot. Here, we examine the only first-time candidate with a legitimate chance at election despite one glaring controversy that could ultimately hold him back.
Note: All WAR figures from Baseball Reference unless otherwise noted.
Carlos Beltran
Position: OF
Years: 1998-2017
Teams: Royals, Astros, Mets, Giants, Cardinals, Yankees, Rangers
JAWS: 57.3 (9th at CF)
WAR: 70.1 (8th)
Year on ballot: 1st
| GP | BA | OPS | H | HR | RBI | SB |
| --- | --- | --- | --- | --- | --- | --- |
| 2586 | .279 | .837 | 2725 | 435 | 1587 | 312 |
In his prime, Beltran was arguably the best center fielder of his generation. Flash wasn't Beltran's game; he was never a league leader in a major category, and some of his best years were occasionally interrupted by hard-luck injuries. Still, there he was, year after year, as a cornerstone switch-hitting, five-tool center fielder for multiple franchises.
Unfortunately, Beltran's stellar resume isn't the first thing that comes to mind these days. For many, his career was tarnished by his prominent role in the 2017 Houston Astros' sign-stealing scandal. Its recency has cast a shadow over his debut on the Hall of Fame ballot. He presents a conundrum for voters, who aren't strangers to controversies but haven't seen a case like this in some time.
All-around brilliance
The Kansas City Royals drafted Beltran in the second round in 1995. Originally a right-handed hitter, the Puerto Rico native taught himself to switch-hit as a 19-year-old prospect following knee surgery. By age 21 he was in the majors, establishing himself with a phenomenal freshman season in 1999 that ended with AL Rookie of the Year honors.
Save for an injury-plagued sophomore campaign, Beltran continued his solid play for the Royals, steadily improving into an annual 30-30 threat with Gold Glove-caliber defense. Everything reached another level in 2004, a season he split between the Royals and Astros, when he finished two homers shy of a 40-40 campaign while earning his first All-Star berth.
He began crafting his legend in the 2004 playoffs. Beltran was simply unstoppable during the Astros' run to the NLCS, hitting .435/.536/1.022 while tying Barry Bonds' then single-postseason record with eight homers, setting a new all-time mark by going deep in five straight playoff games (a record that has since been broken), and stealing six bases.
The timing was perfect, as Beltran parlayed his monster playoff run into a seven-year, $119-million deal with the New York Mets that winter. In Flushing, he'd put together some of his best individual seasons, earning five of his nine All-Star nods and winning each of his three Gold Gloves and two Silver Sluggers.
Perhaps his best all-around season came in 2006 when he slugged a since-broken single-season franchise-record 41 homers with a .982 OPS, 18 steals, and 13 defensive runs saved for the 97-win Mets. He enjoyed another good playoff run that year, ripping three homers in the NLCS, although the lasting image of that series - and maybe his entire Mets career - remains him staring at Adam Wainwright's curveball.
Beltran's Mets tenure was occasionally marred by injuries, including a grisly collision with teammate Mike Cameron in 2005 and knee issues that played a role in his departure from the club. With ownership facing financial issues and a rebuild about to commence, the Mets dealt Beltran - who was in the midst of a rebound season - to the San Francisco Giants at the 2011 trade deadline for pitching prospect Zack Wheeler. His two-month stint in San Francisco didn't yield a playoff berth but did kick-start an excellent back end of his career.
Over his final six seasons, Beltran played important roles on five playoff teams in four cities. He finally reached the World Series with the Cardinals in 2013, returned to New York for a run in right field with the Yankees, and helped Texas to a division title in his penultimate season. For his final act, Beltran returned to Houston and retired a champion, contributing to the Astros' World Series title as a DH and clubhouse leader.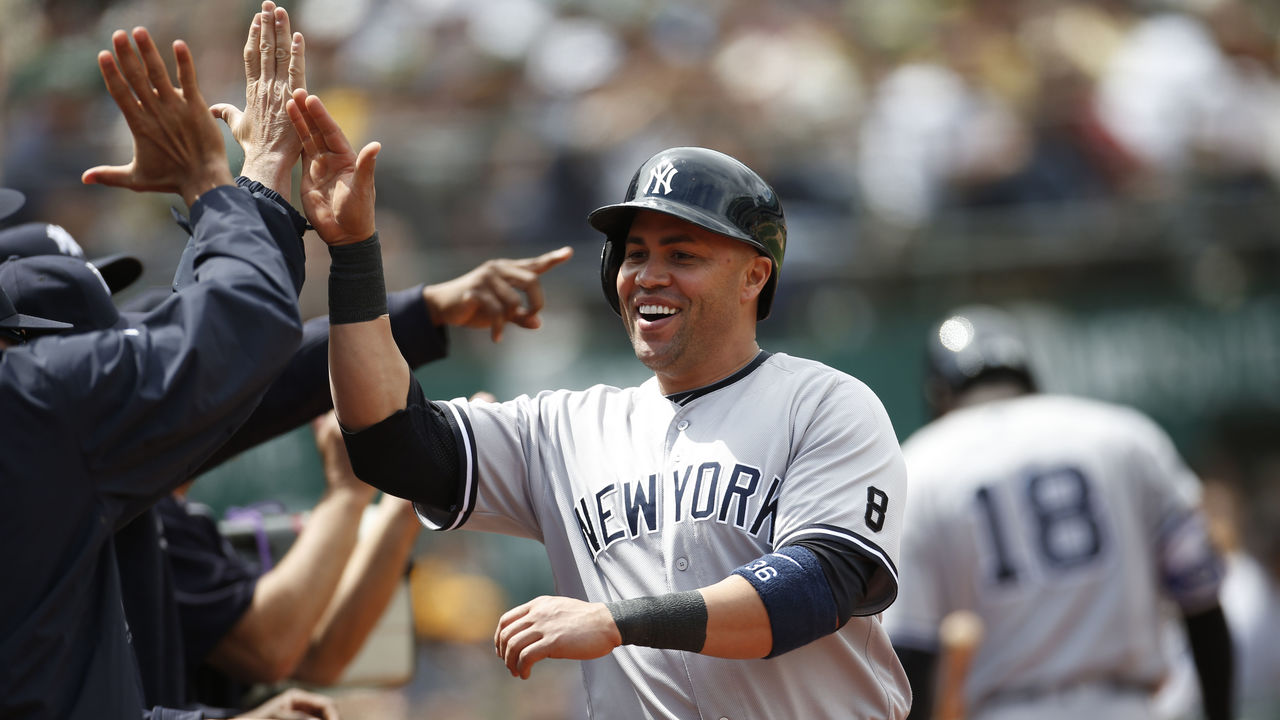 Beltran is one of only eight players with 300 homers and 300 stolen bases, a testament to his all-around offensive impact. An excellent baserunner, he was caught stealing on just 49 occasions in his career and scored 100-plus runs seven times. He also ranks top 30 all time in doubles (565) and 25th in extra-base hits. Beltran was also a game-changer on defense during his prime; his 38 defensive runs saved in center field rank third since 2003, when the metric started being tracked.
He ranks eighth among center fielders in WAR at 70.1, a hair below the average Hall of Famer. The only center fielder with more WAR who's not in Cooperstown is Mike Trout. Beltran also rates highly in JAWS, sitting ninth, and seven-year peak WAR (44.4), tied with Hall of Famer Richie Ashburn. Beltran's overall stat line is eerily similar to that of Andre Dawson, another underrated Hall of Fame center fielder who needed nine years to gain election.
Put all of that together with his amazing playoff production, and it's enough to make you wonder how Beltran didn't win more awards. He's the only one of this year's first-time candidates who's clearly worthy of a plaque.
The elephant in the room
Just about the only thing weighing down Beltran's case is his prominent role in the Astros' cheating scandal. Hall of Fame voters have grown accustomed to dealing with controversy, but his case is unique given both the issue at play and the recency bias.
To quickly review: In November 2019, The Athletic's Ken Rosenthal and Evan Drellich published the first report of Houston's illegal electronic sign-stealing during their championship season. Beltran, who had been hired as the Mets' manager less than two weeks earlier, was named as a key participant in early reports, though he initially denied any wrongdoing.
Ultimately, commissioner Rob Manfred's investigation found the Astros used a center-field camera and the video replay room to decode opponents' signs and relay them to hitters. The system then evolved to the point that a player would decode signs in the dugout tunnel and then bang on a trash can to indicate what pitch was coming. Beltran, the only active player named in Manfred's report, was found to have played a critical role in improving the scheme.
After it was discovered that Beltran had downplayed his involvement, he and the Mets mutually agreed to part ways just two months into his tenure and before he'd managed a game. When Beltran finally returned to baseball last year as a Yankees broadcaster, he admitted the Astros "did cross the line."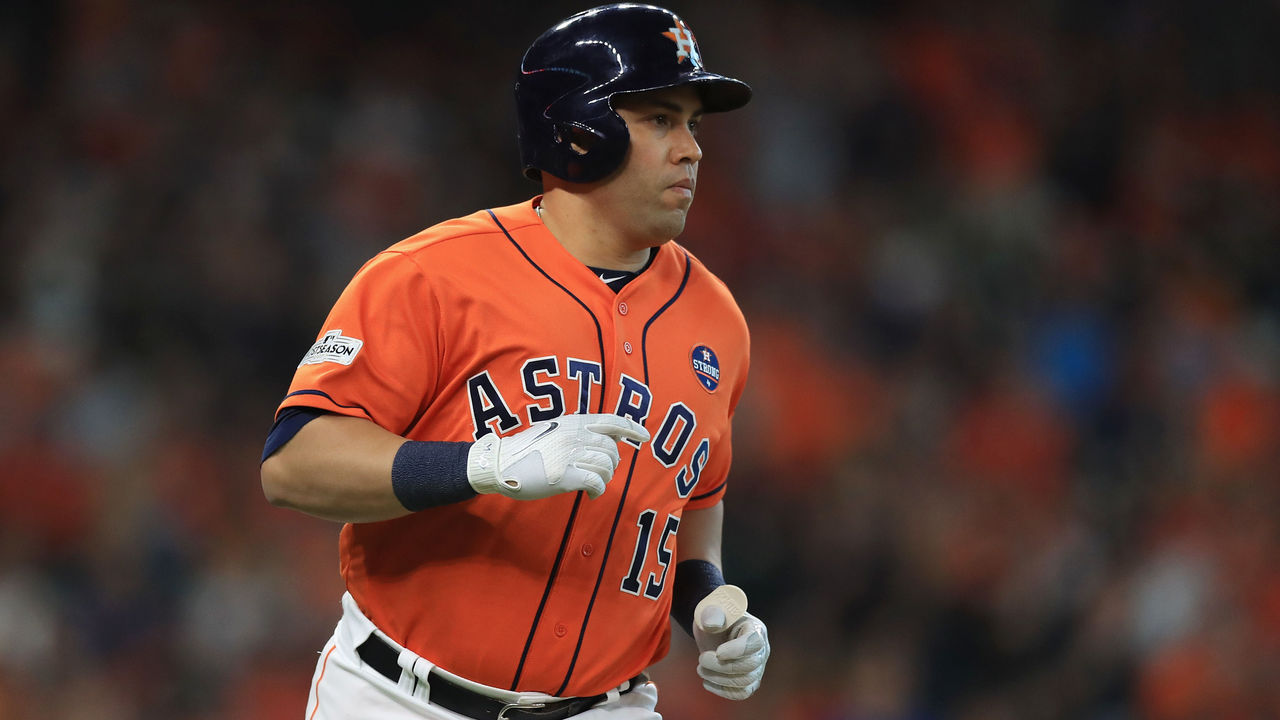 The wrongdoings of Beltran and the Astros will obviously remain prominent in the minds of anyone who watched that team play. But he also remains in good standing with Major League Baseball. While a stain on his resume, it also wouldn't be totally fair to discount everything he did based on one incident. It's also fair to note that the history of sign-stealing and on-field cheating in baseball history is well documented, from the 1899 Phillies shocking their third-base coach via underground buzzers to steal opponents' signs, to Hall of Fame pitcher Gaylord Perry's notorious - and very illegal - spitball.
There will obviously be a segment of voters who hold the cheating against him, at least for one year. Thus, it's tempting to compare this saga to that of Roberto Alomar, who was considered a first-ballot lock until many voters chose to "punish" him for his infamous spitting incident. The following winter, Alomar sailed into Cooperstown with 90% of the vote.
If Beltran was polling better than his 56.6% among known ballots, Alomar would be a more reasonable comparison. Even if some are choosing to give him that kind of treatment in Year 1, Beltran differs from Alomar in that he doesn't feel like an otherwise obvious Hall of Famer despite what a closer look might tell you. Take the scandal out, and he'd probably need one or two years to convince some voters anyway.
It's a good thing that Beltran won't drop off the ballot as a result of the scandal, and it's also fine that he won't go in right away. The scandal has to weigh into the overall evaluation of his candidacy, but it would be wrong to dismiss him forever because of it, especially when he's shown remorse and has no other black marks on his resume.
Compared to other controversial candidates in recent years, Beltran's poised for a very strong first-year showing. It feels like, in time, the rest of the votes he needs will show up. Depending on Tuesday's final number, that could be sooner than some may think.