MLB winter meetings takeaways: Judge, Contreras, others
Major League Baseball's winter meetings are back after a multi-year hiatus due to COVID-19 and the lockout. It should be a wild week in San Diego as executives, agents, and players from across the league meet. We broke down the first day of action, which featured Justin Verlander's and Trea Turner's massive signings, here. Now, it's time to discuss the two days since then:
Yankees avoid embarrassment, pony up for Judge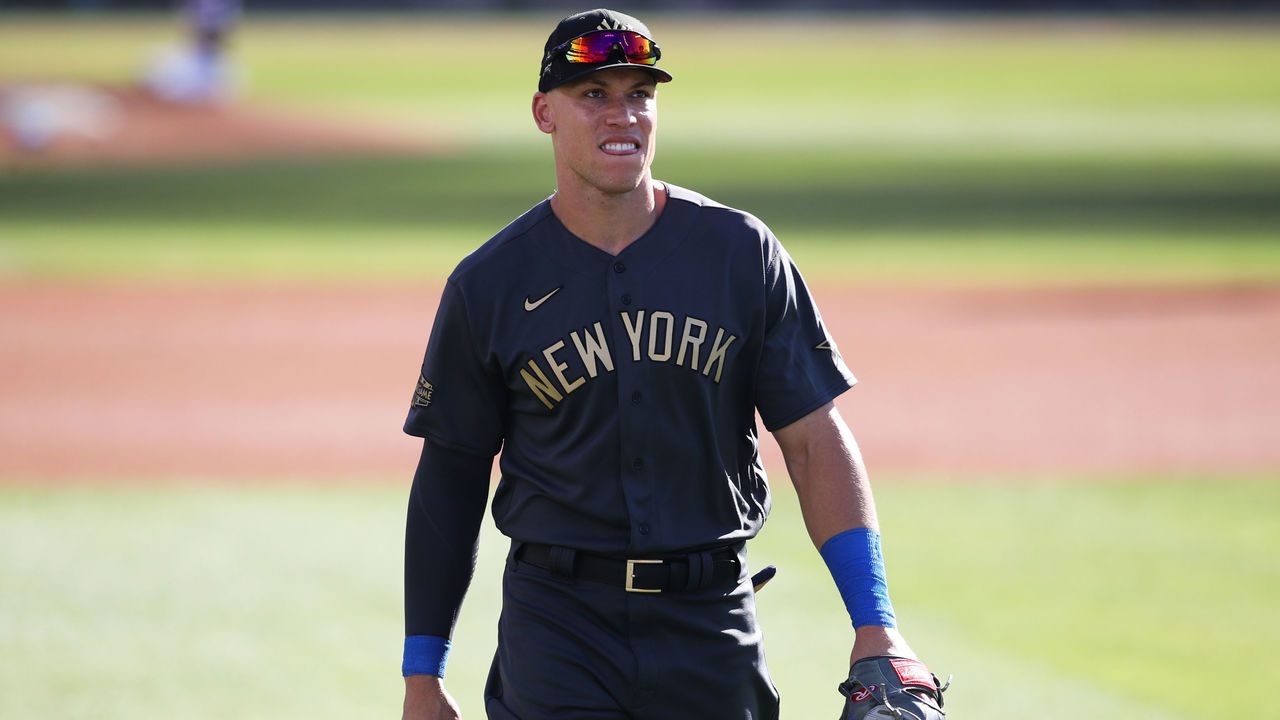 Off the top, condolences to the San Francisco Giants and San Diego Padres, who may or may not have bid more for Aaron Judge's services but ultimately couldn't contend with the allure of the New York Yankees.
For the Giants, it finally seemed like Farhan Zaidi was going to make that long-awaited splashy move. Since taking over as the team's president of baseball operations, San Francisco had been tangentially tied to the Bryce Harper sweepstakes and a few other top free agents but always came up empty. Judge, a California native who grew up a Giants fan, felt different. And thanks to the New York Post's Jon Heyman briefly setting Twitter ablaze by incorrectly saying the deal was done, it really seemed like it was happening.
Alas, the Giants lose out. But it's not all bad news. After all, they're much more than one Aaron Judge away from fielding a contender. Hopefully, San Francisco can spread that wealth around over the next couple offseasons in an attempt to build a true powerhouse. The process could even start this winter with the addition of a different star or two (Carlos Correa joining while Brandon Crawford enters his final year under contract, anyone?).
While rumors suggested the Padres threw $400 million at the superstar slugger, an offer in the $350-million-plus range appeared more likely, according to The Athletic's Ken Rosenthal.
San Diego pivoted to Judge after losing out on Turner - despite also reportedly offering more money than the 11-year, $300-million deal the 29-year-old agreed to with the Philadelphia Phillies. And, after missing out on Judge, their next contingency was landing Xander Bogaerts, who muddies up a middle-infield logjam for the Friars.
Judge was a much more natural fit for the Padres, who'll undoubtedly seek outfield help over the remainder of the winter. Bogaerts is a much weirder fit with both Fernando Tatis Jr. and Ha-seong Kim able to play shortstop. Moving Kim to second base doesn't make much sense either, with Jake Cronenworth in the mix. All this is to say: A.J. Preller and Co. definitely have something more cooking. Who do they pivot to next, and are Tatis, Kim, and/or Cronenworth on the block?
Finally, and most importantly, the Yankees. The winners of the Judge sweepstakes. They managed to retain a homegrown star who broke Roger Maris' single-season AL home-run record last year. There's a lot to parse from their perspective.
Thankfully, general manager Brian Cashman and owner Hal Steinbrenner were able to swallow their pride and fork out the extra $146.5 million needed to keep Judge after offering $213.5 million in an extension last winter. Remember: Cashman opted to make the negotiations public, which "disappointed" Judge at the time. Judge bet on himself and won in epic fashion. The Yankees were remarkably close to not only looking cheap - a word that should be illegal in the Bronx - but like the villains of the whole story. Losing Judge would've been an incredible embarrassment for the team.
That being said, baseball fans haven't seen the Yankees feel embarrassed in free agency since New York lost out on both Barry Bonds and Greg Maddux in the 1992-93 offseason. What'd they do after that? Over the next few seasons, they added a slew of other stars, led the league in payroll in 18 of the next 20 campaigns, and won four World Series in a five-year span.
Fans of other teams might not like to admit it, but that version of the Yankees is great for baseball. Lately, the team seems pretty content being outspent by the Los Angeles Dodgers and, now, the crosstown New York Mets. And that sucks.
In some ways, losing Judge might've caused a snowball effect, and that would've been much more entertaining. What do the Yankees do now? Cashman can sit on his hands the rest of winter and, when the Yankees are unceremoniously bounced from the postseason without clinching an AL pennant for a 14th straight year, he can credibly say "well, we tried."
The fact is that there are still glaring issues with the Yankees' roster - issues that have been clear for multiple offseasons. Chiefly, they need a shortstop, but with Judge in the fold, is anyone confident they'll pony up for a top free agent at that position like Correa or Dansby Swanson? New York absolutely should, but it's less than 12 months removed from acquiring Isiah Kiner-Falefa and Josh Donaldson from the Twins so that Minnesota could sign Correa instead. Tolerating another season of Kiner-Falefa and Donaldson seems like a terrible idea and, frankly, a big enough problem to prevent the Yankees from being a true contender. And that's just one area of need.
Then, finally, there's the matter of Judge's contract - a nine-year, $360-million megadeal that makes him the highest-paid position player by average annual value in MLB history. The wormbrained will tell you it's an overpay, but this is simply the cost of doing business when retaining the guy who hit more homers in a single season than any AL player ever. Maybe the back end of the deal ages poorly, like many, many other free-agent deals. But, honestly, we've never seen an athlete quite like Judge. The 6-foot-7 outfielder is good defensively at this point in his career and coming off a career-best campaign. That's more than can be said about comparable sluggers when they hit the open market, such as Albert Pujols - who also landed a 10-year deal ahead of the 2012 season.
Let's compare their walk years:
| Player | Year (Age) | GP | HR | AVG/OBP/SLG | WAR |
| --- | --- | --- | --- | --- | --- |
| Judge | 2022 (30) | 157 | 62 | .311/.425/.686 | 11.4 |
| Pujols | 2011 (31) | 147 | 37 | .299/.366/.541 | 3.9 |
Will Judge be setting AL records in 2029 as a 37-year-old? Almost certainly not. But we're talking about the Yankees. They can incur that risk - that's why they were able to add Giancarlo Stanton's colossal contract.
Spend more now, end this uncanny World Series drought, and no one will care that Judge is a $40-million-per-year designated hitter in a few years.
Cardinals find Molina's heir in Contreras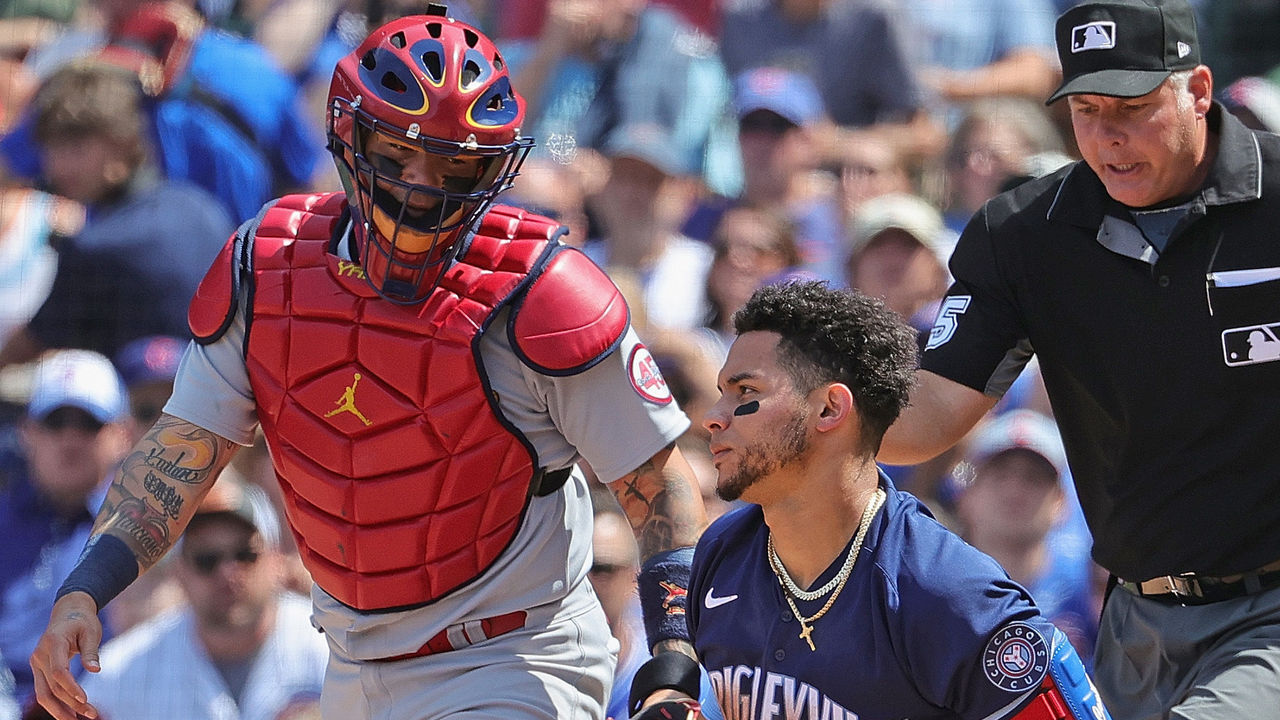 The St. Louis Cardinals had lots of options to choose from when deciding who'd work behind the dish in their first season without Yadier Molina since 2003. St. Louis went with the top catcher on the open market, landing Willson Contreras on a five-year, $87.5-million deal.
The other most obvious options seemed to be on the trade market, with Oakland Athletics backstop Sean Murphy and a slew of catchers on the Toronto Blue Jays also seemingly available. Here's how all of those players compare in 2022 alone:
| Player | Age | GP | HR | AVG/OBP/SLG | Def | WAR |
| --- | --- | --- | --- | --- | --- | --- |
| Contreras | 30 | 113 | 22 | .243/.349/.466 | -0.4 | 3.3 |
| Murphy | 28 | 148 | 18 | .250/.332/.426 | 15 | 5.1 |
| Alejandro Kirk | 24 | 139 | 14 | .285/.372/.415 | 8.8 | 3.8 |
| Danny Jansen | 27 | 72 | 15 | .260/.339/.516 | 4.8 | 2.6 |
| Gabriel Moreno | 22 | 25 | 1 | .319/.356/.377 | 3.8 | 0.7 |
* - Defensive stats according to FanGraphs
While the Cardinals recruited the oldest of the readily available options, they only needed to give up money and their second-highest draft pick (for signing a player who rejected a qualifying offer) to pull that off - resources that should be considered much easier to part with than the prospects it might've cost to land Murphy.
More importantly, though, they're also taking their chances on the catcher with the worst defensive track record. In fact, Contreras only even played 72 games behind the plate last year, with the Chicago Cubs taking full advantage of the newly minted DH spot in the NL. That's a bit of a strange call for the Cardinals to make when looking for an heir to Yadi, whose otherworldly defensive prowess prolonged his Cooperstown-bound career despite sharply declining offensive numbers (78 wRC+ in 356 games over his final four seasons).
There's a pretty good reason why that might not matter soon, though: robot umps. MLB is set to introduce some form of the automated strike zone in the next couple seasons. That completely nullifies catcher framing, which is the only thing Contreras is actually not good at - he sat in the 27th percentile last year, according to Baseball Savant. By comparison, Murphy and Kirk are both exceptional at the craft, ranking in the 86th and 94th percentile, respectively.
What will still matter is the ability to throw out would-be base-stealers, and Contreras' pop time on throws to second base is beyond reproach, sitting in the 79th percentile. There might be even more emphasis on catchers controlling the running game, with larger bases and limits on the amount of pitcher pickoff attempts. While Murphy remains elite by pop time (96th percentile) Kirk leaves much to be desired, sitting in the 32nd percentile. While Contreras isn't known as a defensive catcher, that criticism is likely quite overblown.
Speaking of the league policing pitcher pickoff attempts, Contreras tried the most backpicks in MLB last season despite having his time behind the plate limited. On 48 occasions, he threw the ball behind runners - typically at first base - after receiving pitches in an attempt to catch them taking too large of a secondary lead. The catchers who threw the second- and third-most backpicks combined for merely 45. The Cardinals now have arguably the best catcher in baseball to counter the league's attempts to hurt pitchers' ability to check on runners.
In a winter featuring some expensive early deals, too, Contreras' is eminently reasonable. It's the second-largest total commitment handed out to any catcher behind only J.T. Realmuto, who remains the class of the position. And, while it's larger overall than Yasmani Grandal's four-year, $73-million deal with the Chicago White Sox, it's cheaper on a per-year basis.
The Cardinals addressed their most dire need and should definitely be considered the favorites to win the NL Central.
Best of the rest
Red Sox lose another homegrown star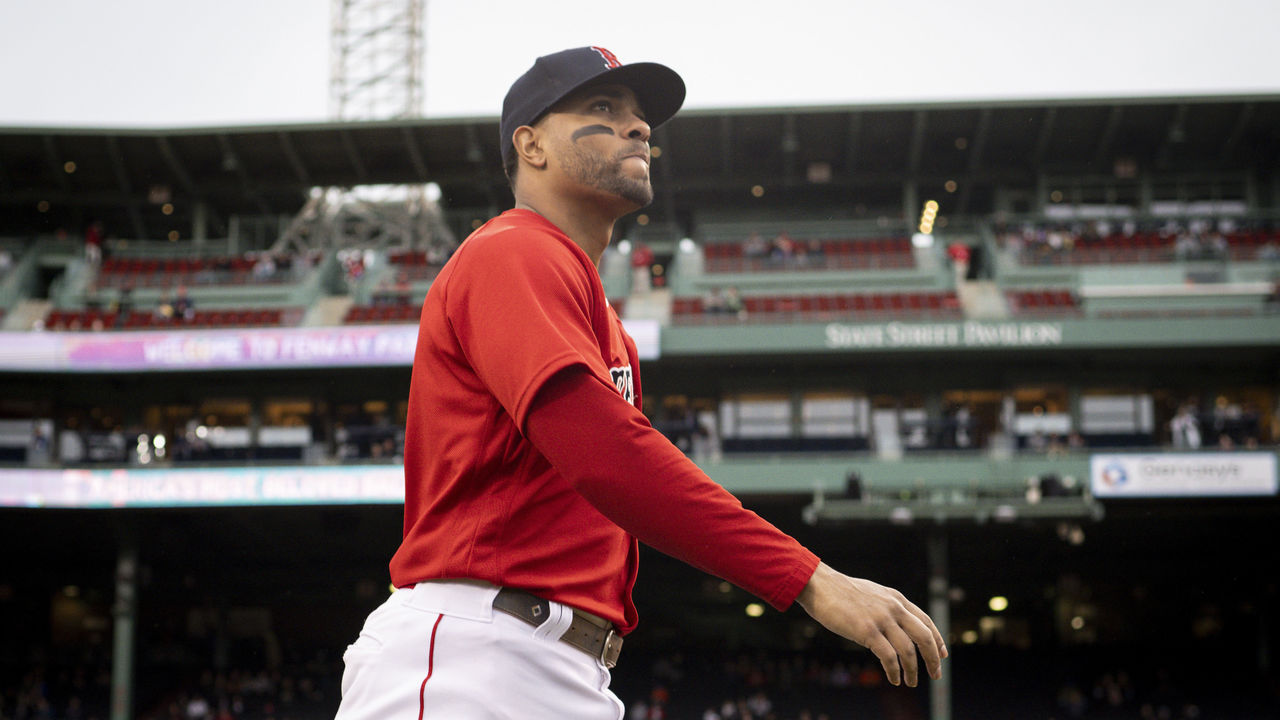 The Boston Red Sox just continue to finish runner-up on seemingly every player this winter, including homegrown star shortstop Xander Bogaerts, who reportedly took an 11-year, $280-million deal with the Padres late Wednesday night.
If Trevor Story had a better first season in Boston, watching Bogaerts leave may have been more tolerable for the Fenway faithful. Instead, Story's underwhelming campaign, masked by a white-hot May, makes Bogaerts' departure sting a little extra.
Now Boston must pivot to retain its other homegrown star - 26-year-old Rafael Devers, who's one season away from testing free agency himself - and avoid yet another Mookie Betts situation.
Hey, at least they added closer Kenley Jansen and Japanese outfielder Masataka Yoshida?
Phillies, Cubs, Mets find mid-rotation starters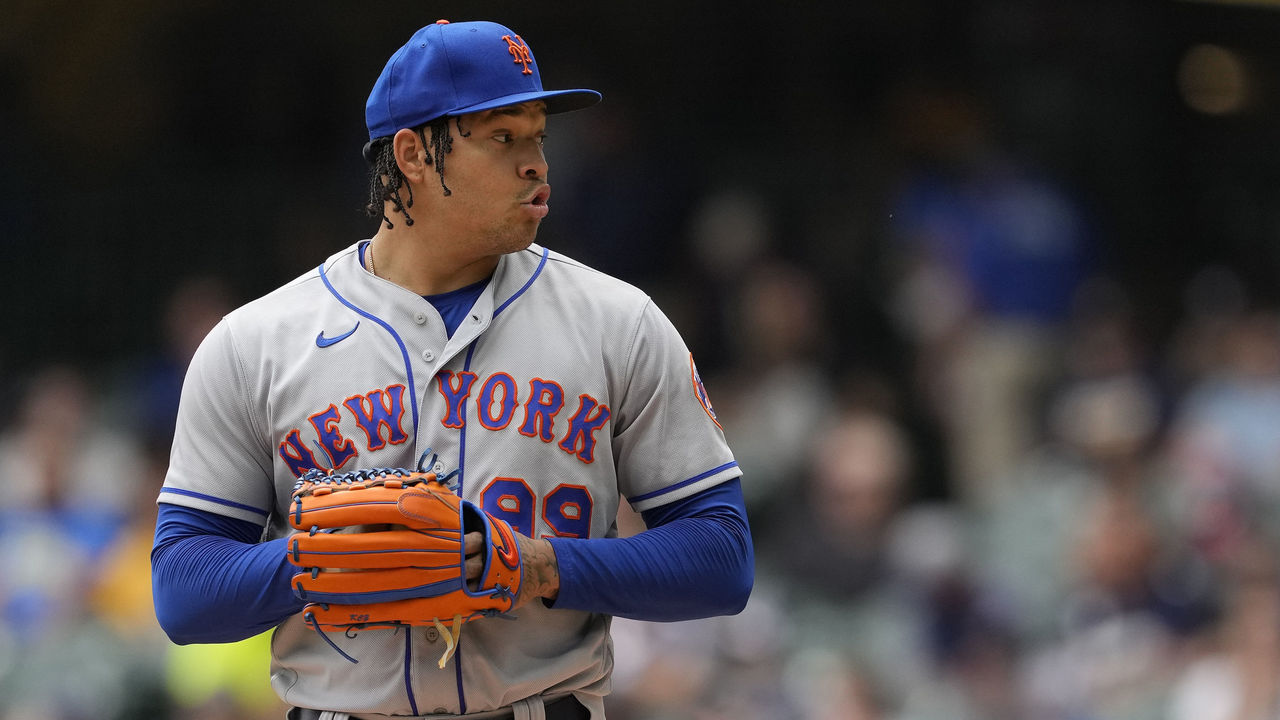 Let's start by comparing all three pitchers' 2022 stats:
| Player | Age | IP | ERA | FIP |
| --- | --- | --- | --- | --- |
| Walker | 30 | 157.1 | 3.49 | 3.65 |
| Taillon | 31 | 177.1 | 3.91 | 3.94 |
| Quintana | 33 | 165.2 | 2.93 | 2.99 |
Quintana is the oldest of the three and successfully leveraged a very strong comeback season after some dismal campaigns into a two-year deal. Still, in the hunt for a No. 3 starter, the Mets really seem to come out ahead here.
There are some substantial reasons to be wary, though. On top of simply not being good from 2018-21 - Quintana authored a 4.67 ERA over 418 1/3 innings of work - he suddenly suppressed home runs at a remarkable rate last season. Perhaps he made an adjustment to address command or perhaps he benefitted from non-juiced balls. His 5.3% homer-per-flyball rate led all qualified starters; some regression should be expected, not least from simply moving from the weak-hitting NL Central to a more competitive NL East.
Taillon and Walker, though, are relatively uninspiring signings. Both are capable of eating innings and pitching just barely above league average, so their deals likely set the market for the mean mid-rotation free agent. That bodes very well for the earning potentials of Chris Bassitt, Ross Stripling, Michael Wacha, and even Sean Manaea coming off a brutal season.
Comments
✕
MLB winter meetings takeaways: Judge, Contreras, others
  Got something to say? Leave a comment below!