MLB Playoff Power Rankings: Dissecting each team's World Series chances
Welcome to our playoff edition of the MLB Power Rankings where we look at why each team could win the World Series and what could hold them back.
1. Los Angeles Dodgers
Why they could win it all: The Dodgers set a franchise record for wins during the regular season and have the most complete team from top to bottom. Los Angeles is highly motivated to win its second Fall Classic in three seasons, which would help solidify this run of dominance as one of the best in recent memory. The star-studded trio of Mookie Betts, Trea Turner, and Freddie Freeman can be the catalysts for the club's fourth World Series trip in six years.
Biggest weakness: There are concerns about pitching depth. The injuries in the rotation to Walker Buehler and Dustin May have left Dave Roberts somewhat thin for a longer series. The Dodgers will need Clayton Kershaw to be excellent and Julio Urias to continue elevating his performance in the postseason. There's also a great deal of uncertainty in the bullpen. The Dodgers are without a defined closer after Roberts removed the struggling Craig Kimbrel from the ninth-inning role. It's possible one or more options emerge, but protecting late leads could be a challenge.
2. Houston Astros
Why they could win it all: Houston is looking for a staggering sixth straight ALCS appearance and is a strong favorite to reach the World Series for the third time in four seasons. The Astros' lineup is loaded with proven postseason performers. The team also has a strong rotation paired with a lockdown bullpen. It will take an impressive all-around performance from another club to knock off the Astros in a postseason series.
Biggest weakness: The Astros will need someone to emerge in the rotation behind their formidable duo of Justin Verlander and Framber Valdez. Cristian Javier, Lance McCullers Jr., and Luis Garcia all have the tools to be factors, but the Astros will run into problems if none of them step into a prominent role. After the core four of Jose Altuve, Yordan Alvarez, Alex Bregman, and Kyle Tucker, the Astros' lineup is somewhat thin. Houston will likely miss the steadying presence of Michael Brantley under the bright postseason lights. This will also be the first playoff run without Carlos Correa in the fold, and all eyes will be focused on how talented rookie Jeremy Pena handles his first postseason experience.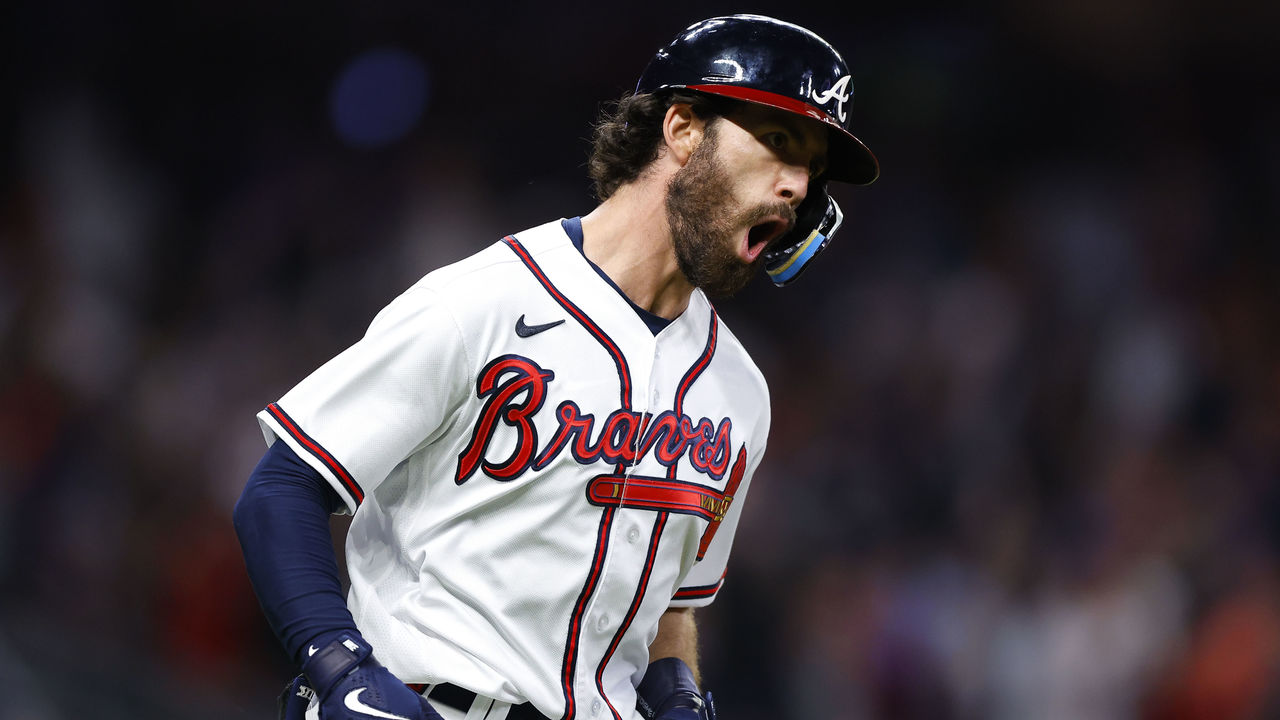 3. Atlanta Braves
Why they could win it all: The defending champions return to the postseason as one of baseball's hottest and most dangerous clubs. Even without Ronald Acuna Jr. and Ozzie Albies providing their usual value to the lineup, the Braves have received breakout campaigns from Dansby Swanson as well as young stars Michael Harris II and William Contreras. The Braves also have a strong quartet in the rotation with Max Fried, Spencer Strider, Kyle Wright, and Charlie Morton.
Biggest weakness: The Braves don't have many glaring weaknesses, but the performance of Kenley Jansen is reason for some level of concern. Despite posting his first 40-plus-save campaign since 2017, Jansen blew seven save opportunities and struggled at times to keep the ball in the park. Strider's health is another big storyline to monitor. The NL Rookie of the Year contender has missed time with an oblique injury and is tentatively expected to return for the NLDS. If Strider is hampered at all, the Braves could find it even more difficult to navigate a possible NLCS should they get there.
4. New York Mets
Why they could win it all: The Mets have what every postseason contender is looking for - incredible starting pitching and a star-studded lineup. If New York can get marquee performances from the likes of Jacob deGrom, Max Scherzer, Pete Alonso, and Francisco Lindor, they are well-equipped to compete with the other NL powerhouses. The Mets also have baseball's most dominant ninth-inning stopper in Edwin Diaz. If they can hand him a lead, it will likely end in a victory.
Biggest weakness: Starling Marte's health is a concern. The speedy outfielder doesn't appear close to returning from a fractured finger that has sidelined him for almost a month. The question of who steps up in the rotation beyond deGrom, Scherzer, and Chris Bassitt is another possible sore spot. One of Taijuan Walker or Carlos Carrasco will need to seize the opportunity if New York hopes to win a first World Series title since 1986.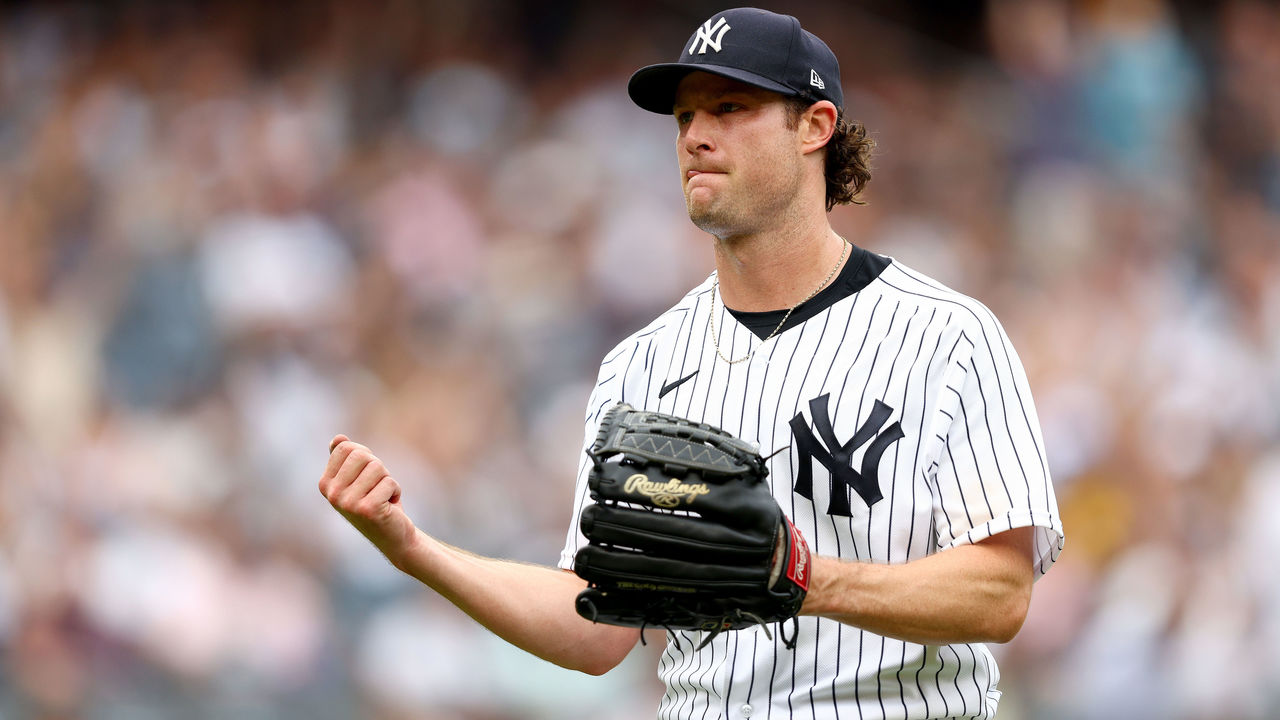 5. New York Yankees
Why they could win it all: The Yankees' lineup is filled with postseason veterans. Led by presumptive AL MVP Aaron Judge, New York's offense showed for long stretches of the regular season that it's capable of carrying the club to victories.
Biggest weakness: New York's pitching staff carries question marks from top to bottom. Gerrit Cole must find a way to keep the ball in the park during the postseason. Beyond Cole, the Yankees need Nestor Cortes, Luis Severino, and Jameson Taillon to step up and provide the team with quality starts and innings. The bullpen looked to be a huge weapon earlier in the season, but injuries and inconsistencies have rendered it a major uncertainty. Clay Holmes, Zack Britton, and Ron Marinaccio are dealing with injuries, while Aroldis Chapman has struggled all season. New York is going to have to find some arms that can emerge in high-leverage situations.
6. St. Louis Cardinals
Why they could win it all: It feels like there might be magic in the air for the Cardinals. Albert Pujols put together one of the great final seasons in recent memory and looks to have another moment or two of postseason magic left in his bat. St. Louis boasts a pair of MVP candidates in Paul Goldschmidt and Nolan Arenado. The Cardinals are also armed with three strong relief options in Ryan Helsley, Giovanny Gallegos, and Andre Pallante.
Biggest weakness: The Cardinals lack a true ace. Adam Wainwright continues to defy father time but struggled to a 7.22 ERA over his final six starts. Jack Flaherty was better in his last two starts, and manager Oliver Marmol will be looking for the talented right-hander to rise to the occasion.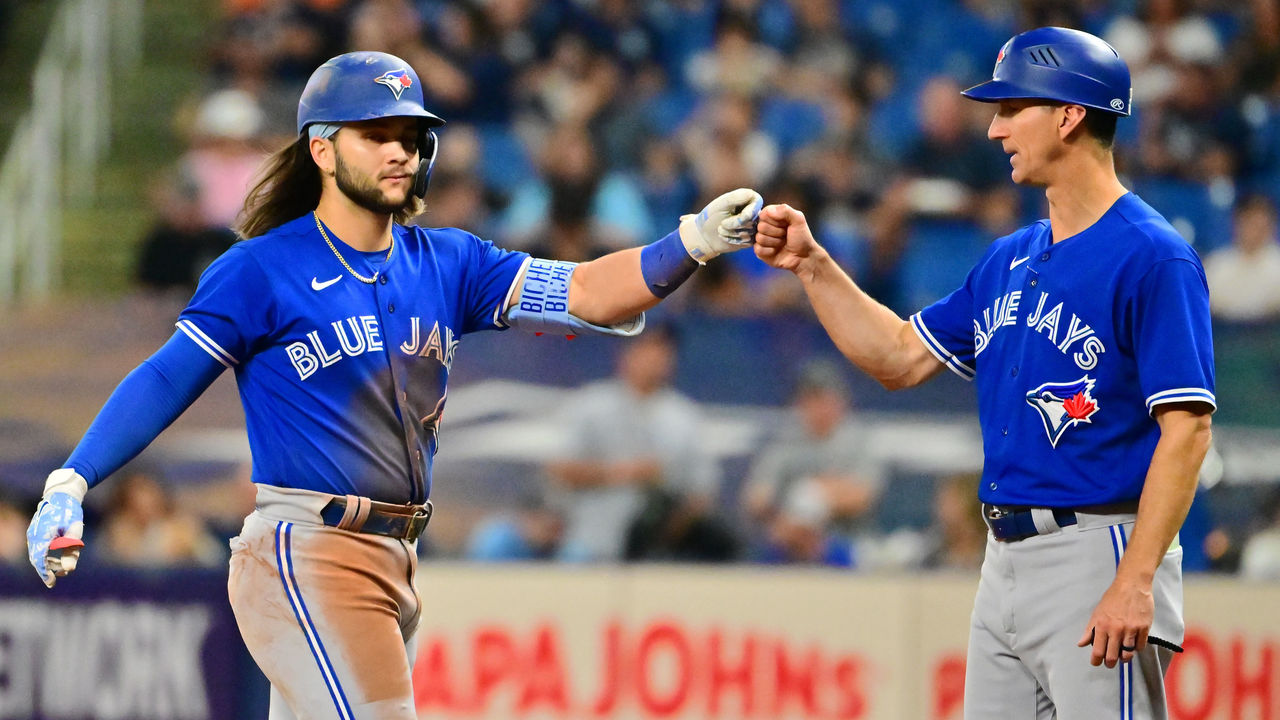 7. Toronto Blue Jays
Why they could win it all: The Blue Jays boast one of baseball's most talented lineups. It's somewhat right-hand dominant but deep and has multiple players who can carry the team well into October. If the likes of George Springer, Bo Bichette, and Vladimir Guerrero Jr. can all get hot, it will be hard for opposing pitching staffs to navigate their offensive depth and talent. The bottom third of the order could also be a key X-factor with hitters like Whit Merrifield and Danny Jansen finding their stride in the late stages of the regular season. The Blue Jays are also well-equipped at the top of their rotation. Alek Manoah, Kevin Gausman, and Ross Stripling have carried the freight all season and would match up well with any other trio of pitchers.
Biggest weakness: A lack of swing-and-miss in the bullpen could leave the Blue Jays vulnerable in late-and-close situations. Although Toronto's relief corps was bolstered with the acquisitions of Anthony Bass and Zach Pop, the bullpen is still average at racking up strikeouts. One of the frequent keys to postseason success is having a handful of relievers who can secure some easier outs via the strikeout while being efficient with their pitch counts amid elevated workloads. The Blue Jays possess enough quality arms that it could all come together for a deep run, but it's definitely the biggest area of concern.
8. Seattle Mariners
Why they could win it all: Bringing a talented lineup, rotation, and bullpen to the playoffs is a recipe for success. The Mariners will be dangerous if Julio Rodriguez can parlay his incredible debut season into a strong postseason. Manager Scott Servais has an embarrassment of riches in the rotation and could line up any three of Luis Castillo, Robbie Ray, Logan Gilbert, and George Kirby in a series. The Mariners' bullpen lacks household names but was among baseball's best during the regular season.
Biggest weakness: The Mariners are very reliant on home runs to drive their offensive production. Seattle ranked in the top third in homers during the regular season but was in the bottom five in batting average. If the long balls dry up, the Mariners could have a difficult time figuring out ways to score enough runs. Three of their key starting pitchers have no postseason experience, and Ray owns a 5.59 ERA in three playoff appearances.
9. San Diego Padres
Why they could win it all: After a feverish deadline push to fortify their playoff chances, the Padres made it and have the requisite talent to go on a deep run. A lineup led by Manny Machado and Juan Soto is something no other contender should be excited about facing. A rotation of Yu Darvish, Blake Snell, Mike Clevinger, and Joe Musgrove isn't perfect but is talented enough to put it all together at the right time.
Biggest weakness: After posting a 2.42 ERA in the first half, Musgrove has struggled in the second half and is a question mark heading into the playoffs. Josh Hader has righted the ship after hitting a rough patch in his first few appearances following a blockbuster trade with the Milwaukee Brewers. For as talented as Machado and Soto are, others will need to step up behind them.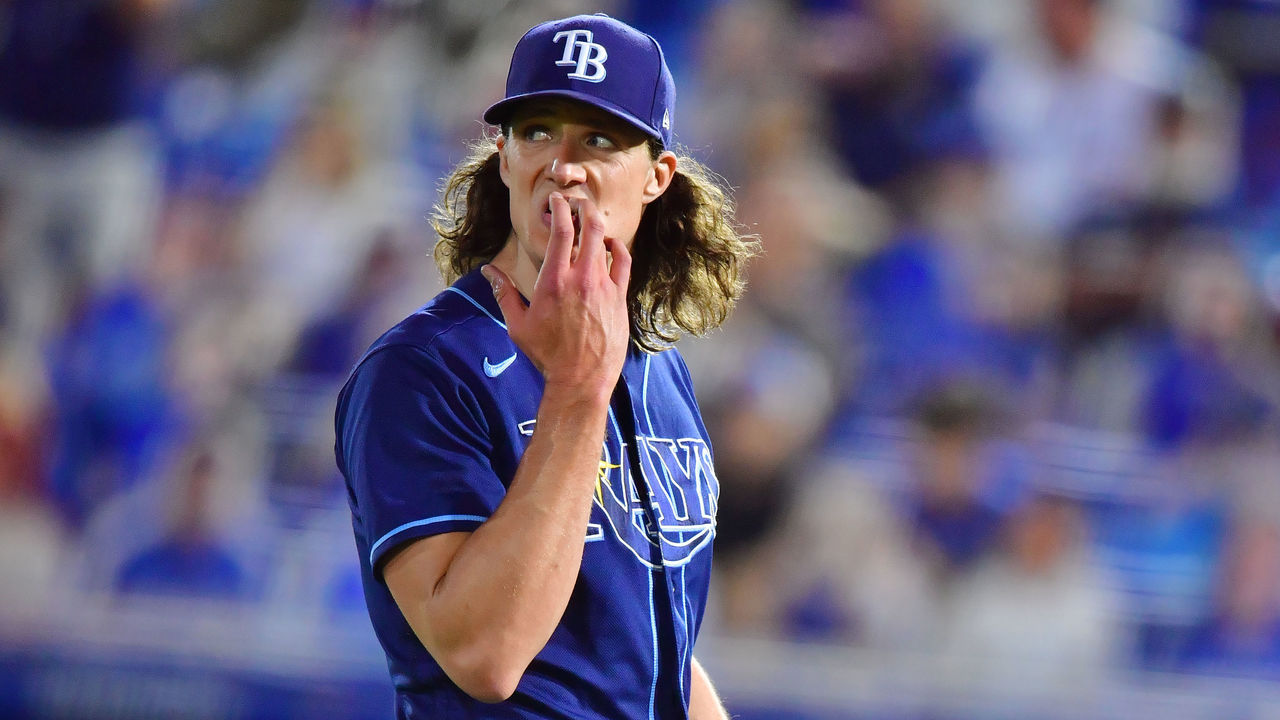 10. Tampa Bay Rays
Why they could win it all: It's never wise to count out the Rays. Despite a litany of injuries to key contributors, Tampa Bay is back in the postseason for a fourth consecutive year. The lineup is resilient and the pitching remains strong, especially with the much-welcomed return of Tyler Glasnow. If Randy Arozarena and Wander Franco can carry the offense to complement the pitching, the Rays could find themselves in the World Series for the second time in three years.
Biggest weakness: The Rays were an average offensive team during the regular season. They don't hit many home runs and struggled to score as they fell in the standings during September. Getting Yandy Diaz back in the lineup consistently is also a huge question mark. Diaz struggled to stay on the field at the end of the season due to a shoulder injury, and any absence or limitation during the postseason would leave an already suspect lineup even more vulnerable.
11. Cleveland Guardians
Why they could win it all: A scrappy lineup built around putting the ball in play and not striking out can be a winning formula. The Guardians led MLB in contact and strikeout rates during the regular season. The lineup isn't overflowing with star power but will make life difficult for opposing pitchers. Cleveland also has a trio of talented starters to go with a lockdown back end of the bullpen. If the offense can score enough runs, the likes of Shane Bieber, Triston McKenzie, Cal Quantrill, James Karinchak, and Emmanuel Clase are more than capable of protecting a lead.
Biggest weakness: For as good as the Guardians are at putting the ball in play, the lineup is still fairly pedestrian on the whole. Cleveland was 29th during the regular season in home runs, and an inability to come up with a big blow with men on base could be a real knock to their chances of going on a deep run.
12. Philadelphia Phillies
Why they could win it all: Philadelphia has the horses on offense that could really do some damage if they all play to their potential. Reigning NL MVP Bryce Harper is set to make his first postseason appearance since 2017. Outside of a strong 2014 playoff campaign, Harper has struggled to find his form and will be champing at the bit to make an impact in meaningful games. A lineup led by Harper, Kyle Schwarber, Rhys Hoskins, and J.T. Realmuto is talented enough to make life miserable for any opponent. With Aaron Nola, Zack Wheeler, and Ranger Suarez atop the rotation, the Phillies can match up with most NL contenders.
Biggest weakness: The Phillies could really use the Nick Castellanos they thought they were getting when they signed off on a lucrative five-year contract in free agency; Castellanos struggled to the worst offensive season of his career. The bullpen is another area of concern, as is often the case in Philadelphia. Phillies relievers ranked in the bottom 10 in ERA and BB/9. If interim manager Rob Thomson can't find more consistent relief work, the Phillies will likely have a hard time making much noise.