All Rise: Watching history, Yankees marvel at Judge's humility
TORONTO - Aaron Judge's first moment in pinstripes came almost a decade ago.
The New York Yankees selected the outfielder out of California with the 32nd pick in the 2013 MLB Draft. He was one of the few players back then actually in attendance.
That's where he first got to put on the jersey.
"Did this really just happen? Am I really a Yankee?" he asked himself that night.
On Wednesday at Rogers Centre in Toronto, 3,401 days after he joined the organization and playing in his 723rd regular-season game, Judge joined Roger Maris as only the second player in the franchise's storied history to hit 61 home runs in a season.
Judge, the face of the Yankees and firmly in enemy territory, received a lengthy standing ovation from the crowd - on a night when the Blue Jays could have clinched a playoff berth.
"It's an incredible honor," Judge said postgame. "To get the chance to be associated with one of the Yankee greats - baseball greats - to be enshrined with them forever ... words can't describe. One thing that's so special about the Yankees organization is all the guys that came before us paved the way. There's a lot of great things in this game, and to get the chance to be mentioned with those guys now, I can't even describe it.
"Getting to be linked to (Maris) forever is a moment I will never forget."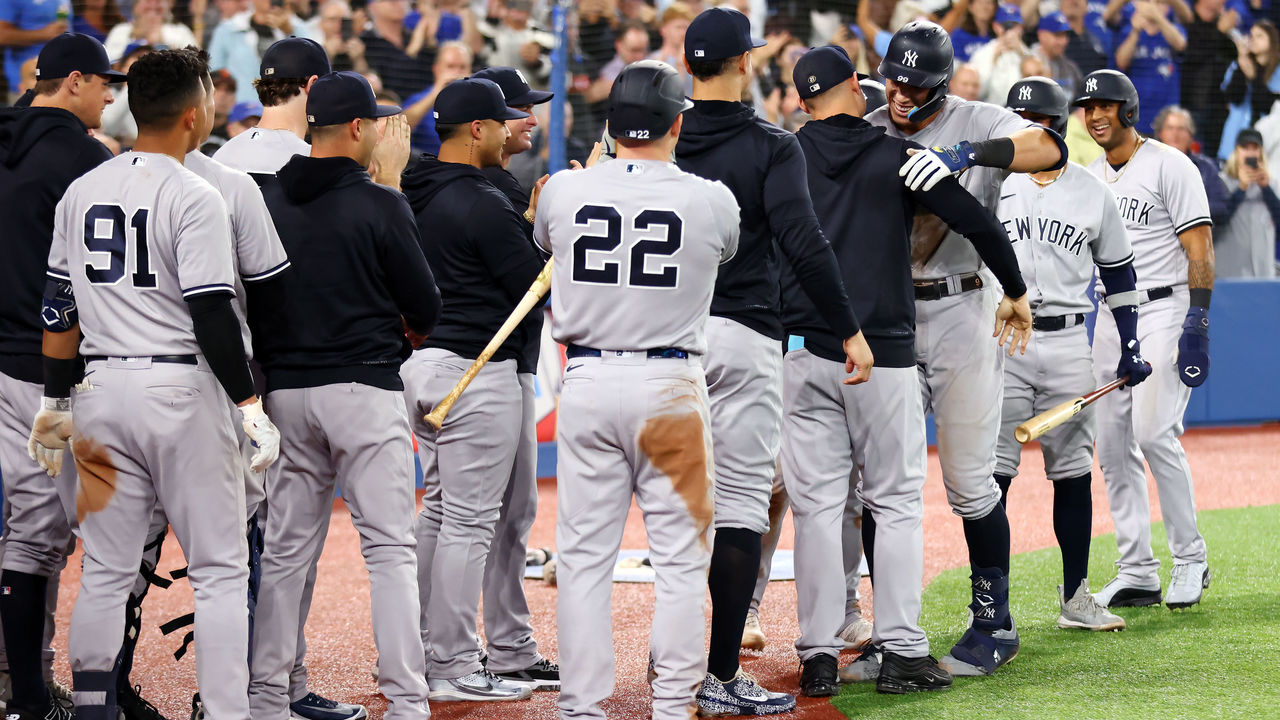 'He wants to be known as a great teammate'
Judge equaled Babe Ruth's record of 60 home runs Sept. 20. It took eight days and 21 at-bats (plus 12 walks) to tie Maris.
The seven-game homer drought matched the second-longest dry spell of his remarkable season.
"Getting the chance to sit at 60 for a while there with the Babe was nice, but now getting the chance to sit at 61 with another Yankee right fielder is pretty cool," Judge said. "When I hit it, I thought I got enough, but it's been a couple of days since I (homered), so you never really know if it's going to go out or not."
Judge's historical quest is for an individual stat, and it's galvanized the clubhouse in a roller-coaster season. Everyone, it seems, is rooting for him, but especially his teammates.
Aaron Boone's managed the Yankees since 2018. While he marvels at Judge's accomplishments on the field, he said it's his relationship with his peers that truly sets him apart.
"His No. 1 thing, and the way he exists and lives every single day that I've been around him for five years, is he wants to be known as a great teammate," Boone told theScore.
"When we're together every day, you got to live that, and he does. Everyone that comes through our clubhouse experiences that, experiences him as a teammate and how much he cares about them. There's a lot of teammates where that's not the No. 1 thing for them - there's stresses of this game, being ready to play at this level. He shows up to be a great teammate every day and you can't help but notice that when you live and coexist."
As Judge rounded the bases Wednesday, his teammates piled out of the dugout, ready to celebrate another major milestone. New York clinched the AL East title Tuesday and most of the regulars - probably still a bit hungover - were out of the lineup and watching.
"Looking in the dugout and seeing my teammates all locked in and ready to go, that's what I do it for," Judge said. "I show up every single day ready to go, ready to go to work for them. I didn't want to try and make it about myself, I want to make it about the team, and what we're trying to accomplish here.
"Having the support from my teammates day in and day out and them being along this journey with me, they're the ones that really kept me focused and locked in on this task."
In the middle of the celebration line was Wednesday's starter and Yankees ace Gerrit Cole, who greeted Judge with a huge hug. The two have been teammates since 2020, when Cole signed as a free agent.
"It's surreal," Cole told theScore on Monday of Judge's home-run chase. "He's such a good friend. Everyone keeps talking to us about him, the way he affects everybody in the stadium. What he's doing for the game is monumental, but you know, we both shared a bowl of chili together 45 minutes ago and just talked about life, non-baseball stuff.
"So to have both of those experiences, where it's like, the lights are on and this is one of the most impactful things that has happened in a Yankee season in the last 100 years, is remarkable. And I feel super blessed to be able to have a bowl of chili with him, and then go and watch him hit 60 homers. It's unbelievable. A great time in my life."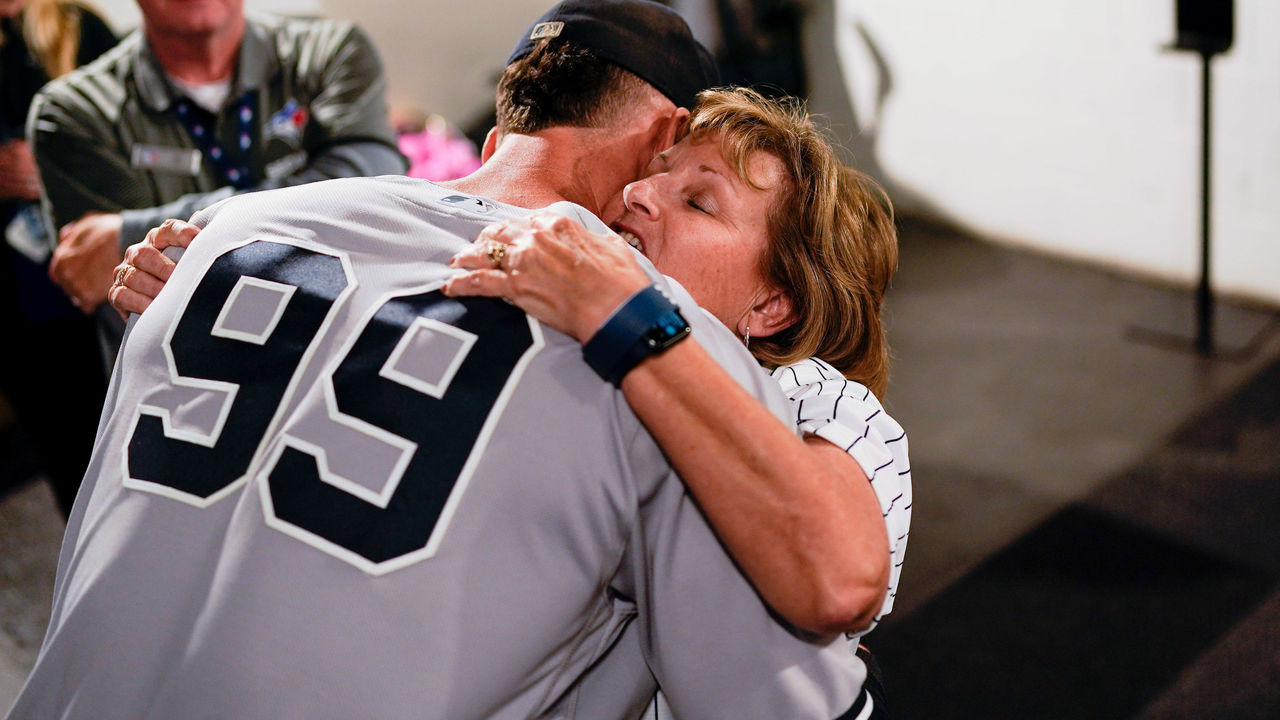 'Having my mom here is so important'
Seated at the back of the room wearing a white No. 99 Yankees jersey while Judge talked about hitting No. 61 was his mom, Patty Judge.
She's been a fixture in the crowd during her son's quest. She spent the series in Toronto behind the Yankees' dugout sitting next to a VIP guest: Roger Maris Jr.
"Having my mom here is so important," Judge said. "She's been with me through it all. From the Little League days, to getting ready for school, taking me to my first couple practices and games, to my first professional game, being there for my debut, now getting a chance to be here for this is so special. It means the world to me."
Judge gifted his mom the milestone baseball.
Cameras captured Maris Jr. and Patty sharing a hug after Judge hit No. 61. The two families are now tied together.
"To actually get to meet Aaron's mom, coming here to sit with her and getting to know a little bit about the family, you get to see why Aaron carries himself the way he does," Maris Jr. said. "You can see that the apple doesn't fall far from the tree. Kudos to the parents."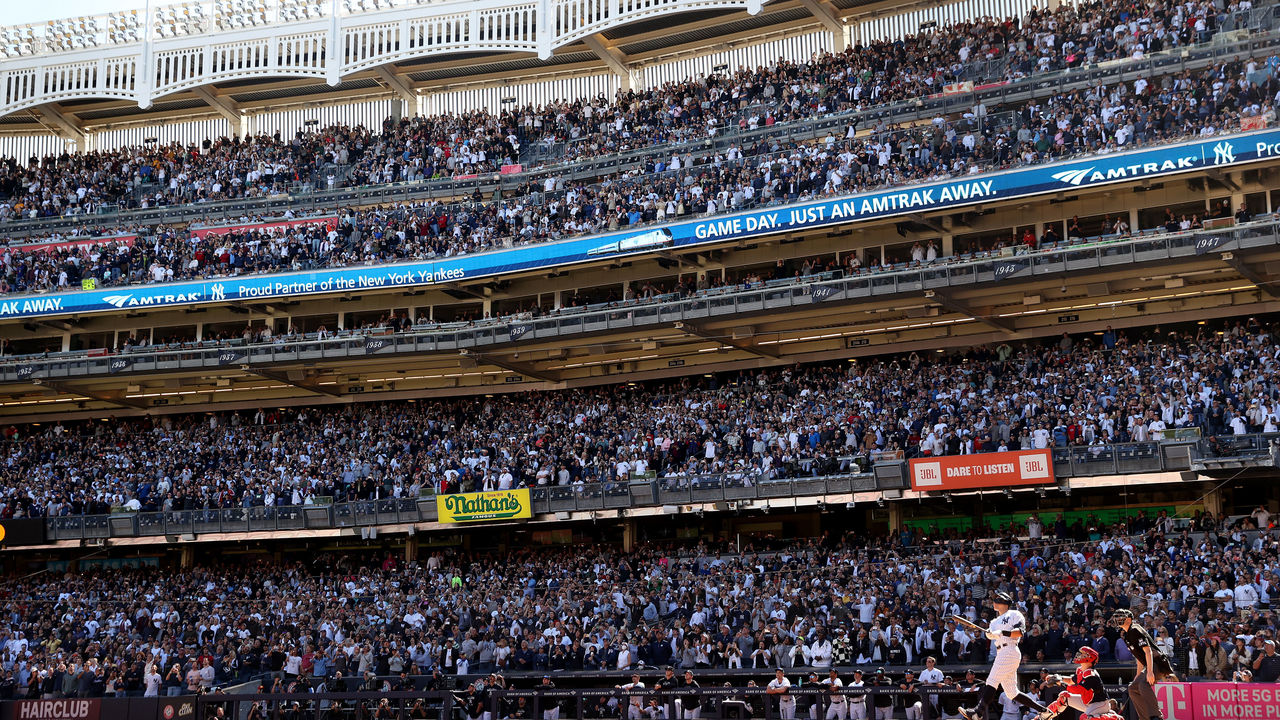 'Knock the top off Yankee Stadium'
Maris Jr. waited nine days and traveled across two countries to see Nos. 60 and 61 in person.
He doesn't anticipate waiting much longer to see No. 62.
"I don't think it's gonna take very long," Maris Jr. said. "I think the party (to clinch the AL East) loosened him up. You can just see his face. I think it'll happen in New York. That's where you want it to happen. I think the city of New York deserves it."
The Yankees are off Thursday before opening a three-game weekend set at home against the Baltimore Orioles. They close out the season with four games in Texas against the Rangers.
While Judge seemingly always keeps his emotions in check, he admits a bit of a weight has been lifted now that he's tied Maris.
"There's definitely some relief," he said. "You try not to think about it, but it creeps into your head."
With a playoff spot clinched and little to play for over the final week of the regular season, Boone needs to now try to put his players in the best position for October success. Judge wanted to be in the lineup Wednesday, and he will likely have as many cracks at No. 62 as possible.
Seven games to try and pass Maris - three of them in the Bronx.
"I mentioned to Aaron," Maris Jr. said, "get back to New York, hit 62, and knock the top off Yankee Stadium."
Comments
✕
All Rise: Watching history, Yankees marvel at Judge's humility
  Got something to say? Leave a comment below!