The Orioles' advantage is hiding in plain sight
Scott Taetsch / Getty Images
That the Baltimore Orioles find themselves in the chase for a wild-card berth is one of the most unlikely stories of the 2022 major-league season.
Yes, the Orioles used the COVID-tattered 2020 campaign to improve their scouting and player development, which led to some of the greatest minor-league skills improvements last summer.
They've also begun to welcome premium young talent, such as catcher Adley Rutschman, as much of the major-league roster has turned over under general manager Mike Elias.
Yet the Orioles have a winning record and positive run differential in the midst of August without much star power. Only Rutschman (42) and Jordan Lyles (T49) rank in the top 50 of FanGraphs.com wins above replacement among their positions (position player and pitcher, respectively). Their ace, John Means, has been out for nearly the entire year because of Tommy John surgery.
So, perhaps their most important advantage isn't tied to any savvy player acquisition or developmental breakthrough. Their secret weapon may be rather conspicuous: their home ballpark and its new left-field dimensions.
The Orioles pushed back their left-field fence by some 30 feet, and nearly doubled the wall height to 13.5 feet, to create a more neutral hitting environment. The impact has been more pitcher-friendly than anticipated - Camden Yards ranks 26th in ESPN park factors for homers after being No. 1 last year.
Trey Mancini, the longtime Oriole who was sent to the Astros at the trade deadline last week, went from the least-favorable left field in baseball for right-handed hitters to one of the most favorable in Houston.
"It's big. I'm not going to lie," Mancini said of Baltimore's new expanse. "It definitely benefited the Orioles this year. From my experience this year, other teams hit it more in that area than we did.
"I understand why they did (the renovation). I probably was hurt the most by it on our team. At the same time, it's working."
Over the previous three seasons, the Orioles were outhomered by 94 in their own ballpark, clubbed time and again by AL East giants. In 2019 and 2021, Baltimore pitchers allowed the two biggest home run seasons at home in baseball history.
Last year, the Orioles only produced 122 homers of their own, scoring just 176 runs, at Camden Yards. Opponents plated 263 on their 155 blasts. That's a minus-87 run differential.
This year? The Orioles outhomered the opposition 52-49 entering play Wednesday. Opponents have plated six more runs on their home runs than Baltimore, but that's still an 81-run swing compared to 2021.
Last season, opposing teams hit .275 and slugged .495 at Camden. This year? .249 and .381.
Mancini noted that the park remains favorable to left-handed hitters. The club's top four position prospects - Rutschman, Colton Cowser, Gunnar Henderson, and 2022 first-round pick Jackson Holliday - are all left-handed batters. The advantage might have staying power.
"I think in the future, they are probably going to have a pretty heavy left-handed hitting lineup. That's really going to bode well for them at that park," Mancini said. "As a right-handed hitter, I didn't love it. I hit quite a few balls into that area."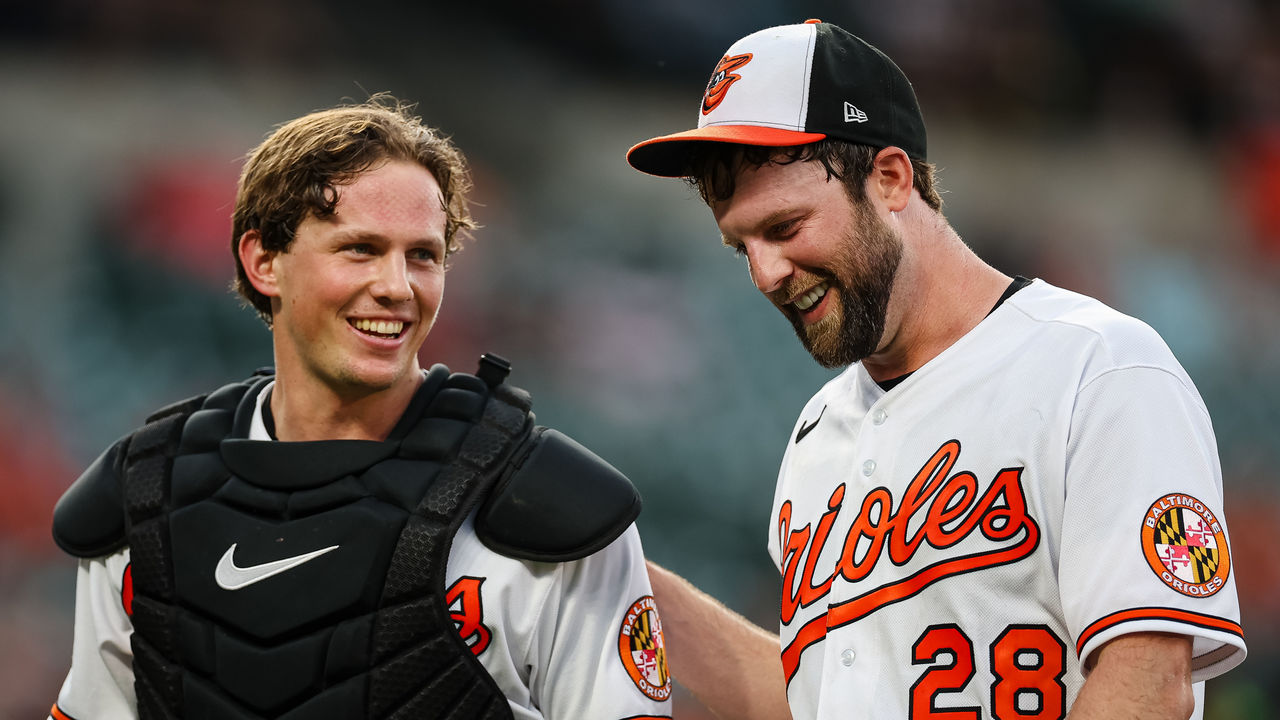 The Yankees built a short porch for Babe Ruth, so why can't the Orioles tailor a park for Rutschman and future draft picks?
One factor that separates Major League Baseball from other major North American sports is that the playing field dimensions aren't uniform. Every field perimeter, in both fair and foul territory, varies from stadium to stadium. Teams can be built to benefit from, or be hindered by, the space in which they play half of their games. Perhaps more teams ought to think about being creative.
In 1941, Bill Veeck created a gadget to raise and lower the fences for his minor-league club in Milwaukee. A rule was put in place the next day to ban such a practice. Veeck tried something similar in Cleveland again in 1947 when the then-Indians adjusted the chain-link outfield fencing depending on the opponent. Baseball officials ended that practice, too.
Moving the fences back is essentially a way to reduce scoring differential, not so different than an outmanned basketball or football team trying to slow the pace of the game.
Perhaps there are other locations where moving or altering the fences makes sense to try and gain an edge. The offseason construction project is paying off for the Orioles - maybe such a move could help other underdogs, too. Baltimore lost a few rows of seats, but the team is making up for that with an unlikely gain in the standings.
Travis Sawchik is theScore's senior baseball writer.
Comments
✕
The Orioles' advantage is hiding in plain sight
  Got something to say? Leave a comment below!