Red Sox reliever made two changes to go from mediocre to elite
Billie Weiss / Boston Red Sox / Getty Images
John Schreiber started throwing in his unique way late in his time at Carlson High in Gibraltar, Michigan, a suburb south of Detroit.
His motion involves dropping down on his back leg, almost into a squat, and driving out of it with his arm traveling parallel to the ground in a sweeping motion. Anything lower would be considered submarine style. His delivery isn't smooth or effortless, but it gave him an element of deception as he made his way to the University of Northwestern Ohio in Lima, where he mowed down NAIA hitters en route to becoming a 15th-round draft pick by the Detroit Tigers in 2016.
"I just picked a spot where I was comfortable, felt good, and was most powerful," Schreiber said.
Elements of deception can be measured to a degree. One aspect is examining a pitcher's vertical approach angle: How flat or steep the pitch moves as it approaches home plate. Schreiber owns an unusually flat trajectory on his fastball; his low release makes the pitch appear to rise.
Schreiber's approach angle on his fastball ranks as the seventh flattest in the majors through Tuesday in Alex Chamberlain's tracking database - minus-3.3 degrees among pitchers with at least 15 pitches thrown. The flat angle is a characteristic that pitchers like Jacob deGrom, Chris Bassitt, and Joe Ryan share and likely benefit from.
But he needed more than deception to emerge as one of the season's breakout players. He needed better stuff to get where he is now, ranking among the best relievers in WAR, WHIP, ERA, or whatever your preferred metric is.
He pitched well enough to reach the majors with Detroit in 2019 and pitch a few more innings in 2020. While he struck out more than a batter per inning, he posted ERAs above 6.00 both seasons and was designated for assignment in spring 2021 when the Tigers needed to clear a roster spot for Nomar Mazara. The Red Sox claimed him.
In Schreiber's first spring-training game with the Red Sox in Fort Myers, Florida, he was disappointed when he looked at the stadium radar gun.
"I remember coming into that spring training. I thought I put in a lot of work in that offseason. I went into my first game, and I was throwing 88 mph," Schreiber said. "I was pretty disappointed, trying to figure out why I was coming in so slow."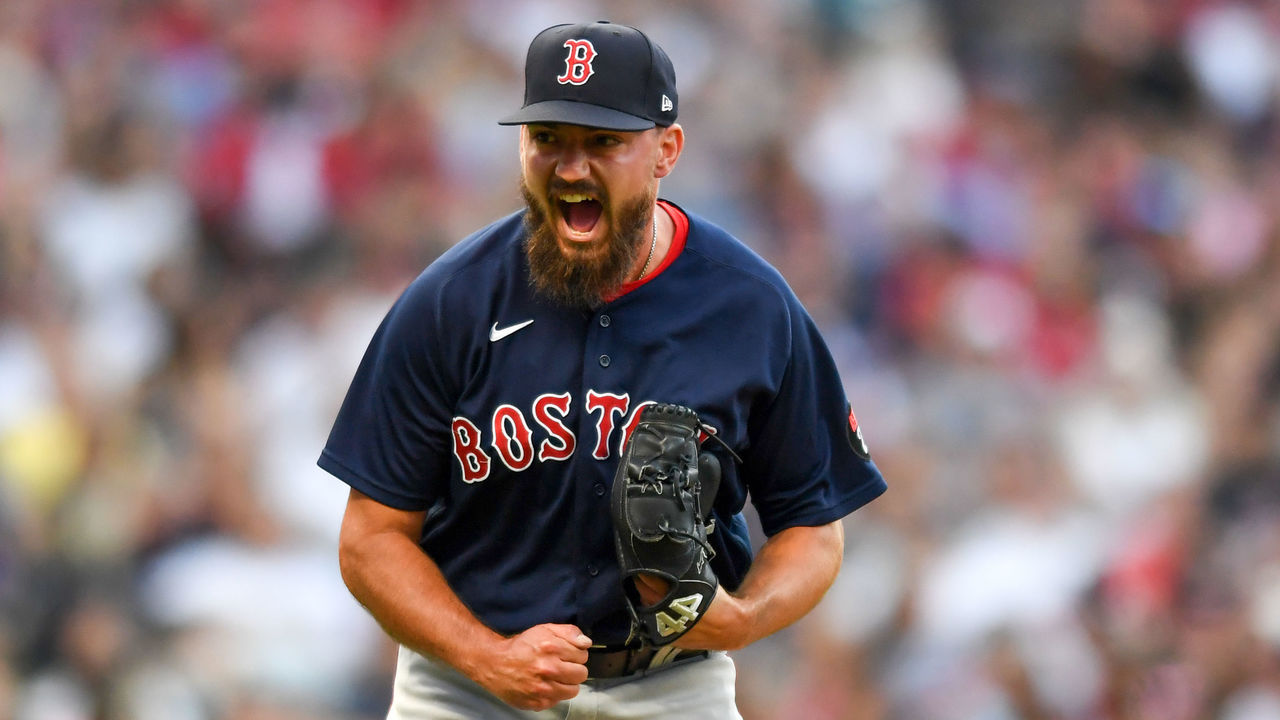 He spent most of the year with Triple-A Pawtucket, making just one appearance with Boston. While his velocity gradually increased over the season, he knew he needed to do something different. His stuff and his performance were trending in the wrong direction.
His average fastball had declined from 91.9 mph in 2019 to 89.9 mph in 2020, which is 3 mph below the MLB average.
In 2020, MLB hitters hit .306 against fastballs in the 89-mph to 90-mph range. Against 93-mph fastballs, they hit .211.
Against Schreiber's fastball in 2020, opponents hit .344.
Toward the end of the season, during his September call-up, he and some Red Sox teammates began sharing what their offseason plans were. There's never been a better time to experiment because of the tech and training tools available to pitchers.
But instead of adopting a weighted-ball program or designing a new pitch, he decided to do something simpler.
"I remember we were talking about Max Scherzer. A couple of guys worked out with him," Schreiber said. "He doesn't really take much time off. He's taking a week off from what I've heard." The idea was to always keep his arm moving, "making sure he's picking up a ball."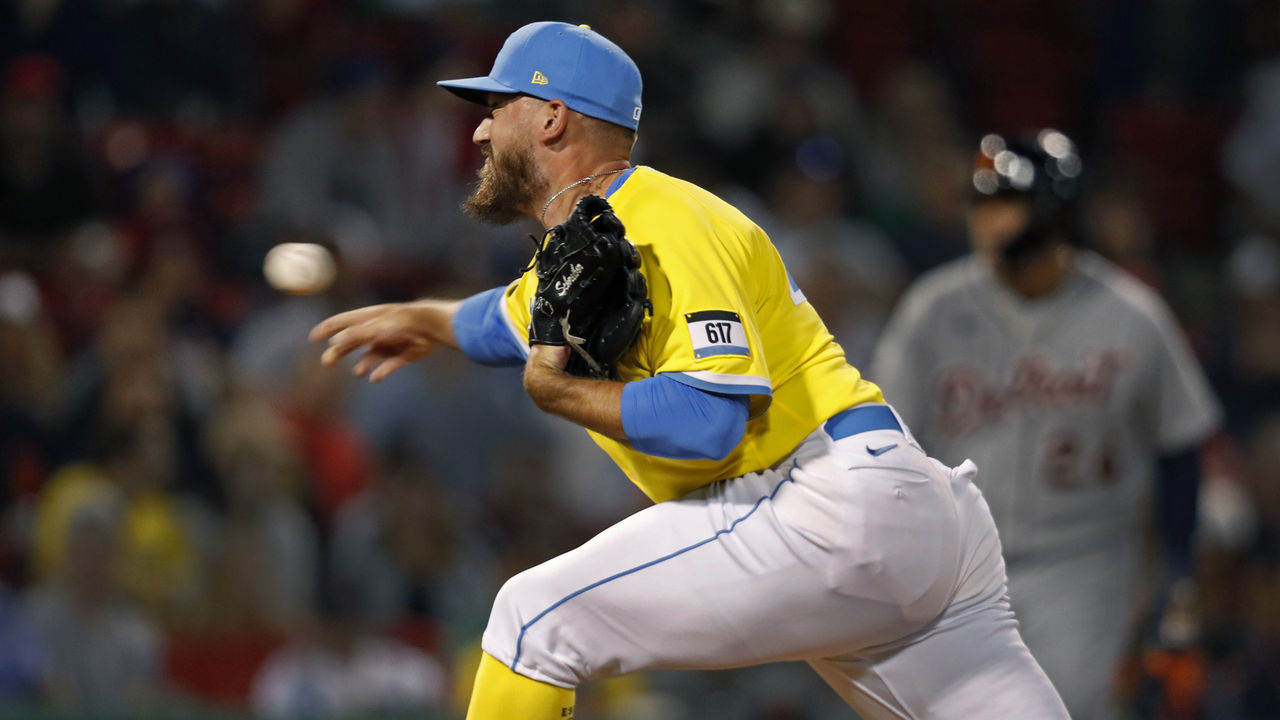 Schreiber had always taken time off after the season. He thought it was prudent to take a month or more off from throwing for arm health. But after hearing about Scherzer and seeing his own velocity start at 88 mph in 2021, he wondered if he should ramp up earlier in the offseason.
So after the 2021 season ended and he returned home to Michigan, he immediately went to work. It's not easy to find winter-proof baseball facilities in Michigan, he says, but he began throwing at LevelUp Training in nearby Monroe. While the facility was more commonly inhabited by AAU basketball, football, and soccer athletes, there was enough indoor space for him to extend throws up to 150 feet.
"I was trying to make sure the intensity was there," Schreiber said. "I think still having that muscle memory from when the season ended is helpful."
By December, when he would normally begin to ramp up activity, he was making regular trips to throw bullpens in Toledo, where Mud Hens bullpen catcher Nate Alter caught him with radar-gun feedback. In his first December bullpen, he was pleased to see readings of 90 mph, 91 mph, and even the occasional 92 mph.
He felt like something had clicked.
It continued in the spring and into the season. His velocity kept increasing, from 93.6 mph in April to 93.8 mph in May and 95 mph in June.
No pitcher in the majors has improved their velocity more than Schreiber from 2020 to this season. Schreiber owns a plus-4.5-mph gain over 2020. The next closest pitcher is the Baltimore Orioles' Jorge Lopez at plus-3.8 mph. And Schreiber says batters don't usually see a four-seam fastball out of his arm slot, adding that most sidearm pitchers throw two-seamers.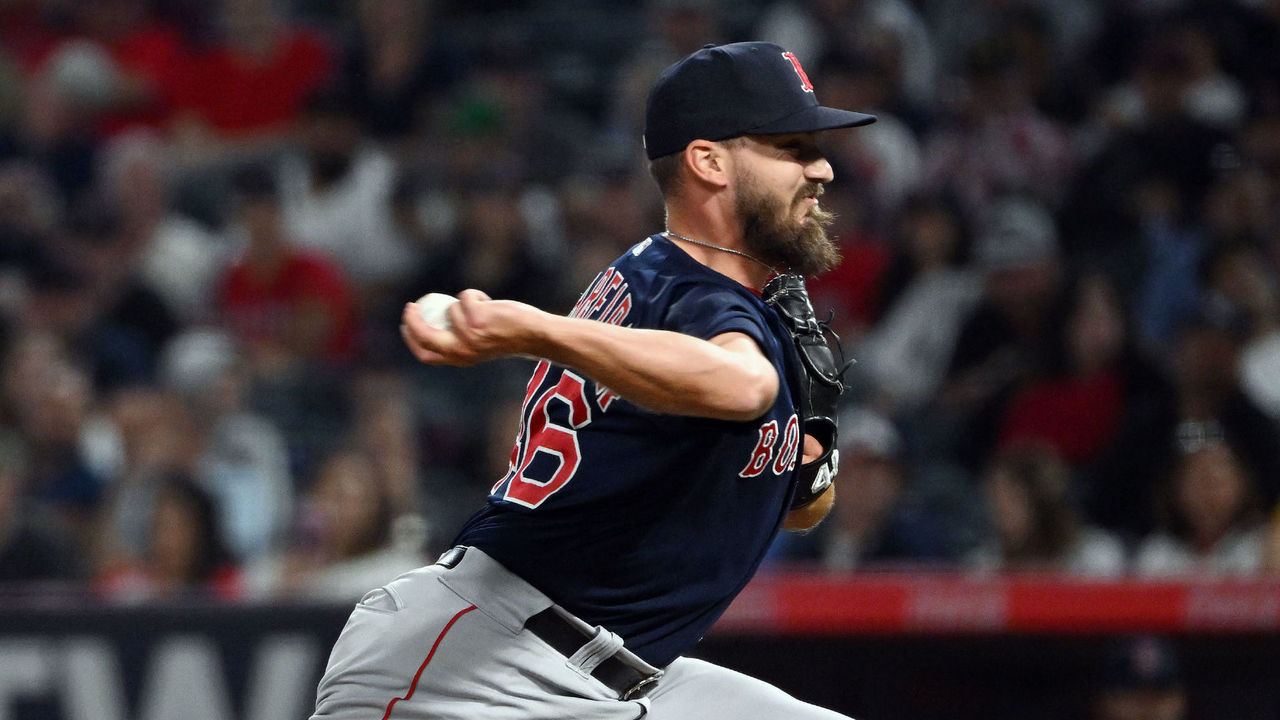 Combine his now above-average MLB velocity with his unusual release point, and Schreiber became a different pitcher. But he added something else, too: A two-seam fastball that Triple-A pitching coach Paul Abbott helped him develop last season.
"It's helped me out tremendously, getting guys off my other pitches," Schreiber said.
He's now throwing that pitch 21.4% of the time this year. He throws four pitches, including his four-seamer, changeup, and slider, but he doesn't throw any one pitch more than 37.1% of the time (his slider).
According to FanGraphs' pitch value metric, Schreiber's four-seam fastball ranks as the 22nd most valuable in the majors, and his two-seamer ranks as the eighth-best currently.
With the new pitch, the new velocity, and his signature deception, Schreiber has become an elite reliever in a Red Sox bullpen that needed help.
Travis Sawchik is theScore's senior baseball writer.
Comments
✕
Red Sox reliever made two changes to go from mediocre to elite
  Got something to say? Leave a comment below!