MLB roundtable: Most surprising stats, Soto's future, and more
Our MLB editors answer some of the biggest questions around the game at the quarter mark of the season.
Which team not in a playoff spot has the best shot at reaching the postseason?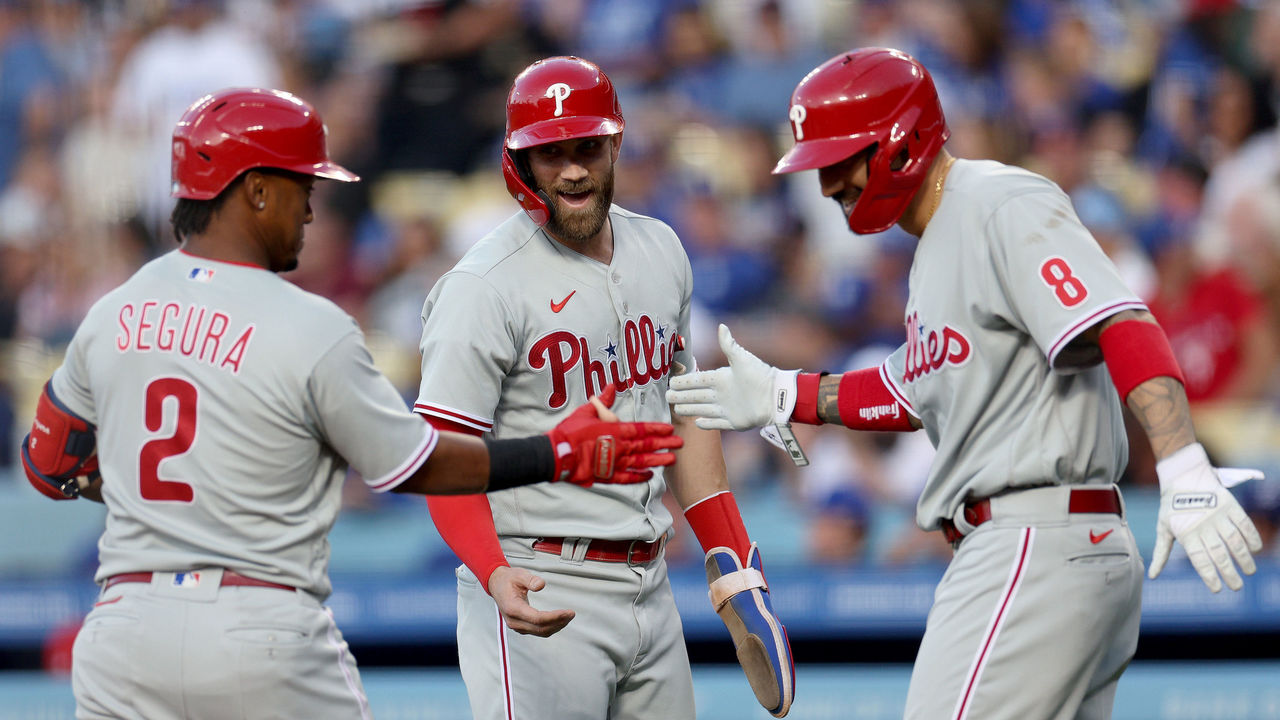 Philadelphia Phillies: The Phillies find themselves in a tough spot a quarter into the season. Sure, they're only 4 ½ games back of the final wild-card spot, but they're also eight games back of the New York Mets, who hold the biggest division lead of any first-place club. The fact is the Phillies are just too good to let this continue all season. They have the second-best run differential of any NL team not in a playoff spot (plus-10) and are losing one-run games at an unsustainable pace (3-8). We knew the defense would cost them games, but they've scored the eighth-most runs in baseball (200) thanks to an elite offense - and that's going to lead to a hot stretch at some point. - Michael Bradburn
Chicago White Sox: It's been a rather nightmarish start on the South Side. The White Sox were overwhelmingly picked to cruise to a second straight division title but find themselves in an early hole, looking up at the Minnesota Twins. Injuries are certainly a culprit, with big pieces such as Eloy Jimenez and Lance Lynn missing significant chunks of time. Outside of the dynamic Tim Anderson, the White Sox lineup looks toothless, ranking in the bottom third of the league in runs scored (154), home runs (38), and wRC+ (91). However, there are still reasons to be optimistic, thanks in large part to the top of the pitching rotation. The three-headed monster of Lucas Giolito, Dylan Cease, and Michael Kopech is as good as any trio in MLB, and Lynn's return could put Chicago in the conversation for baseball's best staff. - Josh Goldberg
Boston Red Sox: They're still under .500 but appear to have woken up, recording a six-game winning streak that brought their run differential onto the positive side and included a 16-run outburst. Flawed as the Red Sox may be, it's easy to forget that the middle of their order features one of the most fearsome foursomes in the league: Trevor Story, Xander Bogaerts, Rafael Devers, and J.D. Martinez. Combine that with a pitching staff that's done enough to succeed and plenty of big-game experience, and the ingredients are there. Even if a division title is out of reach, the Red Sox have plenty of tools at their disposal and will absolutely be in the thick of the race down the stretch. Plus, one of the four major AL East powers (sorry, Baltimore) will be squeezed out of the playoff picture after 162 games. It'd be a mistake to think the Red Sox are done. - Simon Sharkey-Gotlieb
What's the most surprising stat so far?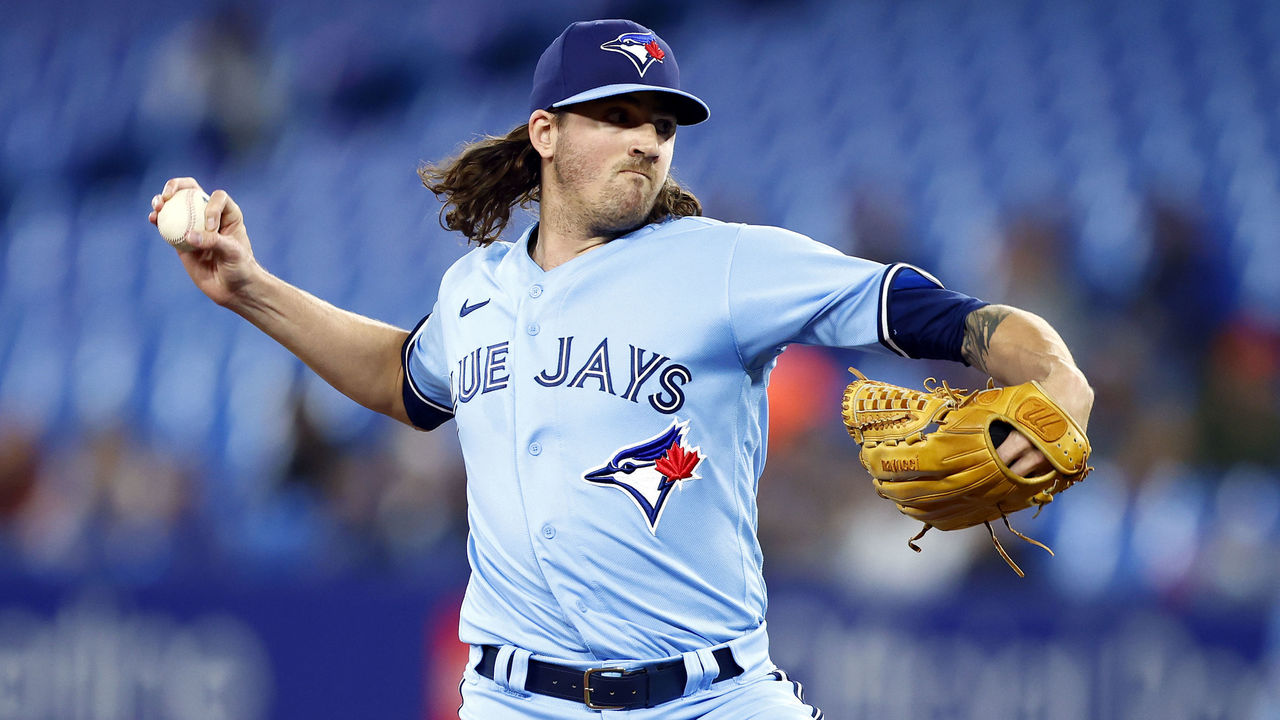 Kevin Gausman's WAR: The Toronto Blue Jays knew they were adding a frontline starter when they signed Gausman to a five-year, $110-million contract, but the AL Cy Young front-runner? Well, that's how the right-hander played through his first nine starts with the club. The extent to which Gausman towers over the competition is staggering. The closest challenger to the former All-Star's 2.7 fWAR is Detroit Tigers lefty Tarik Skubal's 1.7 fWAR - a full win behind! Gausman's 1.30 FIP is the only sub-2.00 record of any qualified starter. And, if we expand the fWAR table to include position players, Gausman ranks behind only Manny Machado, Mike Trout, and Aaron Judge. He's in complete control. - Bradburn
Marcus Semien's everything: The $175-million man's always been a slow starter, but his beginning to 2022 has been next-level bad. The Texas Rangers second baseman owns the lowest wRC+ (44) among all qualified hitters, has zero homers in 178 plate appearances, and is worth minus-0.3 fWAR. Semien's .062 isolated power ranks in the bottom 10 of MLB, while his .247 slugging percentage ranks fifth-worst among big-league regulars. All of this follows an MVP-caliber campaign in which he slugged .538 with 45 homers, 38 doubles, and 102 RBIs. - Bryan Mcwilliam
Jose Abreu's home runs and RBIs: The slugger is one of the most consistent power threats in MLB, which helped him to an MVP campaign in 2020. He has five seasons with 30-plus homers and 100-plus RBIs under his belt but is struggling to find that pace. Abreu has just five long balls and 19 RBIs through nearly two months. He might be suffering from the deadened baseball, as despite a strong 34.7% fly-ball rate, only 11.6% of those fly balls are leaving the yard. - Goldberg
Which player do you love watching but feel doesn't get enough attention?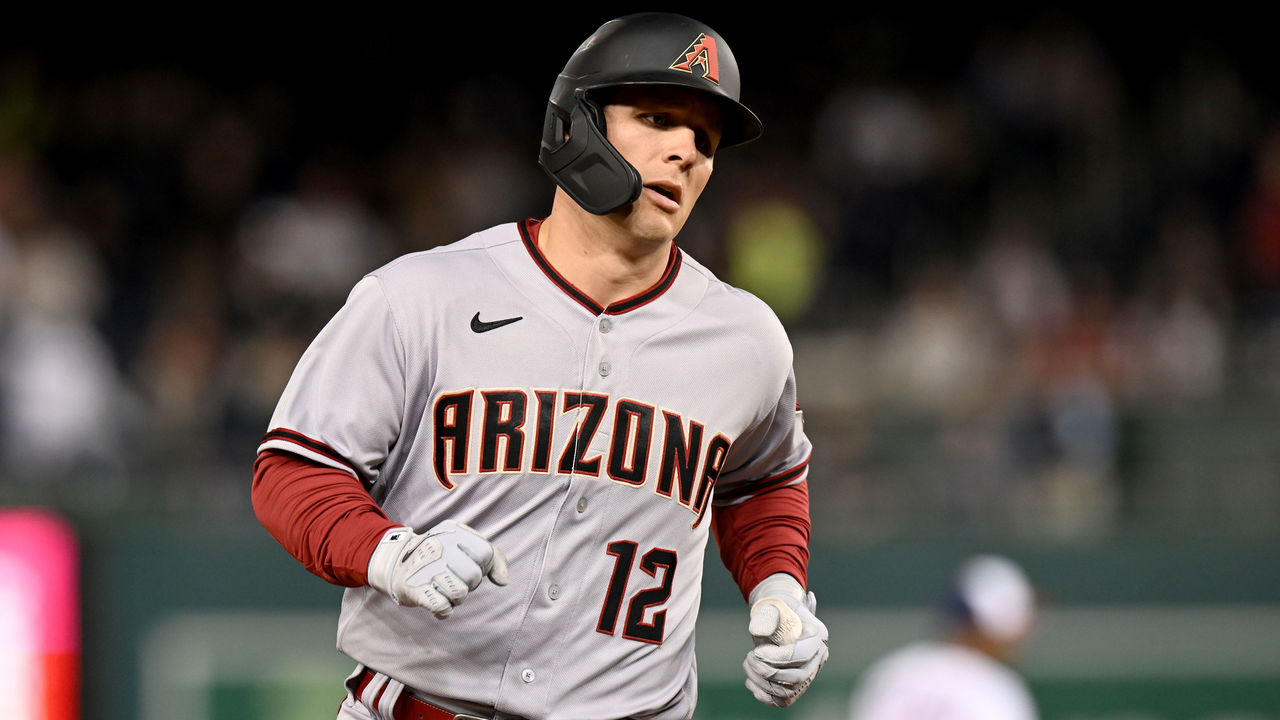 Daulton Varsho, D-Backs: Varsho is one of the most unique players in baseball. The 25-year-old is breaking out as a linchpin of the Arizona Diamondbacks on both sides of the ball. He's been Arizona's best and most consistent regular bat, leading the team in most categories while sitting seventh in WAR in the NL. Defensively, Varsho stands out because he not only splits time between catcher and center field but is a very capable defender at both positions. How many catchers can be a potent leadoff bat while matching Byron Buxton's OAA or Mike Trout's defensive runs saved totals? And how many center fielders can be among the league leaders in throwing out would-be base-stealers as a part-time backstop? This is the unusual nature of Varsho, baseball's quiet chameleon. - Sharkey-Gotlieb
Michael Brantley, Astros: He's never been the flashiest player, but the 35-year-old remains one of MLB's most consistent and under-appreciated offensive performers. The five-time All-Star boasts a career batting average hovering around .300 and is still one of the more difficult outs for opposing pitchers in his 14th campaign. Brantley is a throwback. Despite baseball shifting toward a greater emphasis on the long ball, he's made a career of prioritizing contact with only a pair of 20-plus homer seasons. One of the most well-respected members of the Houston Astros, there's no reason to think Brantley won't be able to keep producing for however long he wants to continue playing. - Goldberg
Jazz Chisholm Jr., Marlins: Look up "exciting" in the dictionary, and you might find a picture of Chisholm. The 24-year-old is off to a sizzling start, slashing .290/.341/.581 with seven homers, 27 RBIs, four triples, seven doubles, and six steals. The Bahamian also makes highlight-reel plays at second base and has one of the best finishes to a home-run trot in the game, which was on full display during a highly entertaining moment with an umpire earlier this year. - Mcwilliam
Which milestone do you most want to see reached this season?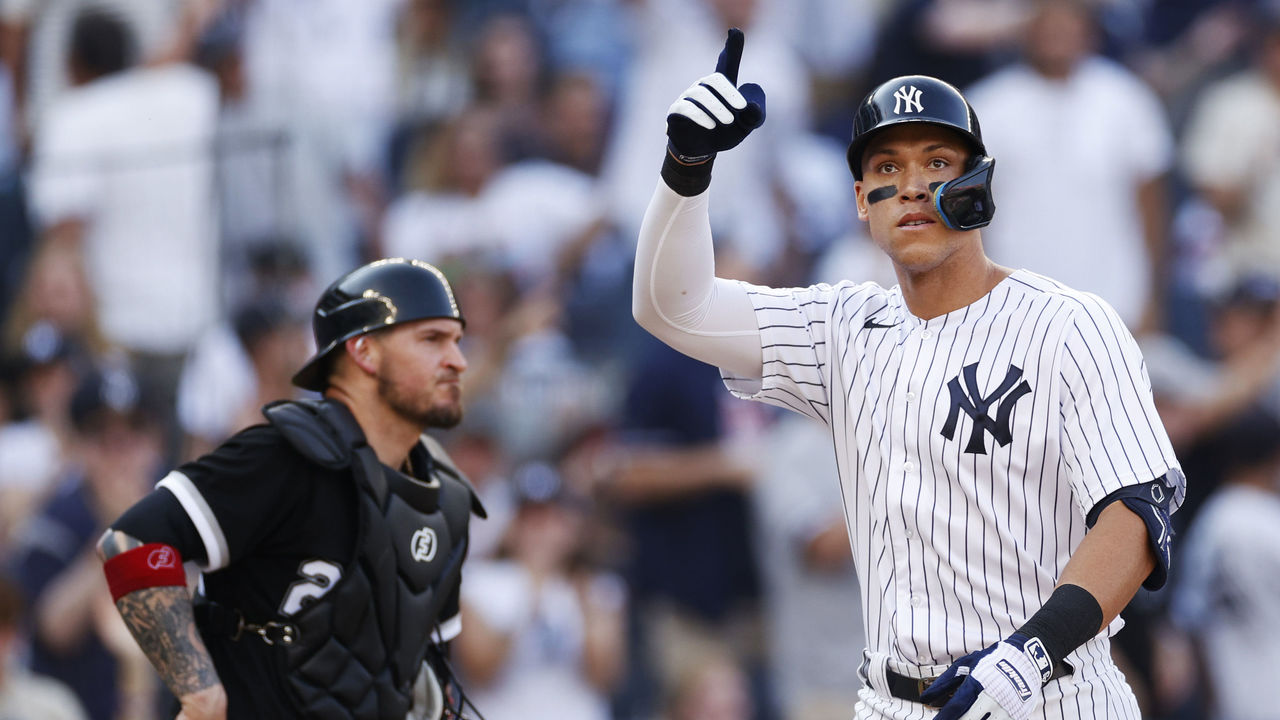 60 homers: Despite the increasing home-run rate over the past decade thanks - at least in part - to juiced balls, baseball fans have been deprived of a 60-homer campaign since the first year of the new millennium. Aaron Judge seems ready to at least threaten to become the first to do it since Barry Bonds and Sammy Sosa. In a contract year, Judge is on pace to hit 64 dingers if he doesn't miss any more games. There'll be some tough stretches, so we shouldn't assume that he can maintain this pace easily. But he's a prolific slugger in the midst of his prime playing home games in a very beneficial stadium and attempting to put together a great platform season before testing free agency. - Bradburn
700 homers for Albert Pujols: It'd be a fitting end for one of the all-time greats if The Machine reaches baseball's elite milestone in a St. Louis Cardinals uniform. Pujols sits 17 homers shy of joining Bonds, Hank Aaron, and Babe Ruth in the 700 club. He's also 13 short of Alex Rodriguez for fourth all time. The projections aren't great, as the 42-year-old has only four homers through St. Louis' first 43 games. Here's hoping there's still some baseball magic left in the tank - and if he at least gets close, maybe he can stick around a little longer. Only two other active major leaguers (Miguel Cabrera, Nelson Cruz) have more than 358 homers. - Brandon Wile
200 innings pitched: Bullpens are vital to any team's success, but baseball as a whole is better when the elite starting pitchers dominate. Unfortunately, the days of the workhorse starter - even the modified, early 2000s version - are just about gone. Fewer pitchers have surpassed the 200-inning mark annually over the past decade, to the point that even the very best aces aren't finishing what they started - and that's a true shame. Look, nobody's arguing for us to go back to 20 complete games and 350 innings pitched a season - those days are thankfully gone. And not every back-end pitcher should be trusted with facing a lineup three times over. But there's no reason why a talented, dynamic ace like Corbin Burnes has to be done after seven innings every night or finish three-to-four of his 33 starts, at most. For the sake of the art of starting pitching, here's hoping someone - anyone - throws 200 innings this year. - Sharkey-Gotlieb
There are already rumors surrounding Juan Soto's future. Which team will the superstar be playing for when his contract ends after the 2024 season?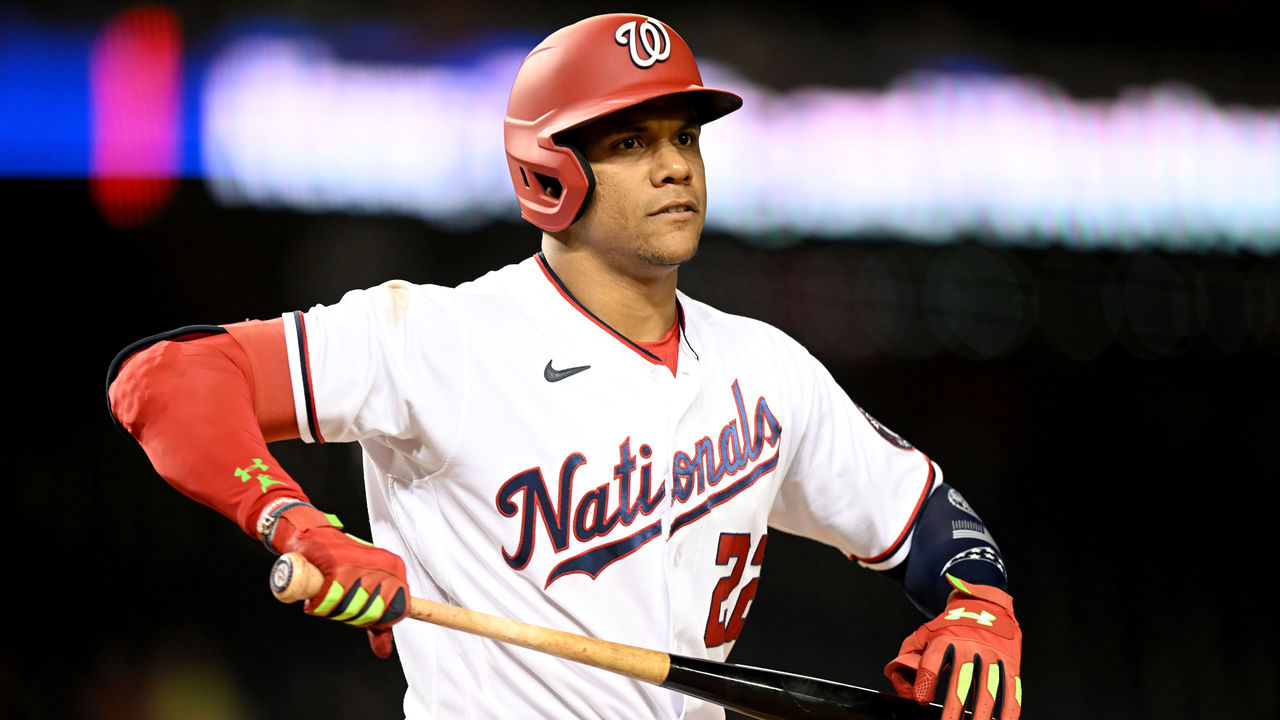 New York Mets: The Nats already watched one homegrown superstar (Bryce Harper) walk away to a division rival. Two years from now, it's going to happen again when the Mets poach Soto. They'll have plenty of room for him in the winter of 2024-25 when they'll have just two players (Francisco Lindor and Starling Marte) signed to long-term deals. Mets owner Steve Cohen is obviously willing and able to open his wallet, especially if a franchise-altering superstar is available. Oh, and there's also Soto's lifetime .370/.478/.761 slash line at Citi Field, by far his best at any ballpark in the majors. The Mets seem like almost too perfect a fit. - Sharkey-Gotlieb
Washington Nationals: Many assume it's a foregone conclusion Soto will be wearing another uniform after 2024. Despite some uncertainty with ownership, the Nationals aren't some small-market team consistently looking to slash payroll commitments. Though a flop thus far, Stephen Strasburg's seven-year, $245-million contract is an indicator Washington is prepared to spend when it determines it makes sense. Who better to hand a monster deal to than Soto - arguably baseball's most complete offensive player? It may be a bit of an uphill battle, but it'd be a good story if the Nationals can find a way to keep one of the most dynamic players in franchise history for the long haul. - Goldberg
Los Angeles Dodgers: They can't afford everyone, can they? Well, Los Angeles only has payroll commitments to Mookie Betts, Freddie Freeman, and Chris Taylor to begin the 2025 season, so Soto is certainly an option for the powerhouse, who also employ one of his best friends in Trea Turner. Turner's a free agent at the end of this season, but it wouldn't be a shock to see him remain in L.A. long term. Turner said he'd love to reunite with Soto. That's a pretty meaningful connection to consider. - Mcwilliam
With Adley Rutschman making his debut, which prospect do you want to see called up next?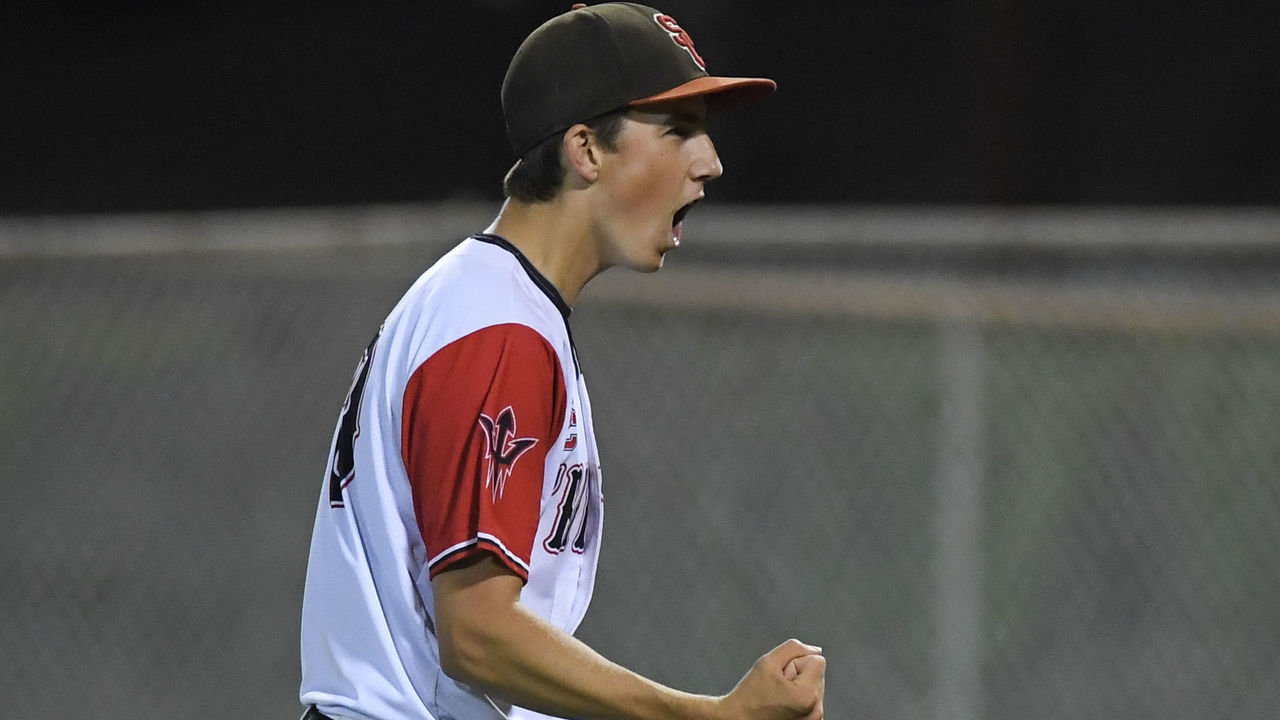 Michael McGreevy, Cardinals: Let's get nuts. So many great prospects have already made their debuts this year: Rutschman, Bobby Witt Jr., Julio Rodriguez, C.J. Abrams, Alek Thomas, George Kirby, and MacKenzie Gore, to name a few. So, how do we top that? Go with a realistic option from last year's draft. McGreevy wasn't especially highly touted entering the event and slipped to the Cardinals at 18th overall. Now, the UC Santa Barbara product is burning through the system, recently earning a promotion to Double-A thanks to a 2.58 ERA and 2.37 FIP over eight starts to start with High-A Peoria. The Cardinals find themselves very much in the thick of the NL Central despite mediocre pitching, ranking third-last among Senior Circuit clubs by fWAR. They've already called up Matthew Liberatore; why not the 21-year-old McGreevy next? - Bradburn
Grayson Rodriguez, Orioles: After carving up Double-A to the tune of a 2.60 ERA, 13.67 K/9, and 2.49 BB/9 in 2021, the 22-year-old is handling a bump to Triple-A smoothly. Rodriguez owns a 4-1 record through his first nine starts with a 2.70 ERA, 1.76 FIP, and 13.71 K/9 in 43 1/3 innings. The Baltimore Orioles certainly boast a number of exciting homegrown position players but still lack impact and upside in their rotation. Armed with a fastball that can touch 100 mph and three effective breaking pitches, Rodriguez appears primed to soon make the jump to MLB. - Goldberg
Gabriel Moreno, Blue Jays: With Rutschman off the board, Moreno sits in the top position for prospect catchers. The 22-year-old has stormed through the Blue Jays system. He's hitting .346 with a .402 on-base percentage in Triple-A and could provide a spark to a struggling Toronto offense. The Blue Jays aren't shy about carrying three catchers either, so a Moreno call-up shouldn't affect the playing time of Danny Jansen or Alejandro Kirk. - Mcwilliam
Comments
✕
MLB roundtable: Most surprising stats, Soto's future, and more
  Got something to say? Leave a comment below!