Could the Angels optimize Ohtani to deliver historic value?
Abbie Parr / Getty Images
Shohei Ohtani's remarkable campaign will feature yet another Ruthian-level moment when he pitches and hits, as is planned, during Tuesday's All-Star Game in Denver. It will be the latest historic milestone in a season for the ages.
Between Babe Ruth and Ohtani, two-way players disappeared from baseball simply because too many people, Ruth included, thought they were an unsustainable species.
"I don't think a man can pitch in his regular turn and play some other positions and keep the pace year after year," Ruth said.
After the Boston Red Sox traded him to the New York Yankees in January 1920, Ruth, one of the greatest left-handed pitchers of the dead-ball era, pitched only five more times in his career.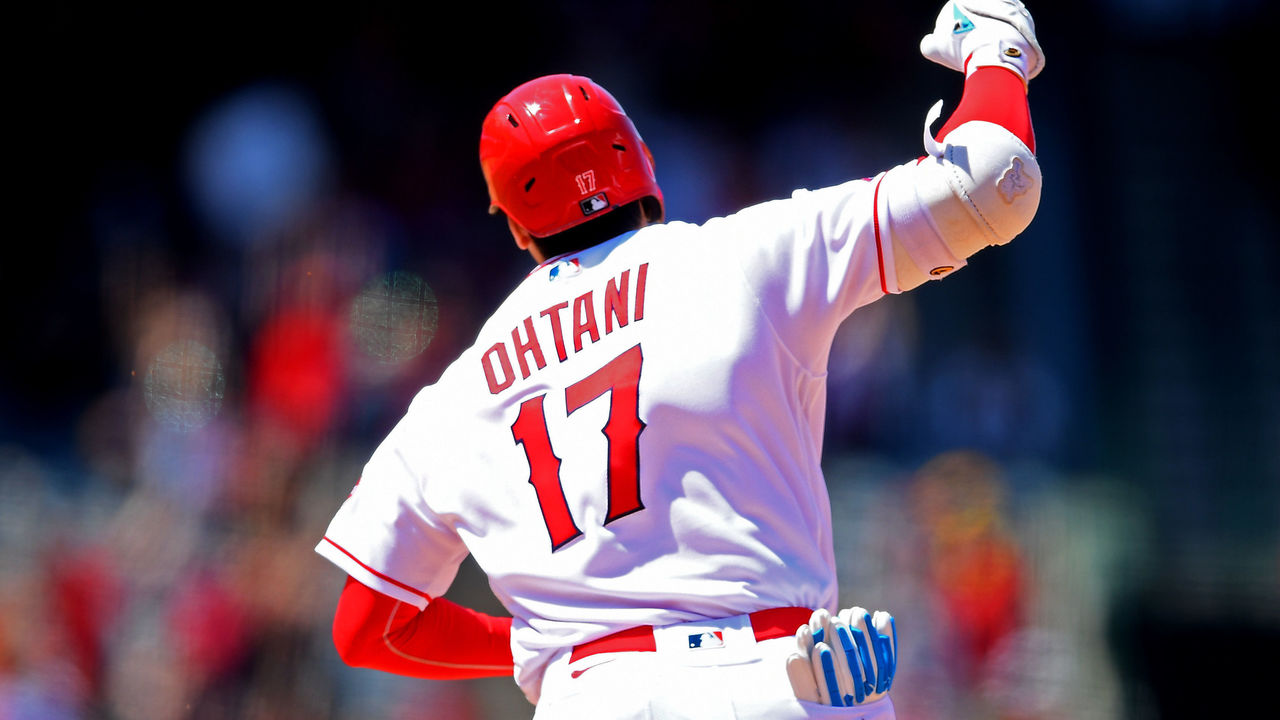 Ohtani is a not-so-subtle reminder to rethink our assumptions. In my case, he's a reminder of something Red Sox GM Chaim Bloom said in 2019 while with the Tampa Bay Rays, who had their own two-way experiment with Brendan McKay.
"Baseball is such a hard game that I think the number of players that are going to be able to have sufficient skill to do this is still going to be small," Bloom said. "But we've seen over time in this business that sometimes it takes someone going out and doing it to expand people's definitions of what might be possible."
This season, Ohtani is forcing baseball fans, players, and team officials to rethink impossible. The Los Angeles Angels have used the 27-year-old more aggressively in 2021, and he flourished in the first half. But perhaps Ohtani can be pushed further, expanding our imaginations and definitions of possible. What could a fully enabled Ohtani accomplish? Perhaps a campaign without equal.
L.A. entered the All-Star break with a 12.4% chance of making the postseason, according to FanGraphs. The Oakland Athletics, Toronto Blue Jays, and Yankees are all ahead of the Angels with the best odds for the second American League wild-card spot. Each of those clubs is projected to win 86-88 games, while the Angels are projected to win 83-84.
But extracting a few more wins out of Ohtani - coupled with the return of Mike Trout - could swing the odds in their favor.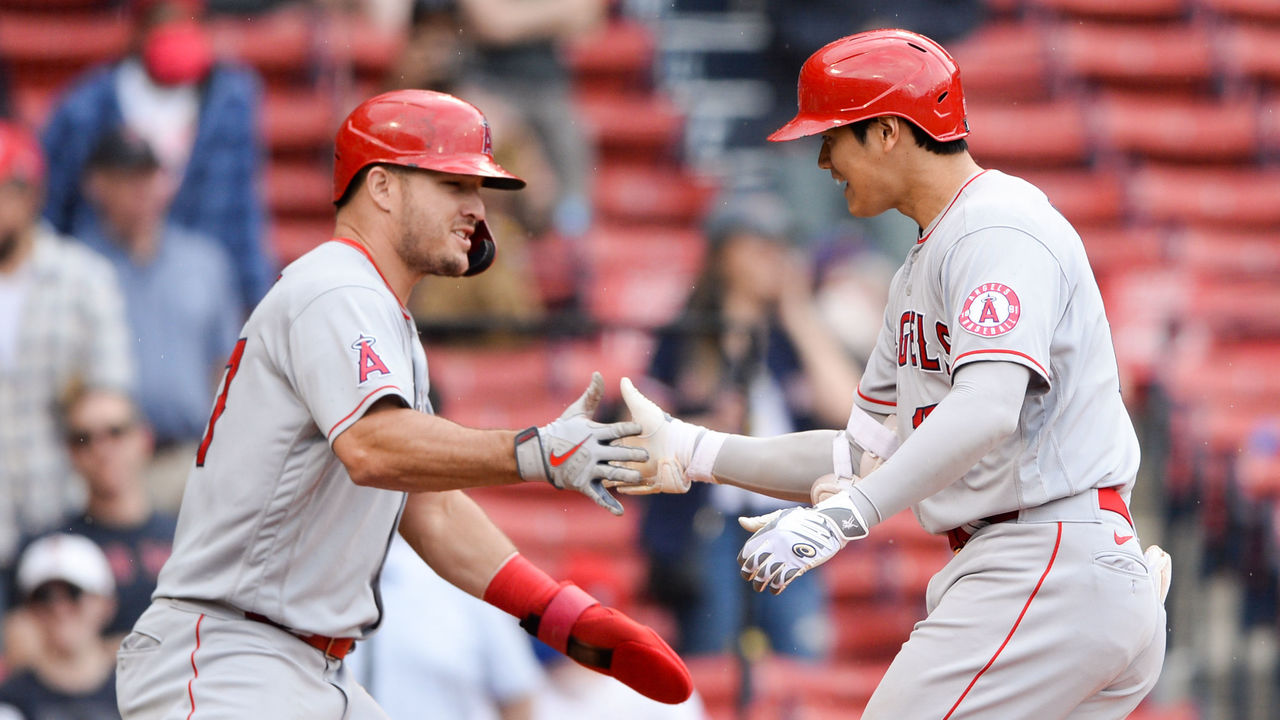 Ohtani owns an incredible capacity for work on the field and in training between games. He's accepted every challenge. And while keeping him healthy is a priority, the Angels also have only two more years of contract control before he becomes a free agent - perhaps the most anticipated free agency in history. L.A. needs the best it can get from Ohtani right now. So let's explore what optimizing him might look like.
We'll start on the pitching side of things. This season, the Angels have increased Ohtani's pitching frequency to once every six days instead of once a week. But what if they placed him in a regular five-man rotation?
In a five-man rotation, Ohtani projects to pitch 15 more times in the second half after 13 pitching outings in the first half. He's averaging 5.15 innings per start; two additional starts would translate to about 78 innings for Ohtani after the All-Star break.
Ohtani's consensus FanGraphs projections have him generating between 0.7 and 1.1 WAR on the mound. But extrapolating his first-half performance with an expanded workload yields 1.7 WAR. Remember, projection systems are generally conservative.
Two more starts in which Ohtani maintains his first-half value might provide the Angels with as much as an extra win above replacement. It's also possible he improves as a pitcher the further he gets from his Tommy John surgery. Ohtani's biggest struggle as a pitcher earlier in 2021 was command, and he's reduced his walk rate every month this season.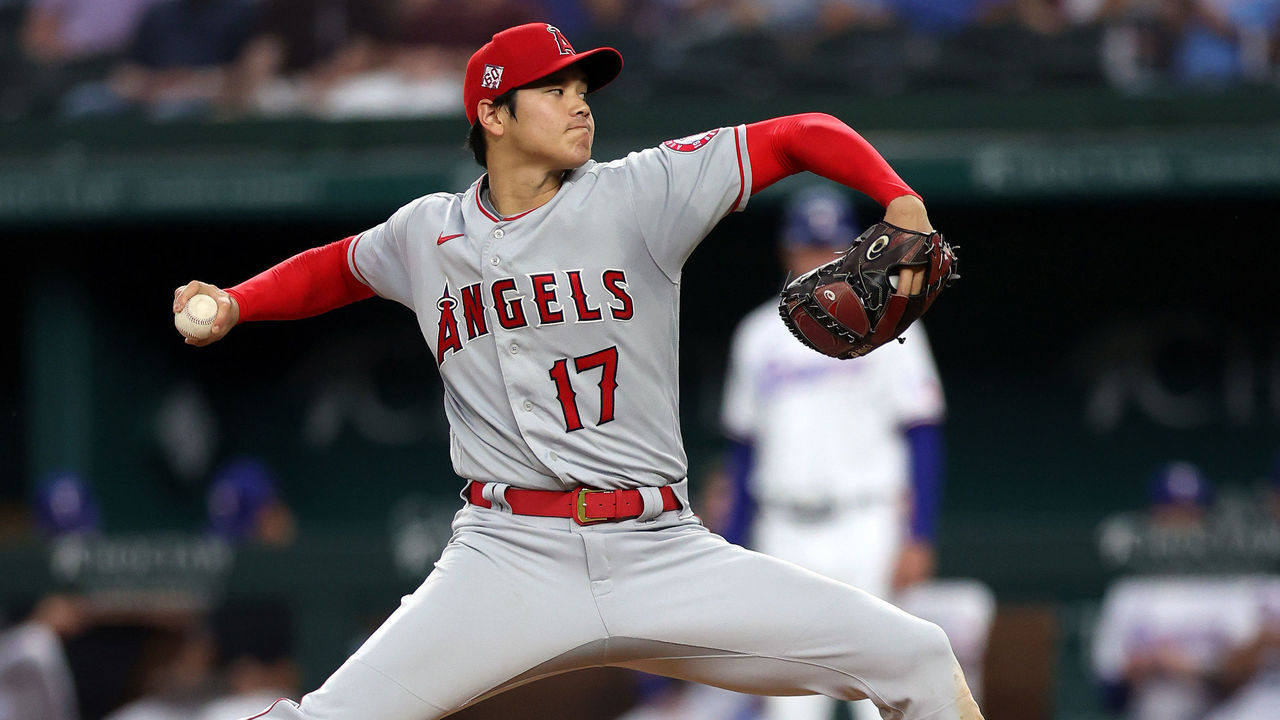 In Japan, Ohtani posted a walk rate of 9.1%. It was 13.2% at the start of this season, and it ballooned to 15.7% after his first four starts. But he walked more than two batters only three times in his next nine starts, dropping his career rate to 12.7%. Perhaps he's improving on the mound.
Ohtani also has more hidden value as a position player.
In 70 starts as a batter from Friday through the end of the season, he'd record a projected 294 more plate appearances. That's only slightly more than the 63-68 games FanGraphs projected entering Friday. We're just pressing the gas pedal a little more.
Again, projection systems are conservative, forecasting a 143 wRC+ for Ohtani the rest of the way - still an elite number - compared to his 180 mark so far. Combining his bat and baserunning value to date, he's been worth 35.2 runs above average. Based on FanGraphs' per-plate-appearance projection for the remainder of the season, he'd produce another 15.5 runs above average over 294 plate appearances. But extrapolating his performance to date over 294 more appearances sees him produce 30.1 runs above average. (Ten runs are approximately equal to one win above replacement.)
And things get really interesting if the Angels move Ohtani off DH and into the field when he isn't pitching.
L.A. could use help in its corner outfield spots where it rates below average defensively and where, in a small sample, Ohtani rates as an above-average defender.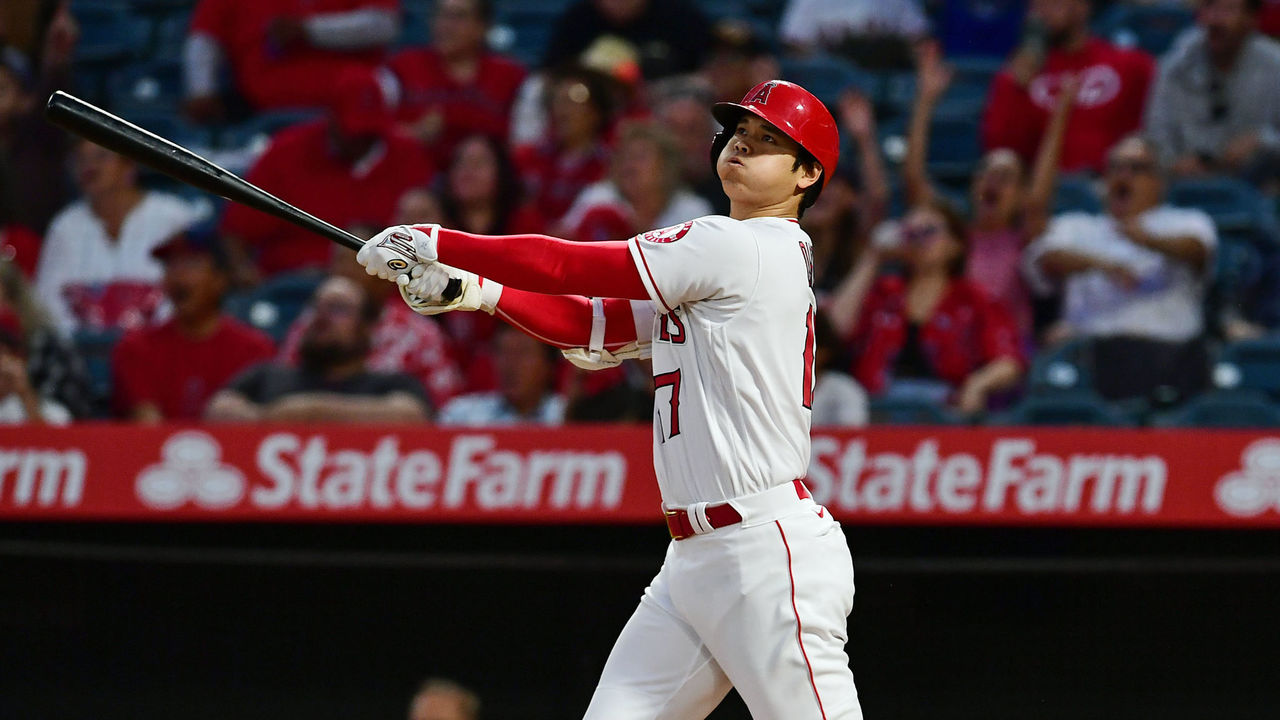 Based on his small sample of outfield work this season, Ohtani would produce 7.9 fielding runs above average if he played 500 innings - about 55 starts - in a corner outfield spot for the rest of the campaign instead of DHing. Perhaps it's a reach to believe Ohtani could be an above-average defender this summer, but his speed and arm strength are already elite. His instincts? It's tough to question anything about Ohtani. He could potentially add a full win of defensive value over, say, Justin Upton or Luis Rengifo in a corner spot in the second half.
In FanGraphs' WAR formula, Ohtani would benefit from leaving the DH spot, which receives a positional adjustment value of minus-17.5 runs for a full season (162 games divided by 1,458 innings). A corner outfield spot receives a full-season position adjustment value of minus-7.5 runs. Through Sunday, FanGraphs' positional adjustment had subtracted 7.4 runs of value from Ohtani's WAR as a DH. If he moved to the outfield, he'd lose only about 2.6 runs in the second half of the season.
It's also been shown that most hitters do slightly worse as designated hitters than playing in the field. Estimates suggest the drop is about four runs per 500 plate appearances. So in moving from DH to the field, Ohtani would gain about one win in value.
Factor in the WAR formula's replacement and league adjustments, and Ohtani would finish the 2021 season as a 7.3 WAR position player (based on FanGraphs' rest-of-season projections extrapolated on a per-inning basis) or an 8.7-WAR position player if he maintained his torrid first-half pace and moved to the outfield.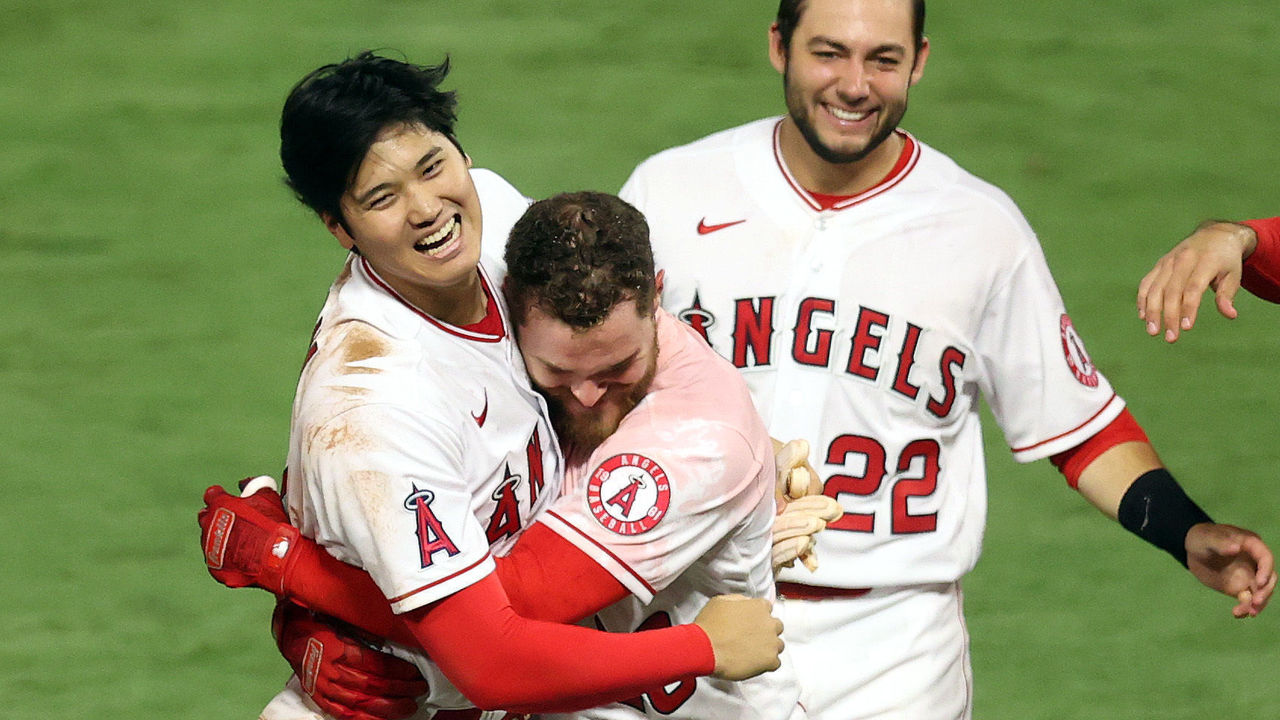 It's a lot to ask, but we're asking it of perhaps the one human being in the last century who could pull it off.
Add in his work as a pitcher, and Ohtani would finish the year as a 10.2 WAR player (based on rest-of-season projections that include our increased playing time) or an 11.9-WAR player if he kept up his pace with increased playing time as a pitcher and a move to the outfield. An 11.9-win year would tie him with Barry Bonds' 2004 season for 11th all-time.
There hasn't been a 10-win player under FanGraphs' version of the metric since Mookie Betts logged 10.4 in 2018. Ruth owns the top four marks, including his record 15-WAR season in 1923. Barry Bonds' 2002 and 2001 seasons rank fifth and eighth, respectively.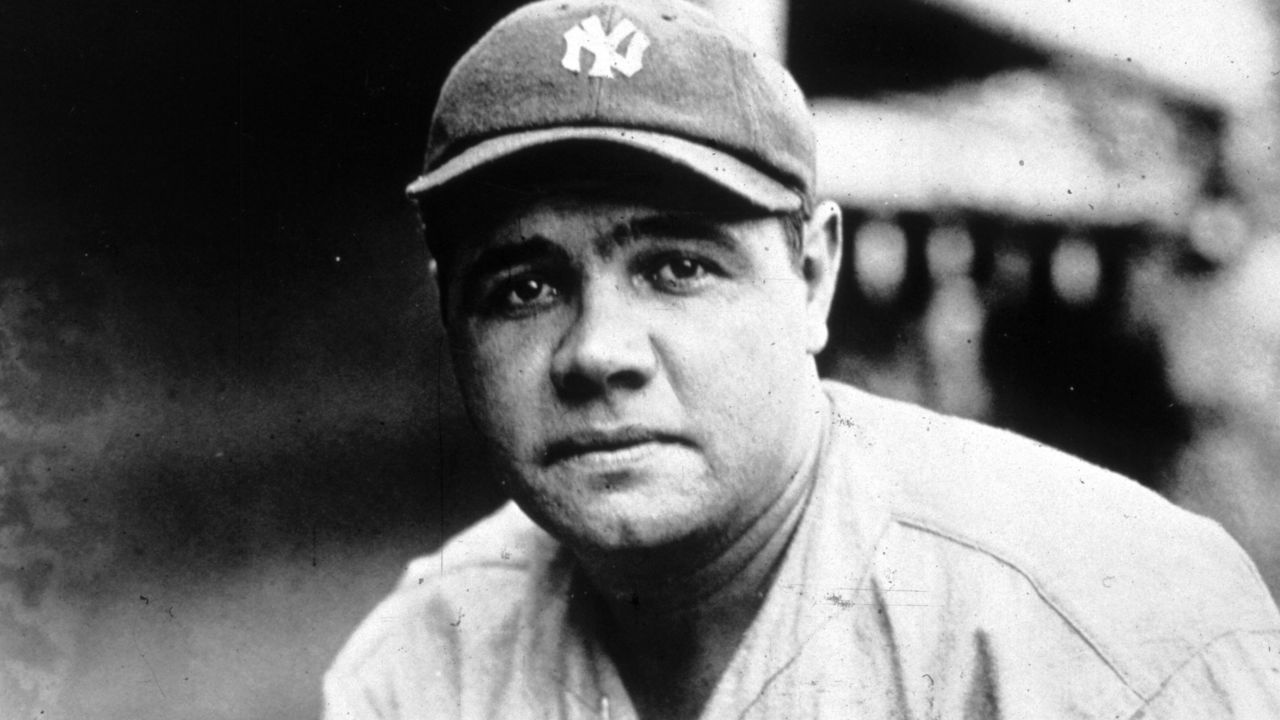 To top Ruth's 1923 showing with a 15.1 WAR season, Ohtani would have to maintain his first-half pitching for a full campaign and log 165 innings (3.7 WAR). At the plate and on the bases, he'd need 700 plate appearances at his first-half level while playing 130 games of above-average outfield defense (11.4 WAR). It's what he's doing per inning and plate appearance right now; it would just require more of it, along with a shift to the outfield.
Could Ohtani be pushed even further and keep up his elite production? It remains to be seen how sustainable his current pace can be. He's already had one Tommy John surgery in his career. It's one reason I previously advocated for Ohtani to serve as a hitter making 600-plus plate appearances while working as a high-leverage reliever: to reduce stress on his body and maximize the situations in which he takes the mound. His velocity has also bounced around in recent starts, which could be a sign of fatigue.
But perhaps Ohtani can give more. As greedy as that seems, no one knows where his limits are. It would be fascinating to see L.A. push him a bit further into baseball's uncharted territory. It could get him into the rarest of air - and the Angels into the playoffs.
Travis Sawchik is theScore's senior baseball writer.
Comments
✕
Could the Angels optimize Ohtani to deliver historic value?
  Got something to say? Leave a comment below!