Tyler Glasnow's new pitch might make him nearly unhittable
Mark Brown / Getty Images
I had heard about the project months earlier. In January, I spoke with Tampa Bay Rays pitching coach Kyle Snyder from his car as he traveled around Florida working with various pitchers in the Rays' system. Snyder was excited about what he and Rays pitcher Tyler Glasnow were working on together: a new pitch.
The prospect was tantalizing provided you were not a hitter in the American League East: What if you could give one of the most gifted pitchers in the majors another weapon he could use to baffle batters?
On Opening Day in Miami, Glasnow unveiled the new pitch. In the bottom of the first inning, he unleashed a slider that seemed to break at a right angle and away from Miami Marlins outfielder Starling Marte, who helplessly waved at the pitch for Glasnow's first strikeout of the season. Glasnow threw 26 sliders on the day, having them called as a strike or swung-and-missed 11 times, which is an elite rate. He allowed just one hit - a first-inning single by Jesus Aguilar - over six shutout innings.
Glasnow seemed comfortable with the slider Thursday, generally placing it where he intended. Dealing with small samples early in the season can be dangerous, but this seemed like a new skill that could be a big deal. The slider's horizontal movement, shown in the first GIF below, has an ideal complement to his more vertically breaking curveball, shown in the second GIF.
The slider's early success - it was effective in spring training too - is also a story about how well the Rays teach, and the potential modern baseball training and technology can unlock.
Glasnow has always had skills no one could teach, which is why the Rays acquired him in the Chris Archer deal, one of the more lopsided trades in recent MLB history.
Glasnow rose through the Pittsburgh farm system due to a sharp-breaking curveball, mid-90s fastball, and because his 6-foot-8 frame created rare extension. He releases the ball closer to home plate than any pitcher. Since 2019, Glasnow is tied for first with an average of 7 feet and 4 inches of extension. In other words, Glasnow releases his pitches about 53 feet from home plate, making a fastball that touched 100 mph on Opening Day appear faster.
Those were gifts that couldn't be taught. But Glasnow came to Tampa Bay with two flaws: shaky command and a limited pitch arsenal. Those issues were threatening to derail his career. But as Glasnow soon learned, the Rays are excellent at teaching.
Snyder immediately helped Glasnow with command. Snyder and the Rays told him to trust his stuff and fill up the zone. That helped Glasnow drop his walk rate from double digits (as high as 14.4% with Pittsburgh in 2017) to just 6.1% in 2019. In his last full year in Pittsburgh, Glasnow posted a 7.69 ERA in 62 innings. In 2019, his first full year in Tampa, he posted a 1.78 ERA in 60 2/3 innings, though the campaign was interrupted by a forearm strain. But last year, his ERA crept up to 4.08. The Rays and Glasnow decided to try and expand his pitch mix.
Starting pitchers generally need three or more pitches to work deep into games, to give opposing hitters different looks. Glasnow was working with only two. The Rays limit the workloads of starting pitchers more than any team, so Glasnow needed another pitch to get deeper into games.
The Rays and Glasnow settled on the slider. While it's become en vogue to pair elevated four-seam fastballs with curveballs, it's actually slider usage that continues to climb most. Slider usage reached an all-time high last season in the pitch-tracking era, comprising nearly 19% of all pitches. The share stands at 20% of all pitches this season through the weekend's games.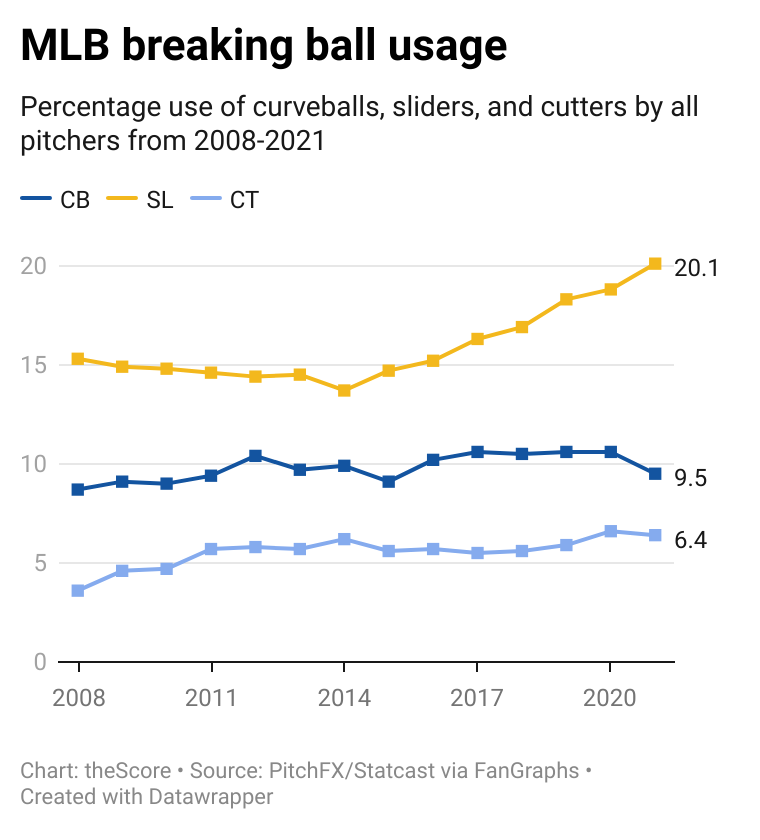 One reason for the increase is that it's typically easier for pitchers to tunnel a slider with a fastball. The two pitches generally share the same release point and travel on the same path for the longest part of their journey to home plate. Some pitchers talk about a curveball "popping" out of their hand, which can be an early giveaway to batters. The slider would also give Glasnow a breaking ball with a different shape than his curveball. It's a pitch that generally can be thrown within the strike zone a bit more often than the curveball.
With two breaking balls, Glasnow could rely less on his fastball and become more unpredictable. League-wide, the guessing game for hitters is becoming more difficult as pitchers rely less on their fastballs and more upon a variety of bat-missing breaking balls. Glasnow's fastball usage has also declined with the Rays.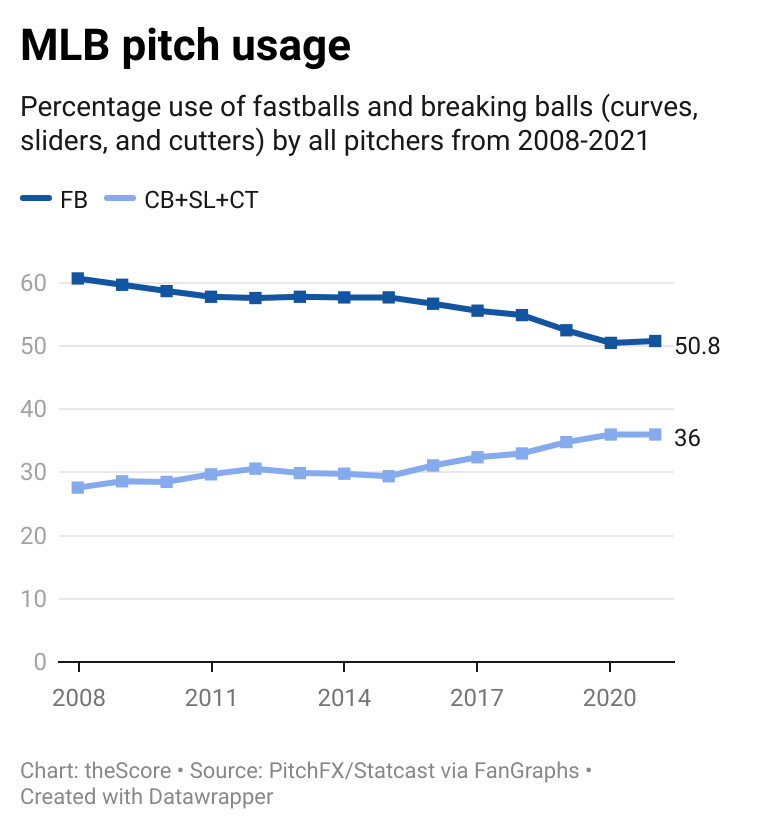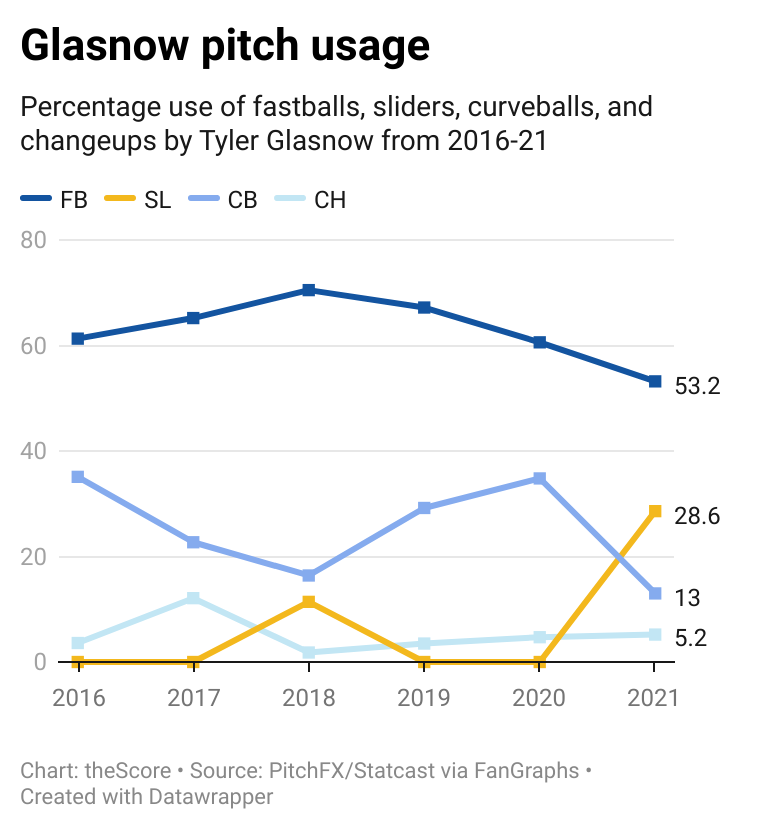 The shape of breaking balls is also changing. They're becoming more distinct. Throughout the majors, curveballs had their greatest vertical movement on average last season, while sliders moved slightly more horizontally and less vertically, according to pitch-tracking data at FanGraphs.com. Pitchers, especially those who throw multiple breaking pitches, want different shapes from those pitches.
This is just a theory, but perhaps these trends are tied to better teaching through better technology and tools. High-speed cameras are allowing pitchers to see exactly how their grips impart spin on the ball. The cameras paired with spin-tracking technology provide for a wealth of data in designing the shape of a pitch.
The Rays have bullpens outfitted with such cameras and spin-tracking technology at their spring complex, what they call "The Lab." Glasnow told MLB.com's Adam Berry a session there early this spring dramatically helped the development of the pitch.
"I didn't really know what I was doing with it," Glasnow said. "And then I had one bullpen session, and it was like, 'OK, now I have a plan.' It just makes everything so much easier."
Cameras and spin-tracking tech are allowing for new pitches to be created more easily and existing ones to be sharpened. It's a remarkable breakthrough that pitchers can potentially develop effective new pitches in a matter of weeks thanks to the feedback of spin data and high-speed images. Until recently, most attempts to learn new pitches were done by trial and error, touch and feel. And if a club can keep helping a talent such as Glasnow improve, it can create an ace.
It's still early, of course. It's not clear if Glasnow can replicate consistently the success he had Thursday. We'll know a little more when he takes the mound Tuesday against the Red Sox. But if he can, the slider, a pitch that made him nearly unhittable in the opener, could be one that makes him as good as any pitcher in the game.
Travis Sawchik is theScore's senior baseball writer.
Comments
✕
Tyler Glasnow's new pitch might make him nearly unhittable
  Got something to say? Leave a comment below!