Arenado trade another sad moment in Rockies history
Dustin Bradford / Getty Images Sport / Getty
The Colorado Rockies will pay Nolan Arenado up to $51 million to play for someone else.
Let that sink in.
A franchise that reached the playoffs twice over the last decade gave away a generational talent in his prime for salary relief and some lottery tickets.
Arenado is a former second-round pick that came through the system, won a Gold Glove in each of his eight major-league seasons, and already ranks in the top 10 in every major statistical category in Rockies history. He's a dream player for any organization and a rarity for a small-market, low-revenue club.
This day was unimaginable two years ago. It was during spring training in 2019 when Arenado committed his future to the only franchise he'd ever known, opting to bypass his shot at free agency to ink an eight-year, $260-million extension. He signed for $40 million less than Manny Machado, and $70 million less than Bryce Harper. This was a great deal for Arenado - and the Rockies.
"I grew up here in this organization, so it feels like home in a way. I've been here since the tide has changed, and that's a really good feeling. I was part of that change," Arenado said after signing his deal two years ago.
"You want to win in a place where you've been all of your life."
The Rockies made Arenado the richest player in the franchise's history. The team took an enormous risk, however this was meant to signal a commitment to winning. They weren't about to lose one of their own. But owner Dick Monfort's willingness to spend was short-lived, and it wasn't long until his wallet closed. The Rockies didn't sign a single player to a major-league contract after extending Arenado. The marriage quickly eroded.
Colorado finished 20 games under .500 in 2019. Arenado said that September it felt like they were "rebuilding." Not that it was any fault of his - he finished sixth in MVP voting. The Rockies did little to improve the club that winter, deteriorating the relationship between their star player and a front office led by general manager Jeff Bridich. Colorado held trade talks with other teams about Arenado, though ultimately failed to pull the trigger.
"There's a lot of disrespect from people there that I don't want to be a part of," Arenado said in January of 2019. "You can quote that. I'm not mad at trade rumors. There's more to it than that."
Arenado went on to play the 2020 season in Colorado. He put up his worst numbers since his rookie year, albeit in only 48 games in what was a down year for many stars. He kept quiet all winter. The Rockies were quiet, too, once again failing to do anything before finally shipping Arenado to St. Louis on Monday.
Deja Tu-lo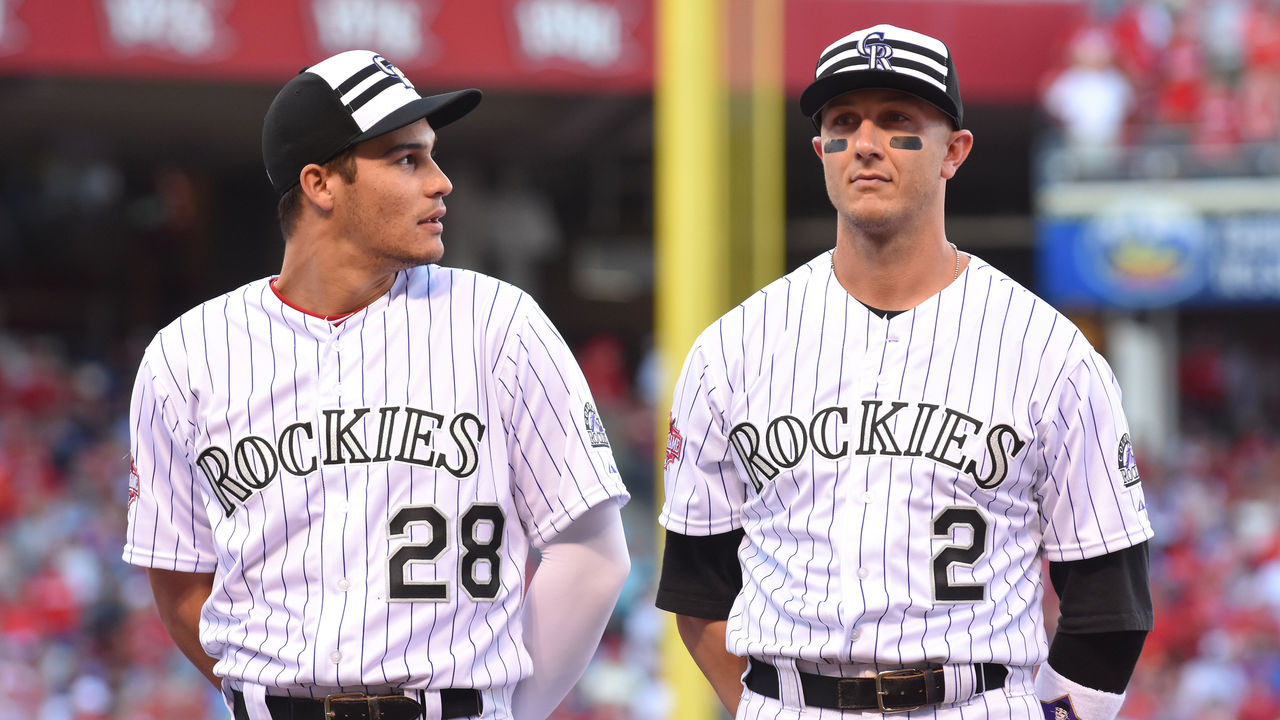 Losing a superstar is nothing new for Rockies fans, and Arenado saw first hand in 2015 how quickly a franchise legend could be shipped out.
Troy Tulowitzki was in his age-30 season - the same as Arenado now - when he was sent to Toronto at the non-waiver trade deadline, ending his 10-year career in Colorado.
"I felt like I got blindsided a bit. I thought I was in the loop, in the conversation," Tulowitzki said after the trade. "So it definitely caught me by surprise. I was shocked, and it caught me off guard. I think maybe I was a little naive to think I would be so connected to the (trade) process."
The Rockies' return produced little impact. Jose Reyes was gone after 47 games; Jeff Hoffman, Miguel Castro, and Jesus Tinoco combined to throw 295 mostly inconsequential innings. Only Tinoco remains with the team after being traded and then reacquired.
Arenado said at the time the trade caught him off guard.
"I was shocked," he said. "That is not the guy I wanted to see go."
Like Arenado, Tulowitzki had committed his long-term future to the Rockies. He agreed to a six-year, $120-million extension in 2010 that kicked in after his previous deal. He was supposed to finish his career in Colorado.
"I'm really lucky," Tulowitzki said after signing the contract in 2010. "I can't wait to be here my entire career."
Now it's Arenado's turn to say goodbye while leaving another young star left to wonder what his future holds.
Why would Story commit to this franchise?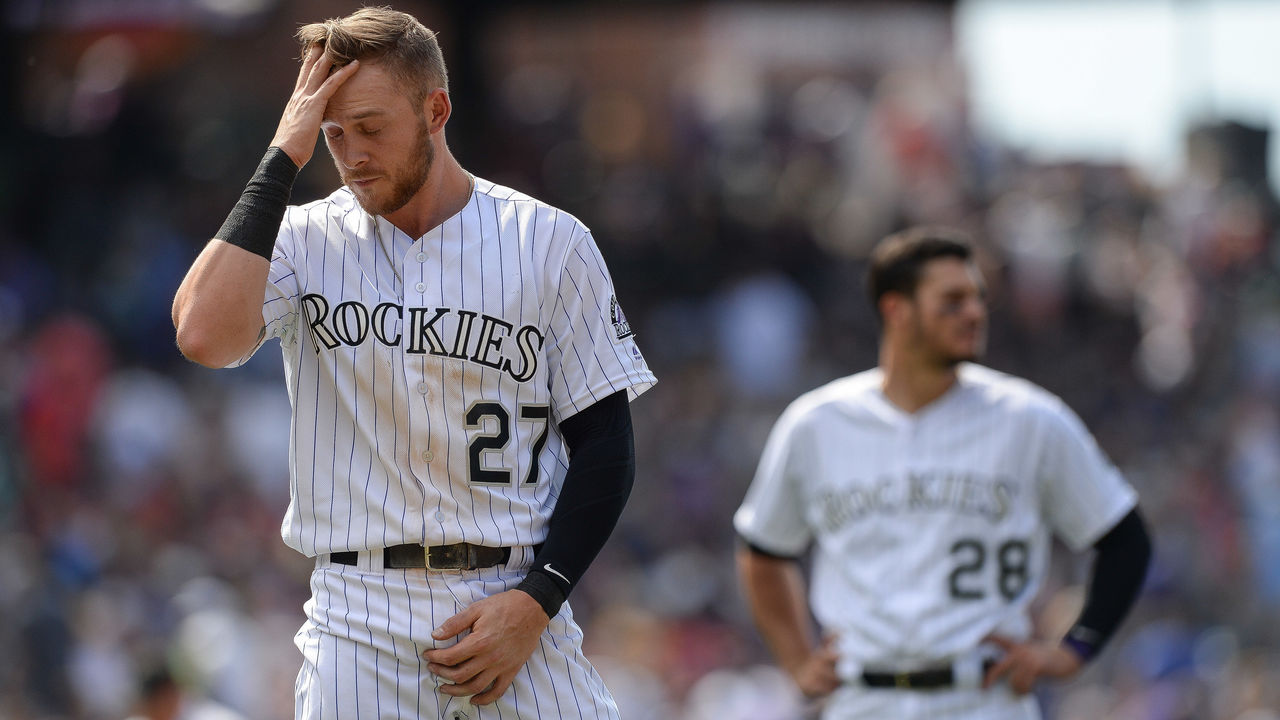 How do you now sell this team to the fan base? How do you sell it to Trevor Story?
It's going to be difficult for the Rockies to make a compelling pitch on an extension before the All-Star shortstop hits free agency at the end of the upcoming season.
The Rockies are nowhere near a playoff team; the Dodgers and Padres are set up for sustainable success; the Giants are poised to reload next winter. Colorado has one top-100 prospect (Zac Veen No. 54), and he's not projected to reach the majors until 2024.
Why would Story commit his prime years to a club that won't be in any position to win in the near future? How can he trust ownership? Will they be willing to spend if they wouldn't do it for Arenado?
The most likely scenario points to the Rockies trading Story before the campaign starts. But that causes a whole host of other issues. How do you sell fans after trading away your two biggest stars? What would the Rockies even get for a rental? The Cleveland Indians were able to land Amed Rosario, Andres Gimenez, and two prospects for Francisco Lindor - an underwhelming returning.
Colorado's problems are further compounded now that most contenders are set at shortstop. If Story is available, there will be interest, but the Rockies are at risk of trading away both players without receiving a single legit prospect in return.
Dealing Arenado and Story is something that could have been preventable with a clearer vision from the front office, and more spending from ownership.
Regardless, there's still a chance the Arenado trade ends up working out for Colorado. Long-term contracts can cripple teams. Maybe that financial freedom allows Bridich to address other needs. Maybe Arenado struggles away from Coors Field. Maybe the twilight years of his career become a burden for the Cardinals. But all of those questions won't be answered for years, and today the Rockies are a worse team. They'll be a worse team tomorrow, too. And trading one of the franchise's best players marks one of the darkest days in the club's history.
Comments
✕
Arenado trade another sad moment in Rockies history
  Got something to say? Leave a comment below!