Hindsight is 2020: Remembering a short baseball season like no other
Photo illustration by Nick Roy / theScore
It all still seems hard to believe.
Below, we remember a truncated baseball season unlike any other.
Rule change of the year
I've been to two 19-inning baseball games. As a teenager in April 1984, it was a hoot to be at Tiger Stadium until nearly 1 a.m. on a Friday night. Cleveland beat Detroit 8-4 with four runs in the top of the 19th for the Tigers' second loss of the season after starting 16-1. The most vivid memory is that the fans in the bleachers at Tiger Stadium had a garbage fight and the decisive runs were scored with the warning track in center field covered in debris. By the end of the second one, in July 2016, my knees just hurt from six hours in that Rogers Centre seat. Cleveland beat Toronto 2-1 when the Jays' second position player pitching, Darwin Barney, gave up a solo homer to Carlos Santana. Trevor Bauer pitched the last five innings in relief for the win.
All that is to say: the extra-innings rule was a pretty good addition to baseball in 2020. Life's changed and baseball's pace doesn't readily fit with our current world. As the game is being played now, there's not much that can be done about the overall running time. For four years, from 2003-06, no more than 32% of the games lasted three hours. On a steady upward climb since then, 62% of games ran past three hours by 2019. So when extra innings arrive, let's just get on with it. Of the 68 extra-inning games in 2020, only one game went 13 innings and only four made it to the 12th. The vast majority of the tied games were wrapped up in 10 innings. - Guy Spurrier
Narrative failure of the year
When the Baseball Hall of Fame announces the 2021 class on Jan. 26, the list might be empty. So far, according to the votes gathered and made by Ryan Thibodaux and his tracking team, no one will meet the 75% vote threshold for induction. In 2020, Yankees great Derek Jeter made it easily and could have joined former teammate Mariano Rivera as the only players in history to receive unanimous consideration. Except one voter among the 397 declined to participate in the Jeter party, spoiling the fun by leaving Jeter off their ballot.
Who was this person? Nearly a year later, no one knows. Despite the laudable work of Thibodaux and media members to encourage voters to share their ballots publicly, the Baseball Writers' Association of America does not mandate it, as it now does with its year-end award voting. The analytics community and its acolytes famously liked to poke holes in the Jeter Greatness narrative, so perhaps this person was making a little scratch on Jeter's plaque to remind everyone that while Jeter was great, he wasn't perfect. - Spurrier
Dunder-Mifflin industrial printing material of the year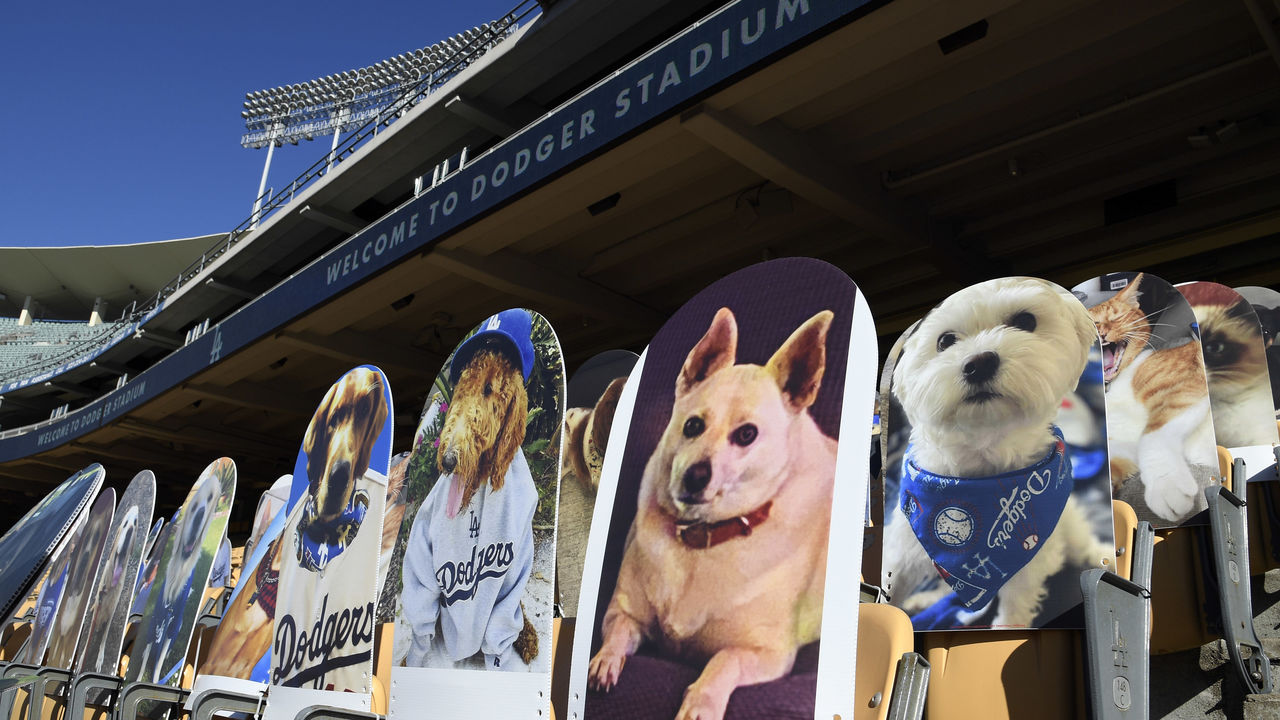 If you were a commercial printer in a major-league city in 2020, it might have been a very good year for you. When MLB's season kicked off July 23, teams filled seats with cutout visages of their fans, their pets, and past and present team personalities. The workhorse of this scheme was the corrugated plastic medium variously known as Coroplast, Correx, or PP Sheet. The polypropylene stock used for yard signs and the like became the hot decoration accessory in baseball stadiums. It provided the varied background color, if not the sound and movement, viewers are used to seeing on telecasts. And it allowed fans willing to pay for the privilege to feel like they were there in spirit. One Dodgers fan became internet famous when his cutout was mangled by two home runs during the season. - Spurrier
Inanimate fan of the year
Everyone had a lot of fun with the cutouts, but let's hear it for this brave patron in Oakland, who took one off the noggin and kept smiling. He was back the next day with a bandage around his head.
Animate fan of the year
The ballpark shutdowns across baseball allowed the Houston Astros to skate through the 2020 regular season without having to face the wrath of fans who wanted to let them know they didn't approve of the sign-stealing scandal that came to light in November 2019. The players who contributed to, and benefited from, the scheme to steal opponents' pitch signs from live video feeds were never punished beyond having to answer a few uncomfortable questions from reporters at spring training three months later.
When the Astros and the American League Championship Series arrived in San Diego in October, Tim Kanter decided to use his unique access to give voice to all the fans who missed out in 2020. From an apartment balcony overlooking the stadium, Kanter used a megaphone during the fourth inning of Game 4 to call out several players individually and berate commissioner Rob Manfred for not meaningfully punishing the players. Reporters in the stadium took notice. The New York Times tracked Kanter down that night for a story.
Speaking to theScore for one of our year-end stories, Kanter summed up his motive: "No one was really able to speak for the people who (wanted to shame the Astros). Except for, you know, the yahoo with the megaphone." - Spurrier
Small sample size of the year
In 1875, the first baseball season counted as "major league," the eight National League teams played between 57 and 70 games, averaging 65. By 1879, NL teams were playing 80 games and schedules more or less grew from there. In order to salvage some part of the 2020 season, Major League Baseball drew up a 60-game season that will stand out in the history books. Small sample sizes were everywhere - the Houston Astros went from 107 wins in 2019 to 29 in 2020 and still made the playoffs.
The Yankees' Luke Voit won the MLB home run title with 22; the last time anyone led the majors in homers with fewer than 30 was Tommy Holmes' 28 in 1945. You have to go back to 1919 to find the next one (Babe Ruth, 29).
Perhaps the most startling small sample size comes from Brewers reliever Devin Williams, who was voted the NL's top rookie having faced only 100 batters in 2020. Under normal rookie rules, he could have competed for the award again in 2021 because he's yet to pitch 50 innings. Baseball adjusted its requirements in late September and also announced that the 2020 winners could not win again in 2021. It would be like nominating Emerson, Lake & Palmer for the best new artist Grammy in 1972 and then nominating Carl Palmer and the rest of the prog-rock superstars from Asia for best new artist in 1983. That would just be weird. - Spurrier
Nickname of the year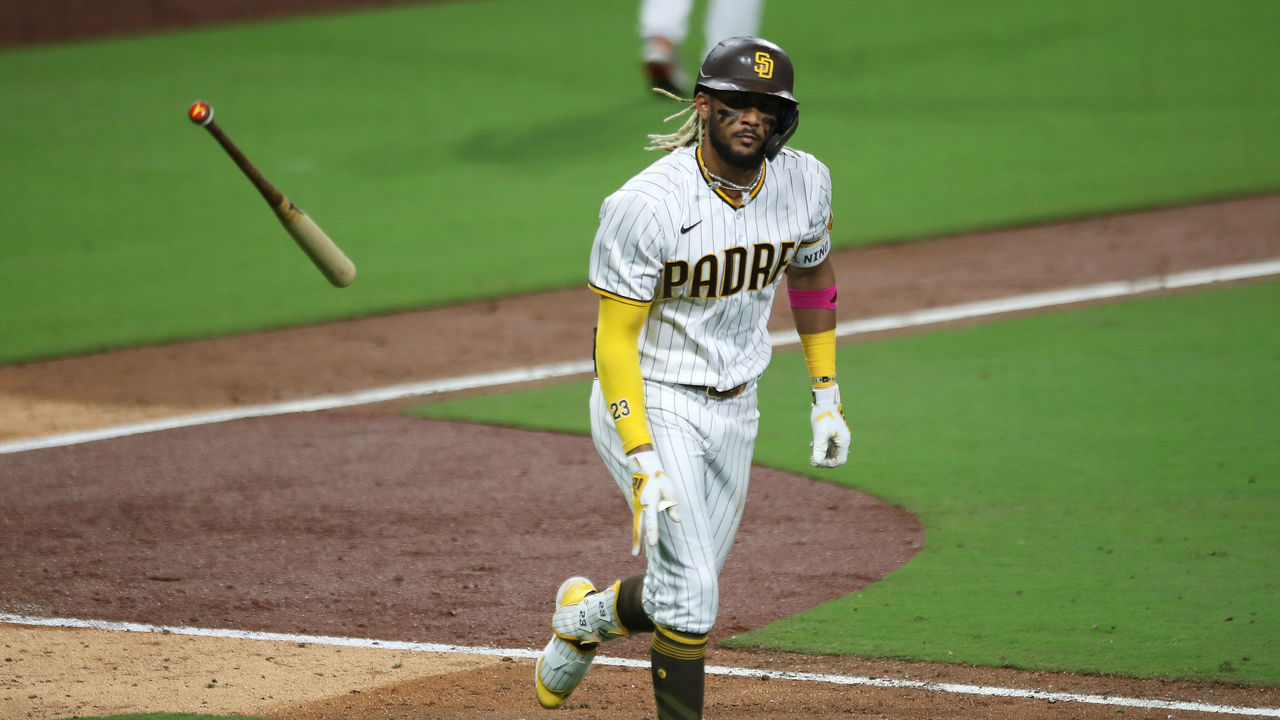 "Slam Diego" - what else?
The Padres made history in August, becoming the first team to hit a grand slam in an obscene four straight games. The best part: San Diego's grandest stars did the slamming - Fernando Tatis Jr., Wil Myers, Manny Machado (his was a walk-off job), and Eric Hosmer. After a one-game break, Jake Cronenworth got in on the act, too, giving the Padres five grand slams in six games. Totally bananas.
The shortened 2020 season was San Diego's coming-out party, and the grand slams punctuated the club's arrival. Over and over and over and over again. And then again. And once more in September, too. It was awesome. - Navin Vaswani
Player & team of the year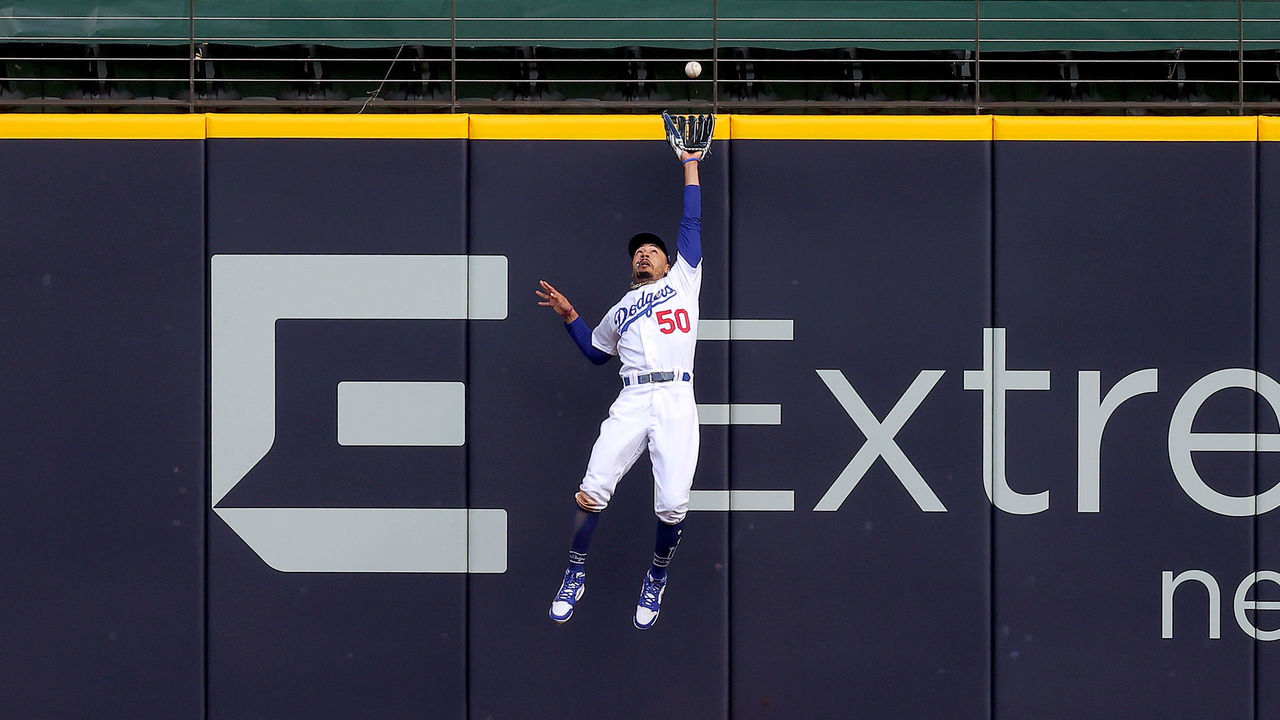 Turns out, all the Dodgers needed was Mookie Betts. Simple.
In all seriousness: what Los Angeles did in 2020 was stupendously impressive. With all the pressure on them, after two heartbreaking World Series defeats, and after the 106-win 2019 squad was stunned in the division series, the Dodgers had one option and one option only: be baseball's best team. So they were. They won 43 of 60 regular-season games - a .717 clip. They opened the postseason with five straight wins, erased a 3-1 deficit in the National League Championship Series (and Game 7 deficits of 2-0 and 3-2), and eventually won 13 of 18 playoff games - a .722 clip - and the World Series. Finally, after more than a 30-year drought, the Dodgers are champions.
But think about it: even in normal times, baseball's best team often doesn't win. The cream rises to the top after a 162-game regular season ... and then the game gets nuts. Face it: baseball isn't built for the postseason; there isn't supposed to be a sprint once the marathon is over. But there is, and L.A. - without David Price, and with Justin Turner for perhaps the final time - wouldn't be denied in 2020.
The Dodgers had one job, one mission. They were singularly focused, to a man, and were led by Betts, who literally stepped into a clubhouse full of stars after signing a mammoth $365-million extension and immediately became L.A.'s best player. (Betts was the club leader in WAR and finished second in NL MVP voting.) From Day 1, when the Dodgers decided they were going to take the coronavirus absolutely seriously, and weren't going to toss the baseball around the diamond after a strikeout, it was clear: World Series or bust.
So much can and does go wrong in baseball. So much went wrong in baseball and in life in 2020. But the Dodgers were not deterred. Betts especially. He did it all in October, all over the place: in right field, at the wall, at the plate, and on the bases. And it was absolutely delightful to watch.
"I'm here to bring rings back to L.A.," Betts said July 22, the day he signed his extension.
Mookie's a man of his word. Don't you forget it. - Vaswani
Quote of the year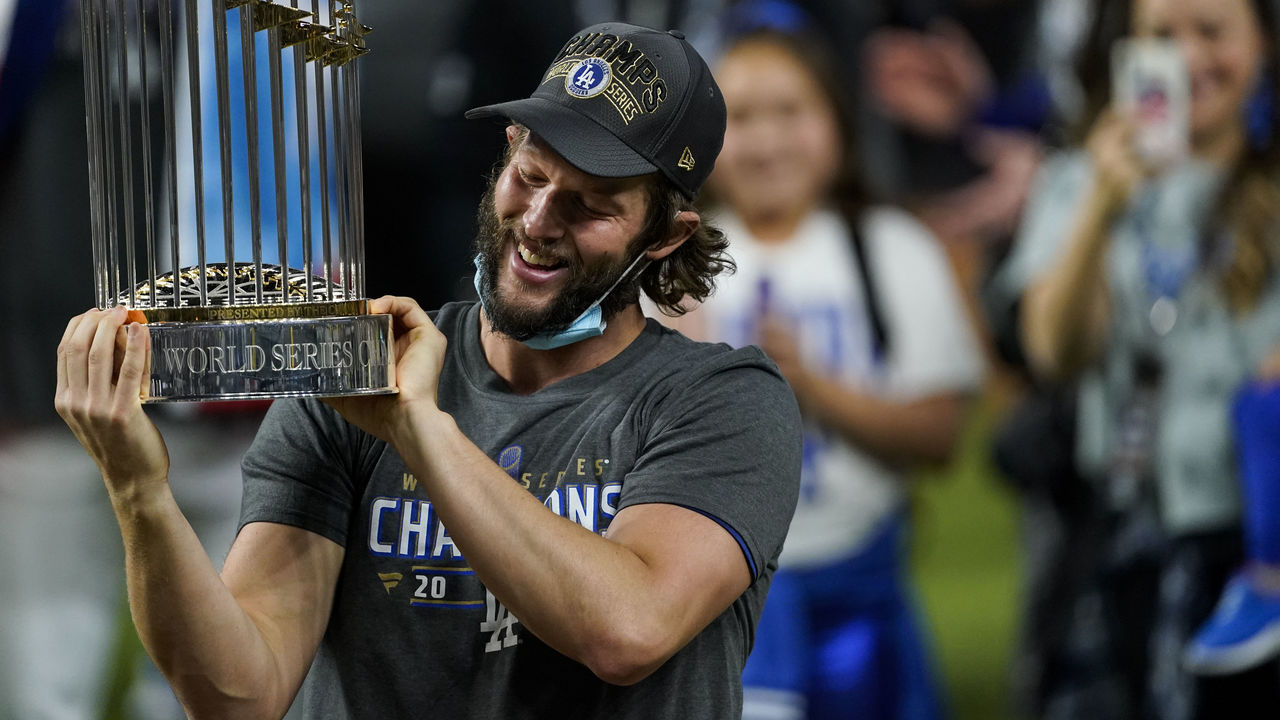 "World Series champ, World Series champ, World Series champ." - Clayton Kershaw
Those were the words Kershaw kept repeating to himself as he celebrated with his teammates while crying tears of joy after the Dodgers finished off the Rays; he was trying to get it to sink in. And they're the same words I've quietly said to myself all winter whenever I think about the Dodgers' ace. (Yes, I think about Kershaw quite regularly, thank you for asking.)
Here's the full Kershaw quote:
I was trying to take it all in as best I could. You never really script what you're gonna do or how you're gonna feel, but it was a content feeling. Just like a: "Job is done. We won. We did it. We won our race, and it's over. We completed our mission." Just a feeling of contentment. Joy.
No more misery - it only takes one October. Clayton Kershaw's a World Series champion, so let no one ever say nothing good happened in 2020. - Vaswani
Moment of the year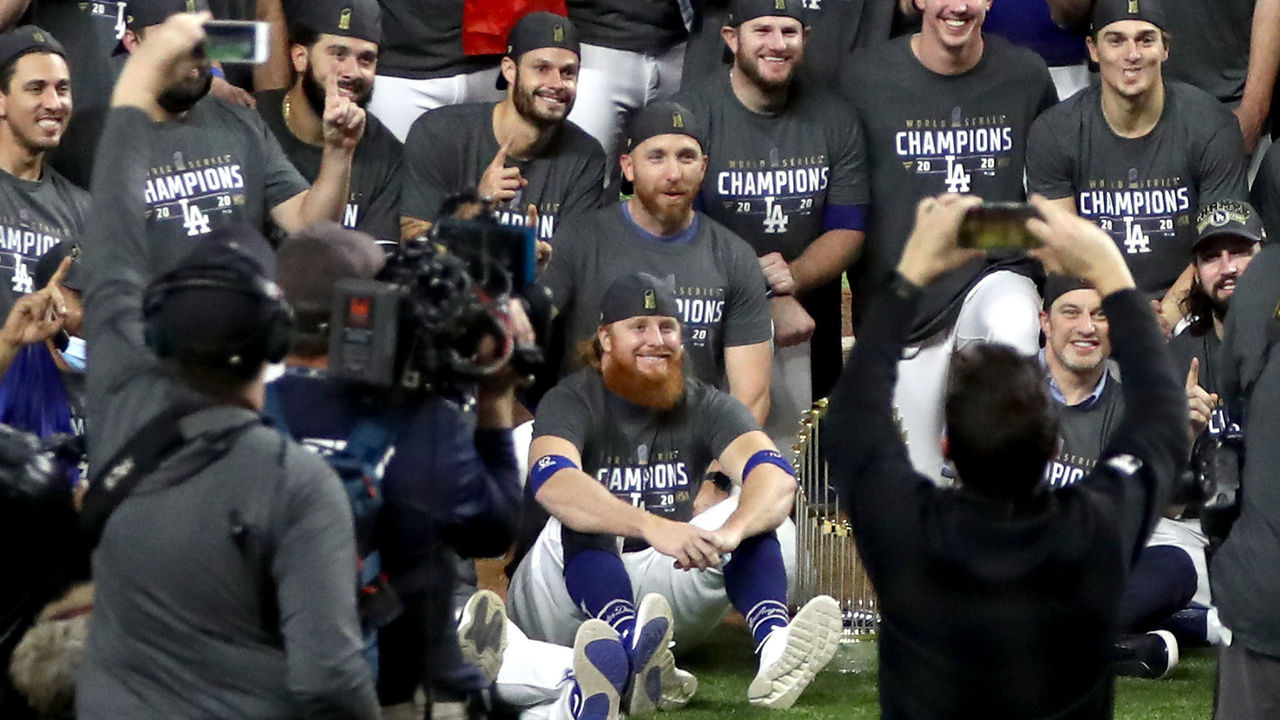 Yeah, the Dodgers, again.
How can Baseball's Ultimate 2020 Moment be anything but Turner celebrating L.A.'s World Series win at Globe Life Field, oh, about an hour or so after he was removed from Game 6 - being played at a neutral site in Texas, mind you - after testing positive for COVID-19? It can't.
The chaotic moments - Turner's sudden departure and reported diagnosis, the Dodgers winning the frigging World Series, and Turner's mask-less face on the field when it was all over - perfectly encapsulated MLB's turbulent short season. The campaign was put on hold because of the coronavirus pandemic, was played and completed in the virus' shadow, and it was wildly fitting - in a twisted, extremely 2020 energy kind of way - that the virus left its mark on Game 6, the eventual champions, and one of the Dodgers' most important players.
After all the madness, I kept and keep coming back to one question: who was going to be the person to keep Turner off the field after L.A. had finally won the title that eluded it, that eluded Turner? No one, it turns out, and as absolutely insane as that seems with more than 350,000 Americans dead from COVID-19, that answer, after all the Dodgers and Turner went through ... sort of makes a little bit of sense to me. - Vaswani
In memoriam
It seemed to be a particularly notable year for the deaths of former major-league players. You could have constructed a pretty fine team if you count all the players who contributed at least 10 career bWAR, notwithstanding the lack of a catcher who fit that criterion. There are seven Hall of Famers on the list and we argued this year that Dick Allen should be in the Hall, as well.
| Pos | Players | | | | |
| --- | --- | --- | --- | --- | --- |
| 1B | Dick Allen | Bob Watson | | | |
| 2B | Joe Morgan* | Tony Taylor | Frank Boiling | Horace Clarke | Glenn Beckert |
| SS | Tony Fernandez | | | | |
| 3B | Denis Menke | Eddie Kasko | | | |
| LF | Lou Brock* | | | | |
| CF | Jimmy Wynn | Jay Johnstone | | | |
| RF | Al Kaline* | Claudell Washington | | | |
| P | Tom Seaver* | Bob Gibson* | Whitey Ford* | Phil Niekro* | Johnny Antonelli |
| P | Lindy McDaniel | Ron Perranoski | Mike McCormack | Don Larsen | |
| MGR | John McNamara | Jim Frey | Kasko | | |
*Hall of Famer
As a group, these players appeared in 115 All-Star Games and collected 35 Gold Gloves, seven Cy Young Awards, four MVP trophies, and one rookie of the year award. The three late managers all appeared in at least 600 games in the role, led by McNamara's 2,395. - Spurrier
Comments
✕
Hindsight is 2020: Remembering a short baseball season like no other
  Got something to say? Leave a comment below!