Dodgers rake in any count, and other takeaways from their Game 3 win
Alex Trautwig / MLB / Getty Images
The Los Angeles Dodgers retook control of the World Series on Friday, besting the Tampa Bay Rays 6-2 in Game 3 behind a brilliant effort from Walker Buehler and more timely hitting from their potent lineup en route to a 2-1 series lead. Here are a few takeaways from their Game 3 victory.
Dodgers hitters excel in any count
The Dodgers' preposterously deep and star-studded lineup excels in so many ways. No team, for instance, hit for more power than Los Angeles during the abbreviated 2020 regular season. No team made quality contact at a higher rate, either. And no team did a better job hitting with two strikes.
Highest weighted-on base average (wOBA) with two strikes, 2020
| Team | wOBA |
| --- | --- |
| LAD | .271 |
| SF | .268 |
| ATL | .253 |
| SD | .252 |
| NYY | .250 |
(Courtesy: Baseball Savant)
The club's collective knack for two-strike hitting has been on display throughout the postseason - half of Mookie Betts' hits through Game 2 of the World Series came in two-strike counts, as did Cody Bellinger's go-ahead home run in Game 7 of the NLCS - but never more so than in Friday's victory.
Of the Dodgers' 10 hits in Game 3, all but three came with two strikes, including all four of their most impactful hits by win probability added: Justin Turner's solo shot off Charlie Morton in the first; Max Muncy's two-run single in the third; Betts' run-scoring single in the fourth; and Austin Barnes' unexpected, lead-padding homer off John Curtiss in the sixth. The bulk of that damage was done off Morton, who allowed just one run through his first three postseason starts, and, more germanely, held hitters to a .170/.207/.284 line in two-strike counts this year.
Ultimately, Game 3 further evinced how difficult the Dodgers' lineup is to navigate for opposing pitchers, not only due to its abundance of All-Stars and former MVPs, but because the team's hitters, almost to a man, are comfortable hitting while behind in the count. Even with two strikes on them, they refuse to expand the zone, continuing to get off quality swings and produce.
Turner gets his moment
No player embodies the Dodgers' ongoing futility in October like Clayton Kershaw. But Justin Turner, their venerable third baseman, has also been around for most of the recent heartbreak. And just like Kershaw had his moment in Game 1, and his memory to savor should the Dodgers finally end their championship drought this year, Turner has made his mark, too, following a 2-for-5, two-run effort highlighted by that first-inning homer, which tied him with Duke Snider for the most (11) in Dodgers postseason history.
Prior to Friday, Turner's postseason had been somewhat of a disappointment. Through his first 14 contests, the Dodgers' No. 3 hitter in each of those games had slashed just .216/.328/.353, a far cry from his robust regular-season numbers. Meanwhile, Turner had recorded a negative win probability added in all but four games, a byproduct of his struggles during run-scoring opportunities. To date, he's hitting just .118 with runners in scoring position this postseason, and the veteran has driven in only three runs in 17 such at-bats.
Suddenly, however, Turner's postseason is no longer a disappointment. He's now poised, should the Dodgers pull this off, to be one of the heroes, which would be well deserved considering how important the 35-year-old has been to this powerhouse franchise.
Arozarena struggling with offspeed diet
Until the ninth inning of Game 3, the Dodgers had all but silenced Randy Arozarena, the rookie phenom who hit .382/.433/.855 with seven home runs through the first three rounds of the postseason. Much of that damage came off fastballs, and he's generally experienced far more success against fastballs than any other pitch type throughout his nascent career.
So the Dodgers decided to feed the prodigious 25-year-old a steady diet of offspeed and breaking pitches. Through the first two games of the World Series, as Arozarena notched just one measly infield single in six at-bats (albeit with three walks), fastballs accounted for less than a quarter of the pitches he saw.
| Split | FB% | wOBA |
| --- | --- | --- |
| WC + LDS + LCS | 41.5% | .513 |
| WS Gms 1+2 | 24.1% | .281 |
That approach continued to pay dividends for the Dodgers in Game 3. Walker Buehler's fastball is electric, but he threw Arozarena just four heaters over three plate appearances (and only two inside the strike zone), resulting in a three-pitch strikeout, a flyout to deep center, and another strikeout. And that fourth-inning flyout, which rocketed off Arozarena's bat at 100.5 miles per hour and produced an expected batting average of .760, came off a fastball.
Yet, with two outs in the ninth inning and a four-run lead, deposed closer Kenley Jansen deviated from the plan that had been so effective to that point in the series, throwing Arozarena six straight fastballs while trying to secure the game's final out. He failed.
Jansen opted to just let it eat, as he does - nine out of every 10 pitches Jansen throws is some kind of fastball, either a cutter or a sinker - and got burned for it, serving up a poorly located 3-2 cutter that Arozarena deposited into the left-field seats for his record-tying eighth postseason home run. It was also the game's hardest-hit ball, with an exit velocity of 111.3 mph.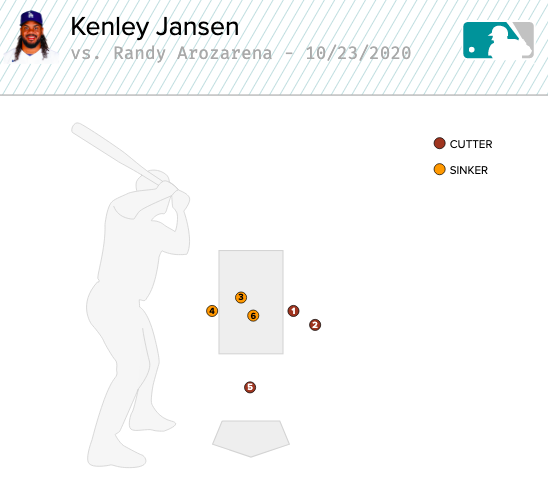 And as disheartening as it might've been for Jansen, it was an instructive at-bat for Los Angeles. Not only did it validate the Dodgers' game plan and reinforce how untenable it is to throw Arozarena fastballs in the zone right now, but it also illustrated why Jansen is a poor matchup for the burgeoning star. His one-dimensional repertoire makes him particularly vulnerable against Arozarena, and Dodgers manager Dave Roberts should avoid using him in high-leverage spots for the remainder of the series if the outfielder is due up.
Bold strategy, Dave
The vulnerability of the Dodgers' bullpen looms large over this series. As such, it was a bit curious to see Roberts use three of his most trusted relievers - Jansen, hard-throwing rookie Brusdar Graterol, and ground-ball extraordinaire Blake Treinen - to close out a somewhat lopsided game, potentially limiting their availability (and/or reducing their effectiveness) over the next couple of games.
On one hand, neither Graterol nor Treinen had pitched since the NLCS finale, and Jansen hadn't appeared since Game 6 of that series, so they were overdue for some work. However, one or more of them could now be asked to pitch on three consecutive days after not doing that during the regular season, which generally seems ill-advised, especially with the three-batter rule in place.
This may end up being a non-issue, but if any of those three falter over the next couple of days, it'll be hard not to look back at Game 3 and wonder why, say, Victor Gonzalez, Jake McGee, and/or Dylan Floro weren't asked to handle the late innings with the Dodgers staked to a comfortable lead.
Jonah Birenbaum is theScore's senior MLB writer. He steams a good ham. You can find him on Twitter @birenball.
Comments
✕
Dodgers rake in any count, and other takeaways from their Game 3 win
  Got something to say? Leave a comment below!