How the NL champion Dodgers were built
Cooper Neill / Major League Baseball / Getty
The Los Angeles Dodgers will play in the World Series for the third time in four seasons, looking to win their first title since 1988. Andrew Friedman and his front office put together one of baseball's best teams through incredible drafting and timely trades, all while using the Dodgers' deep pockets.
Here's how the Dodgers built a 2020 roster that won a league-leading 43 regular-season games.
Note: This is based on the Dodgers' 28-man roster during the NLCS
| Method | Players |
| --- | --- |
| Homegrown | 14 |
| Free agent | 7 |
| Trade | 7 |
Homegrown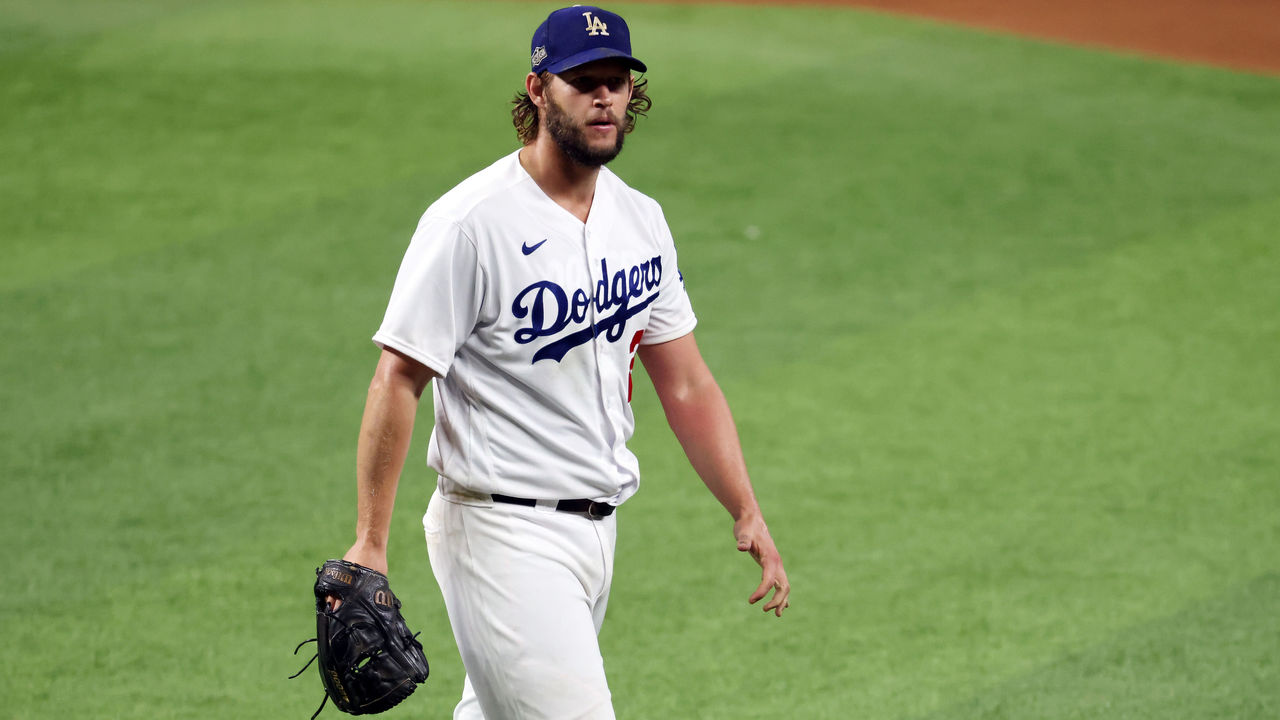 Kenley Jansen, RHP (Nov. 17, 2004): Jansen signed with the Dodgers as a catcher before converting to pitching in the minors, and the change paid huge dividends. The 33-year-old has amassed 312 saves and 932 strikeouts in 636 innings for Los Angeles, and he's widely regarded as one of the top relievers of the past decade.
Clayton Kershaw, LHP (June 6, 2006): The Dodgers selected the Texan with the seventh pick in 2006, and he's put up Hall of Fame numbers over 2,333 regular-season innings. Kershaw has also been named the 2014 NL MVP, won three Cy Youngs, and secured five ERA titles.
Pedro Baez, RHP (Jan. 22, 2007): L.A. signed Baez as an amateur free agent 13 years ago. Since debuting in 2014, the right-hander has been a rock in the Dodgers' bullpen, posting a 3.03 ERA and 3.61 FIP over 355 appearances.
Joc Pederson, OF (June 8, 2010): Pederson was an 11th-round pick out of high school in 2010. He's hit 130 homers while also posting an .806 OPS over seven seasons.
Corey Seager, SS (June 4, 2012): The NLCS MVP was taken with the 18th pick in 2012, and he's been a valuable contributor to the Dodgers' success since. In 541 career games, Seager has accrued 20.1 WAR while authoring a .295/.362/.500 slash line.
Victor Gonzalez, LHP (July 16, 2012): The left-hander was signed as an amateur free agent in 2012. He made a solid first impression at the big-league level in 2020, posting a 1.33 ERA with 23 strikeouts in 20 1/3 innings.
Julio Urias, LHP (Aug. 17, 2012): The former top prospect is another impressive amateur free-agent acquisition. When healthy, the 24-year-old Mexican has produced sparkling numbers, including a 3.20 ERA and 3.47 FIP.
Cody Bellinger, IF/OF (June 7, 2013): Bellinger was a fourth-round pick in 2013, and he's put together quite a resume since. In four MLB seasons, the son of former big-leaguer Clay Bellinger has become a two-time All-Star, was named the 2017 NL Rookie of the Year, and he won the 2019 NL MVP Award.
Walker Buehler, RHP (June 8, 2015): The product of Vanderbilt's incredible baseball program was selected 24th overall in 2015. Buehler quickly rose through the minors before establishing himself as one of MLB's best young hurlers, striking out 28.6% of the hitters he faces while limiting the opposition to a .208 batting average.
Edwin Rios, IF (June 9, 2015): The Puerto Rican infielder was plucked out of Florida International University in the sixth round in 2015. Rios owns a .634 slugging percentage with 12 homers over 139 plate appearances.
Matt Beaty, IF/OF (June 10, 2015): Beaty was nabbed in the 12th round five years ago. He enjoyed a breakout rookie campaign in 2019 (46 RBIs, .775 OPS), but Beaty struggled in 2020 (.220 AVG, 73 OPS+) during limited action.
Will Smith, C (June 9, 2016): The Dodgers' catcher with the same name as the popular actor has turned into a celebrity in his own right since debuting in 2019. Over 91 games he's recorded an impressive .268/.363/.574 slash line with 23 homers. Several of those dingers have also been game-winners.
Dustin May, RHP (June 10, 2016): The towering red-headed right-hander was another great find, with the Dodgers picking him out of high school in the third round. The 23-year-old has some of the nastiest stuff in baseball, and he looks like a future stalwart of the club's rotation.
Tony Gonsolin, RHP (June 10, 2016): Gonsolin is another product of the Dodgers' impressive 2016 draft class. The 26-year-old converted outfielder has logged a 2.60 ERA and 0.92 WHIP in 20 career outings (14 starts) after going undrafted out of high school in 2012.
Free agents
Justin Turner, 3B (Feb. 5, 2014): Turner has been an excellent find after being signed to a minor-league deal. The team's everyday third baseman has been worth the seventh-highest WAR at his position since 2014, and he's never posted an OPS lower than .832 for the Dodgers.
Max Muncy, IF (April 28, 2017): Muncy also didn't blossom into a star until after joining the Dodgers on a minor-league deal. The 30-year-old has registered 82 home runs and 204 RBIs while posting a 136 OPS+ in Los Angeles.
Joe Kelly, RHP (Dec. 21, 2018): The hard-throwing right-hander with a flare for the dramatic turned his 2018 postseason success with the Boston Red Sox into a three-year deal with the Dodgers. Since heading to Los Angeles, Kelly owns a 10.4 K/9 and 4.3 BB/9 in 61 1/3 innings.
AJ Pollock, OF (Jan. 26, 2019): Pollock agreed to a four-year, $55-million contract with the Dodgers ahead of the 2019 campaign. The oft-injured 32-year-old has been productive when healthy for Los Angeles, slashing .270/.322/.506 with 31 homers and 81 RBIs.
Blake Treinen, RHP (Dec. 15, 2019): Treinen was dominant in 2018, but he's dropped off since. However, he's still posted a respectable 3.86 ERA and 3.15 FIP in 27 outings after signing a one-year deal with the Dodgers.
Alex Wood, LHP (Jan. 12, 2020): The Dodgers rolled the dice on the 29-year-old left-hander by giving him a one-year, $4-million deal. Wood, who won 16 games for L.A. in 2017, struggled to a 6.39 ERA in nine outings this season.
Jake McGee, LHP (July 21, 2020): McGee was signed to a minor-league deal in July after a midseason release from the Colorado Rockies. He's pitched well for the Dodgers, striking out 14.6 batters per nine innings across 20 1/3 frames.
Trades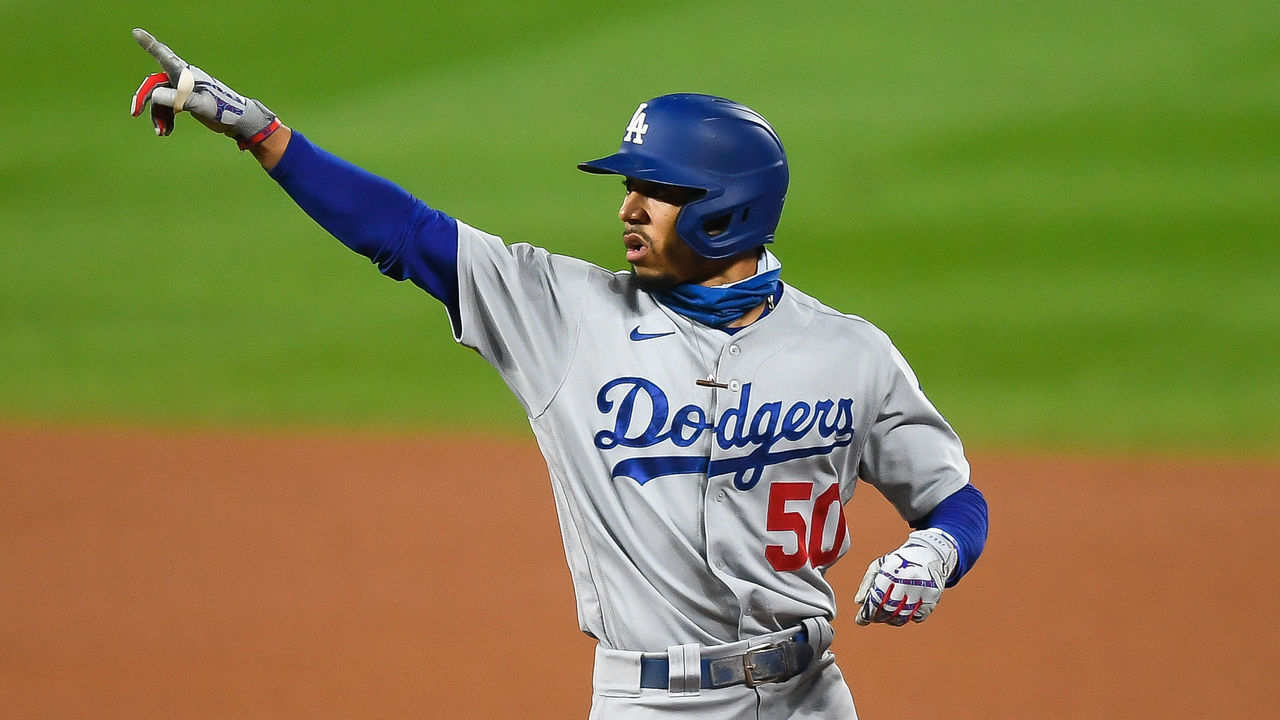 Enrique Hernandez, IF/OF, Austin Barnes, C/IF (Dec. 11, 2014): Hernandez and Barnes were acquired as part of a seven-player deal with the Miami Marlins. Hernandez has produced highs and lows with the Dodgers, but he's done well overall during his six seasons on the west coast, hitting 68 homers with 213 RBIs while playing seven different positions. Barnes has been a serviceable catcher and fill-in second baseman, and he's flashed offensive upside (.895 OPS in 102 games in 2017).
Chris Taylor, IF/OF (June 19, 2016): Taylor has become a pretty good find considering the Dodgers only had to give up pitcher Zach Lee to acquire him. The 30-year-old has amassed 11.0 WAR with Los Angeles.
Dylan Floro, RHP (July 4, 2018): Floro was an under-the-radar pickup from the Cincinnati Reds in 2018. He's supplied the Dodgers with a 3.10 ERA and 3.09 FIP in 104 appearances.
Adam Kolarek, LHP (July 31, 2019): Kolarek came to the Dodgers from the Tampa Bay Rays in a one-for-one swap involving minor-league pitcher Niko Hulsizer. The 31-year-old left-handed specialist, who's been used at first base in the past, has recorded a 0.88 ERA in 46 games for the club.
Mookie Betts, OF (Feb. 10, 2020): Betts, one of the league's superstars, came to the Dodgers last February in a blockbuster deal with the Boston Red Sox. The 28-year-old dazzled at the plate (.292/.366/.562) and in the field (10 defensive runs saved) during his first campaign with the team after being inked to a 12-year, $365-million extension.
Brusdar Graterol, RHP (Feb. 10, 2020): Graterol was originally destined for Boston from the Minnesota Twins as part of the return for Betts. After the Red Sox declined to take the hard-throwing 22-year-old, the Dodgers swooped in and acquired him for Kenta Maeda. Graterol posted a 3.09 ERA and 0.90 WHIP in 23 1/3 innings this season.
Comments
✕
How the NL champion Dodgers were built
  Got something to say? Leave a comment below!