Yankees lose game of inches, Roberts shows growth
Christian Petersen / Getty Images
Another busy day of postseason baseball is in the books. Here are a few takeaways from Wednesday's slate of league division series games.
Borderline pitch brings Yankees to brink
Baseball, the old truism goes, is a game of inches. An inch can be the margin between safe and out, and can distinguish a broken-bat bleeder from a blast into the bleachers. Games are frequently decided by a matter of inches. Sometimes, apparently, playoff series can be, too.
In the top of the fourth inning Wednesday at Petco Park, with the Tampa Bay Rays and New York Yankees tied at one game apiece in their best-of-five series and knotted at 1-1 in Game 3, Masahiro Tanaka worked the count full against Willy Adames with Joey Wendle on first and nobody out. Tanaka, as he routinely does in 3-2 counts, went to his slider, and caught Adames looking. He didn't get the call, though. In an attempt to gun down Wendle, who broke for second on the pitch, Yankees catcher Kyle Higashioka leapt out of his crouch without giving home-plate umpire Mark Carlson a good look at the pitch, which, according to Baseball Savant, clipped the bottom of the strike zone.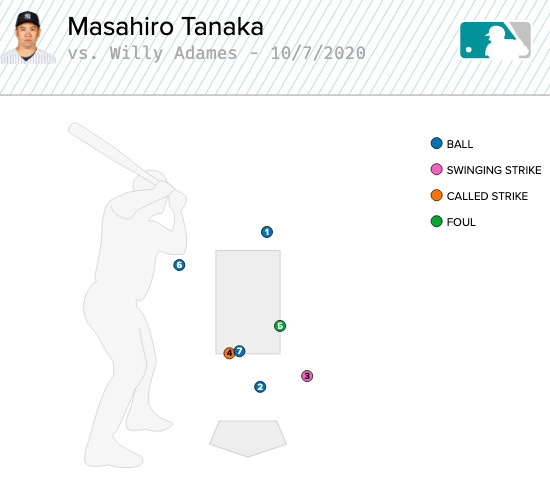 Were that pitch an inch or two higher, Tanaka almost certainly gets the call, and the Yankees quash Tampa Bay's rally: Higashioka, for his part, uncorked a strong throw to second that likely would've resulted in a strike-'em-out, throw-'em-out double play. Instead, Kevin Kiermaier came to the plate with two on and nobody out, and changed the complexion of the game - and the series - with one swing, depositing a hanging curveball into the right field bleachers for a three-run home run. To be sure, no lead is ever truly safe against this Yankees lineup, but Kiemaier's blast still rendered a comeback highly improbable, increasing Tampa Bay's win expectancy to 80.4%, per FanGraphs, before a three-run sixth inning put the game out of reach and propelled the Rays to an 8-4 victory and 2-1 series lead.
And while the Yankees are far from finished, the circumstances of their Game 3 loss illustrate how volatile a best-of-five series is. One borderline pitch could end up playing an outsized role in determining their fate. After dropping Tuesday's game, the Yankees took the field for Game 3 with roughly a 50/50 chance of advancing to the league championship series. Now, needing to take two straight from the American League's top team, their odds have dwindled to about one-in-five.
Ground Chuck is back
Charlie Morton's regular season was a frustrating one. After finishing third in American League Cy Young voting in 2019, the 36-year-old right-hander came out of the gate looking uncharacteristically hittable, stumbling to a 5.40 ERA with a 1.50 WHIP across his first four starts in 2020 amid a marked decline in velocity. A trip to the injured list ensued, and Morton spent nearly four weeks resting his inflamed right shoulder.
However, since rejoining the rotation in early September, Morton's velocity has steadily increased, and his resurgence culminated Wednesday with a strong outing against the Yankees in which he reaffirmed his status as one of Tampa Bay's three co-aces. Making his first appearance in almost two weeks, Morton, who wasn't needed in the wild-card round, showed off his best velocity of 2020, sitting at 94.6 mph with his sinker, his primary pitch, and topping out at 96.7 mph with his four-seamer, per Baseball Savant. Of course, velocity isn't everything, but it is pretty significant. When Morton's sinker registered 93 mph or lower on the radar gun this year, opponents put up a weighted on-base average of .577 against it. On sinkers clocked at 94 mph or above, that mark shriveled to .156.
Not surprisingly, then, with his best stuff working, Morton had one of his best starts of 2020, allowing only one earned run on four hits and two walks while striking out six over five innings. He induced 10 whiffs over 86 pitches (11.6%), an especially impressive number considering the Yankees' supreme contact ability, while generating plenty of weak contact, too: eight of the 14 balls put in play against him had an expected batting average of .120 or lower. Meanwhile, Morton has now allowed just one home run in six starts since coming off the injured list, and he continues to look more like the version of himself from a year ago.
Dave Roberts shows growth
At times, Los Angeles Dodgers manager Dave Roberts has trusted Clayton Kershaw to a fault in October, either leaving him in too long or foisting an unnecessary relief appearance upon his three-time Cy Young Award winner. Too often, that trust has been the Dodgers' undoing (and, to some extent, Roberts bears responsibility for Kershaw's lousy postseason reputation). If Game 2 was any indication, Roberts has learned from his mistakes.
In years past, Roberts might've been inclined to leave Kershaw in for the seventh inning Wednesday night rather than go to his bullpen. Though the venerated left-hander allowed successive solo shots in the top of the sixth, sullying a brilliant outing and allowing the Padres to cut their deficit to 4-3, Kershaw promptly locked back in and retired the next three batters. As he walked off the mound, his pitch count sat at 87. Moreover, the Padres' bottom-three hitters were due up in the seventh. Roberts could've justified sending Kershaw back out, at least to start the frame. But he didn't. Instead, Roberts turned to his bullpen, and while Brusdar Graterol nearly made him regret it moments later, the decision was the right one - and a revelatory one, at that.
Still, Roberts' most laudable in-game move - the one that seemed to cement his growth in this department - actually came afterward, in the top of the ninth, with the Padres threatening to erase a three-run deficit. In the past, Roberts probably would've stuck with Kenley Jansen, who was decidedly off, even after he brought the tying run to the plate with two outs. This time, Roberts refused to relinquish the lead with a clearly laboring pitcher on the mound, egos be damned, and proceeded to remove Jansen in favor of Joe Kelly, who stranded the tying run at third after walking the bases loaded and ultimately locked down a 6-5 victory. Admittedly, Roberts' confidence in Jansen has been on the wane for a while, but it was still encouraging to see him make the tough - but correct - decision when he had to nonetheless. His Game 2 performance made it abundantly clear Roberts is no longer making decisions based on a player's reputation or his own affections, and that's an incredibly encouraging development for a Dodgers team that is otherwise perfect.
Ugh, give us more Dodgers-Padres
Major League Baseball's decision not to reseed after the wild-card round never made any sense. The Rays and Dodgers, by virtue of finishing with the best records in their respective leagues, deserved less fraught paths to the league championship series, and it's frankly absurd MLB would approve a postseason format in which the two best teams in each league would be able to meet in the second round of the playoffs, a blink-and-you'll-miss-it best-of-five. All of that is to say: it sucks that the Dodgers-Padres series, which produced the postseason's most compelling and theatrical game Wednesday, could be over by Thursday night. After a relatively placid series opener, the mutual hostility between these two division rivals - the incumbent powerhouse in the NL West and the burgeoning one - was laid bare, as was the crazy talent both teams possess. It's a shame they never even had a chance to meet in the best-of-seven NLCS. Even if the Padres can somehow manage to force a fifth game, which seems downright impossible given their injury woes and the Dodgers' indomitability, this series will still have been too short.
Jonah Birenbaum is theScore's senior MLB writer. He steams a good ham. You can find him on Twitter @birenball.
Comments
✕
Yankees lose game of inches, Roberts shows growth
  Got something to say? Leave a comment below!