All of a sudden, the Astros are threatening
Kevork Djansezian / Getty Images
As the disgraced Houston Astros stumbled their way through a slog of a season, baseball fans delighted in the ostensible demise of a dynasty that, in the eyes of many, cheated its way to glory in 2017 and sullied the sport's integrity with its sign-stealing scandal.
As it turns out, the schadenfreude was a bit premature.
Despite sneaking into the expanded 2020 postseason with a losing record, Houston's regular-season woes increasingly seem like a distant memory in the wake of a fourth straight postseason victory, a 5-2 win over the Oakland Athletics on Tuesday in Game 2 of the American League Division Series. Suddenly, the Astros, who hadn't finished below .500 since 2014, no longer look like a rapidly fading juggernaut.
Rather, having swept the Minnesota Twins in the wild-card round and pushed the Athletics to the brink of elimination, Houston looks like a legitimate World Series contender once again. While the Astros aren't quite as invulnerable as they were a year ago, baseball's most derided bunch is threatening nevertheless, one win away from a fourth straight league championship series berth.
"The whole world knows it's been a tough season for us," Yuli Gurriel told reporters Tuesday morning, including John Shea of the San Francisco Chronicle. "We have a lot of players who haven't played up to their expectations, their capabilities. But this is a blank slate for us. We're starting from zero, and it's a chance for us to start fresh here."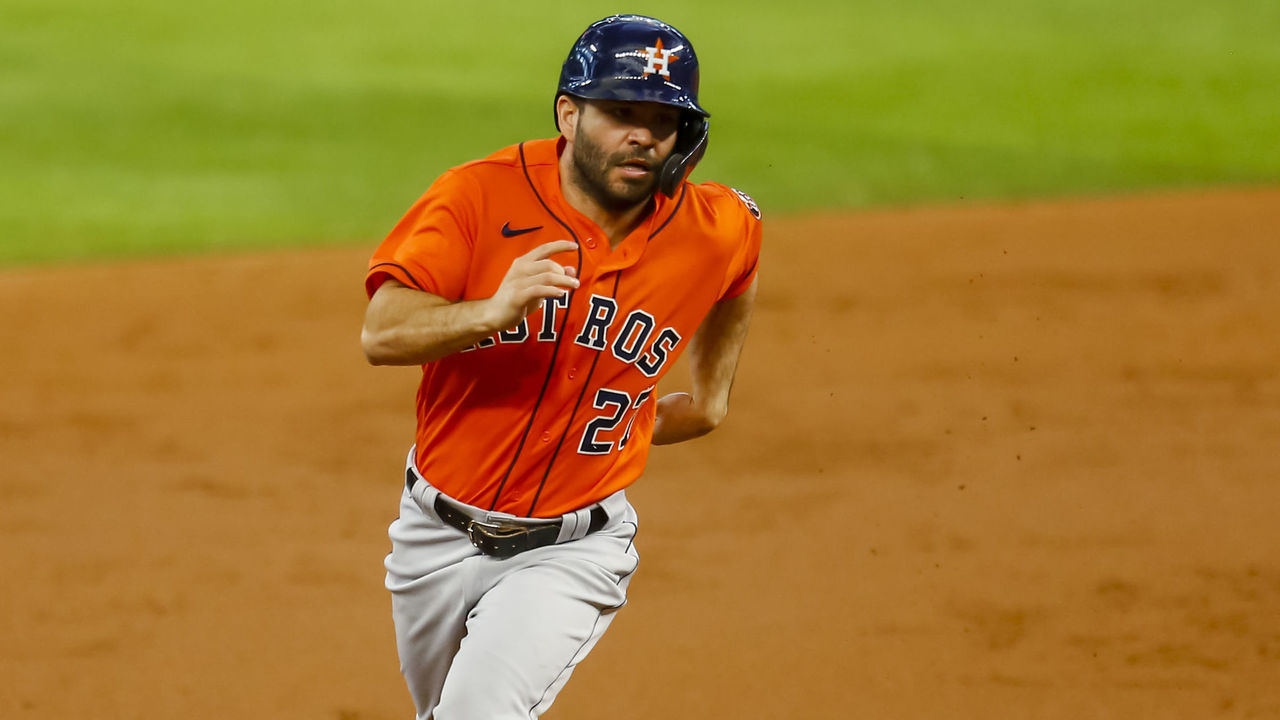 Coming into the postseason, no area of Houston's roster needed a fresh start more desperately than its star-studded lineup, which failed to coalesce into even a league-average offense during the regular season despite bringing back virtually every key member of last year's modern-day Murderers' Row. (To some, the pronounced struggles of perennial All-Stars like Jose Altuve and Carlos Correa offered proof that the Astros were still stealing signs in 2019, the commissioner's findings notwithstanding.) However, the Astros' charmed October hasn't been fueled by a seismic turnaround from their offense.
With the exception of George Springer, who went deep in each of the first two games of the ALDS to further burnish his postseason resume, and Correa, who has homered thrice this postseason, none of Houston's hitters have really stood out through four playoff games. Altuve, who eked out a career-worst .629 OPS during the truncated regular season, has gone 2-for-14 without an extra-base hit this postseason, while Gurriel (2-for-15) and Josh Reddick (2-for-15) also continue to struggle.
Collectively, the Astros' numbers are only slightly better than their regular-season stats, except for their batting average with runners in scoring position. Then again, considering the quality of the pitching staffs they've faced - Minnesota and Oakland finished fourth and fifth, respectively, in the majors in ERA - their improvement may actually be greater than the numbers suggest.
| | Regular season | Playoffs |
| --- | --- | --- |
| OBP | .312 | .318 |
| SLG | .408 | .424 |
| ISO | .168 | .172 |
| AVG W/RISP | .252 | .290 |
In any event, even without the offense tearing the cover off the ball like it did last year, Houston managed to breeze past the long-suffering Twins and put the A's on the ropes due to its quietly excellent pitching staff, which ranked 10th in the majors in WAR this season. Thanks in large part to Dusty Baker's intrepid, superior bullpen management, the Astros' pitching has looked every bit as dominant this October as it did last year, even without Gerrit Cole and Justin Verlander atop their rotation.
In Houston's postseason opener against the Twins, Baker pulled Zack Greinke, who posted a 2.80 FIP during the regular season, after four innings despite the team's nominal ace allowing just one run; only twice this season did Greinke get yanked before completing five innings, and the 36-year-old had surrendered three runs on both occasions. Nevertheless, with Minnesota's third trip through the lineup looming, Baker turned it over in the fifth to emergent stud Framber Valdez, an unexpected AL Cy Young also-ran who proceeded to pitch five scoreless innings in relief.
Baker followed the same blueprint en route to a sweep in Game 2, using a bulk reliever - this time, Cristian Javier - following an effective-yet-abbreviated start from Jose Urquidy, who crafted a 2.73 ERA in five starts down the stretch and has been quietly exceptional since debuting with the Astros late last year. Again, the strategy worked.
Then, for a division series that came with the possibility of playing five games in as many days, Baker used a more conventional bullpen-management approach and sent out a parade of relievers in Game 1 against Oakland following a shaky start from Lance McCullers. Still, Baker's machinations worked like a charm, as his four relievers combined to throw five scoreless innings in a comeback victory.
Now, following a brilliant seven-inning start from Valdez in Game 2, the Astros' cumulative postseason ERA sits at 2.00. Their relievers have yet to surrender a run in 16 2/3 innings. Ultimately, while Houston also excelled in run suppression during the regular season, the club's arms have taken it to a new level in the playoffs. That, combined with a modest uptick from the lineup, has transformed the Astros from the contemptible sad sacks they were several weeks ago into a team that inspires fear (while being no less contemptible, of course).
Houston has now outscored two division winners 22-9 over four games, with the team's smallest margin of victory being two runs. That's without the Astros' offense really clicking, too, and with their alleged best starter pitching only once.
Small-sample caveats apply, of course - their pitching staff obviously isn't as good as it's looked over the last few games - but the Astros' perfect postseason thus far serves as a potent reminder that this team has been one of baseball's most prosperous over the last half-decade, a disappointing 60-game stretch notwithstanding. Even without Cole and Verlander, there's still a ridiculous amount of talent here. If the team's hitters do manage to turn it around - and an awakening may already be underway - Houston could easily be hoisting the Commissioner's Trophy in three weeks' time.
As the Astros themselves are fully aware, that's a sickening possibility for many a baseball fan to consider. However, with the embattled reigning American League pennant winners peaking at the right time, it's also an increasingly difficult one to dismiss.
Jonah Birenbaum is theScore's senior MLB writer. He steams a good ham. You can find him on Twitter @birenball.
Comments
✕
All of a sudden, the Astros are threatening
  Got something to say? Leave a comment below!