The most jam-packed day in Major League Baseball postseason history began Wednesday and ended early Thursday, more than 13 hours after Nick Senzel laced Max Fried's first-pitch fastball into right field for a leadoff single at Truist Park to kick off the first of Wednesday's eight wild-card games. In the end, three teams were eliminated from playoff contention, and couches all across America had potentially irreversible butt imprints.
Even the most adroit channel-changer missed something Wednesday, no matter how many screens were at their disposal. With that in mind, here are some of the biggest moments from an unprecedented marathon day of postseason baseball.
Kirilloff gets tested right away
You just knew Alex Kirilloff, who became just the third player ever to make his big-league debut in the postseason Wednesday afternoon, was going to end up in a high-leverage spot in Game 2, with the dejected Twins needing a victory to keep their season alive. (Spoiler alert: they lost, because of course they did.)
Sure enough, the baptism-by-fire came almost immediately for Kirilloff, who, with Byron Buxton unable to go, started in right field and was slotted into the No. 6 spot in Minnesota's lineup. In the bottom of the first, the 22-year-old - who never played a game at Triple-A - stepped into the box for his first big-league plate appearance with two outs and the bases loaded. He ended up flying out, but Kirilloff still got a solid piece in an at-bat that made for exquisite theater, stroking a liner to center - at 88.5 mph - on 0-2 fastball from Jose Urquidy to end the inning.
Reds commit brutal baserunning blunder
The Reds did themselves no favors on the basepaths in their Game 1 loss, in which they were held scoreless and squandered a brilliant start from Trevor Bauer, and were it not for a mystifying, seventh-inning blunder on the basepaths they actually might've been able to squeak out a win - or at least a run - in regulation.
With runners at the corners and two outs in the top of the seventh, Kyle Farmer, a stout infielder with middling speed and five career stolen bases, broke for second on the first pitch to Matt Davidson only to pull up three-quarters of the way to the bag and get caught in a rundown that ultimately resulted in Aristedes Aquino, the runner on third, getting run down to end the inning.
Now, there are a couple of plausible explanations for this debacle. Either this was a double steal that got botched Aquino, who failed to break for home as soon as catcher Travis d'Arnaud uncorked his throw to second, or Farmer misread a sign. In any event, it was an unmitigated disaster that cost the Reds an opportunity to score a late run and took the bat out of the hands of an admittedly not-awesome hitter who nevertheless smashed 46 homers from 2017-2018.
Rosario gets tossed, inexplicably
Such a historic day wouldn't have been complete with an unforgivable #Umpshow, right? Well, late in the Twins-Astros bout, Manny Gonzalez delivered. In the sixth inning at Target Field, with the game knotted at 1-1, Gonzalez called what should've been ball four to leadoff man Eddie Rosario a strike. It wasn't even close.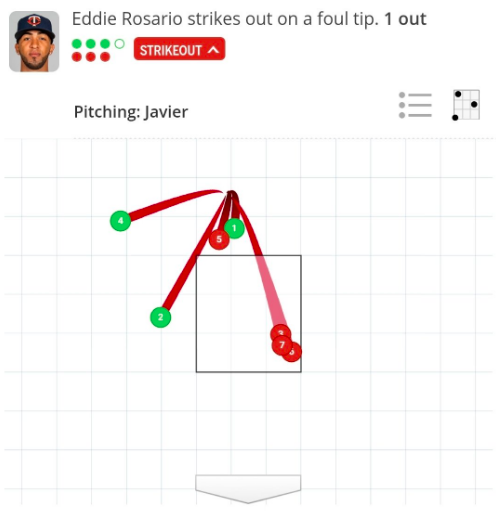 Two pitches later, Rosario struck out and muttered a word or two at the home-plate umpire as he headed back to the dugout. Gonzalez, however, wouldn't abide Rosario's totally-justified-and-relatively-contained frustration over the missed call and ejected one of the Twins' best players with three innings left in an elimination game. You won't find a more quintessential #Umpshow, and Gonzalez - who has a decade of big-league umpiring experience and needs to turn the other cheek in that situation - should feel embarrassed.
Dickerson continues Marlins magic
Evidence that the Marlins are incapable of losing a postseason series continues to mount. Despite *gestures broadly at their roster*, the Marlins bested the heavily favored Chicago Cubs on Wednesday, 5-1, with the pivotal blow being a go-ahead, opposite-field, three-run home run off the bat of Corey Dickerson in the top of the seventh. Coming into Game 1, Dickerson had homered just once in his previous 22 contests. Meanwhile, Hendricks, who should receive down-ballot Cy Young votes, didn't allow a seventh-inning homer all season pitching into the seventh in all but five of his 12 starts. The Marlins don't lose in the playoffs, though, so this happened:
Buxton goes full Wong
It feels wrong to harp on the Twins in the wake of an 18th consecutive postseason loss, but ... well, they kind of deserve to be harped on. After fumbling their way to a Game 1 loss, the Twins continued to make mistakes with their season on the line Wednesday, and no gaffe loomed as large as Byron Buxton's in the bottom of the eighth. With two outs and Miguel Sano at the plate, Buxton, who had entered the game as a pinch-runner, represented the tying run at first base.
With his speed, Buxton - breaking on contact with two outs - would score easily on any ball to the gap. Sano never got a chance to drive him in, though. Instead, Buxton, who was leaning towards second, was picked off by Cristian Javier, a right-hander, and was tagged off following a quick rundown. In doing so, Buxton violated the one cardinal rule of pinch-running - never, ever get picked off - and cemented his spot alongside Kolten Wong on the Mount Rushmore of postseason pinch-running blunders.
A's take early lead on Madrigal's error
Only two teams did a better job converting batted balls into outs in 2020 than the Chicago White Sox, who limited the Oakland Athletics to one run in Game 1 of their best-of-three. A big reason for that was rookie Nick Madrigal, their wonderfully diminutive second baseman who committed only four errors during the regular season and earned plus grades in Defensive Runs Saved and Outs Above Average.
On Wednesday, however, a rare Madrigal misplay in the first inning proved extremely costly, with two runs scoring on a sharp, two-out, bases-loaded grounder that kicked off his gloved the 23-year-old's glove and into right field. It seemed to give the Athletics life. The following inning, the Athletics - so hapless against Lucas Giolito in the series opener - extended their lead to 4-0 on a two-run homer from Marcus Semien. They wouldn't relinquish that lead.
Freeman lifts Braves to Game 1 win
Of course. Of course it was Freeman, the presumptive National League MVP, who delivered the decisive hit in the bottom of the 13th to nudge Atlanta to a 1-0 victory in their series-opening marathon against the Reds. The four-time All-Star has carried the Braves since Opening Day, leading the club in average, OBP, and slugging percentage during the regular season, and though his platoon splits were rather drastic, Freeman's clutchness knows no bounds: no player had more win probability added in 2020 than him. Even with one of the game's top left-handed relievers, Amir Garrett, on the mound for the Reds, the game seemed over as soon as Freeman stepped into the box with runners on the corners and less than two outs. And it was.
Renfroe's slam sinks Ryu, Jays
The Blue Jays were on the ropes at Tropicana Field when Hunter Renfroe stepped to the plate with the bases loaded and two outs in the bottom of the second inning, looking to extend his club's early 3-0 lead and put the best-of-three series on ice. Hyun-Jin Ryu clearly didn't have it - his velocity was down, and he already allowed a whopping seven hits - and Toronto's defense wasn't helping. They desperately needed an out to keep their deficit at three runs and preserve their already slim chances of mounting a comeback against the seemingly-impossible-to-score-against Rays. Instead, Ryu served up a juicy 85-mile-per-hour cutter right on the inner half that Renfroe hit approximately 782 feet, breaking the game wide open with the postseason's first grand slam, chasing Toronto's ace, and effectively propelling the Rays to a two-game sweep.
Paddack stumbles through miserable 1st
Chris Paddack, the Padres' cocksure-yet-scuffling Opening Day starter, got to start Wednesday's in Game 1 in a surprising twist. Paddack replaced injured co-aces Mike Clevinger and Dinelson Lamet, as well as not-ailing right-hander Zach Davies, and he ... immediately imploded. After retiring St. Louis Cardinals leadoff man Kolten Wong on an infield popup, the 24-year-old had allowed five consecutive base hits - two which went for extra bases - including Paul Goldschmidt's two-run homer. Only one of those balls wasn't a sharp hit, and three were absolutely scorched.

By the time Paddack got Dexter Fowler to ground out to end the inning, the Padres - playing their first postseason game in nearly a decade-and-a-half - were staring at a 4-0 deficit and a win expectancy of just 19%, per FanGraphs. They lost.
Tanaka slips up
After shellacking Shane Bieber on Tuesday night, the Yankees look primed for a sweep coming into Game 2 despite another daunting pitching matchup in Carlos Carrasco. They wouldn't need a boatload of runs, after all, with Masahiro Tanaka getting the ball: in eight previous postseason starts, the 31-year-old right-hander had been virtually unbeatable, crafting a 1.76 ERA with an 0.78 WHIP.
As it happens, though, Tanaka pulled a Chris Paddack on a rainy night in Cleveland, enduring an ugly four-run first inning that immediately put the Yankees behind the eight ball and effectively zapped them of the momentum they carried over from the evening prior. In Tanaka's defense, the inclement weather almost certainly messed with his rhythm: first pitch was delayed by 45 minutes, and a subsequent downpour interrupted the bottom of the first, as well. Regardless, Tanaka's ineffectiveness coupled with Carrasco's breezy, two-strikeout first inning likely had the Yankees mentally preparing for a potential Game 3 before the top of the second.
Gio's grand slam flips the script
With the exception of Liam Hendriks, no American League reliever was more valuable in 2020 than James Karinchak, the Cleveland Indians rookie who crafted a 2.67 ERA while averaging 17.67 strikeouts per nine innings. Yet, in his first-ever postseason appearance, Karinchak - summoned early in Game 2 to extinguish a bases-loaded, none-out fire in the top of the fourth - faltered in a major way. Facing Gio Urshela, Karinchak worked the count full, then tried to sneak a fastball by the Yankees' suddenly All-Star-caliber third baseman. His plan backfired. Urshela deposited Karinchak's offering into the bleachers in left-center for a go-ahead grand slam, flipping the script on Cleveland - the organization that signed Urshela when he was a teenager and traded him to Toronto in 2018 for next to nothing.
Shaky Suter gifts Dodgers two early runs
The Brewers never had much of a chance to beat the Dodgers in Game 1 with both Corbin Burnes and Brandon Woodruff unavailable to start, but you almost have to admire how efficiently left-hander Brent Suter dispelled the notion of an upset. Operating with a virtually nonexistent margin for error against baseball's best team, Suter's control abandoned him out of the gate: the 31-year-old issued four walks - two with the bases loaded - following a leadoff double to Mookie Betts, gifting the game's best lineup with two free first-inning runs. The Dodgers ended up winning by two.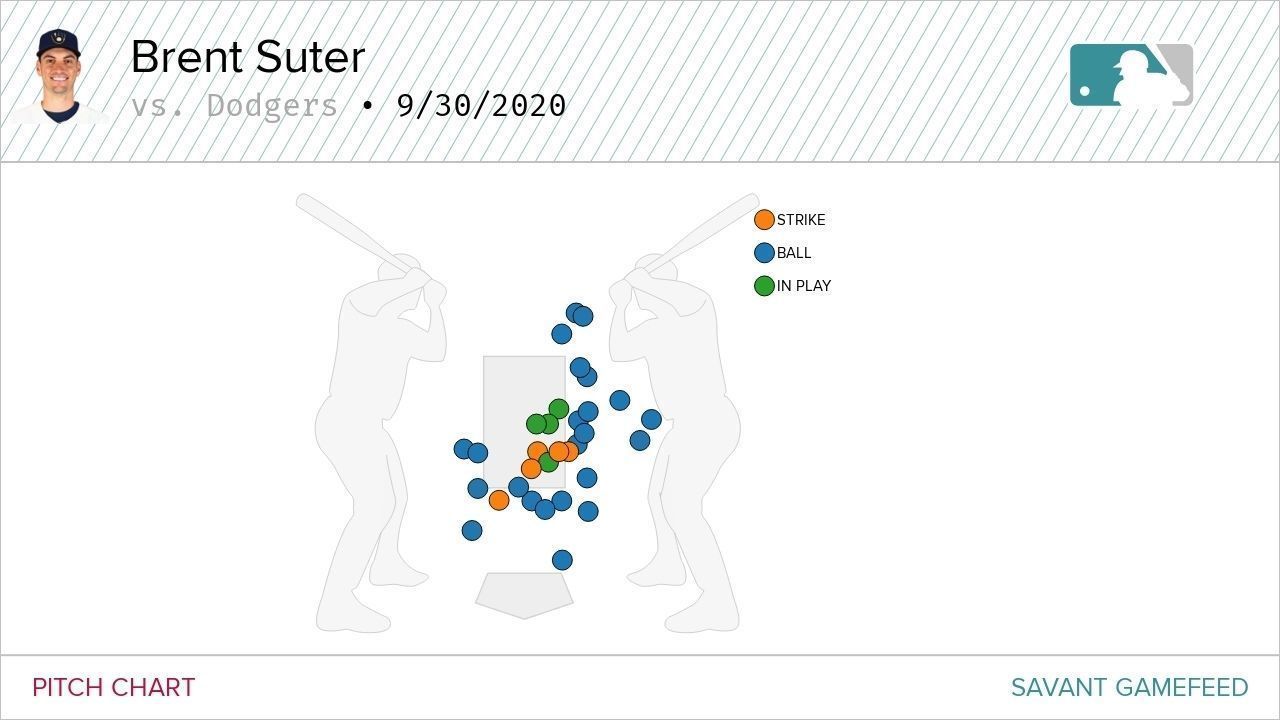 The Kraken awakens
Gary Sanchez, the Yankees' woeful catcher whose with an increasingly tenuous job after a miserable regular season, needed to do something in Game 2 to convince manager Aaron Boone he deserves a spot behind the plate and in the lineup. Circumstances afforded him a juicy opportunity to generate some goodwill in the sixth inning of Game 2 - a back-and-forth affair in which the Yankees had an early deficit, miraculously clawed back, then squandered their lead again - and, against all odds, Sanchez delivered.
Sanchez, who hit .147 with a .618 OPS during the regular season, lifted a Triston Mackenzie fastball just over the wall in right field with the game tied at 6-6 and a runner on first, giving the Yankees an 8-6 lead on just his second opposite-field homer of 2020.
Luplow - yes, Luplow - delivers off the bench
If you figured the Yankees' two-run lead, courtesy of Sanchez, would hold up, you clearly weren't paying attention. Game 2 at Progressive Field was far and away the craziest contest through the first two days of the 2020 postseason, and the madness reached its zenith in the bottom of the seventh when Jordan Luplow, who hit .128 against right-handers this year and was generally awful at the plate, stroked a game-tying, two-out, two-run, pinch-hit double off Yankees reliever Jonathan Loaisiga. In 41 career pinch-hit plate appearances prior to Wednesday, Luplow had one extra-base hit. Baseball, though.
LeMahieu puts Yanks up for good
Ironically, after a wild, volatile game with so many crazy twists, the deciding blow in the Game 2 epic between the Yankees and Indians ended up being rather predictable. As Indians closer Brad Hand floundered in the top of the ninth, it wasn't Clint Frazier who came off the bench with two outs and the game suddenly tied to seal a Yankees victory with some pinch-hit heroics, or anything like that. Rather, with runners on first and second, it was a seeing-eye single from DJ LeMahieu, the American League batting champion, that plated the game's winning run and ultimately sent the Yankees to the American League Division Series with a 10-9 victory. LeMahieu, in fact, pounded the ball into the ground - it had an expected batting average of .190 - but it just barely snuck up the middle, typifying the year the 31-year-old has had: only eight qualified hitters had a higher batting average on balls in play in 2020 than LeMahieu (.380), whose batted-ball luck helped him become the first player ever to win the batting title in both leagues.
Jonah Birenbaum is theScore's senior MLB writer. He steams a good ham. You can find him on Twitter @birenball.