Following an unprecedented, occasionally harrowing 60-game regular season, Major League Baseball's 16-team postseason got underway Tuesday, with all four American League wild-card series kicking off. Here are some takeaways from the first day of the MLB playoffs.
Twins' playoff struggles continue
Every autumn, as reliably as the days shrink and the leaves change color, the Minnesota Twins unravel.
Nothing, it seems, can get in the way of that tradition. Not a superior, more complete roster than the Twins had in 2019, one that propelled them to a second straight division title and the second-most wins in the American League. Not a favorable matchup against an opponent that finished the regular season with more losses than wins. Nothing.
In their best-of-three opener against the Houston Astros at Target Field, the Twins fumbled their way to a 4-1 loss, extending their streak of consecutive postseason losses to 17 - an ignominious stretch that began in Joe Mauer's rookie season - and bringing the American League Central champions to the brink of elimination.
And though there have been more than a couple of agonizing losses throughout that dubious stretch, their Game 1 defeat has to rank among the most frustrating, not only because they took the field as prohibitive favorites for once, but because they were ultimately undone by their own inability to execute.
Let's skip ahead to the seventh inning and not even mention the Twins' ineptitude with runners in scoring position - a glaring 0-for-7 - against Zack Greinke and Framber Valdez. That stuff happens. What can't happen, however, especially late in one-run playoff games, are misplays on makeable, if not routine, grounders. And, sure enough, fill-in third baseman Marwin Gonzalez's inability to come up with Martin Maldonado's one-hopper with two outs in the top of the seventh - which came off his bat at just 79.2 mph - immediately came back to haunt Minnesota. The next batter, George Springer, poked a game-tying single into center field.
Still, Gonzalez getting handcuffed pales in comparison to shortstop Jorge Polanco's gaffe in the ninth, with the game still knotted at 1-1, which was as untimely - and egregious - as they come. With two outs and runners on first and second, Polanco corralled a soft one-hopper off the bat of Springer with ample time to get the runner at second, but the one-time All-Star uncorked an errant throw, extending the inning and bringing up Jose Altuve with the bases loaded. Sergio Romo walked him, missing high with a changeup in a 3-2 count and giving Houston a one-run lead. Moments later, courtesy of a Michael Brantley single, the Astros led by three. And so it goes.
Polanco, as it happens, made just one throwing error during the regular season - only four other qualified shortstops made as few as he did. And Romo issued just three walks in 49 plate appearances against right-handed hitters this year. Yet, in the span of a few devastating minutes in Game 1, both players went against type, illustrating both the exceedingly slim margin for error in a best-of-three series and how the Twins' futility in October feels more like an inexorable force than some mere anomaly.
Now, to keep their season alive, the Twins must win more postseason games in the next two days than they have in the last decade and a half. And though they're objectively capable of doing that - they're the better team, and Valdez, the Astros' best starter in 2020, likely won't be able to go in Game 3 after tossing five innings in relief Tuesday - it's hard to have faith.
Bieber looks human, for once
In a shocking twist befitting the most unpredictable of years, Shane Bieber, the Cleveland Indians' ace and a veritable lock to win the American League Cy Young award, got absolutely torched by the New York Yankees on Tuesday, enduring his first subpar outing of 2020 at the least opportune time en route to a 12-3 series-opening loss.
It wasn't a subpar outing just by Bieber's ridiculously lofty standards, either. It was bad, a genuine stinker that sullied what should've been an all-time pitcher's duel - Gerrit Cole held up his end of the bargain, at least - and emphatically dispelled any notion that the Yankees, who stumbled into October, aren't to be feared.
Bieber, who fashioned an MLB-best 1.63 ERA over 12 regular-season starts, allowed seven earned runs against the Yankees, matching his career high. He didn't allow more than three earned runs in any of his regular-season starts. Bieber also allowed multiple homers - a two-run shot to Aaron Judge in the first and another two-run blast to Gleyber Torres in the fifth - after surrendering just three over his previous seven starts. He failed to complete five innings for the first time since last June, getting yanked after serving up the Torres homer with two outs in the fifth.
Interestingly, despite pitching on five days' rest, Bieber's velocity was slightly down in Game 1, with his four-seam fastball sitting at 93.5 mph, just over a half-tick below his regular-season average, according to Baseball Savant. The bigger issue, however, was a lack of command that was evident from the get-go. Just look at the pitch Judge hit for a homer in the first inning. It was pretty much as big a mistake as a pitcher can make. And it's the kind of mistake that Bieber almost never makes.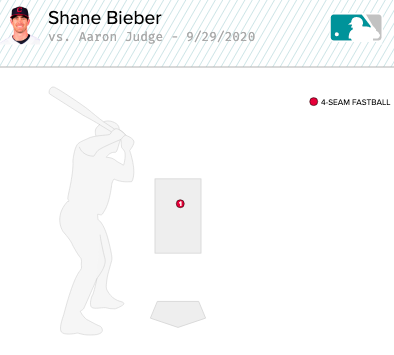 That's a belt-high, first-pitch fastball right down the middle of the plate. You can't throw that pitch to Tyler Wade, let alone Aaron Judge, who walloped it 399 feet to right-center (with an exit velocity of 108 mph, making it the game's second-hardest-hit ball after Giancarlo Stanton's ninth-inning bomb). Bieber, however, continued to live over the middle of the plate all night, especially with his fastball. At no moment was that more apparent than in his final plate appearance of the game, during which Bieber threw four fastballs practically right down the middle to Torres, who put the last one in the seats, extending the Yankees' lead to 7-2.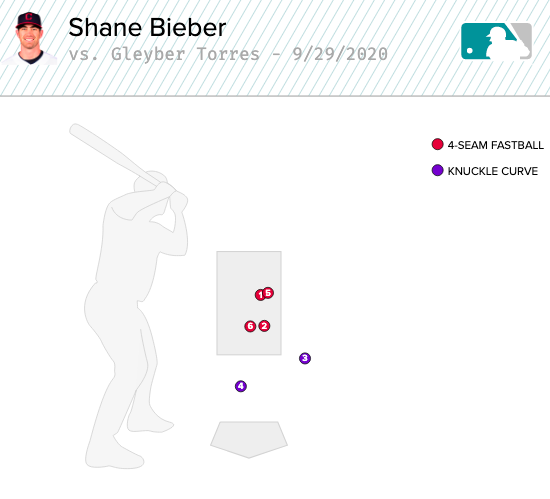 For the first time this season, and in his biggest start of the campaign, Bieber just didn't have it. And though Cleveland will send a really good starter to the mound in Game 2 (and, if necessary, another really good starter in Game 3), they're in serious trouble now.
Giolito's gem cements ace status
If there was any doubt prior to Tuesday as to whether Lucas Giolito is an ace, the Chicago White Sox right-hander dispelled it with a masterful Game 1 performance that propelled his club to a 4-1 victory over the Oakland Athletics.
Making his first-ever postseason start, Giolito retired the first 18 batters he faced, flirting with a perfect game until Tommy La Stella singled up the middle to the lead off the bottom of the seventh. Giolito ended up allowing one run on a pair of hits and one walk while fanning eight over seven-plus innings, hucking his way to the highest postseason Game Score (78) by a White Sox pitcher in more than a century, since Dickey Kerr stymied the Cincinnati Reds in Game 3 of the 1919 World Series.
Nobody should be surprised at this point, though. Giolito has been doing this for two years now. Since revamping his approach and body following a miserable 2018 season, when he was literally the worst qualified starter in baseball, Giolito ranks seventh in the majors in WAR, 16th in park-adjusted ERA, and ninth in park-adjusted FIP. Earlier this year, in which he improved his FIP and WHIP from his 2019 breakout season, Giolito threw a no-hitter, and only twice during the regular season did he allow more than three earned runs in a start. He's a huge reason why the White Sox are back in the playoffs for the first time since 2008, and his Game 1 gem further cemented his status as one of the game's most elite starting pitchers.
Jonah Birenbaum is theScore's senior MLB writer. He steams a good ham. You can find him on Twitter @birenball.