There's no hiding it: The Oakland A's are a juggernaut
Thearon W. Henderson / Getty Images
A five-run deficit in the ninth inning is, probabilistically, a guaranteed loss. It doesn't matter who's playing.
As talented and resilient as they are, the Oakland Athletics had virtually no chance of staging a successful ninth-inning comeback Friday night at Oracle Park, where the San Francisco Giants took a 7-2 lead into the ninth inning. That's not hyperbole. It's math. The Athletics' chances of eking out a victory were 0.6%, according to FanGraphs, when Matt Chapman stepped into the batter's box to lead off the top of the frame.
Oakland's outlook was bleak after eight innings the following night, too. The odds of victory sat at just 3.1% as rookie Sean Murphy meandered up to the plate with his team trailing 6-3 in the ninth Saturday. The Athletics were supposed to lose that contest, too. They should've lost the series.
Instead, the A's emerged victorious in both games, authoring two improbable comebacks before pummelling the Giants 15-3 on Sunday afternoon en route to a three-game sweep. And as the halfway mark of this wacky season looms, nothing, it seems, can stop the Athletics. Not the Giants' shaky bullpen, certainly. Not the Houston Astros, the disgraced (former?) juggernaut whom the A's handily swept in a three-game set the weekend before. Not even the overwhelming weight of probability.
Heading into Tuesday's action, Oakland owns MLB's third-best record at 16-7, behind only the indomitable New York Yankees and Los Angeles Dodgers, and boasts a 3 1/2-game cushion atop the American League West. Only one other first-place team currently enjoys that much breathing room. Meanwhile, the Athletics have outscored their opponents by 33 runs, giving them baseball's fourth-best run differential. Only twice have they lost consecutive games.
Already, even with more than half their regular-season games still to be played, a third straight playoff berth is practically assured for the A's; their playoff odds currently sit at 98.8%, per FanGraphs, a jump of almost 25 percentage points since Opening Day.
And while few had confidence Oakland could contend for a World Series over the last two seasons, as the Astros' sustained dominance twice consigned the A's to a wild-card spot, this team deserves no such skepticism. The strengths that enabled the Athletics to win 97 games rather inconspicuously in both 2018 and 2019 remain as strong as ever, and their lone glaring weakness is no more.
Now, the Athletics are a true juggernaut, a powerhouse with World Series aspirations as plausible as those of the Dodgers and Yankees. That may not seem to compute, but there's nothing this team lacks other than recognition.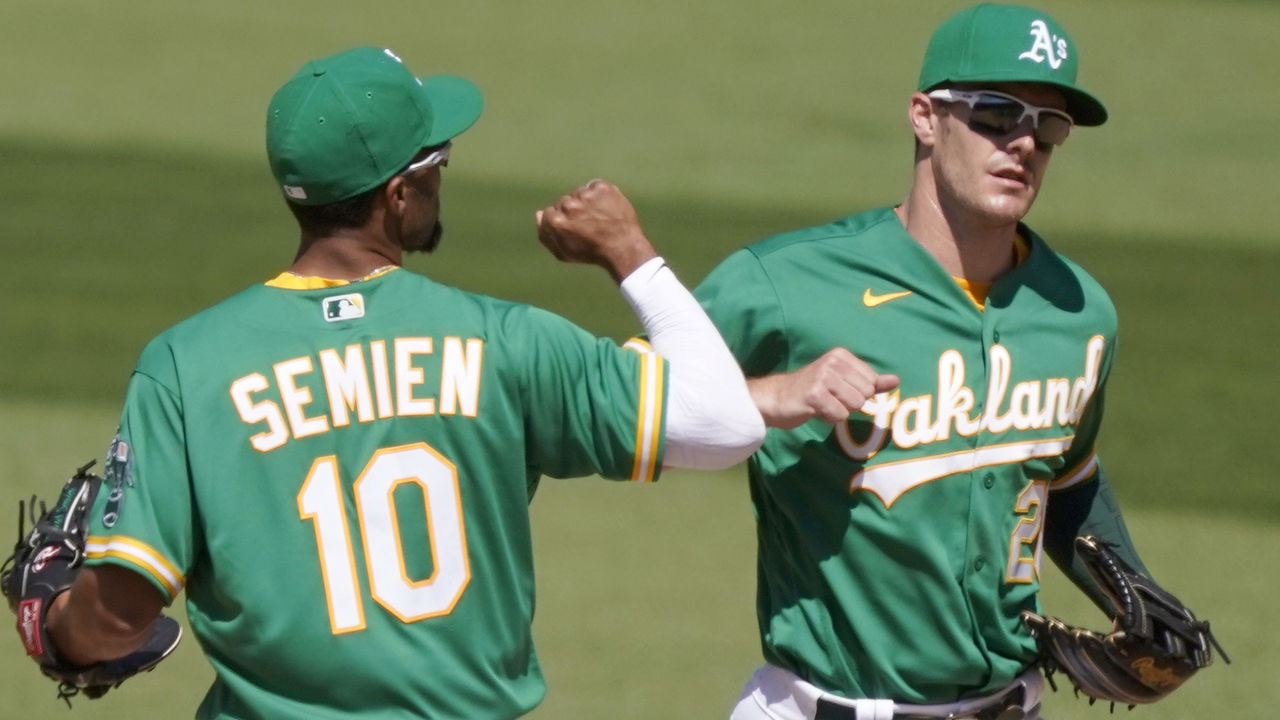 For starters, the Athletics' offense is even more prolific than it was the last two seasons, when the club finished eighth and fourth in the majors, respectively, in runs scored. Everyone in Oakland's lineup - anchored by Matt Chapman and Matt Olson - can hit, and the expected regression for some of last year's surprise breakout stars has, for the most part, yet to happen. Mark Canha, a league-average hitter who suddenly turned into Juan Soto last season at age 30, owns a 130 OPS+ in 2020. Ramon Laureano, an unheralded, ostensibly defense-oriented youngster who managed a shocking 128 OPS+ a year ago in his first full big-league season, has been even better in 2020, hitting .262/.398/.462 for an OPS+ of 142.
Although Marcus Semien's productivity has cratered - as many predicted following an out-of-nowhere, MVP-caliber 2019 campaign - his early-season struggles have been offset by a return to form from Stephen Piscotty, who struggled last season following a career year in 2018, and Murphy, the highly touted 25-year-old who ranks third among catchers with a .364 OBP. Even Robbie Grossman, an outfielder who epitomized league-average over the first seven seasons of his career, is tearing the cover off the ball, boasting a team-high 1.088 OPS
Ultimately, the Athletics' lineup is replete with both patience and pop - they sit in the top seven in the majors in walk rate and isolated power - and they continue to generate offense at an elite rate, ranking in the top six in the majors in runs per game (5.26) and wRC+ (111).
Meanwhile, the two other areas in which Oakland excelled over the past couple seasons - its defense and bullpen - remain exceptional. Last year, with elite defenders at both infield corners (Chapman at third and Olson at first) and comparably excellent fielders at shortstop (Semien) and in the outfield (Chad Pinder), the Athletics led the majors in FanGraphs' defensive runs above average (49.2) while finishing seventh in defensive runs saved (52).
In 2020, with all those stalwarts still in place and Laureano's route efficiency notably improved in center field, the Athletics once again lead the majors in defensive runs above average (9.9), while their nine defensive runs saved mark ranks fifth-best in baseball.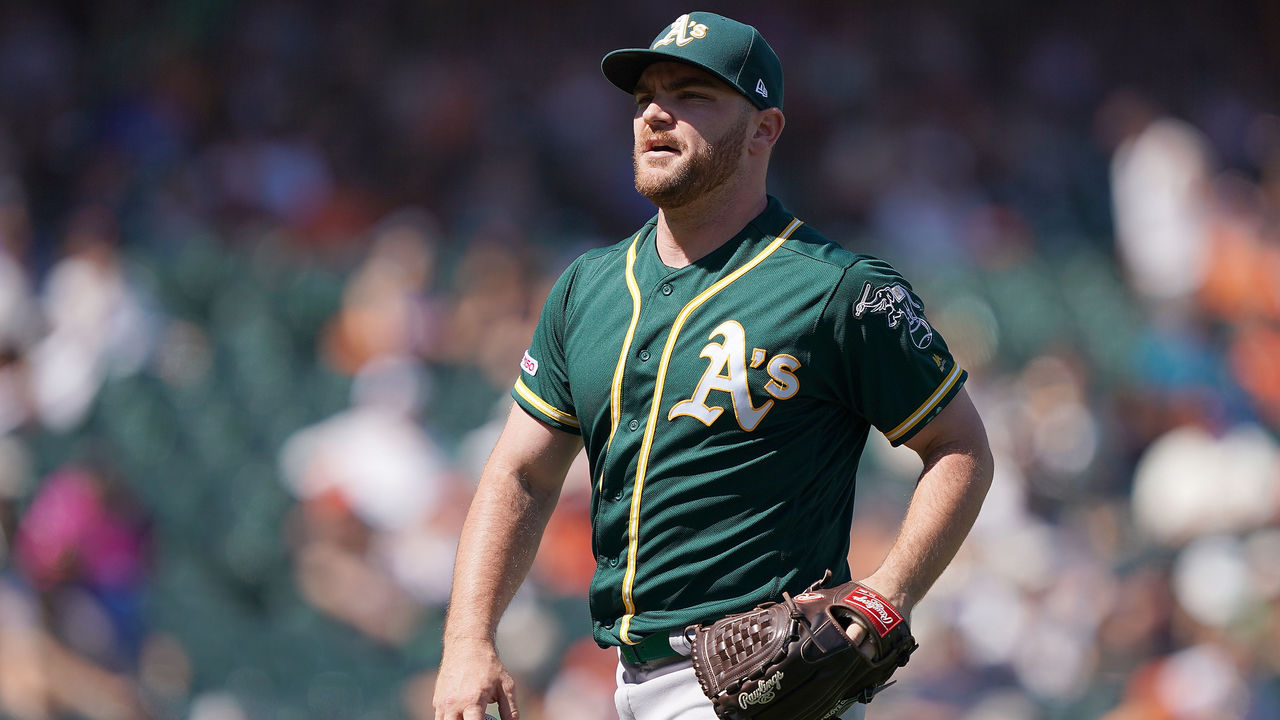 And their bullpen, for that matter, is perhaps more indomitable now, which is saying a lot considering that only three teams received more WAR from their relief pitchers over the previous two seasons than Oakland. Anchored by Liam Hendriks, the latest in a long line of mediocre relievers whom the Athletics inexplicably transformed into a ninth-inning dynamo, Oakland's bullpen is second in the majors in both ERA (2.34) and FIP (3.17), and its wealth of high-octane options makes late innings nightmarish for opposing hitters.
Joakim Soria, who turned 36 in May, owns the highest strikeout rate of his career at 31.8% and has allowed only one run through his first 10 outings. Jake Diekman, the hard-throwing left-hander with the dastardly slider who could never put it all together, appears to have done just that, recording 12 strikeouts and only four hits allowed over 7 2/3 scoreless innings. Even Burch Smith, a former 14th-round pick who has spent time with six different organizations since the start of 2017, has somehow become a viable late-inning option, parlaying a marked jump in velocity to a 2.25 ERA - and a 13-1 strikeout-to-walk ratio - through a dozen innings before suffering a forearm injury Saturday.
Collectively, the Athletics' relief corps sits second in the majors in win probability added, behind only the Dodgers' mighty bullpen, and it looks poised to frustrate opposing lineups all season long: Oakland's relievers own the fourth-best expected weighted on-base average in baseball at .291.
Still, the Athletics also had a lights-out bullpen, stellar defense, and potent lineup in 2018 and 2019, and they were undone in successive wild-card games by their dearth of high-end starting pitching. Two years ago, Oakland tried to ride its bullpen through its one-game play-in against the Yankees, a strategy that quickly blew up in the Athletics' faces when Hendriks surrendered a two-run homer to Aaron Judge in the bottom of the first in an eventual 7-2 defeat.
Oakland's rotation the following year was improved but still mostly a melange of unspectacular arms. As a result - and thanks to a suspension to emergent right-hander Frankie Montas - manager Bob Melvin handed the starting assignment for the do-or-die showdown with the Tampa Bay Rays to left-hander Sean Manaea, who had only weeks earlier returned from major shoulder surgery. It didn't pan out. Manaea allowed four runs and recorded just six outs in the 5-1 loss.
However, the Athletics' rotation looks considerably different this year - genuinely capable of navigating the club through October - thanks to continued development from some of the club's in-house starters and the long-awaited arrival of a highly touted young left-hander. Montas, for one, looks even better than he did last year when he crafted a 2.63 ERA over 16 starts; through his first four outings of 2020, the 27-year-old owns a 1.57 ERA and has yet to allow a home run.
Chris Bassitt, a nondescript right-hander who was quietly effective in 2019 in his first full(ish) big-league season as a starter, ranks 10th among qualified AL starters in ERA (2.93) and 11th in FIP (3.91) through four outings. And then there's Jesus Luzardo, the 22-year-old who was a consensus top-12 prospect coming into 2020 and has shined in two of his first three big-league starts. Manaea, the club's titular ace, soon might be Oakland's fourth-best starter, and their Achilles heel over the last two seasons is suddenly looking like a potential area of strength.
Finally, it seems, the Athletics - now 14 years removed from their last postseason series victory - are a complete team, a contender that needs no qualifier. If their performance through the first few weeks of 2020 is any indication, stopping them isn't going to be easy.
Jonah Birenbaum is theScore's senior MLB writer. He steams a good ham. You can find him on Twitter @birenball.
Comments
✕
There's no hiding it: The Oakland A's are a juggernaut
  Got something to say? Leave a comment below!