Late in the Toronto Blue Jays' third game of this unprecedented season, Teoscar Hernandez attempted to swipe his first bag of 2020, bolting for third on a 2-2 pitch from Tampa Bay Rays reliever Andrew Kittredge that ended up at the backstop to gift Hernandez an easy steal.
Parked in front of a suite of monitors in a repurposed Toronto studio rather than in a broadcast booth high above home plate at Tropicana Field, Dan Shulman, the venerable play-by-play man calling the game for its Canadian audience, never saw Hernandez break.
"I believe in transparency," Shulman recently told theScore, "And I (have) said to everybody watching the game at home, 'Hey, I missed that one. We didn't have access to that, so bear with us.' There have been moments like that."
For as long as this pandemic-addled season lasts, imperfect broadcasts will be par for the course. Just as baseball's players have been forced to adapt to a unique set of circumstances in 2020, the coronavirus has also engendered a tricky new normal for the sport's TV broadcasters, who will call at least half of their scheduled games (i.e. every road game) remotely this year in the interest of social distancing.
The change will precipitate telecasts that are invariably less polished, and, from a production standpoint, markedly more challenging. The occasional blind spot constitutes just one such challenge.
"It's been an adjustment, I won't lie," said Shulman, who is calling every game from a studio this year after the Canadian government denied the Blue Jays permission to host games in Toronto. "But our crew at Sportsnet has done an absolutely unbelievable job to make it as seamless as possible. We have every look you can ask for from the visiting ballpark, which still doesn't take the place of being there, but it's pretty close.
"The first day was a very big adjustment, but as we've gotten used to it over the course of the last week, it's become easier and easier. We understand the things that we can do pretty easily. We understand the things that are a little bit harder to see or to cover, and you just try to compensate as best you can."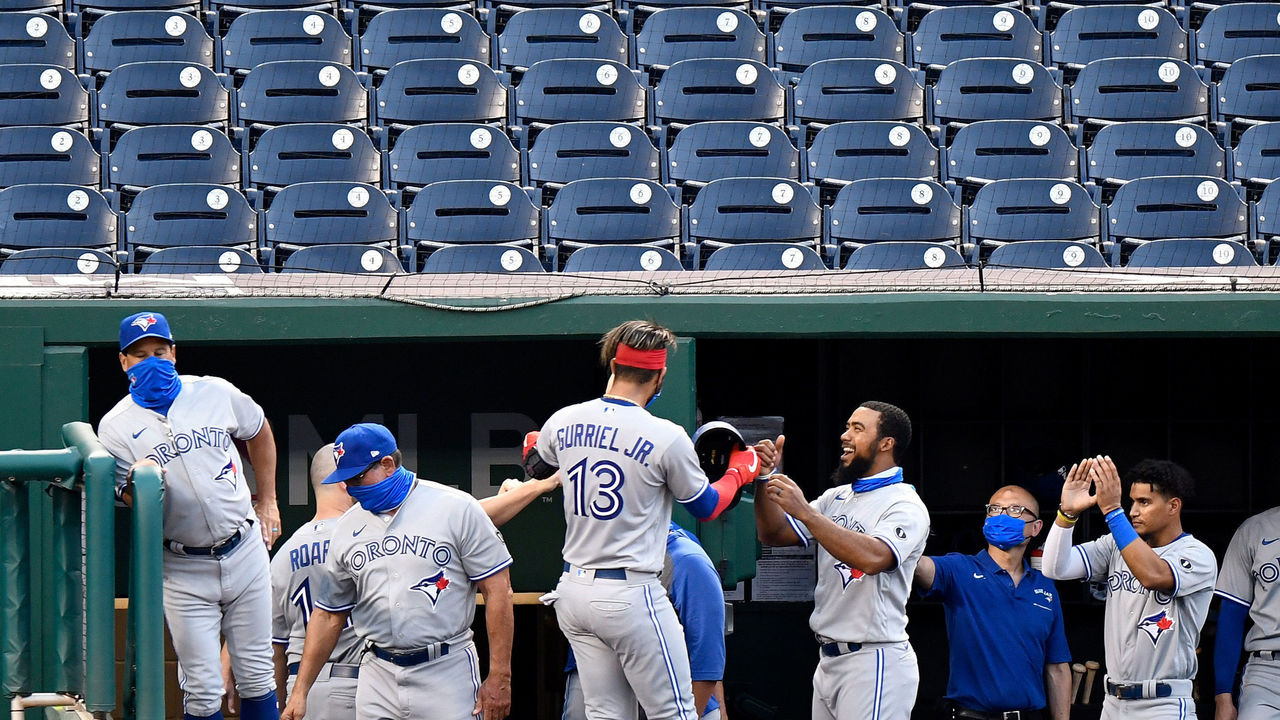 Beyond the technical hurdles, Shulman said, one of the biggest drawbacks of the league's remote broadcasting setup is its stifling of creativity. He noted that the world feed - a neutral network of cameras that doesn't privilege either team - fed to Sportsnet's control room makes it harder to tailor the broadcast to the network's audience. Sportsnet normally has multiple cameras at its disposal, and the broadcast's director - or Shulman himself - can commission shots of specific players on a whim. Within the current configuration, the crew controls only one camera.
"Say (Bo) Bichette, (Cavan) Biggio, (Lourdes) Gurriel are coming up next inning," Shulman said. "Sometimes we like to show all three of them coming off the field. We can't do that now. We only have one camera. So we gotta pick one.
"It's much like a World Cup or an Olympics, where you're getting a world feed and then you try to personalize it a little bit here and there to make it feel a little bit more like a Blue Jays telecast."
The relative lack of information delivered to broadcasters is a new reality, too. Were Shulman and his partner Buck Martinez calling games from the ballpark, every update from the official scorer - hit or error, wild pitch or passed ball - would be relayed to them almost instantly over an intercom. That line of communication has now been severed, forcing Shulman to rely on a camera fixed on the ballpark's scoreboard for scoring updates. This often means keeping viewers in the dark for longer than usual, at least when the Blue Jays are the visiting team.
"It's as simple as seeing: Do they add one to the 'H' column or do they add one to the 'E' column?" Shulman explained. "So that's how we were doing it the first few games. And that can be 10 seconds (after the play) or that can be 45 seconds later. You never know."
It was only thanks to the Blue Jays' communications department that Shulman had a direct line to the official scorer for Toronto's first two "home" games: The team facilitated a WhatsApp group chat between the scorer, Shulman, Martinez, and radio broadcasters Mike Wilner and Ben Wagner.
"If there was any kind of a play, the official scorer, as soon as he would make his ruling, he would then in the WhatsApp chat just type hit or error, and then we would know what was happening," Shulman said.
As is the case for many players, the biggest adjustment for Shulman may well be having to do his job without fans present. For 25 years, he has called games - everything from Major League Baseball to college basketball to the Olympics - with crowds roaring around him. It's impossible to replicate that atmosphere in a sparsely populated studio.
"Usually, your adrenaline, I think, gets pushed to another level by a crowd," Shulman said. "And now you don't have that."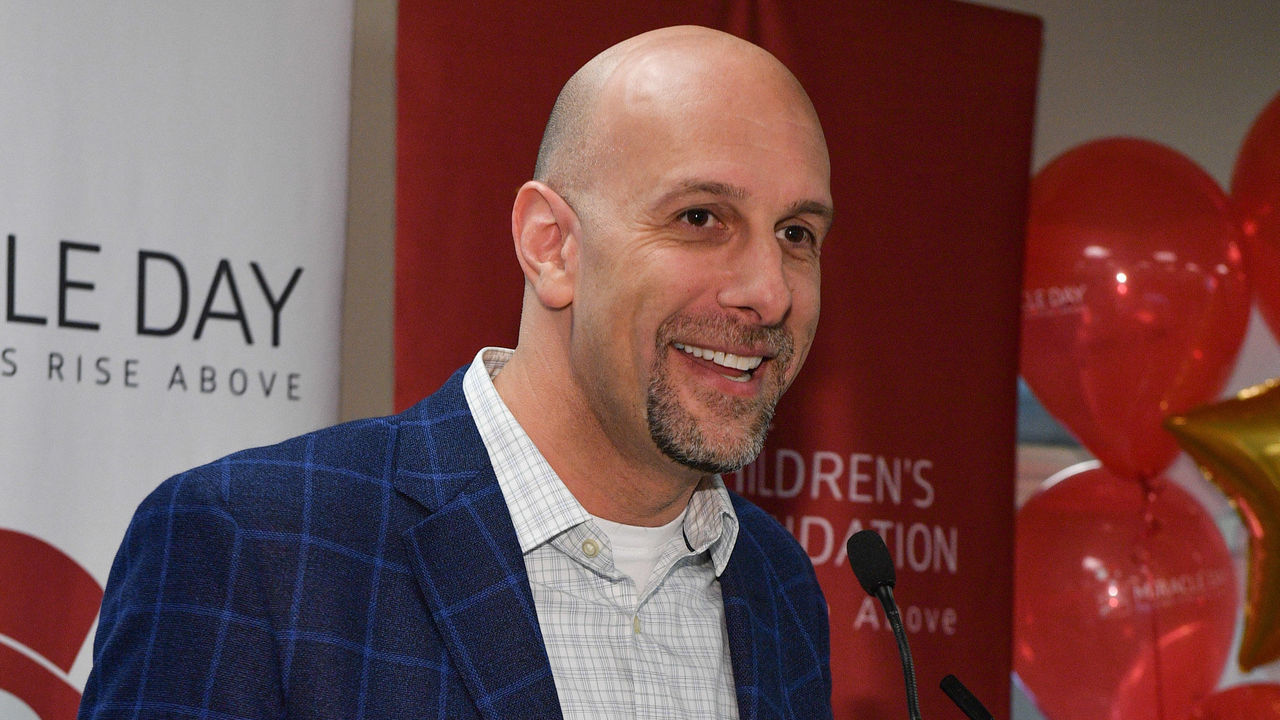 Shulman, as it happens, already had some experience with remote play-by-play prior to the 2020 season. Instead of traveling to Mexico City for the 2015 FIBA Americas basketball tournament, Shulman called it from a studio, in an operation far less sophisticated than the one MLB and its various networks have concocted for this abnormal campaign.
"Literally, we just had the world feed," Shulman said. "We had one TV in front of us. We didn't have other cameras like we do now that show us the bullpen and the scoreboard and the defense and all that stuff. That was tricky. … That was harder than this."
Despite that experience, Shulman entered this season with no framework for navigating the other aspects of his job upended by COVID-19: the reportage and casual conversations that animate and inform broadcasts. Instead of roaming free throughout the ballpark in the hours leading up to first pitch, chatting with whomever he likes and collecting information and anecdotes for that night's broadcast, Shulman is limited to a few daily video calls: one with each manager, and another with a pre-selected Blue Jays player.
"I miss the ability to walk up to a guy at his locker when he's not necessarily on camera or somebody has a notebook open in front of him, and just talk, just get to know somebody," Shulman said. "I miss the relationships you develop with the players and the coaches, and I hope that comes back whenever the world gets back to normal."
In the meantime, Shulman hopes viewers will simply enjoy having baseball back on TV - and not think too harshly of the occasional broadcasting hiccup given the circumstances.
"I guess the big thing is - and this is bigger than TV - I think we've all come to understand in a crisis of this magnitude, we should all have more kindness and more patience and more perspective and more seeing the other person's point of view," he said.
"I know everybody on our crew is doing that because there have been some bumps. But it's a global crisis. And I think everybody's just happy that we're working at all right now and hoping it continues."
Jonah Birenbaum is theScore's senior MLB writer. He steams a good ham. You can find him on Twitter @birenball.