This Cubs draftee fancies himself baseball's best lefty reliever. He might soon prove it
Dallas Baptist University
In the prolonged wake of a disheartening third-place finish in the National League Central and their first October without baseball since 2014, the Chicago Cubs reinvigorated their uninspired bullpen earlier this month by acquiring the best left-handed reliever in baseball.
This guy is a versatile, hard-throwing phenom capable of weaseling out of any jam, in any inning.
Now, before you freak out, the Cubs didn't fashion an intra-division blockbuster with Milwaukee to acquire Josh Hader, the National League's Reliever of the Year the last two seasons. Nor did they broker a trade with the Yankees to reunite with Aroldis Chapman, the flamethrower who helped the Cubs snap their century-plus World Series drought in 2016.
Instead, they selected a hubris-dripping 21-year-old in the second round of the amateur draft; a dude who recently emerged as one of college baseball's most electric relievers. If you ask this guy to name the best relief pitcher currently signed to a major-league team, he's quite clear on the answer.
"I mean, it's Burl Carraway," he said with a laugh in a recent Zoom call with theScore. "I have to rep the brand.
"But I do love watching some of those guys pitch. I love watching Chapman pitch, and I love watching Hader pitch. Those guys are really good. It's fun watching them throw and realizing that could be me. It just motivates me to work hard and get up to where it's not just me that's telling you Burl Carraway is the best relief pitcher."
That moment may arrive sooner than usual, too. The Cubs didn't include Carraway in their player pool for the 60-game sprint of a season slated to begin in late July, but the club's recently submitted 60-man roster featured only 50 names, leaving open the opportunity for Carraway to be added later, and to possibly even join the big-league club.
Such a feat - a player making his major-league debut the same year he was drafted - is exceedingly rare. It hasn't happened since 2014, when the Kansas City Royals called up Brandon Finnegan, himself a college left-hander taken three months earlier with the 17th overall pick, to fortify their bullpen in the middle of a pennant race.
Rarely does a newbie boast the stuff and polish that Carraway possesses, a combination that made him the first reliever selected in this year's dramatically truncated draft. Those qualities figure to make him a "fast mover" through the Cubs' minor-league system, as vice president of scouting Dan Kantrovitz told MLB.com.
If there's any season in which Carraway's dream could be fulfilled, it's this one. Given the unprecedented circumstances of the coronavirus pandemic, pitching is expected to be in greater demand at the big-league level, and a minor-league season unlikely to happen. If the Cubs are in the right spot at the right time, Carraway could get the opportunity to become the relief ace the Cubs desperately lacked a year ago.
If that happens, he'll be ready.
"I'm sure the big-league hitters are probably going to think that it's cocky of me to think that, but I'll go ahead and say, 'Yes, sir.' I'm fully confident that I can go get outs at the highest level right now," Carraway said. "And it's not anything against anybody I'd be pitching against - it's just the self-confidence that I have. And I think, especially as a relief pitcher (throwing) high-intensity innings, that's the confidence that you have to have going into the game."
A few months ago, Carraway set two goals for his junior season at Dallas Baptist University: He wanted to hit 100 miles per hour with his fastball, and he wanted to average two strikeouts per inning.
Carraway accomplished the first quickly enough, but fell just short of his second goal, recording 17 strikeouts over 9 1/3 innings before the pandemic scuttled all college athletics. Already he'd been authoring a transcendent platform season: 0.96 ERA, .172 opponents' batting average, 5-for-5 in save opportunities. Carraway was devastated, not so much about failing to realize his admittedly "silly" goal, but that he'd been robbed of his junior season and his last go-around at DBU.
His consolation, however, was that he firmly cemented himself as the consensus choice for best reliever available in the draft. The Cubs drafted him 51st overall, capping his unlikely journey from non-prospect to the cusp of the big leagues.
As a high school senior in College Station, Texas, Carraway was an undersized left-hander with underwhelming velocity. He didn't garner any attention from MLB clubs, nor was he seriously recruited by any of the country's best college programs. Instead, Carraway ended up at DBU, an under-the-radar school with a highly regarded baseball program about three hours from his hometown. Once on campus, his career as a starter promptly ended.
"They said, 'If you're going to pitch for us this year, it's probably going to be out of the 'pen,'" Carraway said.
The transition from starter to reliever is typically a grudging one, but Carraway embraced his new role. He just didn't get much opportunity to explore it. Carraway made only two appearances as a freshman, both of them miserable, which left him with a preposterous 108.00 ERA. The Patriots sent him to North Carolina for additional seasoning in the Coastal Plains League, a summer league for college players who aren't ready for the superior Cape Cod League.
There, playing for the High Point-Thomasville HiToms, Carraway transformed. He pitched regularly. His velocity steadily increased, making his dastardly curveball even more effective. He started to miss more bats. Eventually, he became the HiToms' go-to, high-leverage option. Carraway relished the intensity endemic to his new gig.
"I started being the guy that they'd put in in extra innings, or in the ninth inning, or the eighth inning," said Carraway, who fashioned a 3.20 ERA while recording 45 strikeouts over 25 1/3 innings that summer. "I kind of fell into that role and just really loved it. … Kind of the style that I've adopted is come in, hair on fire, kind of throwing gas."
Carraway carried that approach back with him to DBU. Success followed. As a sophomore, Carraway crafted a 2.81 ERA over 28 appearances - including one start - allowing only one home run while striking out a whopping 72 in 41 2/3 innings (a rate of 15.6 per nine innings). His dominance earned him a spot on the All-Missouri Valley Conference first team while making him the first player in school history to be named to the U.S. Collegiate National Team.
It also piqued the interest of pro clubs, who were just as impressed by the results as they were the raw stuff: His fastball sits between 96-98 miles per hour, and his curveball is a veritable nightmare, especially for left-handed hitters. Both pitches have impressive spin rates.
At no point did Carraway consider approaching the Patriots' coaching staff for a return to a starting role.
"I wasn't playing the game at DBU to try and get drafted as high as possible," Carraway said. "I wanted to help the team win games. And I think being the best at what I do, which is coming in and stopping the game out of the 'pen, is more than enough for me, and it's definitely a good way to help the team. So I think the argument that I've made is there's just as much value pitching a complete shutdown inning one, two, three times a week, as there is as a starter."
Evidently, the Cubs believe this too. Clubs are generally reluctant to use an early-round pick on a reliever, but the Cubs seemed to view Carraway as a worthwhile exception from an early stage, first identifying him as a potential top-50 pick in January, before he buttressed his draft stock with his stellar, albeit abbreviated, junior season. The desire grew increasingly mutual after a pre-draft Zoom call that allowed Carraway to better understand the club's approach to development.
"I knew that they were pretty high on me," Carraway said. "I knew that that would be a team that I would like to play for. They asked me the tough questions on that call like, 'Hey, why - as a relief pitcher - should we spend a pick on you early on?' And I told them like I just told you, it's not just me trying to get taken as high as possible. I genuinely believe that the value that I bring to the team is worthy of that first-, second-round pick. They ended up taking me, and I don't think by any means that that's a risky pick. I think that that's a safe bet that I'm going to help them get outs."
Exactly when Carraway starts helping them get outs remains to be seen. His eye-popping college numbers notwithstanding - he averaged 15.6 strikeouts per nine innings in his three years at DBU - he's not yet a finished product. His command is spotty, and he's still working on being able to throw all of his pitches for strikes in any count. (He recently added a slider to his repertoire, having been taught how to throw one this winter by none other than Clayton Kershaw.)
Still, by most accounts, Carraway would undoubtedly improve the Cubs' bullpen right away. "He could be better than any lefty reliever the Cubs have on their roster," MLB.com's Jim Callis recently wrote.
Really, though, that qualifier - lefty - isn't necessary. Such is the dubious state of the Cubs' bullpen, which finished in the bottom five in the National League in meltdowns, save percentage, and win probability added in 2019, and was then decimated by free agency, with two of the club's most valuable relievers from a year ago - Brandon Kintzler and Steve Cishek - signing elsewhere.
Rather than spend to replace those two (and veteran right-hander Pedro Strop), the Cubs brought in a host of low-cost fliers to patch up the holes, including Jeremy Jeffress, Ryan Tepera, and Dan Winkler, none of whom posted an ERA below 4.98 last season or commanded a seven-figure salary in free agency.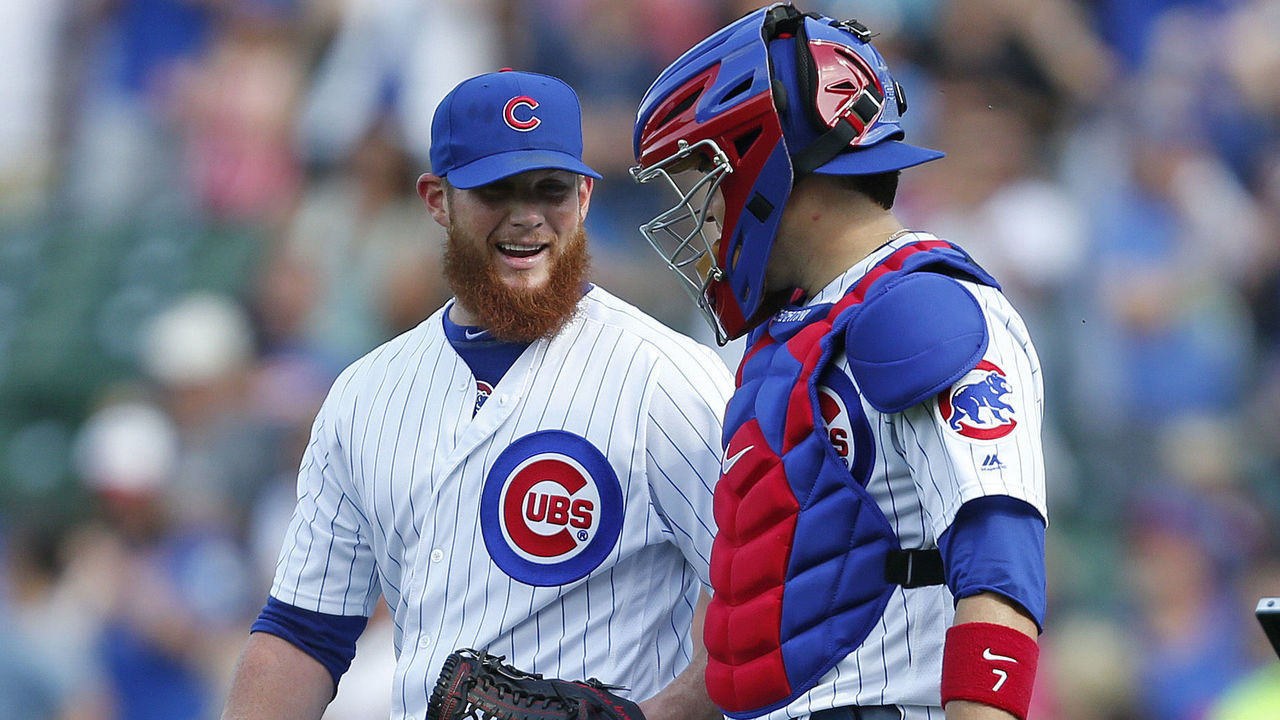 As currently constituted, the only member of the Cubs' bullpen with stuff comparable to Carraway is Craig Kimbrel, though his ghastly 2019 campaign - and a marked drop in velocity - suggest the 32-year-old's best days are now behind him.
"I think my stuff is there," Carraway said. "I think the fastball is going to play, whether it's (because of) velo or spin rate or spin efficiency. And I think the curveball is a really good secondary weapon to have with that. It tunnels well."
Still, whether he debuts this summer or next, Carraway's primacy to the future of the franchise is clear. He is poised to be the bedrock of the Cubs bullpen for a long time to come, and he'll be expected to live up to the lofty standard he's set for himself.
Carraway, of course, can't wait to get started.
"If they call my name, I'm for sure ready," he said. "I've been working out for the past three months leading up to this, pretty much with the idea that, 'Hey, if there's any kind of a big-league season and the team … needs a lefty, then I can be that guy.' So, yeah, I'm ready for it if they do call my name."
Jonah Birenbaum is theScore's senior MLB writer. He steams a good ham. You can find him on Twitter @birenball.
Comments
✕
This Cubs draftee fancies himself baseball's best lefty reliever. He might soon prove it
  Got something to say? Leave a comment below!