The 2020 MLB Amateur Draft gets underway June 10. Here's a look at how the first round could unfold.
1. Tigers - Spencer Torkelson, 1B, Arizona State
Torkelson is the favorite to go first overall but by no means a lock. While scouts continue to describe him as a special hitter, the Tigers could go for either Austin Martin or Asa Lacy instead.
2. Orioles - Austin Martin, 3B/OF, Vanderbilt
Martin makes the most sense, but don't be surprised if GM Mike Elias attempts to go under slot like he did with the Houston Astros in 2012; they drafted Carlos Correa at No. 1 so that they could also sign Lance McCullers Jr. at No. 41. Nick Gonzales or Zac Veen seem the likeliest picks if Baltimore chooses that approach.
3. Marlins - Asa Lacy, LHP, Texas A&M
Lacy is the top college arm available in the draft. That makes him a prime candidate for the Marlins at No. 3, with Miami expected to maximize the quality of its picks due to the shortened five-round draft rather than focus on volume. Pitching is also an area of need.
4. Royals - Nick Gonzales, 2B/SS, New Mexico State
Emerson Hancock - who entered 2020 as the top draft prospect - might be too tempting here, but the Royals would seem to prefer a bat after selecting some top arms in previous years.
5. Blue Jays - Zac Veen, OF, Spruce Creek HS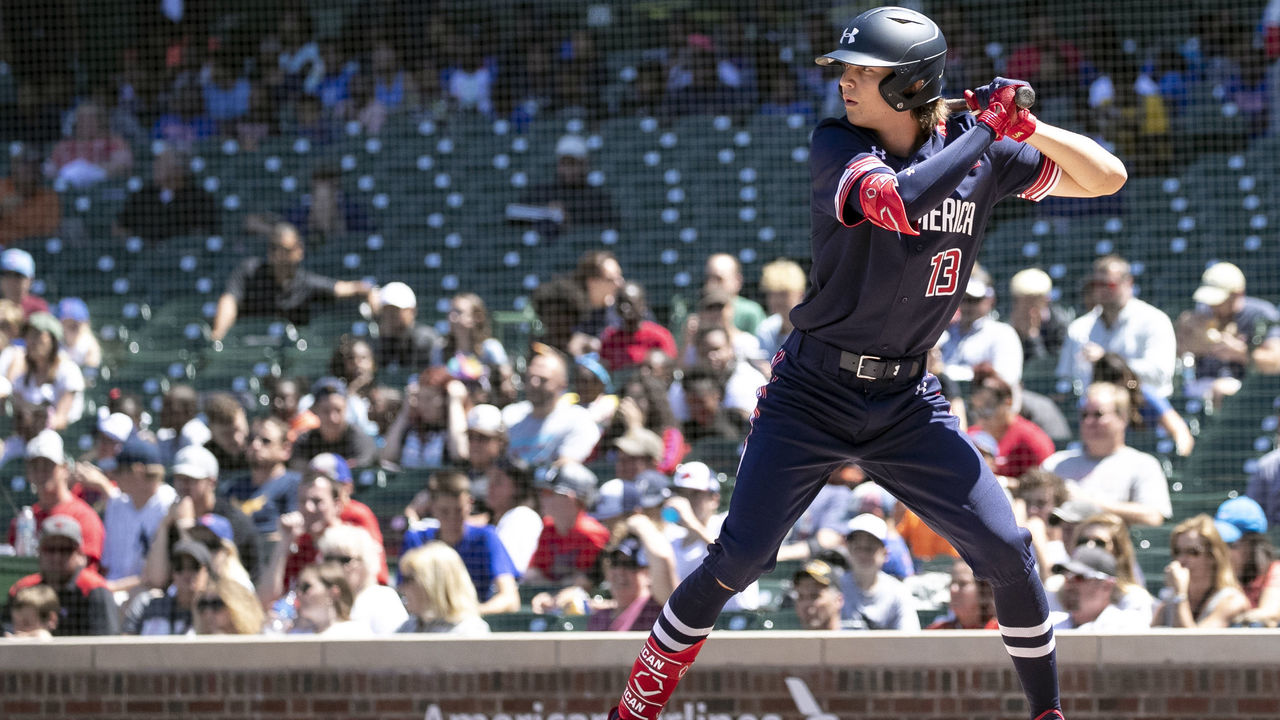 If Gonzales falls this far, he'll likely be Toronto's choice. He's expected to be gone before the Blue Jays pick, so they could shift to a player with upside - such as high school outfielder Veen, who looks like the top prep bat in the draft following a fantastic summer showcase.
6. Mariners - Emerson Hancock, RHP, Georgia
This is the best-case scenario for the Mariners: landing a top college arm they probably wouldn't have gotten if the draft happened four months earlier.
7. Pirates - Max Meyer, RHP, Minnesota
The Pirates appear to be targeting college position players with their first pick, but new GM Ben Cherington has made it clear they'll take the best player available at No. 7.
8. Padres - Nick Bitsko, RHP, Central Bucks East HS
The Padres and the most ascendant prep pitcher on the board. It's like peanut butter and jelly.
9. Rockies - Reid Detmers, LHP, Louisville
The Rockies have had problems drafting high-variance pitchers in the past. In this instance, the pitcher with the highest floor in the class falls into their laps.
10. Angels - Heston Kjerstad, OF, Arkansas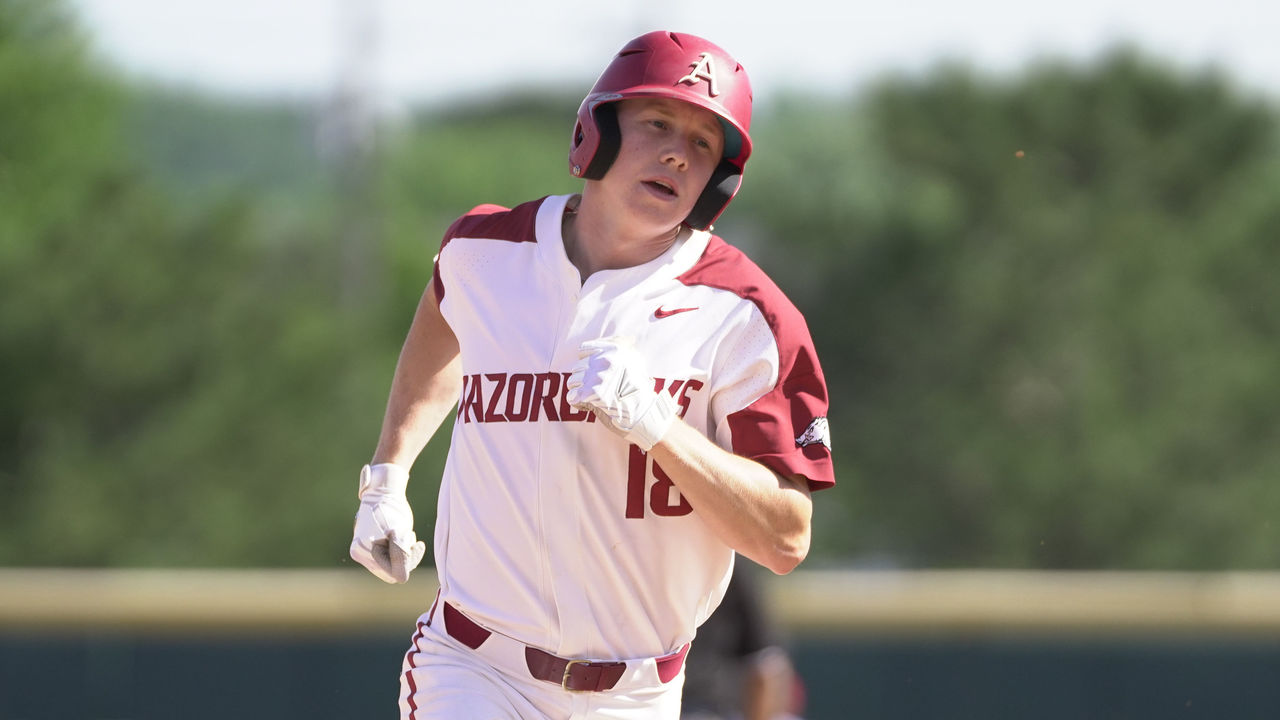 Furloughing your scouts before the draft may cause some bad karma, but the Angels will likely land a stud anyway. Though Kjerstad is a bit raw for a college outfielder, his left-handed power is a big selling point.
11. White Sox - Patrick Bailey, C, NC State
The White Sox have been tied to switch-hitting catcher Bailey. He'd strengthen Chicago's already solid backstop ranks, which include Yasmani Grandal and 2016 top pick Zack Collins.
12. Reds - Robert Hassell, OF, Independence HS
There's a chance the Reds prefer a college arm, but with Lacy, Hancock, Meyer, and Detmers expected to be off the board before they pick, the bat of Hassell becomes too tempting.
13. Giants - Garrett Crochet, LHP, Tennessee
Although Cade Cavalli's a rumored Giants target, Crochet - who some scouts projected could be a top-10 pick - may be too good to pass up.
14. Rangers - Garrett Mitchell, OF, UCLA
Mitchell's name should almost definitely be called earlier than this based on tools alone, but his diabetes seems to be scaring clubs away. It only takes one team to buy in, though.
15. Phillies - Tyler Soderstrom, C, Turlock HS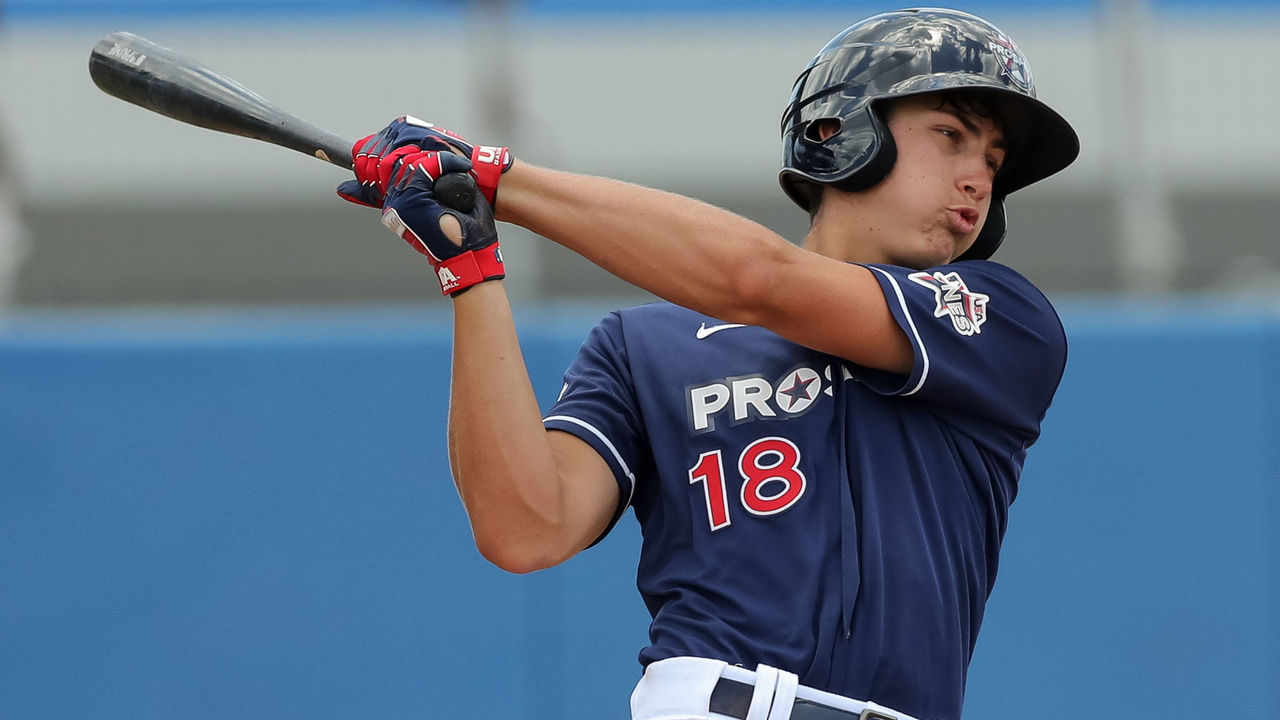 If Pennsylvania native Bitsko was available here, the Phillies might have taken him. Instead, they opt for Soderstrom, one of the most polished high school bats in the draft.
16. Cubs - Cade Cavalli, RHP, Oklahoma
Teams should never draft for need, but Cavalli offers the Cubs a shot at restocking the farm as a college arm who could progress quickly.
17. Red Sox - Mick Abel, RHP, Jesuit HS
After losing their second-round selection for illegally stealing signs in 2018, the Red Sox need to hit with one of their four picks. Abel, who helped pitch his high school to a state title, should do the trick.
18. D-Backs - Jared Kelley, RHP, Refugio HS
Though Kelley probably deserves to be selected earlier, signability issues will cause him to slip. The Diamondbacks could be the team to stop his slide, as they've shown an increased willingness to use their bonus pool in interesting ways.
19. Mets - Austin Hendrick, OF, West Allegheny HS
Hendrick's hitting upside, power potential, and overall athleticism could give the Mets' farm system a promising outfield replacement for Jarred Kelenic, who they traded to Seattle in the Edwin Diaz-Robinson Cano deal.
20. Brewers - Pete Crow-Armstrong, OF, Harvard-Westlake HS
The top of the 2020 draft is stacked with high school outfielders. Crow-Armstrong is likely at the bottom of the elite tier that starts with Veen, but he could conceivably be picked before Hendrick or Hassell.
21. Cardinals - Ed Howard, SS, Mount Carmel HS
If the Cardinals opt for a position player instead of a pitcher, Howard's the most likely to stay at shortstop until he reaches the bigs. There's a strong possibility St. Louis goes this route after taking a pitching-heavy approach to the 2019 draft.
22. Nationals - Cole Wilcox, RHP, Georgia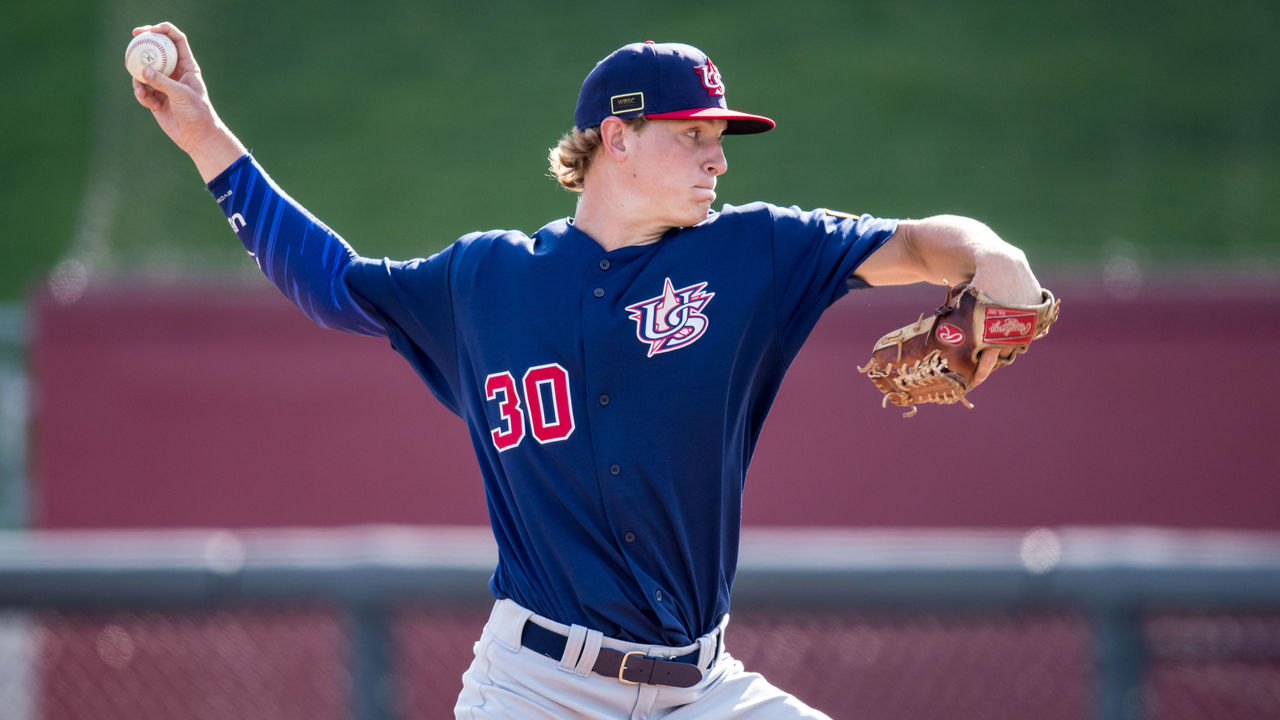 There's a tier of college arms that seems to fit on the fringes of the first round. Wilcox, who pitched behind Hancock at Georgia, appears to be tops in that group, but the Nats could prefer Bobby Miller, Slade Cecconi, or Bryce Jarvis.
23. Indians - Austin Wells, C, Arizona
Wells likely isn't the best catcher available here - that's probably Ohio State's Dillon Dingler - but he has an advantage in one area that seems to be key for Cleveland. Wells is nearly a full year younger, and that means more time for development and more years of control.
24. Rays - Aaron Sabato, 1B, North Carolina
While Torkelson is a better all-around first baseman, Sabato's power earns comparisons to the Arizona State slugger. An underappreciated player joining the Rays? You've heard this before.
25. Braves - Jordan Westburg, SS, Mississippi State
Atlanta's draft success is well-documented, and selecting Westburg, a College World Series standout, would be another wise decision. The Braves could also decide a college arm like Clayton Beeter or Carmen Mlodzinski suits them.
26. Athletics - Bobby Miller, RHP, Louisville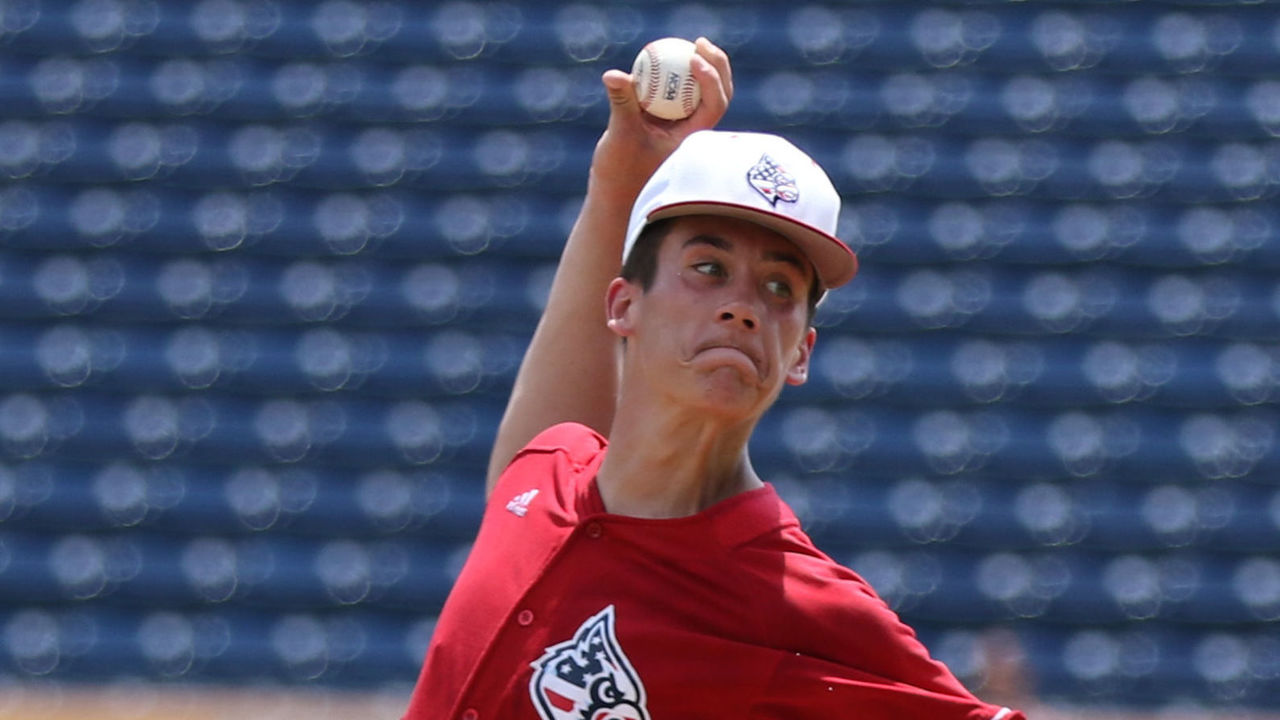 If the A's take a pitcher with their first pick, it'll be a college arm that slipped too far. Meet Bobby Miller.
27. Twins - Nick Loftin, SS, Baylor
The Twins haven't had much luck with drafting and developing shortstops, but Loftin is already pretty refined and has a decent floor.
28. Yankees - Jordan Walker, 3B, Decatur HS
The Yankees don't have another pick until the third round (No. 100), so they'll take whoever they feel has the highest ceiling. If Blaze Jordan has a shot at being selected in the first round, this is likely the spot.
29. Dodgers - Justin Foscue, 2B, Mississippi State
Some consider Foscue a better player than Westburg, his double-play partner at Mississippi State, but Foscue's ceiling might not be as high. This could allow the Dodgers to swoop in and steal him at the end of the first round.