The 2006 Cardinals had no business winning it all, but they did
Rich Pilling / MLB / Getty Images
Following our recent series on the best teams never to win their league's championship, we're flipping the concept. This series will examine a selection of the most unlikely teams to reach the mountaintop. These teams can be ones that got hot at the right time, or those who belong to franchises that have rarely tasted the Champagne of champions.
In 2006, the St. Louis Cardinals unveiled their third incarnation of Busch Stadium, their grandest ballpark yet, a veritable baseball cathedral complete with a picturesque view of the downtown skyline and the city's iconic Gateway Arch. However, the inherent symbolic value of opening a new stadium - renewal, rejuvenation … all that crap - clashed with the reality of the Cardinals, who were undeniably a juggernaut in decline as the 2006 campaign dawned.
Two years earlier, the Cardinals were at the height of their powers. They won 105 games in 2004, finishing one victory shy of their franchise record, and boasted the National League's most prolific offense and its most dominant bullpen. A title slipped through their grasp that October, however, and the Cardinals ended up on the wrong side of history, immortalized as the team that handed a World Series title to the accursed Boston Red Sox.
As an encore to their finest season in nearly six decades, the Cardinals won another 100 games in 2005 and handily took their division again, but their championship drought persisted as the Houston Astros - the runner-up in the NL Central - ousted St. Louis in six games in the National League Championship Series.
That winter, the Cardinals' roster was decimated. Larry Walker, the future Hall of Famer who posted an .886 OPS in 2005 as St. Louis' primary right fielder, retired. Matt Morris, a key cog in the rotation for nearly a decade, left via free agency, as did left fielder Reggie Sanders and second baseman Mark Grudzielanek, who combined for 4.5 WAR in 2005.
Those who departed were replaced with an inferior player. Meanwhile, two of the club's most important holdovers, center fielder Jim Edmonds and third baseman Scott Rolen, arrived for spring training amid skepticism about their respective ability to continue performing at a high level. Rolen, their All-Star third baseman, missed most of 2005 with a torn labrum, while Edmonds, as good as he was, was turning 36 later that summer.
The Cardinals still had Albert Pujols, the reigning National League MVP, and Chris Carpenter, the reigning NL Cy Young Award winner, but two singular talents couldn't turn a potentially defective team into a champion. Ultimately, as Opening Day loomed, it felt as though the Cardinals had missed their chance.
Apparently, though, they hadn't.
Despite taking a seismic step backward in 2006 because of injuries and a plainly inferior roster, the Cardinals were inexplicably the last team standing in October, eking their way into the postseason before navigating an improbable championship run that arguably solidified them as the unlikeliest World Series champion in baseball history.
"We barely made it," infielder Scott Spiezio told the St. Louis Post-Dispatch in 2016. "But then it depends on whether you get hot or not."
As it happens, the Cardinals couldn't have hoped for a more charmed first act to their 2006 campaign. Propelled by a surprisingly stalwart rotation and a preposterously torrid start from Pujols, who hit .346/.509/.914 with 14 homers across his first 25 games, the Cardinals were 17-8 at the end of April, tied with the Cincinnati Reds for first in the Central. By the end of May, even as the rotation and Pujols cooled off, the Cardinals had sole possession of first at 34-19, with a five-game cushion separating them from the second-place Reds. Then things unraveled.
In early June, Pujols was felled by an oblique injury, necessitating the first trip to the disabled list of his career. In his absence, the cracks in the lineup became abundantly clear: Edmonds was starting to show his age, regressing both at the plate and afield; Juan Encarnacion couldn't replace the offensive void created by Sanders' departure; So Taguchi, the primary left fielder, wasn't an everyday player; nor was Aaron Miles, brought in to replace Grudzielanek. The Cardinals' young catcher, a 23-year-old sophomore named Yadier Molina, couldn't hit at all.
Then, shortly after Pujols went down, Mark Mulder, the Cardinals' No. 2 starter, who'd been abysmal for weeks, landed on the DL with a rotator cuff problem, exposing the lack of depth - obscured by the hot start - in St. Louis' rotation. Meanwhile, Jason Isringhausen, their once-trusty closer who had 17 saves in 19 attempts through the first eight weeks of the season, turned into a pumpkin, leading the majors with four blown saves that month.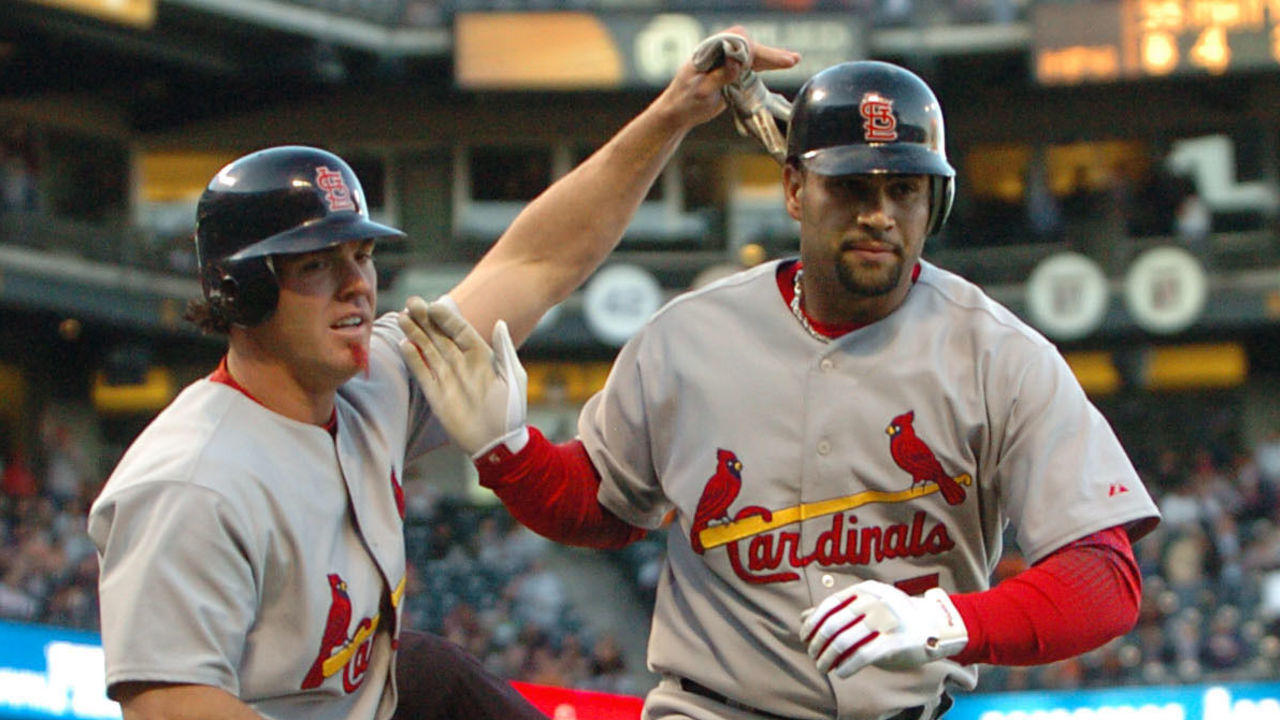 Amid all that coinciding misfortune, the Cardinals struggled to a 9-16 record in June, highlighted by an eight-game losing streak. When the calendar flipped to July, they were once again tied with Cincinnati for first.
The Cardinals got hot again before and after the All-Star break, but a late-summer nosedive nearly rendered their solid first half moot. They closed July by dropping four straight games to the Chicago Cubs and started August by losing another four in a row. More unsteady play followed, as did another wave of injuries.
Though the Cardinals headed into the final month of the season at 71-61 with a five-game lead atop their profoundly mediocre division, they would have to punch their October ticket without both Edmonds and All-Star shortstop David Eckstein, who were sidelined in late August, as well as Mulder, who was placed back on the disabled list following a brief, ill-fated return to the rotation.
In spite of themselves, they did advance. Though the Cardinals won just 12 of their final 29 games - a lackluster home stretch in which they suffered through a seven-game losing streak - their uninspired finish wasn't quite disastrous enough for any of their pitiful division rivals to capitalize. (The Astros, an afterthought heading into September, nearly dethroned St. Louis with a late push, going 22-12 over their final 34 games, but ultimately finished in second place, a game and a half back.)
The Cardinals ended up 83-78, giving them just the fifth-best record in the NL and the third-lowest win total of any postseason team in MLB history (discounting strike-shortened seasons).
They wheezed into October with little reason for optimism. They'd played sub-.500 baseball for 10 weeks and their third-best position player that season, by fWAR, was Chris Duncan (2.3). Their third-best pitcher was a rookie reliever named Adam Wainwright. (Wainwright, moreover, would have to fill the closer role for the duration of October, as the Cardinals lost Isringhausen to a season-ending hip injury in September.)
"That was a tough, tough time, those last two weeks of the season," general manager Walt Jocketty told ESPN after the World Series. "I think we all felt that if we could just get through it, we'd be OK. But I'll tell you this. It was tough living through."
By all accounts, even with Edmonds and Eckstein back in the lineup, they should've been shellacked in the postseason.
Somehow, though, they weren't.
In the best-of-five National League Division Series, the Cardinals squared off against the San Diego Padres, who won a second straight NL West title with an 88-74 record and were the superior team in every conceivable way. Their offense was better. Their pitching was better. In fact, the Cardinals only had one good starter - Carpenter - and the Padres could match up well against him with Jake Peavy, who led the NL in strikeout rate and was a year removed from his first All-Star appearance.
As it turned out, though, Carpenter handily outdueled Peavy in the series opener at Petco Park. A two-run shot from Pujols in the fourth inning provided sufficient offense for the Cardinals' ace, who allowed only one run over 6 1/3 innings in a 5-1 victory.
Somehow, the Cardinals received an equally impressive start in Game 2. Absent an obvious No. 2 starter, Cardinals manager Tony La Russa opted to hand the ball to journeyman right-hander Jeff Weaver, who stumbled to a 5.18 ERA in 15 starts with St. Louis after coming over in a midseason trade with the Angels. It paid off. Weaver didn't allow a run over five innings, turning in an unexpectedly dominant effort that helped nudge the Cardinals to a 2-0 victory.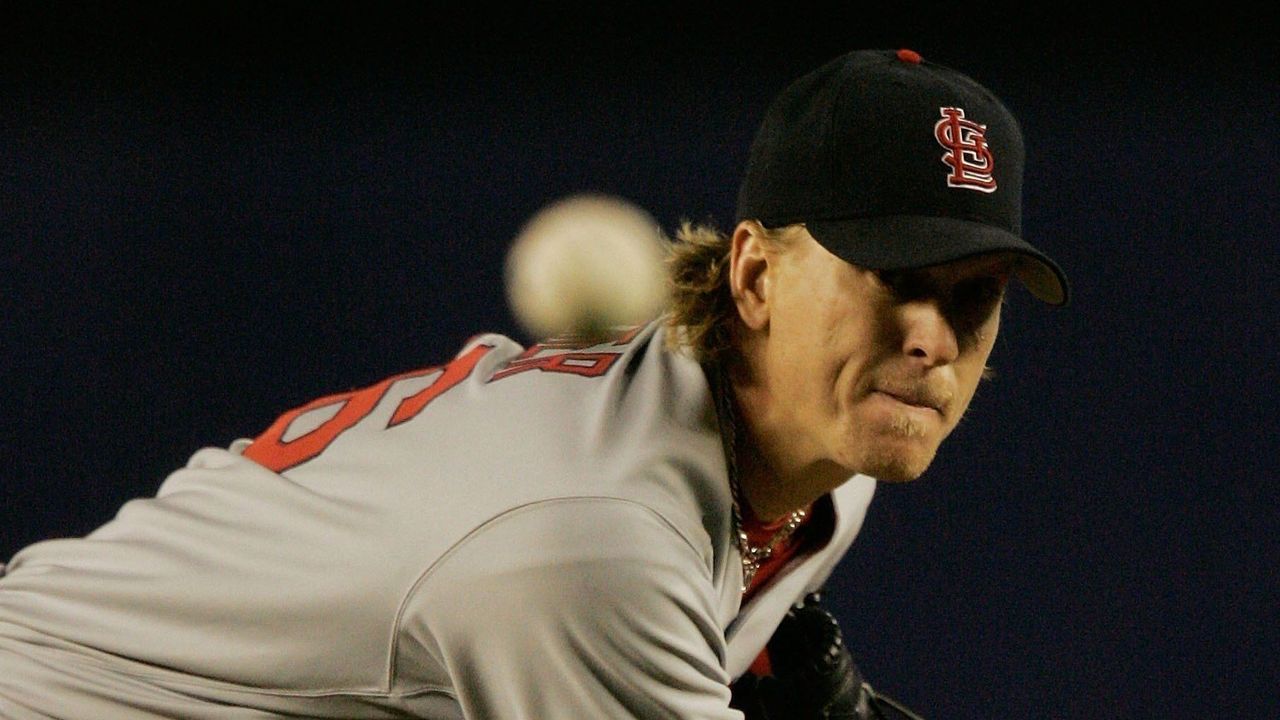 After a tightly contested Game 3 loss at Busch Stadium, the Cardinals secured their spot in the NLCS for a third year in a row, riding another sublime Carpenter start - two runs allowed over seven innings - and a tie-breaking four-run outburst in the sixth inning to a 6-2, series-clinching victory.
And that - improbably outlasting a better team in the first round of the postseason - should've been the final chapter of the Cardinals' 2006 season. Even though they squeaked by San Diego, the Cardinals purportedly had no chance of thwarting the New York Mets, a homer-happy behemoth that finished tied for first in the majors in wins (97), had just swept the wild-card Los Angeles Dodgers in the NLDS, and boasted both a glut of offensive stars (Carlos Beltran, David Wright, Jose Reyes, Carlos Delgado) and battle-tested starters (Pedro Martinez, Tom Glavine, Orlando Hernandez).
Nobody notified the Cardinals, however, that the series was supposed to be a wash, and one of the most memorable NLCS clashes in recent history ensued.
In a Game 1 matchup between Glavine and Weaver at Shea Stadium, the future Hall of Famer prevailed. Glavine allowed only four hits over seven shutout innings to push the Mets to a 2-0 win. Pujols, as it happens, didn't think all that much of Glavine's performance, famously telling reporters the veteran left-hander "wasn't good at all."
Both offenses exploded the following night. The Cardinals' resilient bunch ended up on top, erasing multiple deficits before riding a three-run ninth inning against All-Star closer Billy Wagner - sparked by a go-ahead homer from Taguchi - to a 9-6 win.
With the series tied and headed moved back to Busch Stadium, La Russa decided to entrust another start to Jeff Suppan, the inconsistent right-hander who didn't make it out of the fifth inning in the NLDS Game 3 loss to the Padres. Suppan, though, delivered his finest start of the season, allowing just four baserunners over eight scoreless innings in a 5-0 rout.
In response, as if getting owned by Suppan - owner of a career 4.70 ERA - was some cosmic wrong to be righted, the Mets put up a dozen runs in Game 4, breezing to a 12-5 win behind homers from Delgado, Wright, and Beltran, who went deep twice.
The teams exchanged 4-2 victories - the Cardinals took Game 5 in St. Louis before being stymied by Mets starter John Maine in Game 6 back in New York - setting up a winner-take-all. Molina delivered the decisive blow in the top of the ninth of Game 7 with a tie-breaking two-run homer. What happened at the end continues to haunt Mets fans - and Beltran:
In the face of nearly universal doubt, the Cardinals won the pennant, parlaying surprisingly stingy starting pitching, an emergent Wainwright, and mammoth offensive series from Molina and Pujols into their second trip to the World Series in three years.
Still, the power of recency bias notwithstanding, the Cardinals' playoff triumphs couldn't convince pundits they had even a remote chance against the Detroit Tigers, a 95-win team light on star power but nevertheless devoid of any weaknesses.
"The Detroit Tigers' biggest obstacle to a championship will be keeping a straight face," opined USA Today columnist Bob Nightengale on the eve of the World Series. "The Tigers in three."
A laugher of a series did indeed ensue. The roles were just reversed.
In Game 1 at Comerica Park, the Cardinals smacked around the Tigers' precocious rookie starter, Justin Verlander, torching him for seven runs over five innings and providing their own, far-less-heralded rookie starter with ample breathing room. Anthony Reyes, who posted a 5.06 ERA during the regular season and lasted just four innings in his only previous postseason start, allowed two runs over eight innings in the World Series opener, helping the Cardinals to a 7-2 win.
The following night, St. Louis endured a superb eight-inning performance from the Tigers' 41-year-old left-hander Kenny Rogers, whose gem resulted in a 3-1 win. Detroit wouldn't win another game.
Carpenter, who scuffled in both of his NLCS starts, turned in a beauty in Game 3 before a raucous crowd at Busch Stadium, hucking eight scoreless innings in a 5-0 victory. Game 4 then proved to be a classic; the Tigers took an early lead, squandered it in the seventh, then evened the game in the top of the eighth. In the bottom of the inning, the Tigers' hard-throwing rookie phenom, Joel Zumaya, gave up a game-deciding double to Eckstein - his fourth hit of the contest - for a 5-4 Cardinals win.
The Tigers sent Verlander back to the mound for Game 5, opposite Weaver, who broke in with the Tigers in 1999. Verlander allowed a run in the second, then two more in the bottom of the fourth, squandering the one-run lead his club had mustered in the top of the inning.
The Tigers wouldn't score again, flummoxed by Weaver, who allowed just the two runs (one earned) over eight innings, and Wainwright, who allowed the tying run to reach base in the ninth but ultimately locked down the save, fanning Brandon Inge to secure a 4-2 victory and a World Series title.
Eckstein, who hit .364/.391/.500 in five games against Detroit, was named World Series MVP. He played through the postseason despite the injuries that kept him out through most of September. "Right now, I don't feel a thing," he told Sports Illustrated in the jubilant clubhouse.
As it happens, Eckstein was one of the game's worst hitters among those who qualified for the batting title, with an 87 wRC+ mark during the regular season. You won't find a more fitting metaphor for the Cardinals' improbable championship.
Jonah Birenbaum is theScore's senior MLB writer. He steams a good ham. You can find him on Twitter @birenball.
Comments
✕
The 2006 Cardinals had no business winning it all, but they did
  Got something to say? Leave a comment below!