With baseball on hiatus, now seems like a good time to look back at some great moments from the game's past. Today, we're remembering Vladimir Guerrero's first major-league home run, a jaw-dropping, opposite-field shot and fitting prelude for the greatest bad-ball hitter ever.
Felipe Alou wanted the kid to hit.
On a balmy September evening in 1996, with his Montreal Expos - clinging to the possibility of a wild-card berth - two outs away from a second straight defeat in Atlanta, Alou, the Expos' venerated manager, decided to let his supremely green, rawboned, batting-glove-eschewing right fielder hit for himself rather than opt for a pinch hitter with his club trailing the Braves by two in the ninth inning.
Don Sutton, the Hall of Fame right-hander turned Braves broadcaster, was incredulous. It was, in his mind, an act of surrender on the part of Alou, whose Expos took the field that night trailing the division-leading Braves by six games - a seemingly insurmountable gulf with just over a week to go in the season. But Montreal was only one game back of the San Diego Padres in the National League wild-card race.
"Here's a kid coming in against the best closer in the league and you're only down by two," Sutton said on the broadcast. "This is a white flag."
Indeed, it was a tough matchup for Vladimir Guerrero, who was tasked with igniting a rally following Rondell White's leadoff groundout and desperately needed to get on base. Mark Wohlers, just summoned from the Braves' bullpen, had 37 saves with a sterling 2.95 ERA. The All-Star would finish the 1996 campaign with the fourth-highest strikeout rate (31%) among qualified relievers.
Guerrero, then 21, made his major-league debut about 48 hours earlier. He was the latest triumph of the Expos' player-development enterprise - a "baseball machine," as Alou put it - and the game's ninth-best prospect coming into that season, according to Baseball America. But he was still a prospect going up against an All-Star closer. To Sutton, he was an easy out.
Except he wasn't.
Guerrero, loath to let any pitch in the same zip code as the plate go by, unloaded on the first offering he saw from Wohlers, ripping a backdoor sinker deep to the opposite field, where it eventually clanked off the foul pole in right for his first big-league home run.
"Like I said, it's a brilliant move," Sutton joked as Guerrero rounded the bases. "No, it's not. It's a lucky move. That's something that - that just absolutely happened. And it turned out well for the Expos."
Sutton's inability to explain what he'd just witnessed is hardly surprising. Throughout Guerrero's illustrious career, wherein he hit .318 with 449 homers while earning nine All-Star nominations, eight Silver Sluggers, and an American League MVP award, he constantly befuddled with his ability to turn seemingly unhittable pitches into hits. That improbable, head-scratching first home run was a bellwether.
Just look at the location of Wohlers' pitch. It's well off the plate and right at Guerrero's knees. It's clearly a ball, albeit one that could've easily been called a strike in the 90s, when this was considered major-league caliber umpiring. Still, it's the kind of pitch that hitters should only offer at in two-strike counts, when they're trying to extend at-bats. It's not a pitch you can drive.
Unless, of course, you're Vlad.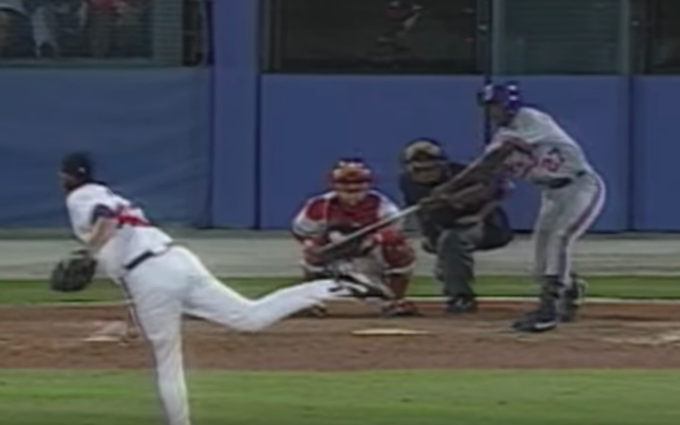 If that screengrab doesn't convey how ludicrous that home run was, consider this: In 2019, the most homer-ific season in MLB history, right-handed hitters slugged only .255 on fastballs out of the zone, down-and-away, according to Baseball Savant - almost 70 points lower than the overall slugging percentage of the majors' most punchless qualified hitter, Yolmer Sanchez (.321).
Wohlers' reaction says it all: That was not normal.
Guerrero's solo shot couldn't turn Montreal's fate that night, as the Expos lost, 5-4, and ultimately missed the postseason. That home run, however, marked the unofficial beginning of the soon-to-relocate Expos' final epoch - the Vlad Era - and offered the baseball world an early glimpse of the inimitable talent that would one day earn Guerrero a spot in Cooperstown.
Jonah Birenbaum is theScore's senior MLB writer. He steams a good ham. You can find him on Twitter @birenball.