2 radical schedule solutions for MLB in the event of a shortened season
Adam Glanzman / Getty Images
Baseball isn't coming back anytime soon. Life under the spectre of the coronavirus has become an exercise in uncertainty, but this, at least, we know for sure.
On Monday, days after canceling the remainder of spring training and pushing Opening Day back at least two weeks, Major League Baseball announced it would delay the start of the regular season even further in accordance with the CDC's new guideline restricting events of more than 50 people for the next eight weeks. Even if teams do start to reconvene and resume their season prep before those eight weeks are up, meaningful baseball won't begin until the middle of May, at the earliest.
Ultimately, assuming baseball does return this year, the season will be shortened for the first time since 1995, when the final stages of a prolonged players' strike - which famously resulted in the cancellation of the 1994 World Series - delayed Opening Day until late April and trimmed the season to 144 games. (At this juncture, it's possible the 2020 season will be the shortest in baseball history, trumping the 1981 campaign that was interrupted by an eight-week strike and limited each team to an average of 107 games.)
Starting the season on any given day in May or June or July and simply proceeding with the original, pre-pandemic schedule is neither fair or optimally efficient, as it both unfairly advantages teams with softer second-half schedules (compounding the unfairness of baseball's unbalanced schedule) and, assuming the regular season still ends Sept. 27, doesn't allow for any cancelled games to be made up. As such, the best approach may be to toss out the current 2020 schedule and opt for a more radical approach to make the most of the truncated season ahead, perhaps with one of these two frameworks:
Proposal 1: Eight is enough
In this scenario, teams would have one opponent each week and play that team Tuesday through Sunday, with doubleheaders Wednesday and Saturday, and Monday serving as a league-wide rest/travel day. That's a grueling schedule, for sure, and would require teams to expand rosters beyond 26 to carry a boatload of additional starters and relievers, but if the league wants to squeeze in as many games as possible without the season spilling into October, this is feasible, at least.
As anathema as it may be to the players, this eight-games-per-week setup would enable teams to recoup almost all 162 games if the season were to begin in mid-May, while also minimizing travel. Moreover, if the season begins Tuesday, May 19 and teams play through what would've been the All-Star break, that would give us 19 full weeks from Opening Day through Sept. 27, allowing for up to 152 games per team and a certain degree of balance in the schedule: each could could play every extra-divisional team in its league once, with one interleague series mixed in, and two matchups against each division rival. Let's use the Yankees as an example:
May 19-24 - @BOS
May 26-31 - @TB
June 2-7 - vs. OAK
June 9-14 - vs. LAA
June 16-21 - @CLE
June 23-28 - @KC
June 30-July 5 - TOR
July 7-12 - BAL
July 14-19 - @ CWS
July 21-26 - @DET
July 28-Aug. 2 - HOU
Aug. 4-9 - TEX
Aug. 11-16 - @SEA
Aug. 18-23 - @TOR
Aug. 25-30 - @BAL
Sept. 1-6 - vs. ATL
Sept. 8-13 - @MIN
Sept. 15-20 - vs. BOS
Sept. 22-27 - vs. TB
Of course, such a jam-packed schedule doesn't take venue availability into account, and an unrelenting cycle of eight games in six days may well verge on torturous by August. The quality of play would suffer, too, in all likelihood, as this format would almost certainly necessitate playing time for non-big-leaguers.
Still, the guarantee of considerably fewer travels days has to be appealing to players, as does the creation of more big-league jobs, while extended series against the same opponent could help foster new rivalries - a boon for both the fans and the league. (Imagine the theater a weeklong interleague series between the Houston Astros and Los Angeles Dodgers could produce.) Ultimately, if maximizing the number of regular-season games played while also honoring the original postseason start date are the league's two biggest priorities, this format could work.
Proposal 2: Tournament style
In 1981, when the midsummer strike upended the season more than any previous work stoppage, the league got creative and abandoned its normal playoff structure, making the division champions from the pre-strike half-season and post-strike half-season play each other in a best-of-five series to determine who advanced to the League Championship Series. (This was, in effect, the birth of the postseason's Division Series round.)
Given the current circumstances, perhaps the league would once again be amenable to a breach in orthodoxy and consider a scheduling format even more off-the-wall than the one above, especially if baseball doesn't resume until July, as some pundits expect.
In this scenario, the season itself would be a 30-team, double-elimination tournament, with randomized seedings (i.e. no preferential treatment based on last year's standings) and randomized matchups unaffected by league or divisional affiliations. Let's get nuts, right? Here's an example of what the winners' side of the bracket could look like: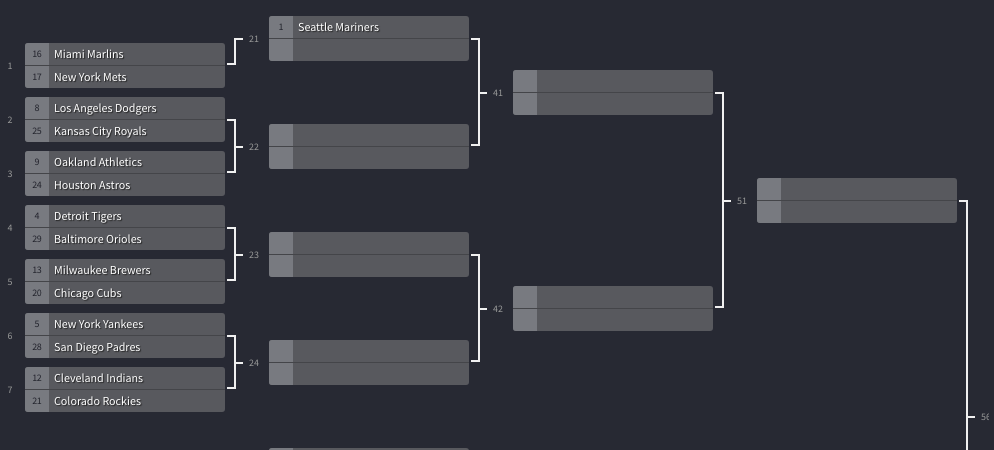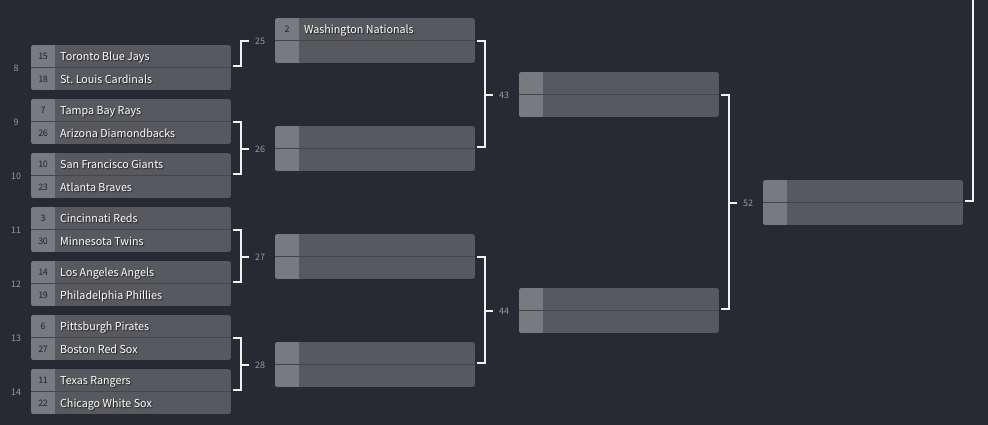 It's purely coincidence, by the way, that the Washington Nationals, the reigning World Series champions, received a first-round bye.
Anyway, the tournament would follow an unprecedented best-of-11 format, with a 3-3-2-2-1 structure that ensures each round would take a maximum of 15 days to complete, including travel days. The timing, assuming a July start date, would be perfect: a five-round, best-of-11 tournament would take about two-and-a-half months to complete, which, coupled with a week-long All-Star break and rest days between rounds, would carry baseball through the end of September.
This format will undoubtedly have its detractors. For one, the prospect of watching your team play as few as a dozen meaningful games in 2020 is scary, and doubly so for the players. Would players on those teams eliminated in the early stages get paid for the entire tournament? Would they accrue the same amount of service time as players on the championship-winning team? Such a radical reformatting could create a dozen more equally contentious issues between the league and the players' union. Still, nobody can argue that a tournament-style season wouldn't make for an endlessly entertaining summer.
Will they actually do it? Almost certainly not. Baseball fetishizes tradition perhaps more than any other sport, and it's unlikely that even a season-shortening pandemic could convince the league to radically overhaul its schedule or format.
For now, though, we're at least free to speculate, and as the world plunges further into unprecedented territory, so, too, could baseball.
Jonah Birenbaum is theScore's senior MLB writer. He steams a good ham. You can find him on Twitter @birenball.
Comments
✕
2 radical schedule solutions for MLB in the event of a shortened season
  Got something to say? Leave a comment below!