Bolsinger v. Astros: Does a journeyman's sign-stealing lawsuit have any hope?
Tom Szczerbowski / Getty Images
Before Monday, the most intriguing detail of Mike Bolsinger's otherwise unremarkable baseball biography was probably his relief appearance against the Boston Red Sox on July 18, 2017. Bolsinger, pitching for the Toronto Blue Jays at Fenway Park, joined the exclusive list of pitchers who have thrown four strikeouts in a single inning - the extra K necessitated by a third-strike wild pitch for which he atoned in short order.
A couple of weeks later, on Aug. 4, 2017, Bolsinger was shelled for four runs on the road by the soon-to-be World Series champs - the mighty Houston Astros. He was removed from the Blue Jays' 40-man roster and demoted to Triple-A the next day, and hasn't pitched in the majors since.
That woeful one-third of an inning in Houston constitutes the basis of the civil lawsuit Bolsinger filed against the Astros in California's superior court in Los Angeles this week. The 32-year-old free agent is framing himself as a casualty of Houston's now-infamous sign-stealing scheme, arguing the Astros' foreknowledge of the pitches he delivered contributed directly to his enduring exclusion from the big leagues.
In alleging that the Astros' deciphering and transmission of signs interfered with and harmed his career, Bolsinger has opened a new avenue of scrutiny into the trash-can-banging scandal that has roiled baseball.
In his lawsuit, which characterizes that August outing at Minute Maid Park as the "death knell" of his time in MLB, Bolsinger seeks damages for economic losses he says he's suffered as a result of Houston's cheating. The suit also seeks restitution in the form of Astros players forfeiting their 2017 postseason bonuses to charity. (The suit was filed in Los Angeles partly because Houston defeated the Dodgers there to win the World Series.)
Bolsinger and his lawyers have asked that the case proceed to a jury trial, during which they'd have to prove an undeviating link between the Astros' theft of his signs and his subsequent inability to earn a major-league contract. Bolsinger - who has played in Japan for the past two years - expressed that sentiment Monday in an interview with USA Today, telling columnist Nancy Armour he believes he wouldn't have been sent down if the Astros hadn't hit him so hard.
"But at that point," Bolsinger said, "(the Blue Jays) probably lost faith in me and were over it."
Does the unsigned righty have a chance of establishing this causation in court? Legal experts with backgrounds in baseball research who spoke to theScore on Tuesday are doubtful, citing Bolsinger's pedestrian 4.92 career ERA and the multitude of other factors teams consider when making roster decisions.
"I think it's so far-fetched that it's basically unprovable. One bad outing does not sink a career. If a person is a quality pitcher, then he bounces back and finds a way to come back to the major leagues," said Talmage Boston, a commercial litigation attorney and baseball historian who lives in Dallas.
"It's unfortunate for him that this turned out to be the last straw. But if it hadn't been this game (that prompted his demotion), who's to say it wouldn't have been another game? The fact he's never returned to the major leagues suggests to me that he's just not good enough."
There were points in his four MLB seasons when it appeared Bolsinger might've been capable of sticking around long-term. He showed promise as a starter with the Dodgers in 2015, posting a 3.62 ERA and a 6-6 record over 21 games.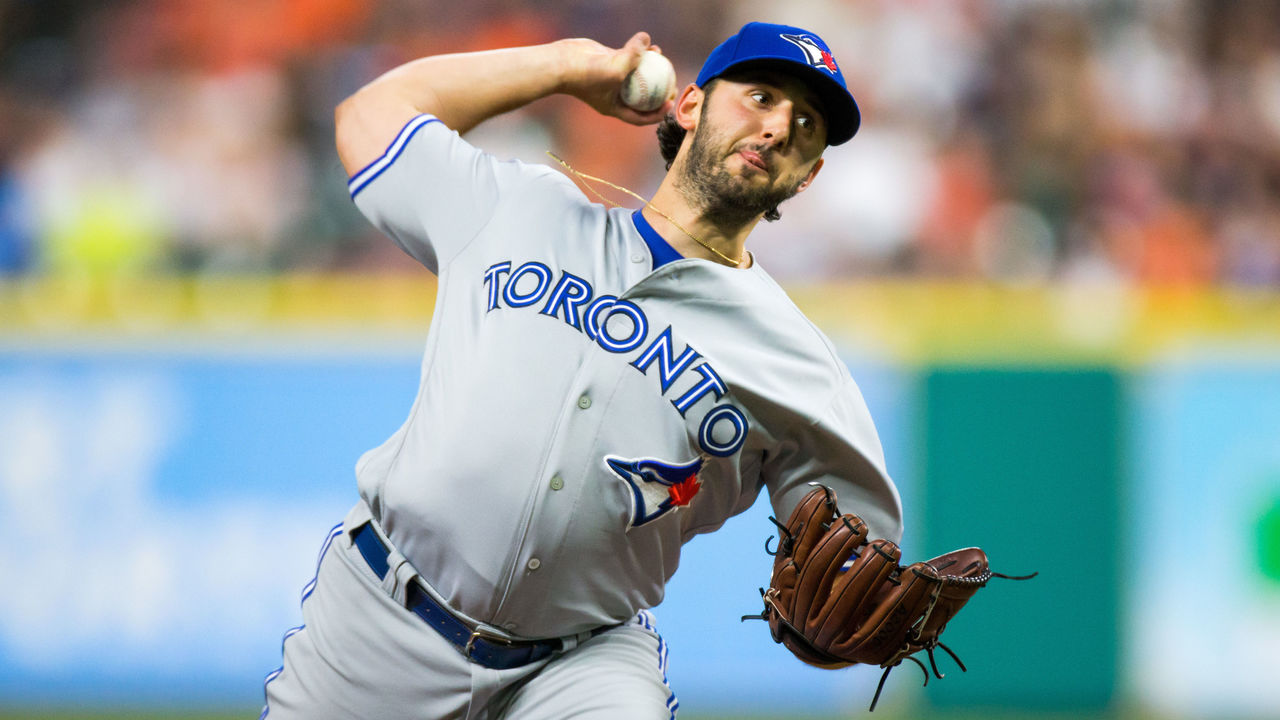 Following a trade to Toronto and extended stints in Triple-A, the Blue Jays tried to refashion Bolsinger into a relief pitcher in 2017. That project, his lawsuit recounts, had been underway for two months when the Astros tagged him for four hits and three walks on 29 pitches.
Citing the work of web developer and Houston fan Tony Adams, who recently cataloged video evidence of more than 1,100 occasions on which the Astros struck trash cans throughout 2017, Bolsinger's lawsuit claims Houston's players banged cans on a season-high 54 pitches during that Aug. 4 contest against Toronto - including 12 from Bolsinger.
The bangs were intended to notify Astros batters that an offspeed pitch was coming. Assuming every batter was participating in the scheme, Adams' database shows Houston correctly signaled 20 of Bolsinger's 29 pitches - either by banging for an offspeed pitch or by sending no signal ahead of a fastball.
"Based on the data, the Defendant Astros had decoded and stolen the sign for essentially every pitch thrown by (Bolsinger) and transmitted it to the Astros' batters," the lawsuit alleges.
Boston said the Astros' culpability is clear and won't be in dispute if Bolsinger's case proceeds. In the wake of the yearlong suspensions and subsequent firings of manager AJ Hinch and general manager Jeff Luhnow, no one denies that Houston's sign-stealing scheme constituted an unfair competitive advantage. Still, he expects the Astros' lawyers to file a motion for summary judgment, essentially asking a judge to dismiss the case on the grounds that there's no legal basis for holding the team liable.
If that argument doesn't win out, and if Bolsinger and the Astros don't settle, the case would proceed to the discovery stage. At that point, Boston said, people involved in the scheme could be deposed for testimony, and the team would presumably have to produce documentation explaining how it stole signs. The Astros could ask that such evidence be sealed and not made available to the public, though Boston said the prior publication of some such documents - including a January letter from Manfred to Luhnow obtained by The Wall Street Journal - might diminish the viability of that request.
"That's going to be the judge's call as to whether he wants to give them a protective order or whether he wants it to be public information," Boston said. "These are questions that are on the horizon that, right now, we don't know the answer to."
Robert M. Jarvis, a professor at Nova Southeastern University in Florida, co-wrote a casebook about baseball and the law. He doubts Bolsinger's case will get that far.
"The real question is: How quickly can a judge dismiss a lawsuit?" he told theScore. Speaking hypothetically, he said the New York Yankees - who lost to Houston in the ALCS in 2017 and 2019 - could make a stronger case than Bolsinger by arguing the Astros' scheme denied the team and its players valuable benefits, including World Series game revenues.
"If you really wanted to seriously think about a lawsuit like this, you would bring it on behalf of a team like the Yankees, who would make the argument - unlike Bolsinger, who was going nowhere - 'We had a chance to go to the World Series, and we had a chance to win the World Series,'" Jarvis said. Yet he surmised that even that kind of claim would be dismissed. Plenty of other developments - an injury, a blown call - could have hindered the Yankees' World Series hopes, he reasoned, and it would be impossible to quantify damages with any precision.
"Think about it this way," Jarvis said. "If there was any possible basis for a lawsuit, the Yankees would have filed it already."
Bolsinger isn't without support in the sports law community. Eric Macramalla, a legal analyst for TSN in Canada, wrote on Twitter that he expects Bolsinger won't win his case - "Very difficult to quantify monetary damages as well as establish a causal link," he wrote - but he commended the pitcher for taking a stand against cheating.
University of Notre Dame professor emeritus Ed Edmonds, who has written about the intersection of baseball and the law, reiterated the challenge Bolsinger will face in trying to prove causation. Thirty years of research into salary arbitration cases has convinced Edmonds that myriad factors - from individual performance to a team's prospect pipeline to its position in the standings - shape how front offices value players and why clubs retain or demote them. It's tough to show that any such decision hinges solely on the events of one game.
Nonetheless, Edmonds sympathizes with Bolsinger, saying his story evinces the human impact of a system designed to exploit unwitting pitchers.
"It's a difficult lawsuit to win," Edmonds said, "but I think this does present a side of the whole cheating scandal that is worth everybody considering."
Nick Faris is a features writer at theScore.
Comments
✕
Bolsinger v. Astros: Does a journeyman's sign-stealing lawsuit have any hope?
  Got something to say? Leave a comment below!