Where will MLB's top 10 free agents end up?
With the World Series almost a week behind us, the end-of-season housekeeping is finally over with. The contract options have been exercised (congrats, Nelson Cruz) or declined (sorry, Edwin Encarnacion). The opt-out clauses have been invoked (get that bread, Stephen Strasburg) or waived (smart move, J.D. Martinez). Ten players received qualifying offers. Yada yada yada.
Now, the real fun begins.
So with free agency underway in earnest - players were free as of Monday to sign with any team - let's take a moderately informed guess as to where the 10 most highly coveted dudes will end up.
Anthony Rendon, 3B - Washington Nationals
| WAR | OPS | WRC+ | HR | DRS |
| --- | --- | --- | --- | --- |
| 7.0 | 1.010 | 154 | 34 | 2 |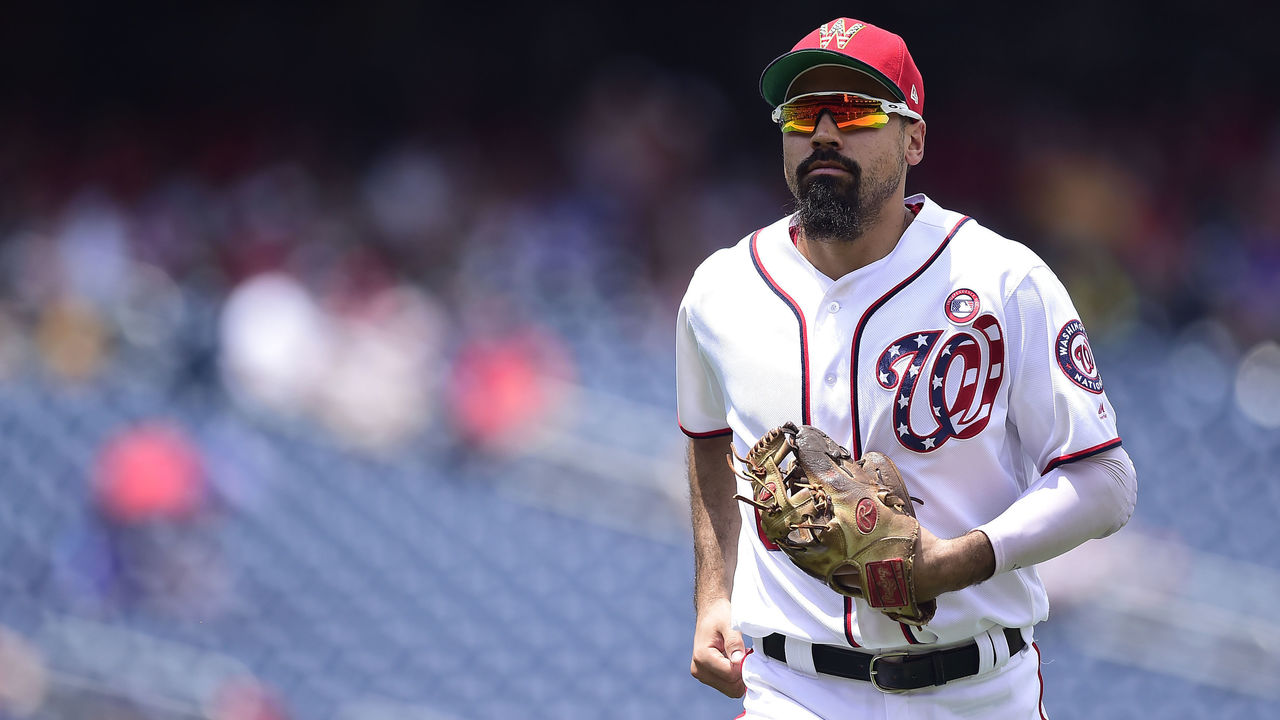 Born: June 6, 1990 (29 years old)
Projected contract: 8 years, $280M
2019 salary: $18.8M
The Nationals lost their ostensible franchise cornerstone last winter, as they opted not to enter the fray to bring back Bryce Harper after he balked at their $300-million offer late in the 2018 campaign. That won't happen again this offseason, not in the wake of their first-ever World Series title, and not with the short- and medium-term future of the organization potentially riding on a new deal with Anthony Rendon.
After all, the Nationals are liable to lose two integral pieces this winter in Rendon and Stephen Strasburg, who opted out of the four years remaining on his contract. And while they might be able to remain competitive in 2020 and beyond without one of those players, losing both would decimate the Nationals' chances of defending their title next year - they only won 93 games in 2019, and those two players contributed more than 10 marginal wins. It would also cast a pall over the future of a franchise with a weak farm system that's also thin on youth and upside at the major-league level after Juan Soto, Trea Turner, and Victor Robles. Since they almost certainly won't be able to re-sign both Rendon and Strasburg - even for a club that, admirably, doesn't shy away from spending money, a $430-million outlay in a single winter may be too hard to stomach - expect them to go all out for Rendon, who's better and younger than Strasburg and ensures that Washington will have two of the game's preeminent players (the other being Soto) in its lineup for the foreseeable future.
Gerrit Cole, RHP - Los Angeles Angels
| WAR | ERA | WHIP | FIP | GB% |
| --- | --- | --- | --- | --- |
| 7.4 | 2.50 | 0.89 | 2.64 | 40.3 |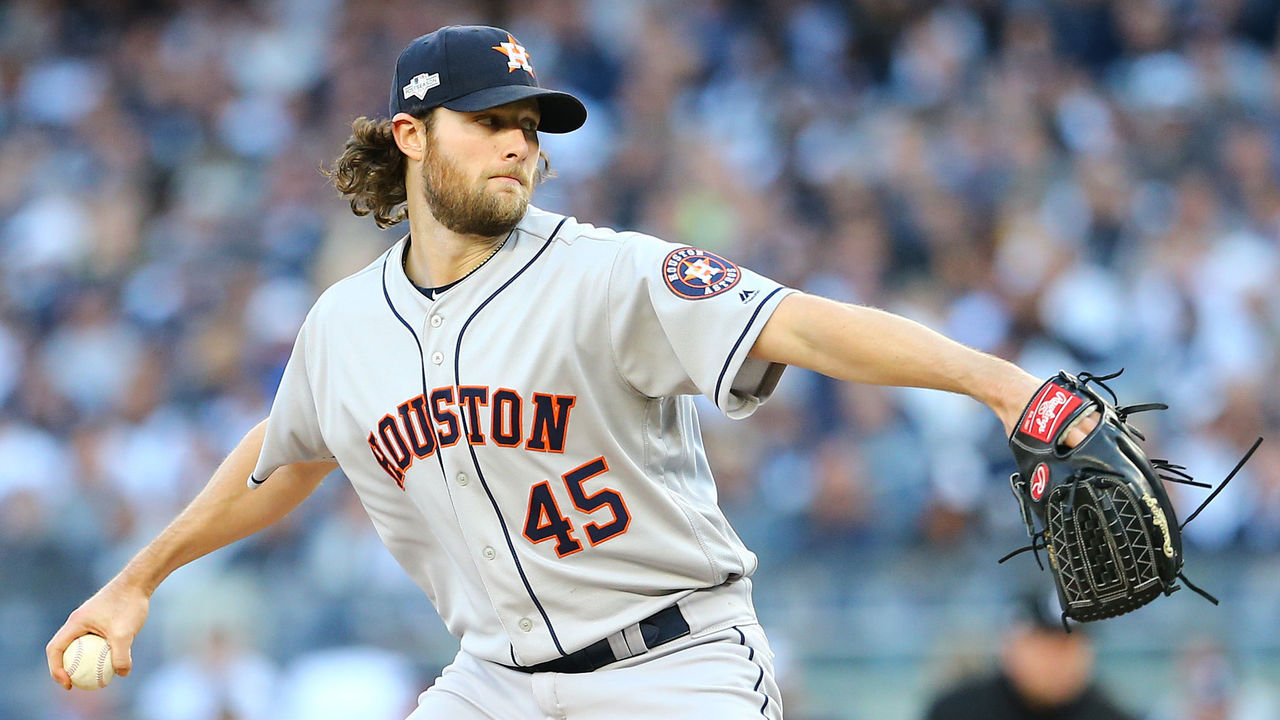 Born: Sept. 8, 1990 (29 years old)
Projected contract: 8 years, $244M
2019 salary: $13.5M
With Mike Trout locked up, the perpetually mediocre Angels - who stumbled to their worst record in two decades in 2019 - are now once again focused on surrounding the future Hall of Famer with a competent supporting cast. They've ostensibly started that process already, having axed Brad Ausmus after one season as manager and replaced him with Joe Maddon, but the heavy lifting is still to come. Now, their top priority is rebuilding a rotation that finished last in the majors in WAR last year and remains tentatively populated by low-upside, low-pedigree types and, hopefully, Shohei Ohtani, who's expected to return to the mound in 2020 following Tommy John surgery. Only a handful of individual pitchers could turn that group into anything resembling a decent rotation, but it just so happens that one such pitcher is available in free agency. (He's from California, to boot.)
Undoubtedly, poor investments in free agency have played a role in the club's recent struggles, but the Angels need Gerrit Cole in order to wrest themselves from their current doldrums. Los Angeles tried the cost-effective route to fix its rotation last winter and finished 28 games below .500, with Matt Harvey and Trevor Cahill, its two "biggest" additions for the 2019 campaign, combining for minus-0.8 WAR in 23 starts. With Trout set to turn 29 this winter, the Angels will throw caution to the wind, behave like the financial juggernaut they are, and fill their most glaring need with the best option money can buy. Cole, who was functionally unbeatable for much of 2019 and has been more valuable over the last two years than every starter except Jacob deGrom and Max Scherzer, will be worth it, too.
Stephen Strasburg, RHP - Houston Astros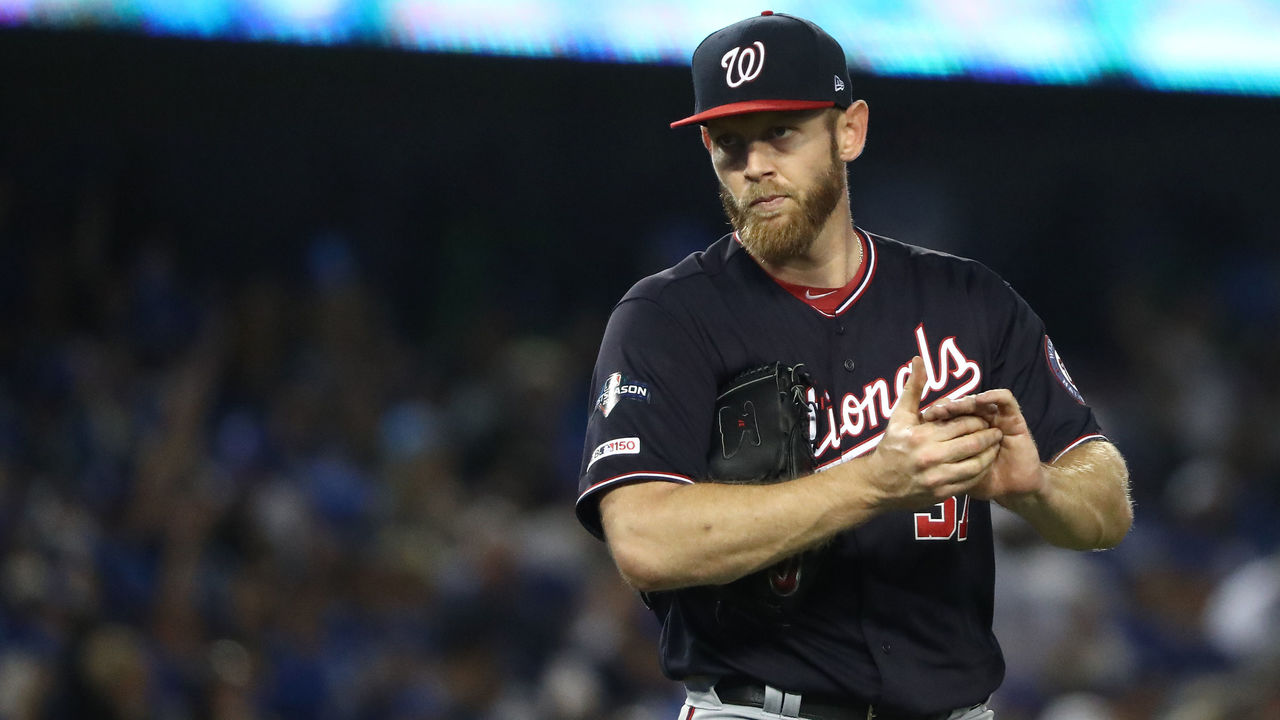 Born: July 20, 1988 (31 years old)
Projected contract: 5 years, $150M
2019 salary: $38.3M
With the bulk of their dynastic roster in place for at least a few more years (and having hoisted the Commissioner's Trophy in 2017), the Astros aren't under any particular pressure to win in 2020, nor do they need to add a top-end free agent in order to compete for a World Series title again after falling one win short in 2019. Having said that, the Astros don't have a compelling reason not to sign Stephen Strasburg, who quieted Houston's mighty lineup so thoroughly in his two World Series starts that he was named series MVP. (The Astros don't have a compelling reason not to at least attempt to re-sign Cole, for that matter, though he seems disinclined to return to Houston.)
They have the money, for one, following their second trip to the World Series in the last three years. (In 2018, when they were ousted in the American League Championship Series, the Astros brought in $368 million in revenue, according to Forbes, the sixth most in the majors.) They're not close to the luxury-tax threshold, either, with a projected 2020 hit of $162 million. And as indomitable as they look to be even without Cole, they still have a sizable hole atop their rotation. Forrest Whitley, Jose Urquidy, or Aaron Sanchez could fill that vacancy at a fraction of the cost, but signing Strasburg - whose ERA was 14 percentage points better than league average in the worst season of his career - would ensure that the Astros enter the 2020 campaign as the best team in baseball. Again.
Madison Bumgarner, LHP - Atlanta Braves
| WAR | ERA | WHIP | FIP | GB% |
| --- | --- | --- | --- | --- |
| 3.2 | 3.90 | 1.13 | 3.90 | 35.8 |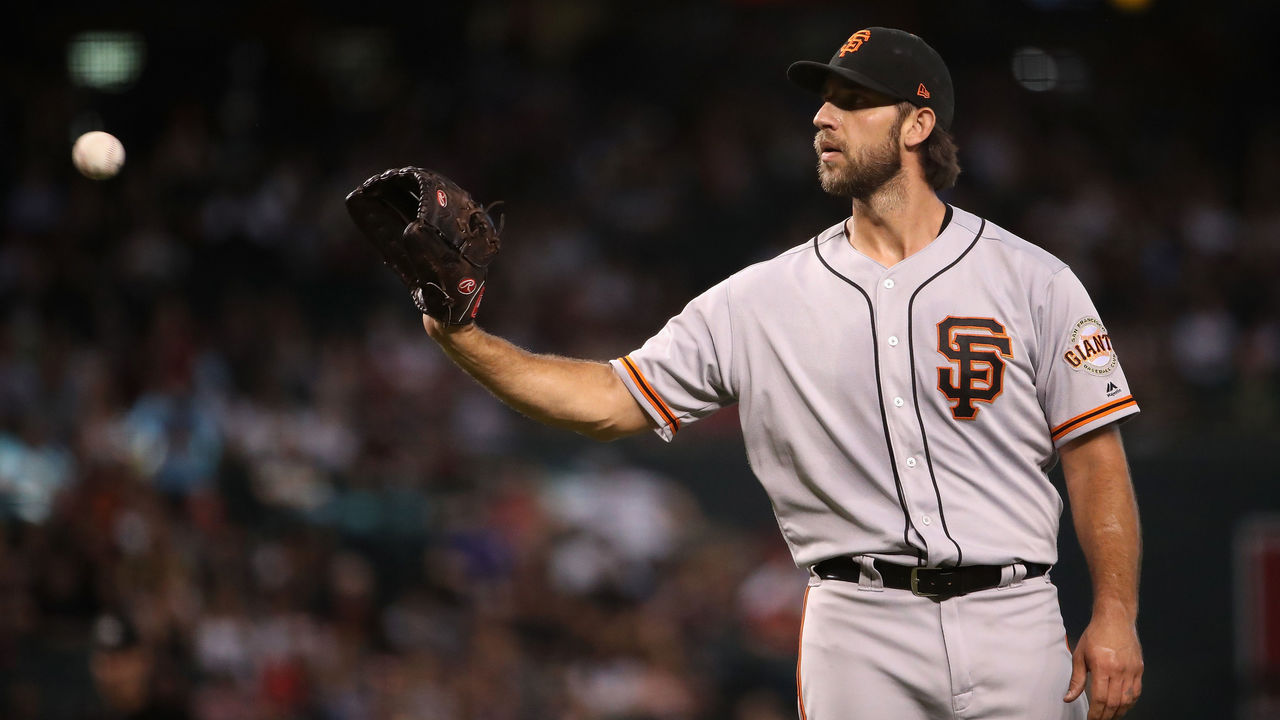 Born: Aug. 1, 1989 (30 years old)
Projected contract: 5 years, $95M
2019 salary: $12M
The Braves were relatively staid in free agency last offseason after capturing a division title in 2018 for the first time in a half-decade, with Josh Donaldson's one-year, $23-million deal representing their biggest commitment. After a second straight ousting in the National League Division Series, though, and with little money on the books for 2020 - and their future somewhat cost-controlled thanks to the team-friendly extensions that they corralled multiple young stars into signing in recent months - expect the back-to-back NL East champions to throw their weight around a bit.
With multiple rotation spots to fill - Dallas Keuchel is eligible to sign elsewhere, and the club declined Julio Teheran's team option - the Braves seem destined to land a big-name starter, their intriguing collection of in-house options (e.g. Bryse Wilson, Touki Toussaint) notwithstanding. And while they should be in contention for Cole and Strasburg, both will likely end up outside their price range: Freddie Freeman's eight-year, $135-million contract remains the biggest in franchise history, and both pitchers are poised to command more than that. As such, it's not hard to envision them settling for Bumgarner, a proud native of the South who would add some much-needed experience to Atlanta's rotation. Injuries have derailed his career a bit in recent years, and he's not an ace anymore, but Bumgarner is still a top-of-the-rotation arm who would help Atlanta maintain its stranglehold over the NL East.
Yasmani Grandal, C - Cincinnati Reds
| WAR | OPS | WRC+ | HR | DRS |
| --- | --- | --- | --- | --- |
| 5.2 | .848 | 121 | 28 | 1 |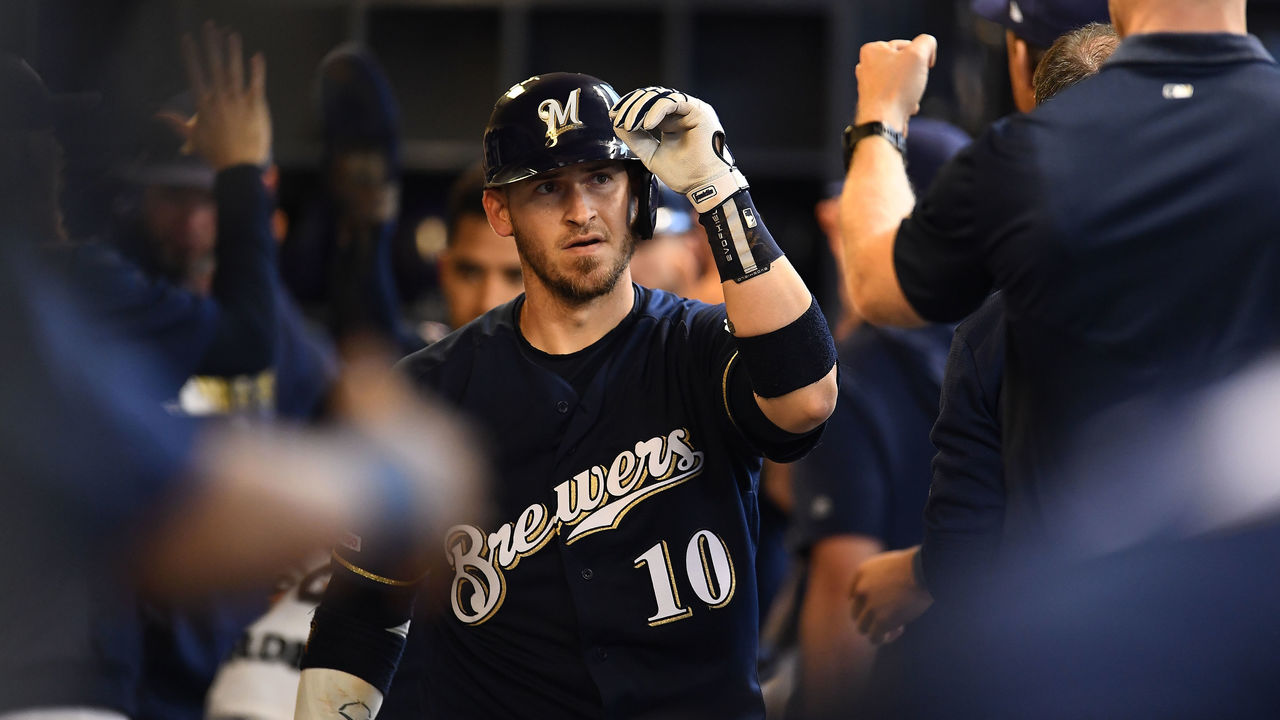 Born: Nov. 8, 1988 (30 years old)
Projected contract: 5 years, $90M
2019 salary: $18.25M
In case any ambiguity remained after they sent a top prospect to Cleveland in a midseason trade for Trevor Bauer, the Reds - who had lost at least 90 games four years in a row coming into 2019 - intend to compete moving forward. As currently constituted, however, the Reds need further reinforcements in order to seriously vie for the National League Central in 2020. Despite their increasingly impressive blend of potential studs (e.g. Nick Senzel, Aristedes Aquino), current studs (Eugenio Suarez, Luis Castillo), and upside-y veterans (e.g. Bauer, Sonny Gray), the Reds still have too many soft spots in their lineup, and one of them is behind the plate. Tucker Barnhart isn't bad, but he's not a first-division catcher. Yasmani Grandal is.
Grandal, who somehow commanded only a one-year deal in free agency last winter, cemented himself as one of the game's elite catchers in 2019, finishing second at his position in WAR while setting full-season career highs in OPS and home runs and posting the second-highest walk rate (17.2%) among qualified hitters. He also remains an elite pitch-framer, saving more runs by turning borderline pitches into strikes than every catcher except Tyler Flowers and Austin Hedges. He could elevate the Reds' staff from good to great while also adding on-base ability and pop to a lineup that sorely lacked it in 2019. The Reds should be in the market for difference-makers now that they're out of their rebuilding abyss, with only $63 million on their books for next season.
Zack Wheeler, RHP - Philadelphia Phillies
| WAR | ERA | WHIP | FIP | GB% |
| --- | --- | --- | --- | --- |
| 4.7 | 3.96 | 1.26 | 3.48 | 43.2% |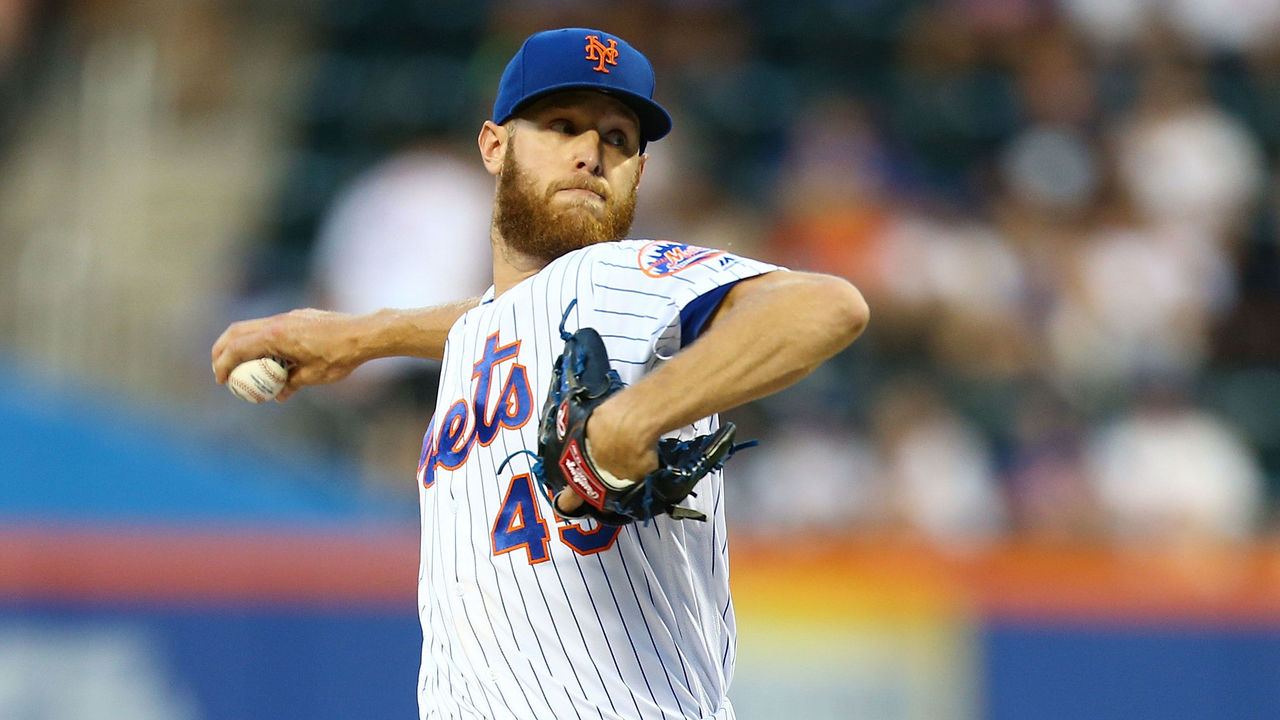 Born: May 30, 1990 (29 years old)
Projected contract: 5 years, $85M
2019 salary: $5.98M
Few teams can appreciate Wheeler's low-key nastiness quite like the Phillies. Throughout his run with the Mets, the hard-throwing right-hander authored a 3.30 ERA in 15 starts against Philadelphia, notching 91 strikeouts in 87 1/3 innings while holding batters to a .224 average. As it happens, few teams need starting pitching as desperately as the Phillies. Their rotation ranked among the worst in the majors in 2019 and played an outsized role in sinking the club's postseason hopes following a supposedly transformative offseason during which they brought in Bryce Harper, Andrew McCutchen, J.T. Realmuto, and others.
Even with all those big names, the Phillies have only $109 million committed to their 2020 payroll, leaving ample room for general manager Matt Klentak to add at least one impact starter through free agency. In truth, though, they might need two. With the exception of ace Aaron Nola, who himself struggled in 2019 after finishing third in National League Cy Young voting the season prior, the Phillies didn't have a single starter post an above-average mark in fielding independent pitching last year, and it's unclear who will fill out their rotation in 2020 after Nola, Jake Arrieta, and Zach Eflin. Nick Pivetta, who looked like a burgeoning star in 2018, pitched himself out of a starting role this year, and Vince Velasquez, another young-ish pitcher thought to have upside, seemed to cement himself as a back-of-the-rotation type. With mounting pressure to succeed in the short-term - Arrieta and Realmuto will be eligible for free agency next winter - don't be surprised if the Phillies give one of those jobs to Wheeler, who ranks 10th among qualified starters in FIP since the start of 2018.
Hyun-Jin Ryu, LHP - Minnesota Twins
| WAR | ERA | WHIP | FIP | GB% |
| --- | --- | --- | --- | --- |
| 4.8 | 2.32 | 1.01 | 3.10 | 50.4 |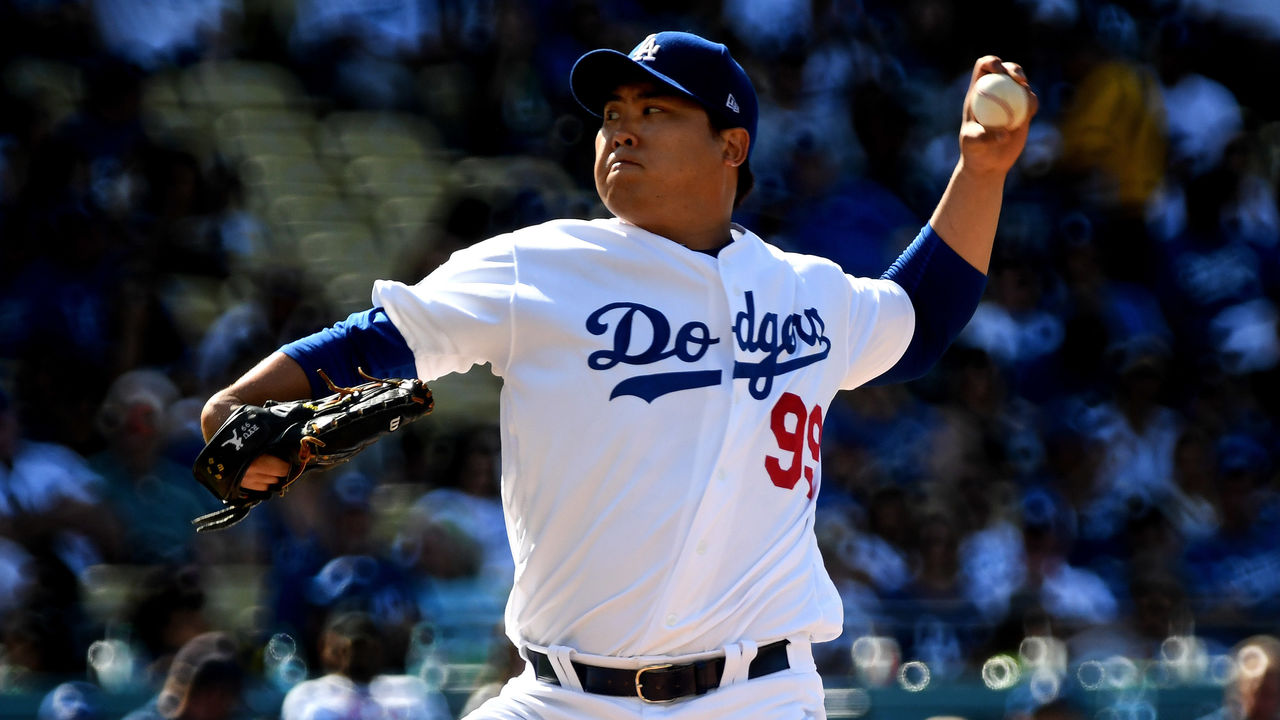 Born: March 25, 1987 (32 years old)
Projected contract: 3 years, $75M
2019 salary: $17.9M
The Twins couldn't have hoped for a more successful 2019 campaign, as the longtime also-rans in the American League Central parlayed an aggressive winter into 101 wins - one shy of the franchise record - and their first division title in nearly a decade. With several key players set to depart in free agency next offseason, however, the Twins are under considerable pressure to win in 2020, and if they hope to sustain the gains made this year, they'll need lots of starting pitching. Jake Odorizzi, Kyle Gibson, and Michael Pineda are all set to sign elsewhere as free agents this winter, leaving much to be desired in Minnesota's resultant 2020 rotation. (It's essentially Jose Berrios and a bunch of guys you've never heard of.)
Ryu, then, is an ideal candidate to fill one of those vacancies given the Twins' relative urgency to compete. Why? Because he's great and he's old. Ryu turns 33 shortly before Opening Day and will command a shorter-term deal that better aligns with the Twins' competitive timeline and mid-market budget. He's still a stud, though, boasting the second-lowest ERA in the majors since the 2018 All-Star break (minimum 200 innings pitched). Ryu would form a potent one-two punch with Berrios that could give the Twins a legitimate shot to win a postseason series - assuming their other starters don't torpedo the club's efforts to get into October again, that is.
Josh Donaldson, 3B - Atlanta Braves
| WAR | OPS | WRC+ | HR | DRS |
| --- | --- | --- | --- | --- |
| 4.9 | .900 | 132 | 37 | 15 |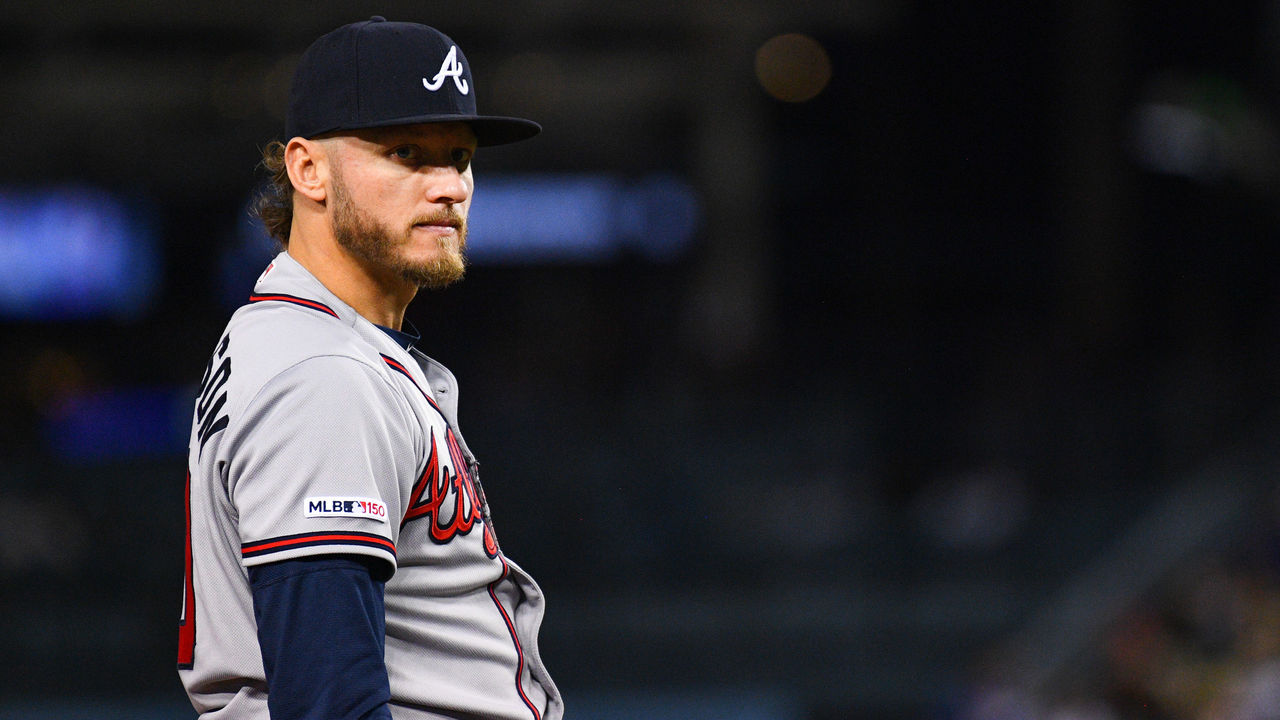 Born: Dec. 8, 1985 (33 years old)
Projected contract: 3 years, $70M
2019 salary: $23M
If it ain't broke, right? The Braves bet on Donaldson to bounce back in 2019 following an injury-marred 2018 campaign and the gamble paid off handsomely. Donaldson, the American League MVP in 2015, missed only seven games all year and looked very much like his former self, finishing 20th in the majors in WAR while shining on both sides of the ball and playing an integral role in the Braves' second straight division title. Not surprisingly, the club is now interested in re-signing him. And a deal makes plenty of sense for both sides.
At 33, Donaldson won't command a big enough deal to derail the Braves' other free-agent goals (see: Bumgarner, Madison) and, on the flip side, with a qualifying offer depressing his earning potential, a deal with Atlanta is the only way for Donaldson to maximize his salary. The Braves could just hand the third-base reins to Austin Riley, theoretically, but a club with World Seris ambitions ought not to eschew such a prime opportunity to keep a superstar talent. Besides, the Braves may need Riley to play the corner outfield should Nick Markakis regress further or Adam Duvall turn back into a pumpkin.
Jake Odorizzi, RHP - Chicago White Sox
| WAR | ERA | WHIP | FIP | GB% |
| --- | --- | --- | --- | --- |
| 4.3 | 3.51 | 1.21 | 3.36 | 35.0 |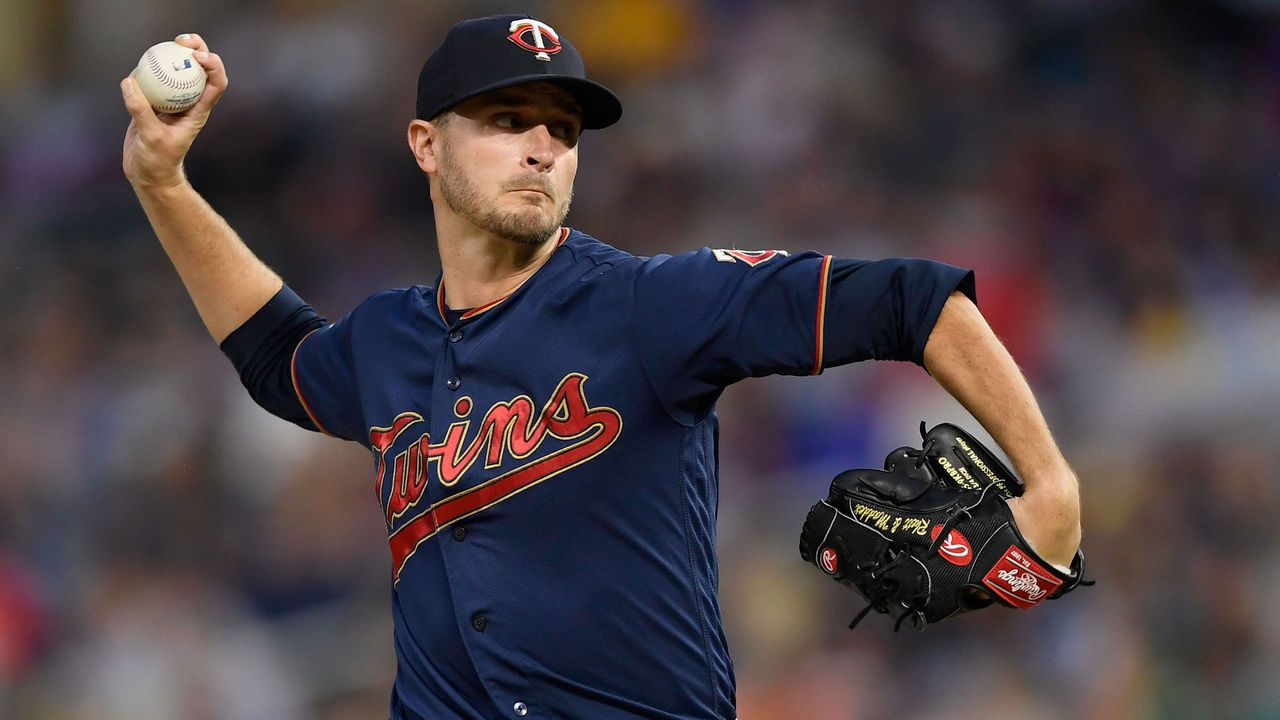 Born: March 27, 1990 (29 years old)
Projected contract: 4 years, $70 million
2019 salary: $9.5M
The White Sox don't look ready to contend just yet, but their rebuild showed legitimate signs of progress this year. Growth from key youngsters like Yoan Moncada, Tim Anderson, and Lucas Giolito - and a solid rookie season from Eloy Jimenez - fueled a 10-win improvement from 2018 and offers sufficient encouragement to begin reinvesting in the 25-man roster. That doesn't mean they should necessarily go out and sign, say, Anthony Rendon, but putting solid veteran contributors in place for 2021 - when, perhaps, Michael Kopech and Nick Madrigal are ready to play in the big leagues every day - seems like the right move.
No area of the roster needs reinforcement as much as the rotation, which saw 14 different pitchers - many of whom were merely stopgap options - combine for a 5.30 ERA and 5.03 FIP in 2019. The White Sox aren't going to hand starts to nearly as many schlubs this year thanks to the recent graduation of Dylan Cease. Between Giolito, Cease, Carson Fulmer, and Reynaldo Lopez, their rotation is actually rather upside-laden, but the odds of all of those guys panning out is extremely low. It'd behoove them to add someone like Odorizzi: a dependable, middle-of-the-rotation veteran with upside who can take some of the developmental pressure off, then slide down the depth chart when the club is ready to compete for real.
Nicholas Castellanos, OF - Chicago White Sox
| WAR | OPS | WRC+ | HR | DRS |
| --- | --- | --- | --- | --- |
| 2.8 | .863 | 121 | 27 | -9 |
Born: March 4, 1992 (27 years old)
Projected contract: 4 years, $64M
2019 salary: $9.95M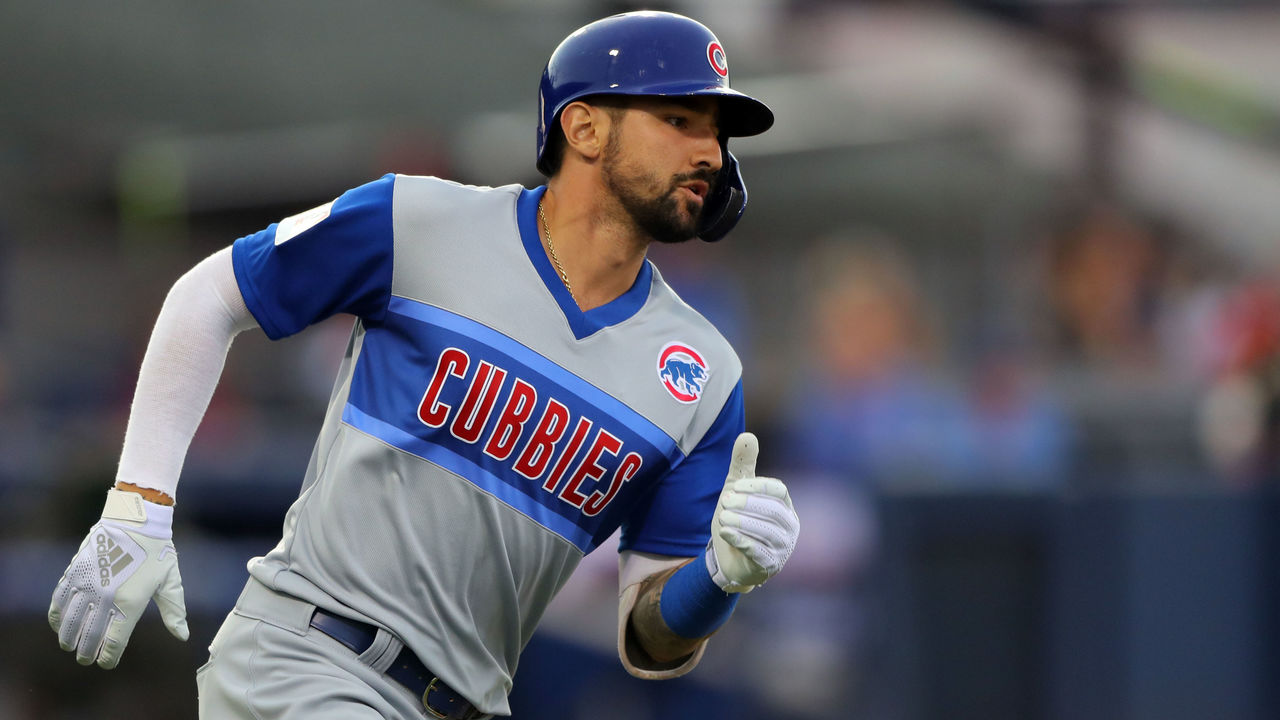 In case you skipped the capsule above, the White Sox would be wise to add a few veterans this winter to increase their developmental margin for error as they approach the end of their rebuild. They'd be particularly well-served to add an outfielder. Last year, the White Sox had the worst offensive outfield in the majors by wRC+ (82), and none of the outfielders on their 40-man roster outside of Eloy Jimenez project as above-average major-league regulars. Top prospect Luis Robert may well be a superstar one day - and sooner rather than later - but the possibility of having two very good outfielders in 2022 shouldn't stop them from adding a good one now, especially with less than $15 million in guaranteed money on their 2020 payroll and a vacancy at designated hitter (assuming Jose Abreu turns down his qualifying offer).
Castellanos is better suited to DH anyway, as the third-baseman-turned-right-fielder is a liability in the outfield but quite capable at the plate. Over the last two seasons, the 27-year-old has outhit the likes of Manny Machado, Gleyber Torres, and Edwin Encarnacion, slashing .294/.346/.513 (126 wRC+) with more isolated power (.219) than Kris Bryant and Anthony Rizzo. Given Chicago's current timeline, he's actually a perfect fit: He can play the corner outfield for now, until a superior outfielder arrives, and then transition into a full-time DH.
Jonah Birenbaum is theScore's senior MLB writer. He steams a good ham. You can find him on Twitter @birenball.
Comments
✕
Where will MLB's top 10 free agents end up?
  Got something to say? Leave a comment below!