The Houston Astros are a dynasty in the making. Their success is the ideal endgame - and case study - for any franchise that goes through a complete teardown.
Jeff Luhnow took over as general manager after the 2011 campaign, which was the first of three consecutive 100-loss seasons in Houston. Some of the core that's anchoring the current Astros team predated Luhnow's involvement, but he was on hand for several key draft picks and perfectly timed trades.
With Game 1 of the World Series set for Tuesday night in Houston, let's break down how this behemoth was built now that the Astros are in a position to win their second championship in three seasons. In each category, we'll go in chronological order of when each player was acquired.
Note: This is based on Houston's active roster during the ALCS
| Method | Players |
| --- | --- |
| Homegrown | 9 |
| Free Agent | 5 |
| Trade | 10 |
| Waivers | 1 |
Homegrown
Jose Altuve (March 6, 2007): The ALCS Game 6 hero is also the longest-tenured player in the Astros' organization. He's done it all, and was also witness to the franchise's turnaround in real time. Altuve's first All-Star appearance (2012) coincided with 103 losses. The 29-year-old has persevered, winning the 2017 AL MVP and three batting titles along the way. He also owns a career slash line of .287/.354/.552 with 13 home runs in 43 postseason games.
George Springer (June 6, 2011): One of the last additions from the previous Astros regime, Springer was a first-round selection in the 2011 draft (11th overall). He's become a key fixture atop the Astros' batting order and he earned World Series MVP honors in 2017 when he batted .379 with five homers, three doubles, seven RBIs, and eight runs scored over the seven-game series against the Los Angeles Dodgers.
Carlos Correa (June 4, 2012): Correa served as Luhnow's first draft pick when he was selected first overall in 2012. He burst onto the scene as a 20-year-old in 2015 to win the AL Rookie of the Year. Injuries have stunted his development over the last two seasons, but Correa's stick is still dangerous in an overwhelming lineup.
Bryan Abreu (Nov. 11, 2013): Abreu, one of the Astros' roster replacements in the ALCS, was used sparingly against the New York Yankees. He was initially signed out of the Dominican Republic and has risen through the minor leagues as both a starter and reliever.
Josh James (June 7, 2014): A 34th-round pick, James looked like a solid option to join the rotation but has settled into his role as a reliever capable of throwing multiple innings.
Jose Urquidy (March 2, 2015): Signed out of Mexico at 19, Urquidy made his major-league debut this summer and was primarily used as a starter at the back of the rotation. He was an important component of Game 6 against the Yankees. Though he allowed a home run, he otherwise kept New York at bay and struck out five in 2 2/3 innings of work.
Alex Bregman (June 8, 2015): Somewhat famously selected second overall behind Dansby Swanson (hence why he wears the number two), Bregman looks like a perennial MVP candidate. His patience is unbelievable. Despite batting only .167 in the ALCS, he still posted an on-base percentage of .423 and scored four times.
Kyle Tucker (June 8, 2015): Tucker - who was selected just three picks after Bregman - has mostly been relegated to backup duties, but he's a notable weapon based on his pedigree. He hasn't made a splash yet, but Tucker's posted a .946 OPS in 225 games at Triple-A.
Yuli Gurriel (July 16, 2016): Gurriel played in Cuba and Japan before signing as an international free agent at 32. He appeared in just 15 minor-league games before making his major-league debut Aug. 21, 2016. He hit a career-high 31 home runs in 2019 but saved the best for the postseason. Mired in a 1-for-20 slump, he yanked a three-run blast in the first inning of Game 6 against New York. He'll be the primary first baseman versus the Washington Nationals.
Free agents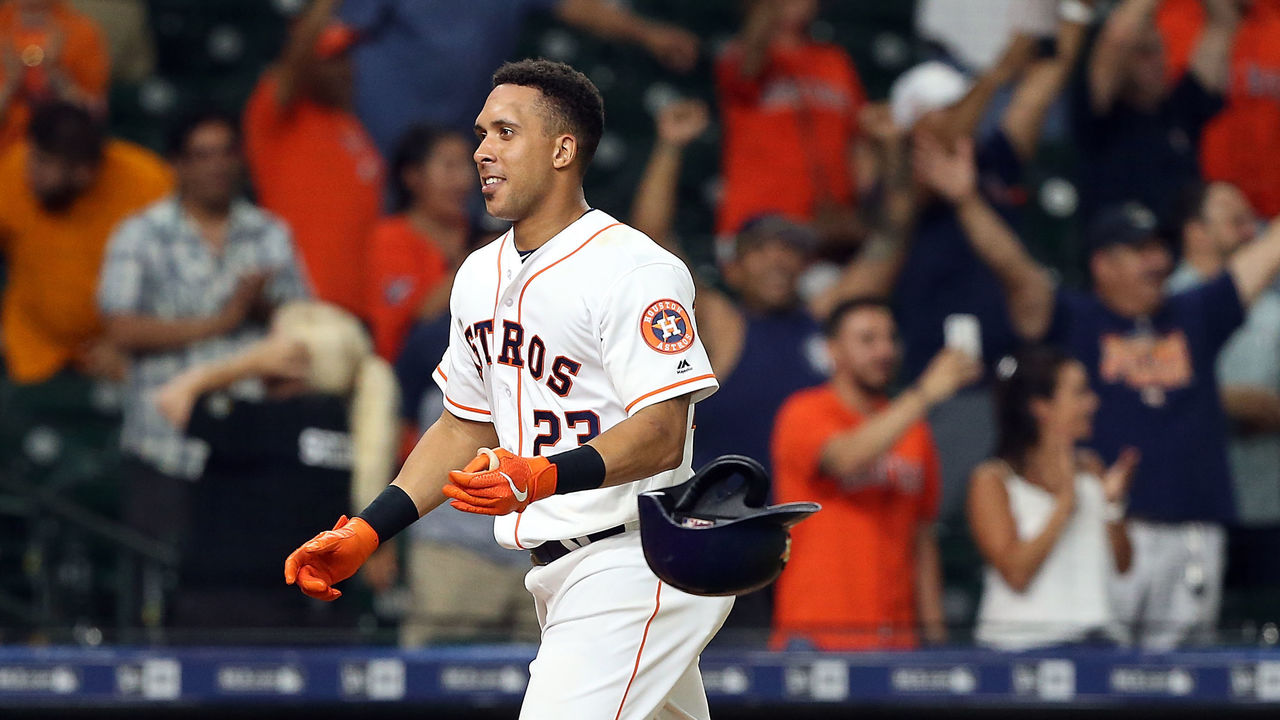 Josh Reddick (Nov. 23, 2016): Reddick signed a four-year, $52-million contract with Houston after splitting the 2016 campaign between the Oakland Athletics and Dodgers. His first year with the club was his most productive from an offensive standpoint (.314/.363/.484).
Joe Smith (Dec. 13, 2017): A journeyman reliever, Smith has found a home in Houston. Though injured for a chunk of 2019, he was dynamite when healthy. He'll be one of the most trusted options out of the bullpen in the World Series once Justin Verlander and Gerrit Cole leave their starts.
Hector Rondon (Dec. 15, 2017): Rondon signed with the Astros after a five-year stint with the Cubs. The Astros have leaned heavily on the right-hander over two regular seasons (119 2/3 innings in 125 games) but he's only pitched 1 1/3 innings in the last two postseasons.
Robinson Chirinos (Dec. 6, 2018): The Astros needed to replace Brian McCann behind the plate, and Chirinos was a relatively inexpensive option with a sneakily strong bat. He only hit .238 this season but mashed 17 homers to go with a .347 OBP. He'll split time at catcher with Martin Maldonado.
Michael Brantley (Dec. 19, 2018): Brantley is the biggest splash Luhnow has made in free agency, as he's generally elected to fill the roster via trade. Signing the left-handed batter was a savvy move as Houston's other top hitters (Altuve, Springer, Bregman, Correa) are all right-handed. Brantley paid immediate dividends by batting .311/.372/.503 with a career-high 22 home runs. Most importantly, he stayed on the field for 148 games.
Trades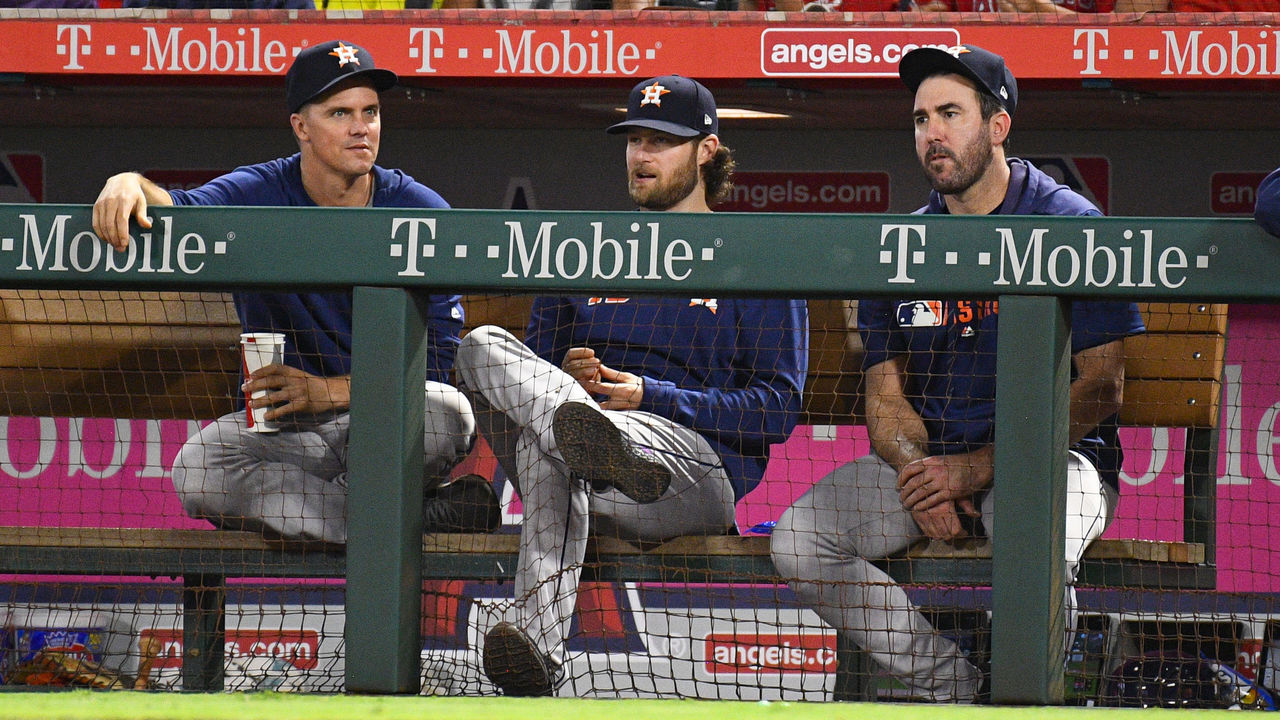 Brad Peacock (Feb. 4, 2013): No pitcher has been with the Astros longer than Peacock. After being used often in their 2017 playoff run, Peacock was left off the postseason roster in 2018 and again in the ALDS this year. He returned to the fold against the Yankees and finished Game 5 before starting Game 6. He still only amassed a total of 2 2/3 innings in the series.
Jake Marisnick (July 31, 2014): Marisnick was selected in the third round of the 2009 draft by the Toronto Blue Jays before being traded to the Miami Marlins. Eventually, he landed in Houston and has blossomed into a reliable, defense-first fourth outfielder.
Yordan Alvarez (Aug. 1, 2016): Alvarez was the acquisition cost for the Dodgers acquiring reliever Josh Fields for the home stretch in 2016. Alvarez hit almost immediately and quickly rose through the Astros' minor-league ranks. He's struggled through his first taste of postseason ball (.171/.227/.244 with zero home runs) but was one of the most fearsome bats en route to what's almost certainly the AL Rookie of the Year.
Justin Verlander (Aug. 31, 2017): Verlander put the Astros over the top in 2017 and he's followed it up with two of the best seasons of his career. An absolute workhorse, Verlander finished second in Cy Young voting a year ago and his only competition this season will be a teammate who was likewise picked up via trade.
Gerrit Cole (Jan. 12, 2018): The soon-to-be free agent - and possible Cy Young front-runner - has been nothing short of dominant in two seasons in Houston. He hasn't lost since May and has altogether gone 35-10 with a 2.68 ERA, 0.96 WHIP, and 602 strikeouts in 412 2/3 innings with the Astros. And that's not even including his postseason resume. In three playoff starts against the Tampa Bay Rays and Yankees this year, he's 3-0 with a ridiculous 0.40 ERA. It makes the acquisition cost of Michael Feliz, Jason Martin, Colin Moran, and Joe Musgrove even more palatable in hindsight.
Ryan Pressly (July 27, 2018): The Twins just kind of gave Pressly away. He wasn't bad in Minnesota, but he definitely wasn't the lockdown reliever he's been since. He authored a 0.77 ERA in 23 1/3 innings down the stretch in 2018 and was an All-Star this season. A right knee injury does bring both his availability and subsequent effectiveness into question, but if he's healthy, he'll be a formidable foe. He's also under contract through 2021.
Roberto Osuna (July 30, 2018): Osuna was picked up from Toronto while serving a suspension for domestic violence. The Astros sent Ken Giles and David Paulino the other way. In 2019, Osuna led the AL with 38 saves but nearly threw away the ALCS when he served up a two-run home run to DJ LeMahieu.
Aledmys Diaz (Nov. 17, 2018): Also acquired from the Blue Jays - in exchange for right-hander Trent Thornton - Diaz has been a reliable bench option and will likely be used as a pinch hitter when the World Series shifts to the Nationals' ballpark.
Martin Maldonado (July 31, 2019): The Astros acquired Maldonado at the 2018 deadline, let him walk in the offseason, and reacquired him this past summer. He's elite at throwing out base-stealers and has developed a reputation over the years as a premier defensive backstop.
Zack Greinke (July 31, 2019): The Astros built their offensive core from within and approached the rotation almost exclusively via trade. After Verlander and Cole, Greinke is the third ace they've landed in recent years. The 35-year-old has excelled between Arizona and Houston this season, going 18-5 with a 2.93 ERA in 33 starts and is in prime position to start Game 3 in his World Series debut.
Waivers
Will Harris (Nov. 3, 2014): Sometimes, you just need to find the right fit. Harris was claimed three times off waivers between 2013 and 2014, finally sticking for good with the Astros. He's been essential during his tenure, posting a 2.36 ERA over 297 innings in parts of five seasons. He's also yet to allow a run this postseason over 5 2/3 innings. Harris will play a key role against Washington.