The year that Japanese baseball - and its stars - stepped into the American spotlight
Photo illustration by Nick Roy / theScore
A few months before the Tokyo Dome became the site of Henry Cotto's greatest professional triumph, the diehards in the outfield bleachers welcomed him to the hallowed home of Yomiuri Giants baseball by inadvertently startling him to the core.
Cotto was a decade and four teams into a respectable journeyman career as an MLB outfielder when, in the winter of 1994, with no major-league suitors, he persuaded the Baltimore Orioles to nix his minor-league contract so that he could sign in Japan with the Giants. Yomiuri, then as now, was the country's winningest franchise. A Bronx-born former New York Yankee could easily grasp the allure of playing in front of the team's legions of orange-clad devotees.
That April, Cotto jogged into center field halfway around the world for the first time. In a baseball culture where the home faithful pound drums, toot trumpets, and chant in unison from first pitch through to the final out, no one had thought to warn him about the noise.
"I thought they had put a firecracker behind me," Cotto said.
Cotto started the season slowly, hitting well below .200 through the first couple of weeks, but gradually he found his footing amid the cacophony. The Giants relied on him for power and capable defense, trotting him out in center field almost every day between Dan Gladden - another of the club's three gaijin, or foreigners, and a two-time World Series champion with the Minnesota Twins - and a promising 20-year-old slugger named Hideki Matsui.
Across his 107 appearances that regular season, Cotto came to know what else he could expect on the Tokyo Dome turf and in daily life. By train, commuting to the stadium from his apartment took a tidy 15 minutes. On the road, surrounded by full-throated crowds across Nippon Professional Baseball, traveling Yomiuri fans would usually manage to make themselves heard.
Through meticulous study, Cotto memorized the pitches that opposing hurlers liked to throw at tense moments, knowledge that was never more opportune than in the eighth inning of the decisive game of Japan's 1994 championship series. As the Seibu Lions' Takehiro Ishii toed the mound some 60 feet away, Cotto reminded himself to look for the veteran reliever's slider. Soon thereafter Ishii hung a slider over the plate.
Cotto bashed the offering to deep left field and flung his bat aside with gusto. The ball landed inside the foul pole, somewhere within a sea of rapt percussionists.
"That was a great moment for me," Cotto said. "Going over there and hitting a home run to win the game. And not only to win the game - to win the whole thing."
In the 116-year history of the World Series, only two forces have proven potent enough to prompt its cancellation. The season after the two major leagues staged an inaugural championship, the owner of the National League pennant-holding New York Giants withheld his team from the proceedings, refusing to recognize the much younger American League's claim to equal legitimacy. That was in 1904.
Nine decades later, MLB players embarked in midsummer on a historically long strike, and as October arrived, the lights were still out at ballparks across the U.S. and Canada.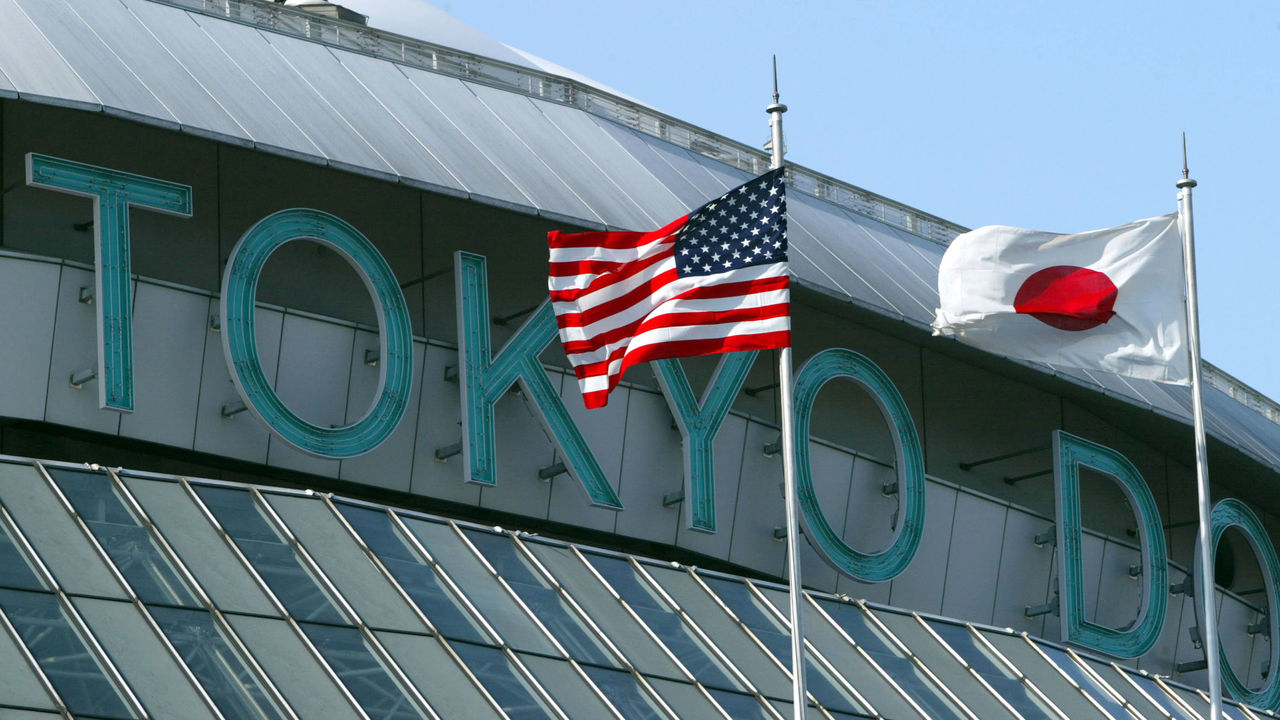 Deprived of playoff action for the first time in their lives, a segment of the American public sought to fill the void by shifting its gaze overseas to the sport's next-best product. These fans found a riveting alternative: the 1994 Japan Series, a domestic championship that transcended its own borders just as Japanese stars were about to transform baseball by taking their superlative talents to MLB.
"(T)he game goes on - played as passionately and, given the vacuum left in North America, as poignantly as ever," Sports Illustrated's Tom Verducci, dispatched to Tokyo for the title series, wrote in a cover story for the Oct. 31, 1994 edition of the magazine.
"The only baseball that was on was ours," former major-league third baseman Mike Pagliarulo, who played for Seibu that season, told theScore. "I know that the Japanese players loved (the attention). … They knew that instead of everyone watching the World Series now, they're watching them."
The Japan Series was televised, on a week's tape delay, in major markets around the U.S. in early November 1994, but few viewers would have been able to place the faces beyond those of Pagliarulo and Cotto. Japanese icons from Hideo Nomo and Ichiro Suzuki to Yu Darvish and Shohei Ohtani - plus scores of their countrymen in between - had yet to jump to the majors. Robert Whiting, an expert author on Japanese culture, said 1994 was the first time a critical mass of Americans paid notice to baseball there.
They were rewarded with a showdown between clubs with dueling claims to superiority: fabled Yomiuri, winners of a record 17 Japan Series but only two in the preceding 20 years, and ascendant Seibu, Japanese champions in six of eight seasons leading into 1994. As Lions manager Masaaki Mori told Verducci at the time, "This is the series everyone has been waiting for."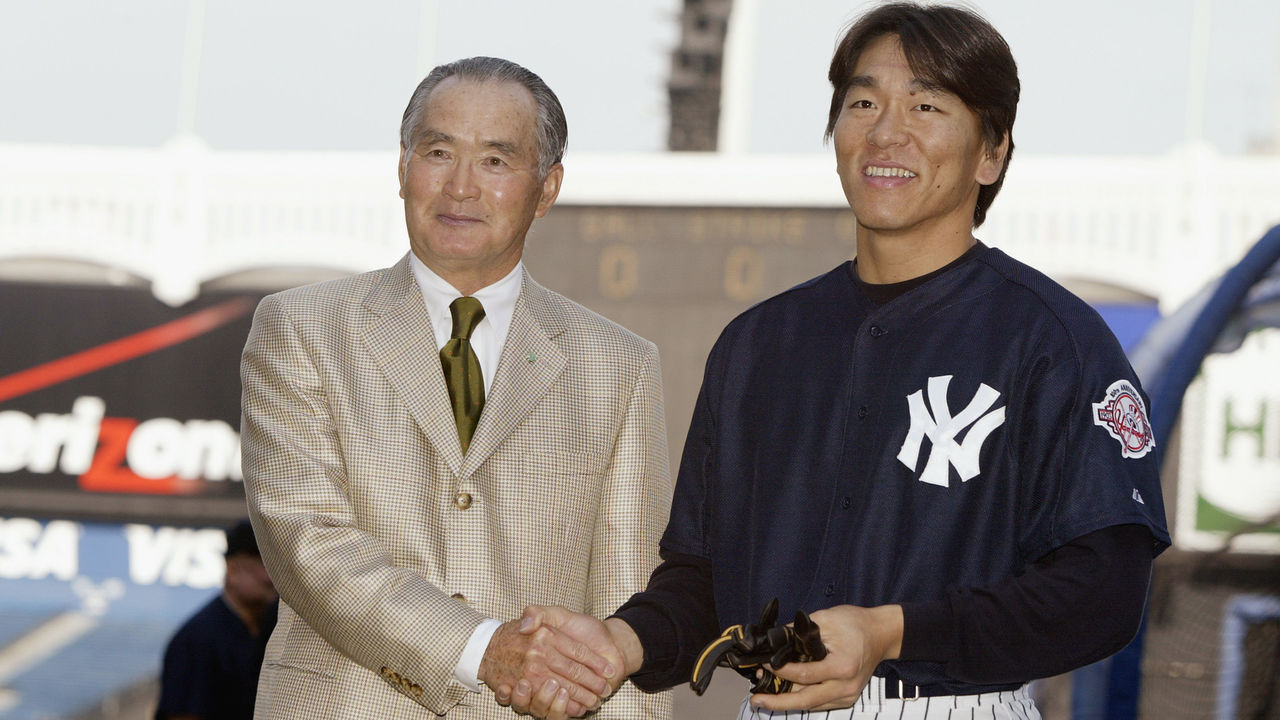 That anticipation was due in part to Mori's history with Yomiuri's manager. In the 1960s and '70s, Mori and Shigeo Nagashima played together for Yomiuri during a resplendent era of Giants baseball, in which the franchise won 10 Japan Series in 11 years. When Nagashima - Japan's "Mr. Baseball" - retired to become Yomiuri's manager, he declined to hire Mori, the club's loyal, longtime catcher, as a coach.
Mori became a Seibu man instead, presiding over the Lions' metamorphosis into Japan's ruling team. In 1994, the Lions' 76-52-2 record easily won them Nippon Professional Baseball's Pacific League pennant - and yet another berth in the Japan Series. (Those two ties aren't a misprint; NPB games are played with a 12-inning limit.)
Yomiuri's path to the final was more strenuous. The Giants finished 70-60 and won NPB's Central League by a single game - the product of a 6-3 victory over the second-place Chunichi Dragons on the last day of the season, keyed by home runs from Cotto and Matsui.

That set up a best-of-seven for the championship that teemed with intriguing matchups. Pagliarulo and Gladden, former Twins teammates and close friends, would each vie to add a Japan Series title to their World Series win from 1991. Seibu, boasting NPB's best run differential by a wide margin, was favored in every facet of the game but pitching, where the Giants pinned the weight of their aspirations on a stable of ace starters: Central League MVP Masumi Kuwata, Masaki Saito, and Hiromi Makihara, who that May had twirled Japan's first perfect game in 16 years.
On Oct. 22, 1994, Nagashima sent Kuwata to the mound to face the Lions in Game 1. In front of 46,177 fans at the Tokyo Dome, he and his relievers were shelled in an 11-0 loss.
The Giants' offense barely improved in Game 2, mustering just two hits and, in the first inning, one lone run created in part by a Seibu error. The task of saving the day fell to Makihara, whose complete-game shutout - preserved by a diving catch from Kaname Yashiki, Yomiuri's backup center fielder, with a runner on second in the ninth - delivered the Giants a 1-0 win. For his heroics, Verducci reported, Makihara received a stuffed animal as player of the game.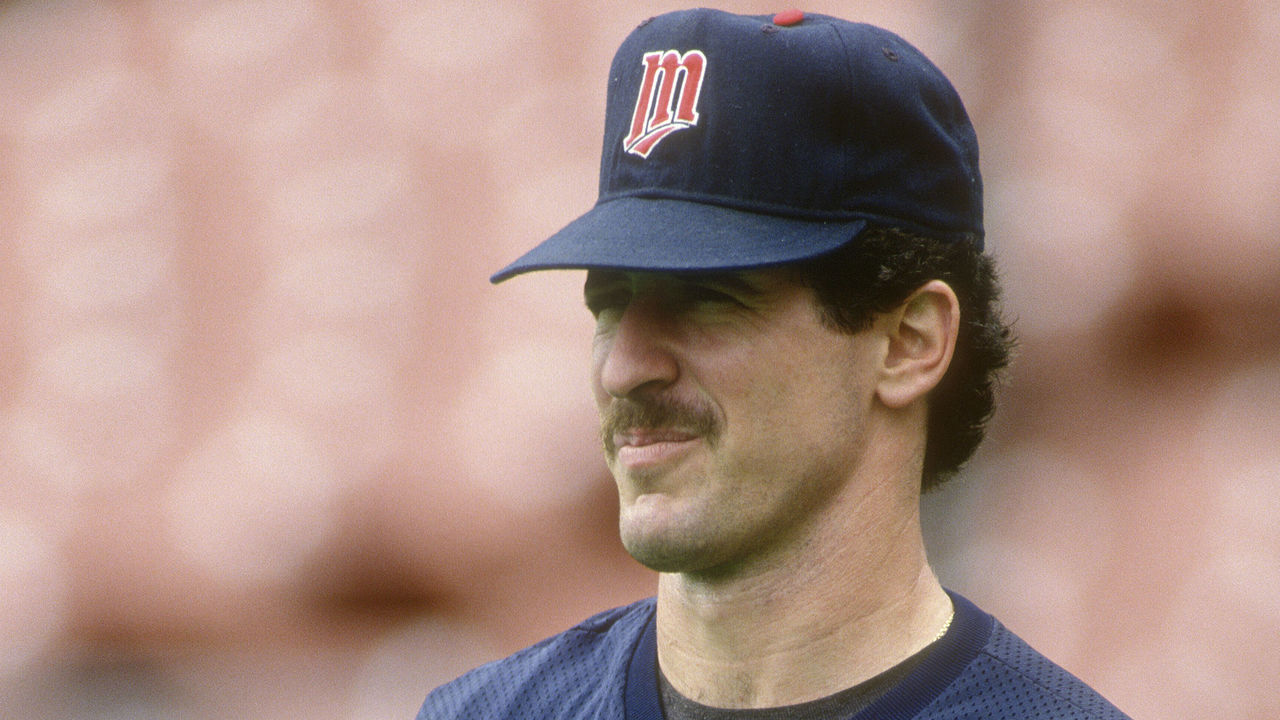 The series shifted to Seibu Lions Stadium in the Tokyo suburb of Saitama for three midweek contests - the first Japan Series games to be played at night since the 1964 Tokyo Olympics. Across the country, 40% of TV sets tuned into Games 3 and 4 as the Giants and Lions played to an enthralling split. On Oct. 25, Yomiuri won 2-1 in 10 innings when Seibu let slip two bases-loaded opportunities. The following night, Yomiuri's Hiromoto Okubo tied Game 4 on a pinch-hit homer with two outs in the ninth, only for Seibu to prevail 6-5 on a walk-off single three innings later.
"Finally, we got inspired," Mori said after Game 4, as quoted in The Japan Times. "I hope we can grab the momentum with this win."
In Game 5, though, momentum shifted Yomiuri's way courtesy of a sixth-inning grand slam from pinch hitter Koichi Ogata - the 140-pound utility man's first and only homer of the season. ("Nobody expected him to hit a home run," Matsui recalled to theScore recently through his longtime interpreter, Roger Kahlon. "That was just something that I'll never forget.") Cotto plated two insurance runs with a homer of his own in the eighth, while Kuwata's complete game, as Nagashima told reporters, "took away the bad mood of last night's sayonara loss."

Game 6 arrived Oct. 29 on the heels of astonishing news: Mori announced his intention to retire as Seibu manager after the series. Only later did it become clear that Lions management, seeking a shake-up despite Mori's abundance of championships, had forced him out of the position. His players would have to win twice in Tokyo for him to ride into the sunset with one last trophy.
Between Mori and that storybook ending stood Makihara, who clinched series MVP honors with another dazzling start in Game 6. Stumping Seibu's lineup with a steady diet of breaking pitches, he allowed but one run in nine innings. Cotto tripled and scored in the second inning; Matsui was doubled home in the third. With the Giants up 2-1 in the eighth, Cotto strode to the batter's box to face Ishii, the pitcher of the year in Japanese baseball only two seasons earlier.
Cotto's homer to deep left field was a dagger. Yomiuri won 3-1, and as jubilant Giants lifted Nagashima overhead, the gaijin newcomer paused to reflect on all his club had just accomplished.
"I played in the (MLB) playoffs in 1984," Cotto told reporters. "But I feel better than that."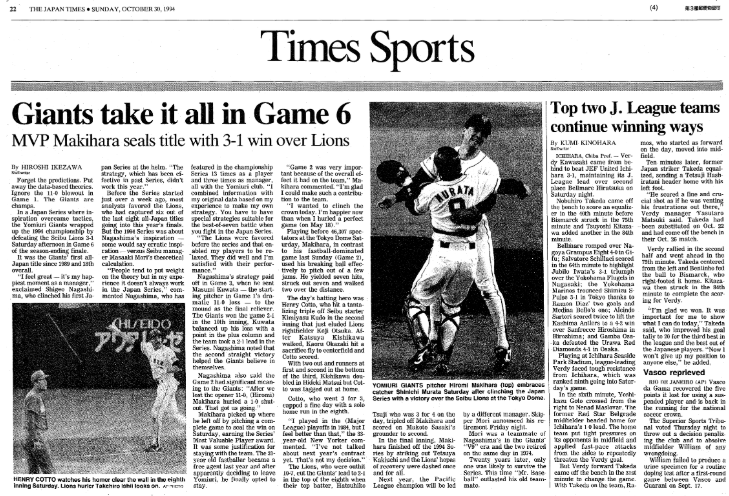 After the final out, Japan Times baseball columnist Wayne Graczyk boarded a transpacific plane to escort tapes of all six games to Chicago, where the American regional TV network SportsChannel had recruited White Sox broadcasters Hawk Harrelson and Tom Paciorek out of their strike-induced sabbatical to call the series. The plan to telecast their commentary in prime time over the next week encountered only one fleeting snag: The announcers hadn't expected such noise from the Japanese crowds.
"The drums they beat there were just driving both of us crazy," Harrelson said in a telephone interview. "We kept looking at each other, rolling our eyes back in our heads. They started in the first inning and didn't stop until the game was over."
Overall, Harrelson enjoyed the experience; he later heard that SportsChannel executives were ecstatic with the ratings. And though the Japan Series didn't totally soothe American sourness over the cancellation of the World Series - upon Graczyk's return to Japan, he informed his readers that the mood surrounding MLB's labor standoff remained "depressing" - the groundbreaking production did succeed in enriching at least one young viewer's life.
When the MLB season ended with the White Sox 21 games above .500, Patrick Newman, a teenaged Chicagoan and diehard baseball fan, was none too pleased. Being able to consume every minute of the Japanese championship was a welcome alternative. Newman later studied in Japan and worked there for a few years. In 2008 he founded NPB Tracker, a website dedicated to informing English-speaking fans about the ins and outs of the Japanese game.
A long way from his adolescent living room, he has remembered all the while how this passion was kindled.
"I think (the 1994 Japan Series) had a very positive effect - to see that and experience that when I was 15 and impressionable," Newman said. "It was great. I wanted more, for sure."
In 1994, the Kintetsu Buffaloes finished several games behind Seibu in NPB's Pacific League, well short of contending for a spot in the Japan Series. But two months after Harrelson's narration aired on SportsChannel, the club's best pitcher seized the spotlight with a revelation that changed baseball forever: He wanted to play in America.
Hideo Nomo was not the first Japanese player to grace an MLB roster; that distinction belongs to Masanori Murakami, a southpaw whose Pacific League team loaned him to the San Francisco Giants for two seasons in the 1960s. But when Nomo signed a contract with the Los Angeles Dodgers in February 1995, as the strike continued, he became the first player to make the leap of his own volition.
To Whiting, a confluence of factors suggested that timing made sense. American fans, of course, had just started watching and thinking about Japanese baseball, at a time when the internet, satellite TV, and jet travel were increasingly connecting the countries. Nomo had dreamt of playing in the majors since childhood, and by retiring from the Japanese game, he could free himself from the reserve clause that barred most players from entering free agency.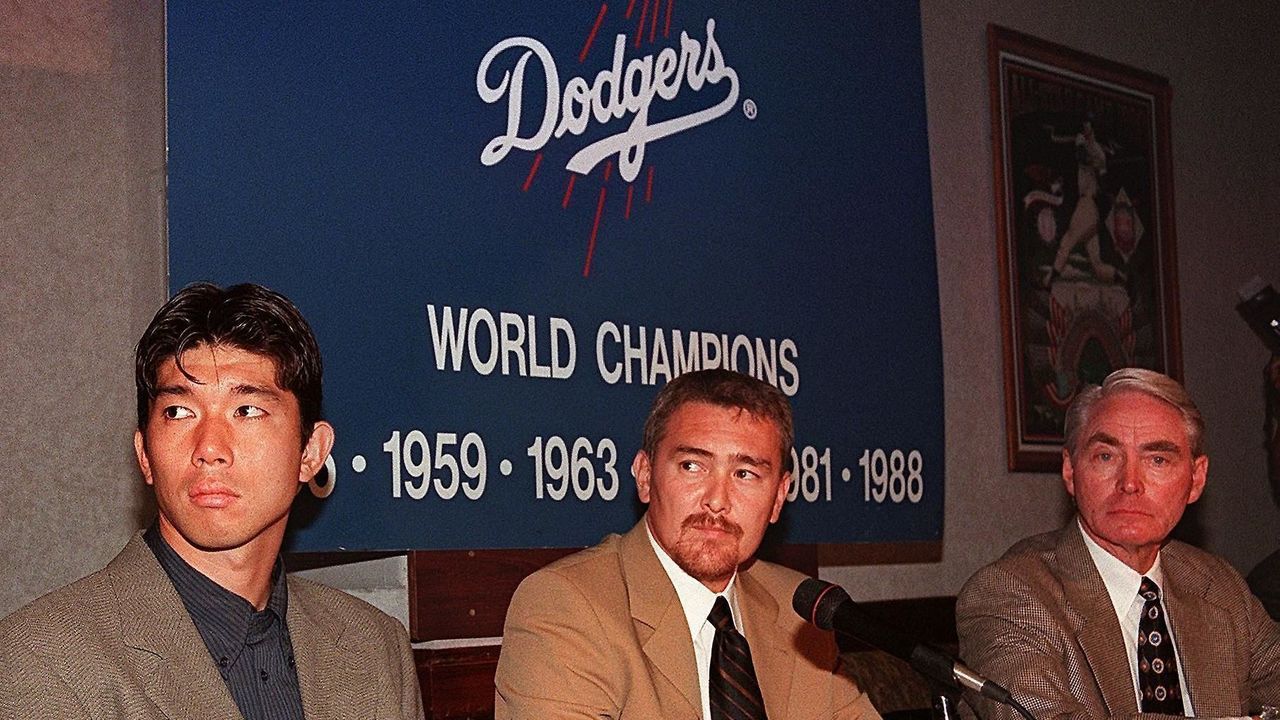 The implications of Nomo's maneuver reached far beyond his electrifying debut season with the Dodgers, at the end of which he was voted National League Rookie of the Year. He paved the way for a procession of Japanese players - several dozen in all, including five with multiple MLB All-Star selections to their names - to follow him to the majors in every season since.
"I'm really happy for what Hideo has done," Don Nomura, the agent who guided Nomo to MLB, said in an interview. "If he failed, I think everybody would have been scared to make any moves. But he certainly gave hope for the next generation to challenge and compete at a higher level.
"Because of his success," Nomura said, "it gave them confidence."
In Japan, the contemporaneous reaction to Nomo's departure was not so rosy. Public opinion amassed against him; baseball fans, team officials, and members of the media viewed his decision as traitorous, hoping he would fail and feel commensurate shame. Even Nomo's father, Shizuo, didn't speak to him for a while, Whiting said.
Nomo wasn't deterred by the backlash, nor overwhelmed by the nearly 100 Japanese journalists who swept into San Francisco on May 2, 1995 to chronicle his first MLB start. (The disturbance moved manager Tommy Lasorda to boot all photographers from the Dodgers' clubhouse.) With the strike finally resolved, Nomo one-hit Barry Bonds' Giants over five scoreless innings, a performance that was telecast live across Japan starting at 4:33 a.m. local time.
There were few games that season in which Nomo faltered. In his fourth start, he struck out 14 against the Pittsburgh Pirates. In his seventh start, he two-hit the New York Mets, prompting losing pitcher Bret Saberhagen to acknowledge Nomo "was becoming a folk hero here." In his 12th start, he struck out 13 and blanked the Colorado Rockies - as fans in eight Japanese cities watched on giant outdoor TV screens that had been specially installed for the occasion.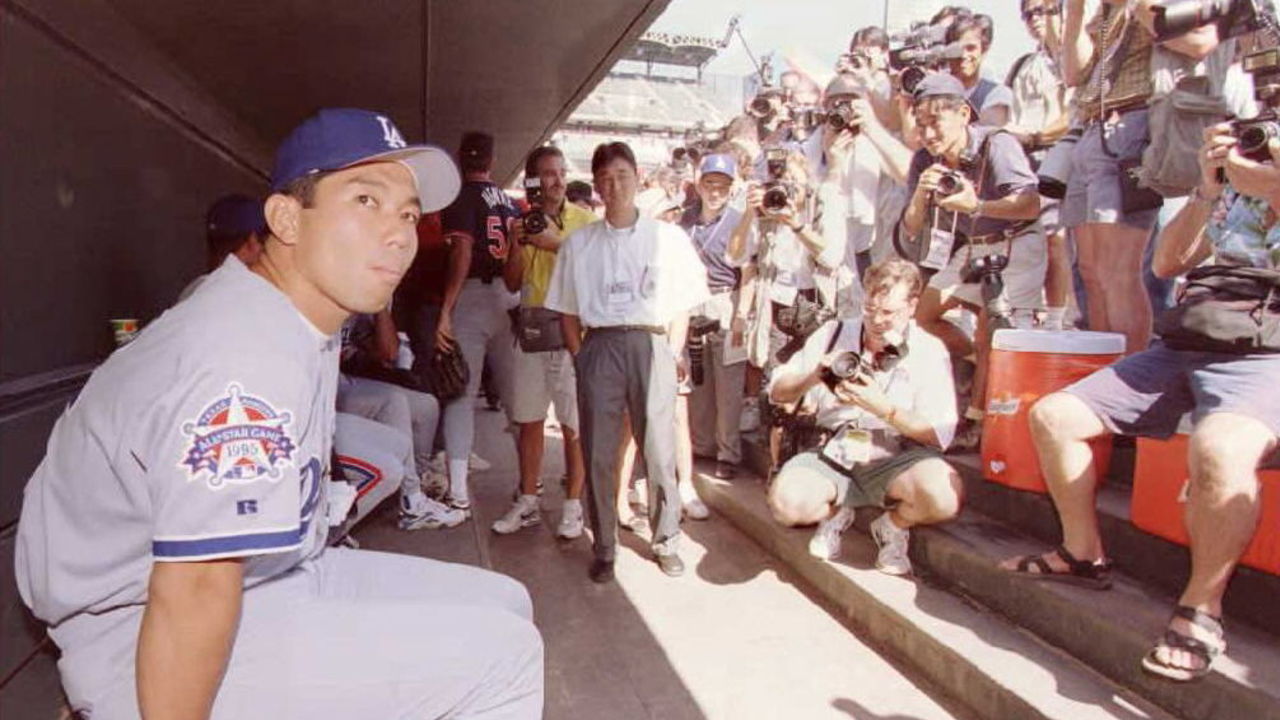 Indeed, Whiting said, Japan's perception of Nomo changed completely as he started to dominate major-league hitting: "That was a huge boost to the Japanese national ego." That July, when Nomo was tapped to start for the National League in the All-Star Game, Shizuo Nomo told Kyodo News that his son had "done a great job" since leaving for the States. No less an authority than Shigeo Nagashima hailed the selection as "terrific."
"The Americans will see Japanese baseball through Nomo," the Yomiuri manager said at the time, "and I want him to do his level best."
In October 1995, shortly after the Dodgers were eliminated in the NL Division Series, The Japan Times lauded Nomo's marquee year, writing in an editorial that he'd singlehandedly refuted the notion that Japanese athletes couldn't measure up to the rest of the world. When Nomo flew home for the offseason, more than 500 fans flocked to Narita Airport near Tokyo to cheer his return. A reporter at the gathering asked him if he had a message for young baseball players across the country.
"Challenge yourself," Nomo replied. "Otherwise, you can't accomplish anything."
The week after Nomo's flight landed, the NPB Central League champion Yakult Swallows beat the Orix BlueWave in five games to win the 1995 Japan Series. Yakult first baseman Tom O'Malley, a former major leaguer, was named series MVP. His solo homer in the decisive game, a 3-1 Swallows win, offset a blast from Orix's leadoff hitter - 22-year-old budding megastar Ichiro Suzuki.
Ichiro, of course, bid farewell to baseball this past March, when the Seattle Mariners opened the MLB campaign at the Tokyo Dome and the home crowd saluted the departing legend with a standing ovation. He had stayed in the game long enough to reunite with an old NPB Pacific League opponent: Mike Pagliarulo, his hitting coach with the 2017 Miami Marlins.
The breadth of Ichiro's legacy is greater than his 4,367 professional hits, just as Nomo's Rookie of the Year award doesn't fully express his effect on the sport. If Japanese players are known generally for their work ethic and discipline, it's thanks in no small part to Ichiro's famous, unyielding adherence to training and to routine. To Whiting, Matsui seemed to epitomize Japanese selflessness when, in 2006, he took the possibly unprecedented step of apologizing to his Yankees teammates for breaking his wrist on an attempted diving catch.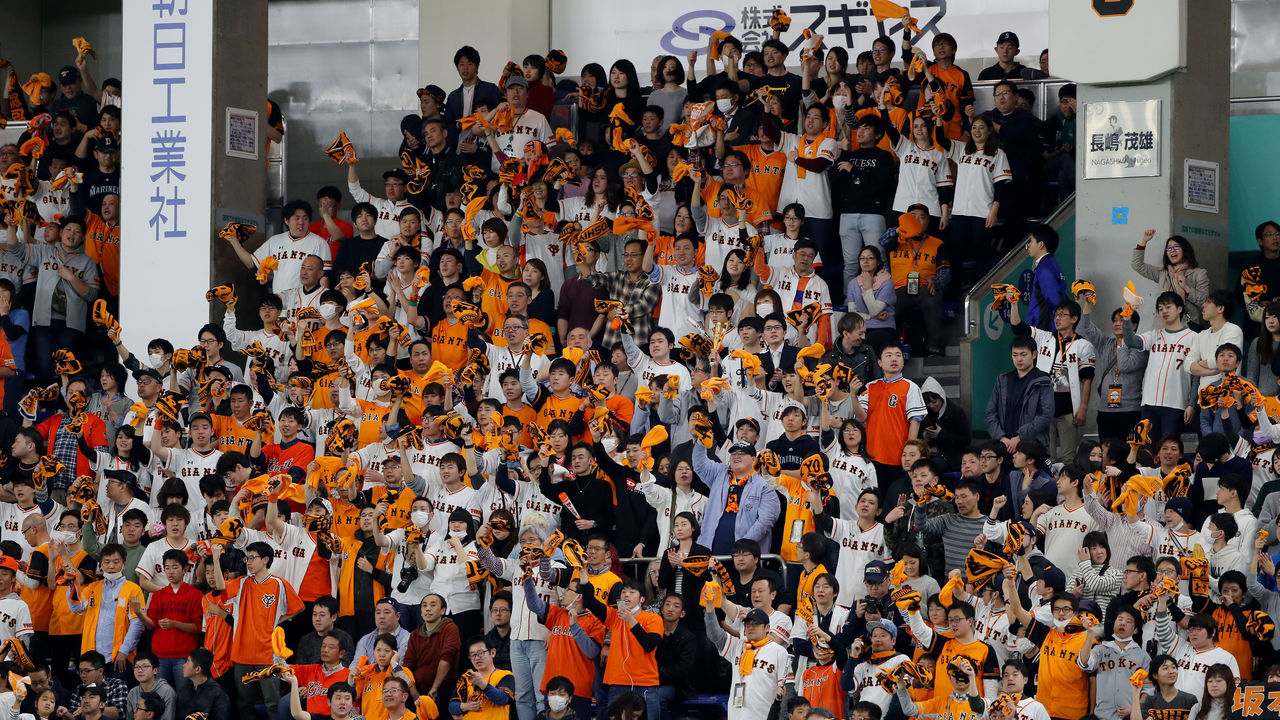 That said, the most significant way in which these players influenced baseball was through sheer force of skill; they pitched, hit, and fielded at an exceptionally high level. Together they laid a path for Ohtani to break ground as a DH who also pitches, and for the Yankees' Masahiro Tanaka and Kenta Maeda of the Dodgers to feature in World Series-contending rotations.
"Anytime you can get talent like that, it's going to enhance the game," Harrelson said. "There's no question about it."
In a way, the scope of Japan's contributions to baseball in North America can be traced to 1994, and to the championship victory that Matsui credits for giving him the confidence, at age 20, to then excel on an even bigger stage. In the following years, he matched Dan Gladden's feat in the opposite order: Japan Series champion and then, with the 2009 Yankees, World Series winner.
Henry Cotto never played in a World Series, but he remembers the celebration that gripped Tokyo 25 years ago when the Giants clinched sweet victory over Seibu. For a long while after the final out, Yomiuri fans lingered in their seats to cheer the players. Outside the stadium, the train was so packed he had to hail a taxi to get to his apartment. When Cotto and his translator went to dinner that night, people kept walking up to congratulate him in Japanese; he understood the sentiment if not, at first, precisely what they were saying.
After a championship parade that ferried the Giants through much of Tokyo, Cotto hung around in Japan for a couple of weeks, taking in sights that the busy season had precluded him from visiting. He went to a Buddhist temple. He considered buying a Japanese fighting sword but refrained when he learned that he wouldn't be able to bring it back to the States.
After Cotto returned home, he played 17 games in 1995 for the Triple-A Nashville Sounds, but quit the game at the age of 34 when his shoulder started to give out. Now he's semi-retired after a long coaching career in the minor leagues, with fond memories of his playing days and the beautiful, far-flung country to which they once took him.
"Anybody (who) can have a chance to go to Japan," Cotto said, "it's going to be a great experience to play over there."
Correction: An earlier version of this story incorrectly identified Dan Gladden as the first player to win both a World Series and a Japan Series.
Nick Faris is a features writer at theScore.
Comments
✕
The year that Japanese baseball - and its stars - stepped into the American spotlight
  Got something to say? Leave a comment below!