WALDORF, Maryland - The High Point Rockers were salty.
Josh McAdams had just stolen first base for the Southern Maryland Blue Crabs, exploiting a new wrinkle in this rules laboratory called the Atlantic League. Later, he'd come around to score. The Rockers weren't impressed.
"I heard a quote last night after McAdams stole first base," recalled Stan Cliburn, the former California Angels catcher who now serves as manager of the Blue Crabs. "A quip from the opposing team's dugout: 'Well, that's really going to get you back to affiliated ball.'"
Talk about hating the player instead of the game.
But this sometimes unrecognizable brand of baseball is what Rick White, the president of this 22-year-old independent league, signed his players up for. Years ago, White broached the possibility of acting on a service basis for Major League Baseball. This winter, he agreed to a three-year partnership in which the Atlantic League will serve as a testing ground for a bevy of rule changes that could someday be introduced at the game's highest level.
The impetus for the experiment is clear. Amid a continued struggle to engage younger fans, and with league-wide attendance figures projected to drop for a fourth straight season, MLB wants to inject more action into the game for those who didn't live through the Reagan administration.
"It's showing people that, 'Hey, baseball's about change. Life's about change,'" Cliburn said. "There's talk - 'Don't mess with the great American pastime.' Anything is going to change throughout the years. I signed in 1974. There's a lot of things changed since 1974."
"It's been very dynamic, very exciting, and, candidly, a good deal of fun since we got going with it," said White, who bristles at calling the league a "guinea pig"; he prefers to think of himself and his players as pioneers.
Fun, however, is a relative term. Though management toes the party line, the most recent changes - as evinced by the Rockers' chirp - haven't been wholeheartedly embraced by the entirety of the Atlantic League. According to White, more than 50 percent of the players are ex-big leaguers. (Remember Mat Latos? He plays in the Atlantic League now. So does Jimmy Paredes and Alexi Amarista and Mike Carp.) It's a refuge for those still clinging to their dreams of getting back to the majors; the experimentation really isn't going to help anyone get back to affiliated ball.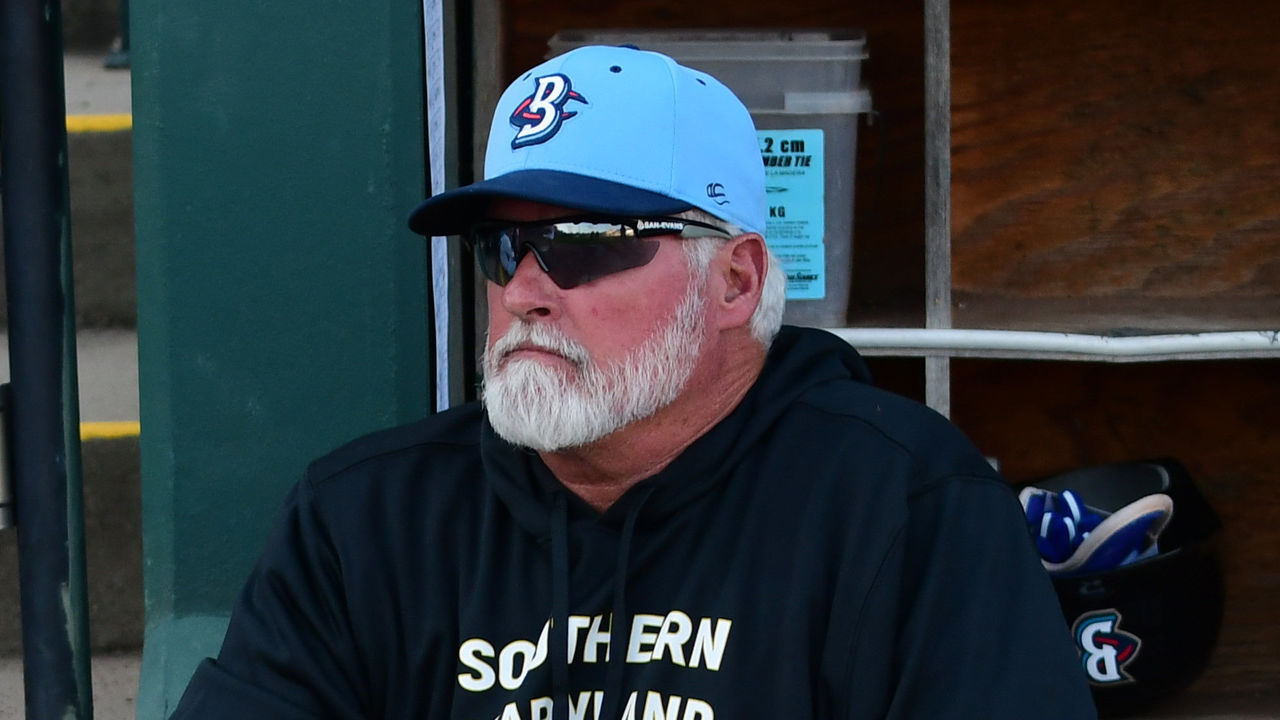 The changes introduced on Opening Day - such as eliminating mound visits for non-pitching changes, limiting infield shifts, and increasing the size of the bases - didn't alter things too dramatically. But the second-half rollout has had a much more radical effect. Now, players can steal first base on a passed ball in any count. Now, players are permitted one foul bunt attempt with two strikes. Now, a computer calls balls and strikes.
It's a different ballgame here as MLB attempts to suss out its future, and adjusting to the new reality has been easier for some than others.
"Change with the times or you're going to be left behind. That's how I feel about that," Blue Crabs general manager Courtney Knichel said. "This is the game of baseball, and Major League Baseball says we'll maybe see these rules in the next five years or so. And when that happens, you're going to be (stealing first base) in the affiliated leagues, too. So change with it or get off the train."
| Aspect | New rule |
| --- | --- |
| Pitch calls | Home plate umpire receives ball and strike calls from TrackMan system |
| Passed balls | Batters can steal first base on any pitch not caught in flight |
| Bunting | Batters are permitted 1 foul bunt with 2 strikes |
| Pickoffs | Pitchers must step off rubber to attempt a pickoff |
| Mound visits | No mound visits except for pitching changes or injury |
| Shifts | 2 infielders must be positioned on each side of second base |
| Pitcher duration | Pitchers must face at least 3 batters or reach the end of an inning before they can be removed (exception for injury) |
| Bases | Bases increased in size to 18 inches from 15 |
| Checked swing | Checked-swing calls to be more "batter friendly" |
| Timing | Time between innings reduced from 2:05 to 1:45 |
Though position players and pitchers have griped about inconsistency behind the plate since the beginning of time, arguably no rule change has inspired more ambivalence than the implementation of the electronic strike zone. Rolled out league-wide late in July following its debut at the league's All-Star Game, the automated ball-strike system (ABS) is pretty seamless in theory: A computer system known as TrackMan, powered by radar technology, relays ball and strike calls to the home plate umpire via wireless earpiece, and the umpire then relays the call. In practice, however, the system is far from perfect.
For starters, it's slow. TrackMan doesn't relay calls nearly as quickly as a human umpire, and that "little delay after the ball hits the mitt," as Cliburn put it, can disrupt the rhythm of the game.
"They want a short game but at the same time, they're going to (make) the game longer because the umpire sometimes has to wait for the call," said Blue Crabs catcher Charlie Valerio, a 28-year-old Dominican Republic native who spent five years in the Cleveland Indians' system. "Sometimes, I catch the ball and throw the ball back to the pitcher and the umpire, he didn't call the pitch (yet)."
And early reviews of the system's accuracy - particularly with respect to the height of the strike zone - weren't glowing.
"Some of the calls that the TrackMan was calling, I kind of said, 'Wow,'" said Jerry Martinez, one of the Atlantic League's independently contracted umpires. "That needs to be looked at."
"You kind of question yourself on certain calls," Blue Crabs outfielder Tony Thomas said, "and you're like, 'Was that really the automatic strike zone? Is it working today? … Jon Griffin, who bats in front of me, he's 6-foot-5 - do they think he's (still) up there?'"
Cliburn had a similar objection following a late July game. The ex-catcher noted "seven or eight pitches" that he considered low strikes from pitchers on both teams that TrackMan didn't call, while the system did call higher strikes.
Still, the biggest concern over the ABS system isn't its accuracy - most people feel that can be fixed - but rather the way it renders pitch-framing virtually meaningless. The computer can't be fooled by a deft receiver. That element of the game, and that avenue for catchers to show their value, is lost.
"I don't like it because now the catcher, it doesn't matter how you catch the ball," Valerio said. "Before, you had to catch the ball and give it a good frame. And now it doesn't matter."
Thomas added: "I know a lot of catchers (love) the art form of catching, and their pride and joy is to make pitches that are close outside the zone look like strikes. It eliminates that art form."
"It's almost like you could throw it to a screen back there," quipped Blue Crabs ace Daryl Thompson, who tossed 17 1/3 innings over parts of two seasons in the big leagues nearly a decade ago.
Catchers aren't exactly absolved of responsibility - runners are free to break for first on any passed ball, remember - but Martinez is worried about umpires' attention span.
"Umpires may get complacent," he said. "Because they say, 'Oh, the system is going to call it for me.' But what happens if it fails? To me, it's double duty. You have to call it in your head and have it in the event that that system fails. So it's challenging. I think you have to be more focused, not just take a back seat."
The system does offer one unassailable benefit: It eliminates the arguments - and ejections - over balls and strikes that slow down the game.
"You turn back (to the umpire and say), 'TrackMan?' They say, 'Yeah,'" Thomas said. "'Well, I'm not going to argue with you.' Because it's the robots."
As for the stealing of first base, which permits batters to take off for first on any errant pitch (like they would, traditionally, on a dropped third strike), the rule has provoked particularly divergent reactions. Speedier players increasingly dig it, while the less fleet-footed - and pitchers and catchers, unanimously - aren't so enamored. Initially, though, when a steal of first base counted as a fielder's choice, nobody liked it.
"Everybody laughed about it and joked, like, 'Nobody's going to go,'" said Thomas, who sent his cleats to Cooperstown after becoming the first player in professional baseball history to steal first base. "... At that time it was an 0-for-1. Nobody really wanted to sacrifice an at-bat."
The scoring has since changed. A successful steal of first base is now credited as a walk, effectively encouraging players to take off (as unnatural as it may feel to break for first when the pitcher skips a first-pitch slider to the backstop). The incentive isn't lost on Thomas, a former third-round pick of the Chicago Cubs. At 33 - four years removed from his last affiliated at-bat - he still hopes to make an impression on major-league clubs.
"Now it counts for on-base percentage," he said. "So when a scout looks down, he's going to look at my on-base plus slugging. So my on-base went up for that steal. He's not going to go back and say, 'Oh, July 24, how'd you get on base?' ... How I got to first base doesn't mean anything. … This is another stepping stone that could increase your odds of getting to the big leagues."
Thomas' willingness to adapt to the new rule understandably isn't shared by those responsible for preventing runs. It forces pitchers and catchers to always be around the plate, denies them any waste pitches, and makes every cross-up a potential disaster.
Valerio argues that the tradeoff for catchers is a net negative: They don't get the benefit of being good pitch framers and they can be the scapegoat for all those steals of first.
"That new rule, for me, is bullshit," Valerio said. " … Now, when I'm catching, I have to be ready for every pitch in the dirt. Every time the ball touch(es) the dirt, I (have to) be ready. If the ball goes behind me, my first move is to try to get the ball.
"Maybe at the end of the season we'll be more tired because we had to block every pitch, and we had to be ready for this and for that."
While Atlantic League pitchers have acquiesced to more than a few rule changes designed to increase offense, this one, for some, goes too far.
"That right there is just turning baseball - the actual game of baseball - into, like … a video game, pretty much," Thompson said. "Like, MLB: Blitz Baseball or something. That's kind of like what it is. I honestly feel like baseball doesn't need to come to that. You shouldn't be allowed to steal first. You should earn your way on, whether you walk, get hit, or you get a hit. I feel like that's how it should be. ...
"I don't think that rule's really going to fly."
And though small-sample caveats apply - only a few players have taken advantage of the new rule - stealing first base isn't necessarily the remedy to the game's three-true-outcomes epidemic that Major League Baseball may think it is.
"I think it's a little ridiculous," said Blue Crabs outfielder Joe Benson, who logged 21 games with the Minnesota Twins in 2011. "That's not going to give action (that) fans either watching on TV or watching in the stands want. It's not exciting, because the two I've seen, it's because the ball is lodged underneath."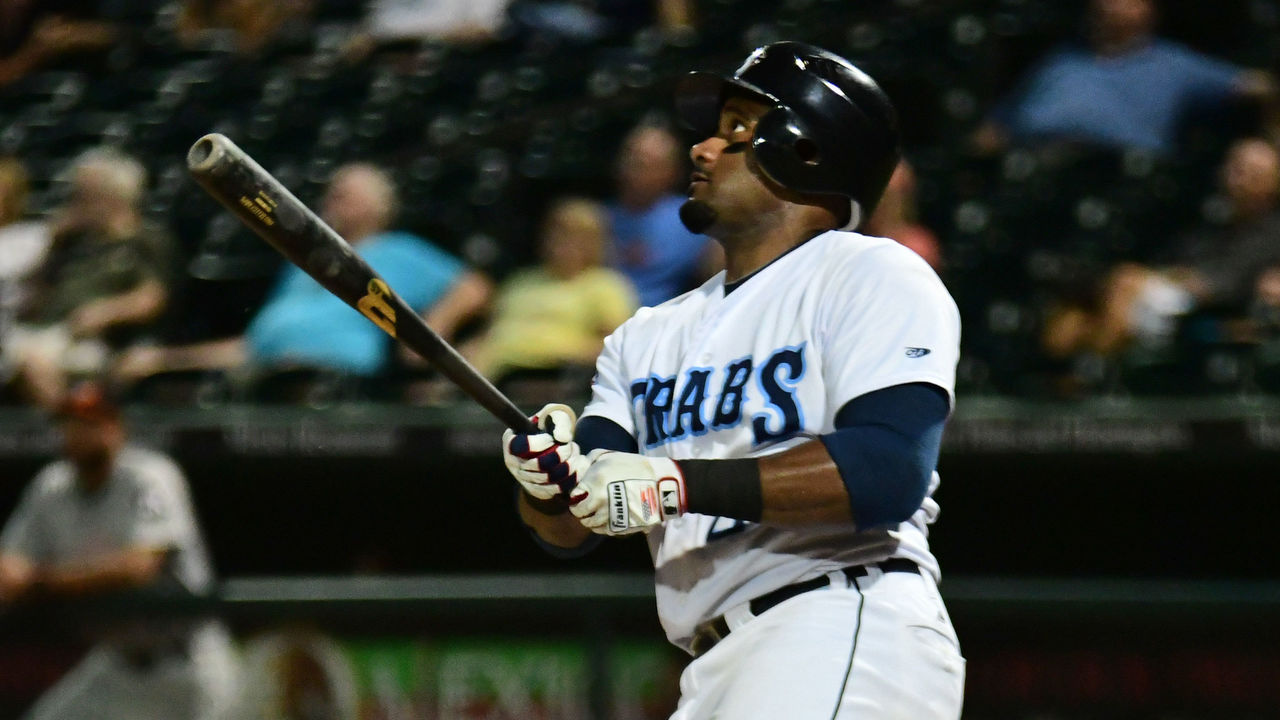 It stands to reason that more Atlantic League players will grow to embrace the new rules. They're only doing themselves a disservice by resisting. But it's not hard to see where they're coming from. They aren't technology-averse dinosaurs. They aren't philosophically opposed to change. They just have different motives than Major League Baseball. And they simply don't share the implicit concern driving the experiment: that baseball, in its current iteration, is somehow deficient.
"They want action," Benson said. "And it's not for the fan that is attending the game. It is for the fan who's watching on cable television. Because these TV deals, these streaming deals, is where all the money is. So everyone is saying strikeouts and home runs are non-action plays. Tell that to me when I was a kid and a ball went over the fence and there's fireworks when you're at Wrigley and they're 50 games under .500 but the stadium erupts for a home run. Like, don't tell me a home run is a non-action play."
Ultimately, so long as they're in the Atlantic League, these players have to be pliable. More changes are coming. The future is coming, and the first guy through the wall always gets bloody.
"We still have two more years into this thing," Knichel said. "I thought that, 'Wow, OK, we're getting a lot of rules at one time, and, golly, how many more are there?' But I'm pretty sure that there are a lot more (coming). We've had a lot of good, open conversations with them. The game's changing. Everything's changing. The world's changing. The generation's changing. And they want to change right with it.
"We - the Atlantic League, Major League Baseball - we want baseball to stick around for a very long time. And we just have to change with the times."
Jonah Birenbaum is theScore's senior MLB writer. He steams a good ham. You can find him on Twitter @birenball.