What's wrong with Bryce Harper?
Photo illustration by Nick Roy / theScore
Bryce Harper's first week with the Phillies was so magical that the denizens of Philadelphia were likely tempted to topple the iconic Rocky statue and replace it with a monument honoring their new, non-fictional Sports God.
Following a quiet showing in his debut at Citizens Bank Park on Opening Day, Harper went off, homering in three straight games, then reaching base eight times over his next three contests. Heading into his club's April 7 series finale against the Minnesota Twins, Harper had already stroked six extra-base hits and drawn eight walks, with a resultant .417/.563/.917 slash line. Among hitters with at least 20 appearances to that point, Harper's 1.479 OPS was tops in the majors.
Small sample caveats be damned, the investment was sound. The Yuenglings flowed. The cheesesteaks sated.
Things haven't been so sunny in Philadelphia since. Going on three weeks now, the 26-year-old superstar has been decidedly mediocre.
Over his last 22 games, dating back to that Sunday matinee against the Twins, Harper is hitting just .188/.330/.363. Take out his five-hit performance at Coors Field on April 19 and Harper's slash line tumbles to .137/.300/.301 during that span. On Tuesday night, as their newly signed right fielder stumbled his way through another hitless performance against rookie pitcher Spencer Turnbull and the Detroit Tigers' bullpen, the crowd at Citizens Bank Park pelted Harper with boos. He empathized with them.
"I'd do the same thing," Harper told MLB.com's Todd Zolecki. "It's not fun to lose, it's not fun to watch when you're playing that way. (I was) 0-for-4 with two punchies (strikeouts), I'm probably thinking the same thing walking back to the dugout."
The question, then, is what exactly is ailing Harper, whose .338 expected weighted on-base average (xwOBA) since the second week of April dubiously lags behind those produced by Mark Reynolds, Ian Desmond, and even Chris Davis. And in the wake of Tuesday's game, Harper - whose slash line now sits at .240/.388/.490 - was generous enough to offer up a diagnosis, attributing his recent struggles to both "missing pitches" (i.e. failing to drive hittable pitches) and poor pitch selection.
"Just keep missing pitches," Harper said. "That's about it. Swing feels good, hands feel good. Just swinging at pitches out of the zone. Pretty much the same thing. Just trying to swing at a pitch over the plate and not miss it. If I can cut down on swinging on pitches out of the zone, get on base for the guys behind me, then I'll be successful."
His diagnosis, it appears, is half-right.
Though Harper was guilty of expanding the zone Tuesday night against Detroit, his approach has been sound throughout his recent swoon. A famously disciplined hitter, Harper has actually been chasing pitches outside the zone less often in 2019 than ever before, and he's been offering at balls less frequently of late than he did during his mind-boggling first week, according to Baseball Savant. Increasingly, he's laying off junk, and his shrinking swinging-strike rate reflects that.
| | Chase % | Swinging Strike % |
| --- | --- | --- |
| March 28 - April 6 | 19.3% | 20.0% |
| April 7 - April 30 | 14.1% | 16.7% |
What it boils down to, then, is that Harper just isn't hitting the pitches he should be hitting. In that regard, the former National League MVP was bang on.
For his career, Harper has destroyed pitches inside the strike zone, punishing them - in the StatCast era, at least - to the tune of a .417 wOBA. Pitchers, for their part, have behaved accordingly. Over the last five years, only four qualified hitters have seen a lower percentage of pitches inside the zone than Harper. Since April 7, though, Harper has been strangely punchless, eking out a more paltry xwOBA (.318) on pitches inside the zone - pitches he should be murdering - than, for instance, the notoriously light-hitting Dee Gordon.
This pitch, for instance, Harper should've obliterated: a 2-0 fastball from Rockies right-hander Antonio Senzatela that was literally right down the middle. You can't put a pitch in a worse location - and in a hitter's count, no less. But, as you can see, Harper rolled over and dribbled a feeble grounder to first base:
(Courtesy: ROOT Sports)
One grainy GIF doesn't tell the whole story, of course, but maybe Harper's recent inability to drive hittable pitches can be best distilled thusly: Harper's exit velocity on middle-middle pitches over the last three weeks is 83.8 miles per hour. Last year, the only players (minimum 400 plate appearances) with an average exit velocity lower than that - on all pitches, mind you - were Ender Inciarte, Alcides Escobar, and Gordon.
And, moreover, that's when he does make contact. Perhaps even more disconcerting than the poor contact quality is that Harper has been whiffing on in-zone pitches at an unprecedented rate this season (27.7 percent), declining in that area for a third straight campaign. Predictably, his zone-contact rate has been lower throughout his slide than it was out of the gate (22 percent vs. 20.8 percent).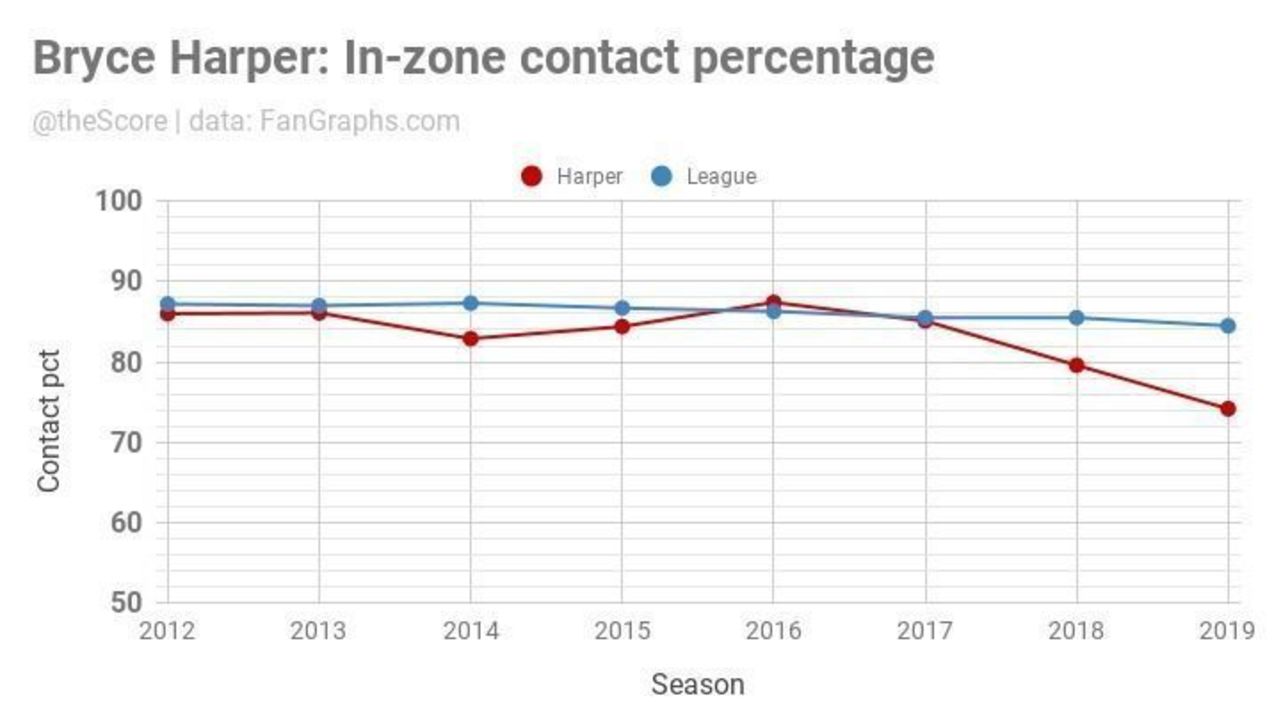 (Courtesy: FanGraphs)
With Harper struggling to barrel up - or even make contact with - strikes, pitchers haven't been nearly as inclined to nibble. They're going right after him. And, for the moment, they're winning.
| | Zone % | xwOBA | Soft-contact % | K % | wRC+ |
| --- | --- | --- | --- | --- | --- |
| March 28 - April 6 | 37.9% | .505 |   6.7% | 28.1% | 265 |
| April 7 - April 30 | 43.5% | .338 | 25.5% | 29.9% |   89 |
One could posit a boatload of theories as to why Harper is suddenly unable to drive hittable pitches. Maybe he's dealing with a physical problem. Maybe he's getting fastballs when he's sitting breaking ball. (Never before, after all, have pitchers been so loath to throw their fastballs, and yet Harper has seen nearly 58 percent heaters throughout his slump.) Or maybe it's just a random, inexplicable stretch of bad fortune. Hitting at the major-league level is exceedingly difficult. Signing a $330-million contract doesn't change that.
In any event, though, it's clear that Harper isn't himself right now. To get back on track, he's going to have to start owning the strike zone again.
Jonah Birenbaum is theScore's senior MLB writer. He steams a good ham. You can find him on Twitter @birenball.
Comments
✕
What's wrong with Bryce Harper?
  Got something to say? Leave a comment below!