The Ohtani Show is awesome, but Mike Trout is history
Sean M. Haffey / Getty Images Sport / Getty
TORONTO - Shohei Ohtani is a ghost, his aura the only trace of him in the visitor's clubhouse at Rogers Centre until he seemingly apparates onto the field to stretch, trailing the rest of his team's position players by about 10 minutes.
It's Sho-Time. First pitch is still a couple hours away.
As he goes through the paces, it becomes abundantly clear why the Los Angeles Angels' two-way phenom prefers not to mill about in the clubhouse, in plain sight of the media, before a game. The moment he takes the field, Ohtani - slated, on this particular night, to DH - is under siege, forced to navigate through a sea of potential distractions: the army of media members on assignment expressly for him; the endless barrage of requests, for an autograph or a mere wave of recognition, from the scores of supporters that showed up early to catch a glimpse of him. (He has work to do, so only a lucky few have their beckons of "Ohtani-san, please!" fulfilled.)
And the Ohtani Show is compelling, indeed. In batting practice, Ohtani - who carried a ridiculously robust .321/.367/.619 slash line into Tuesday's series against the Toronto Blue Jays - elicits "oohs" and "ahhs" from even his most decorated teammates, a couple of them future Hall of Famers. He is generous in dispensing souvenirs into the bleachers. His mightiest wallop ends up in the 500 level, beggaring belief.
Based purely on this display (and the circus it inspires), the uninitiated would be convinced that Ohtani is the most singularly spectacular player around. Except he's not even the most singularly spectacular player on his own team.
"I mean, (it's) Mike Trout," Ian Kinsler, the Angels' newly acquired second baseman and a four-time All-Star, told theScore. "It's a pretty simple answer."
"I think Mike Trout's always someone you want to see play."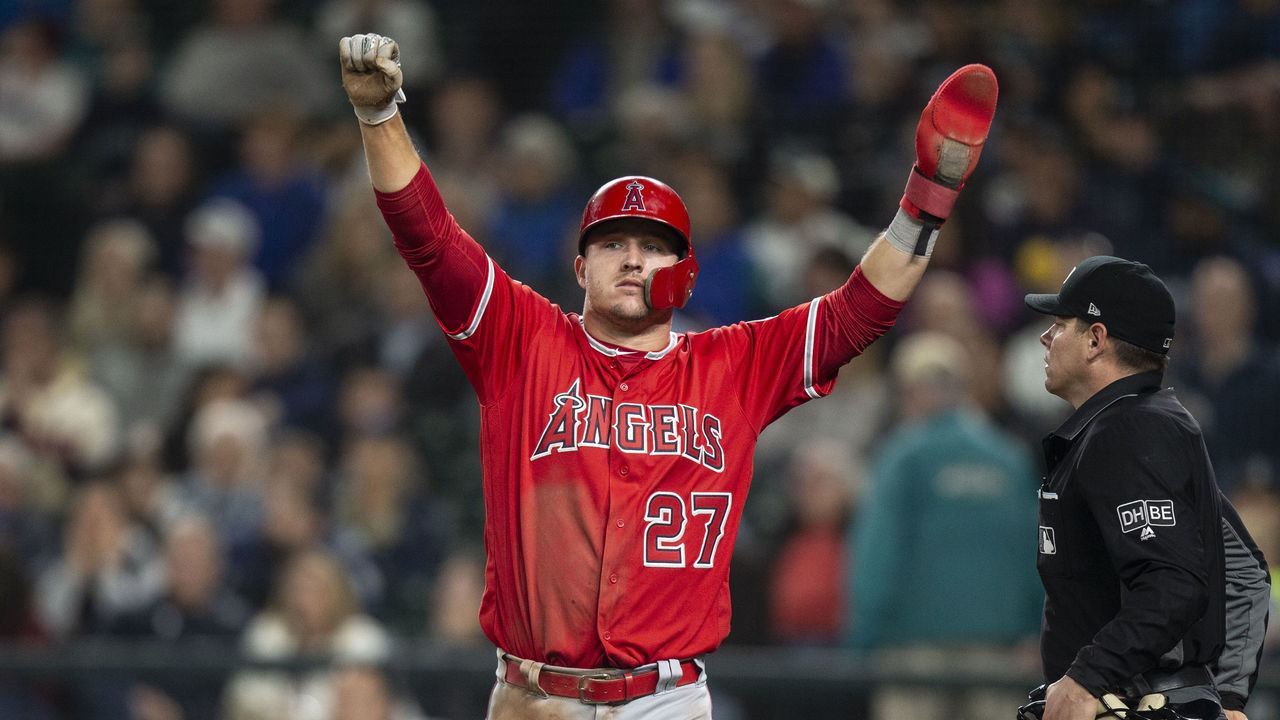 Frankly, even before Ohtani arrived, Trout's mind-bending excellence was too easily overlooked. Toiling on the West Coast, armed with a personality seemingly designed to minimize media attention, Trout's annexation of baseball's history books has always been something of a clandestine operation. (Had he not been denied those two American League MVP awards he rightfully earned in 2012 and 2013, it might've been a different story.) Moreover, between the Angels' general suckiness for much of his career and the once-popular distaste for advanced statistics, there was all matter of specious reasoning available to shrug off the reality of Trout, a modern-day Mickey Mantle. (Well, on a per-game basis, Trout has actually been a little better through his age-26 season than Mantle was.)
Trout vs. Mantle through age-26
| Name | WAR/162 | WAR | OPS | wRC+ | ISO |
| --- | --- | --- | --- | --- | --- |
| Mike Trout | 9.7 | 58.4 | .979 | 170 | .263 |
| Mickey Mantle | 9.0 | 61.3 | 1.006 | 174 | .262 |
The institutional recognition came in time, as did the consensus among fans that Trout - who averaged about 9 WAR per season with a .987 OPS (172 wRC+) from 2012 through 2017 - is a generational-type player. Now, however, in his somewhat Sisyphean quest for admiration proportional to his abilities, the 26-year-old must combat not only the fatigue that year-in, year-out brilliance incites, but also the great, big presence of Ohtani, who has thoroughly substantiated over the past two months the hype that followed him over from Japan.
To that end, Trout's strategy has been obvious: get better.
Through his first 48 games this season, Trout has somehow improved on the absurd numbers - both result-based and underlying - that he managed last year, when he set career highs in OPS, wRC+, isolated power, and walk rate (albeit while missing nearly two months due to injury). Right now, Trout is hitting for more power than ever (.331 ISO), a likely consequence of his increasing ability to hit the ball in the air (his 31 percent ground-ball rate is a career low). He's also walking more than he ever has, taking a free pass once every five trips to the plate thanks to improved strike-zone awareness and pitch recognition (his 17.1 percent chase rate is also a career low). All told, the six-time All-Star is slashing .289/.436/.620, which translates to an OPS that's 89 percentage points above league average. And with the exception of Mookie Betts, Trout has been the most valuable player in the majors in 2018, and he's on pace to eviscerate his previous high-water mark in WAR (10.1). (Incidentally, as FanGraphs' Jay Jaffe recently pointed out, Trout's nascent performance this season has pushed him, at 26, to the statistical threshold for the average Hall of Fame center fielder.)
"It just makes you wonder how many levels there are, and how many levels exist on this guy," said Angels general manager Billy Eppler. "It's unique. Very, very unique."
The unprecedentedness of Ohtani is utterly fascinating. The same, as Eppler suggested, goes for Trout, who is currently building a case as the greatest player of the modern era. And while he may be content to do so as inconspicuously as possible, by right, he is no mere sideshow to Ohtani.
To be sure, every time Ohtani steps on the field, it's wildly entertaining. But every time Trout steps on the field, it's history.
Comments
✕
The Ohtani Show is awesome, but Mike Trout is history
  Got something to say? Leave a comment below!