'He's good at everything': Modest Mookie is the new face of the Red Sox
Tim Bradbury / Getty Images Sport / Getty
TORONTO - For an average dude, the odds of bowling a perfect game are about 11,500-1. Mookie Betts has done it ten times.
He can solve a Rubik's Cube, too. Less than 6 percent of the world's population can do that.
Once, Betts even beat his high-school basketball coach at ping pong while chatting on the phone with his girlfriend.
If you handed him a tuba, he'd probably be able to play the solo from "Stairway to Heaven" within the hour.
"It's frustrating," Brock Holt, the longtime Boston Red Sox utility man, told the theScore with a laugh. "He's good at everything he does. I think he's just been like that his whole life. One of those guys who's just gifted. God's given him an ability to be good at a lot of things. I'm sure if he didn't play baseball he'd be really good at something else. But he picked baseball and it's worked out for him."
It's worked out for the Red Sox, too.
***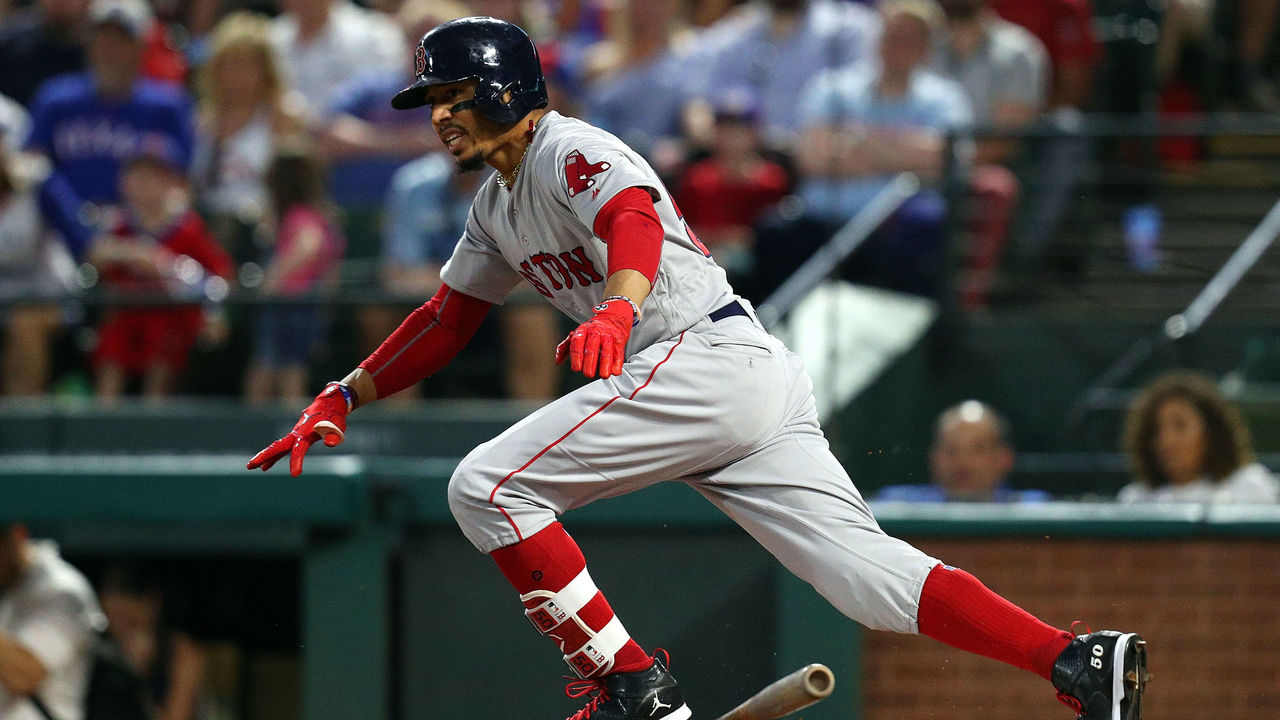 Already a bona fide superstar, boasting a pair of All-Star nominations, two Gold Glove awards, and an American League MVP near-miss through his age-24 season, Betts' propensity for excellence is currently being stretched to its logical extreme on the field. Through the first six weeks of the 2018 campaign, he's been more valuable than every player in the bigs save for Mike Trout while unequivocally outhitting everyone, including the Los Angeles Angels' superhuman center fielder. Armed with a re-engineered swing designed to get the ball in the air more, Betts has been a constant gardener, raking to the tune of a .360/.440/.772 slash line with an MLB-best 13 home runs through 36 games. After adjusting for park effects, his OPS is roughly 113 percentage points better than the league average, a figure that conjures up the most prodigious sluggers of the steroid era. He's failed to reach base safely in just three games, one of which he entered in the ninth inning as a defensive replacement and received just two plate appearances.
By any reasonable human standard, Betts' nascent season has been as close to perfect as you can get, even if he doesn't recognize it.
"He'll think he's struggling (when) he maybe goes 1-for-4," Holt said. "He's like, 'Man, I haven't got a hit in like eight at-bats' or something. And that's a struggle for him when realistically, like, 'Mookie, you're probably going to get three hits tomorrow, you know? And they're probably going to be homers.' So he's frustrating."
His preposterous expectations for himself aside, Betts' early-season outburst has outsized implications in Boston. In the absence of veteran Dustin Pedroia, who hasn't played this season due to injury, and with David Ortiz now merely toast fodder at Fenway Park, Betts has cemented himself as the new face of the franchise, and the piece de resistance of a fresh nucleus of stars that's seamlessly replaced the old vanguard and is poised to keep the good times rolling.
With Betts doing a convincing Barry Bonds impression every night, the 28-12 Red Sox are on pace to eviscerate their win total from last year, when they finished 93-69 and captured a second straight division title despite a decidedly underwhelming season from their talented right fielder. Right now, only the Houston Astros own a better run differential than the Red Sox, who, according to FanGraphs, already have a 98.3 percent chance of making the postseason. (Baseball Prospectus isn't quite as bullish, giving Boston a mere 91.5 percent chance of playing in October.) And, again, the team's increasingly generous margin for error doesn't exist without Betts, who also leads the majors in win probability added (2.10), a context-based stat that credits and debits a player for the impact of his plate appearances on his club's overall chances of winning.
"He's a player who does it all," Red Sox center fielder Jackie Bradley Jr. said. "And I feel like he's still learning, still growing, and should continue to get better."
***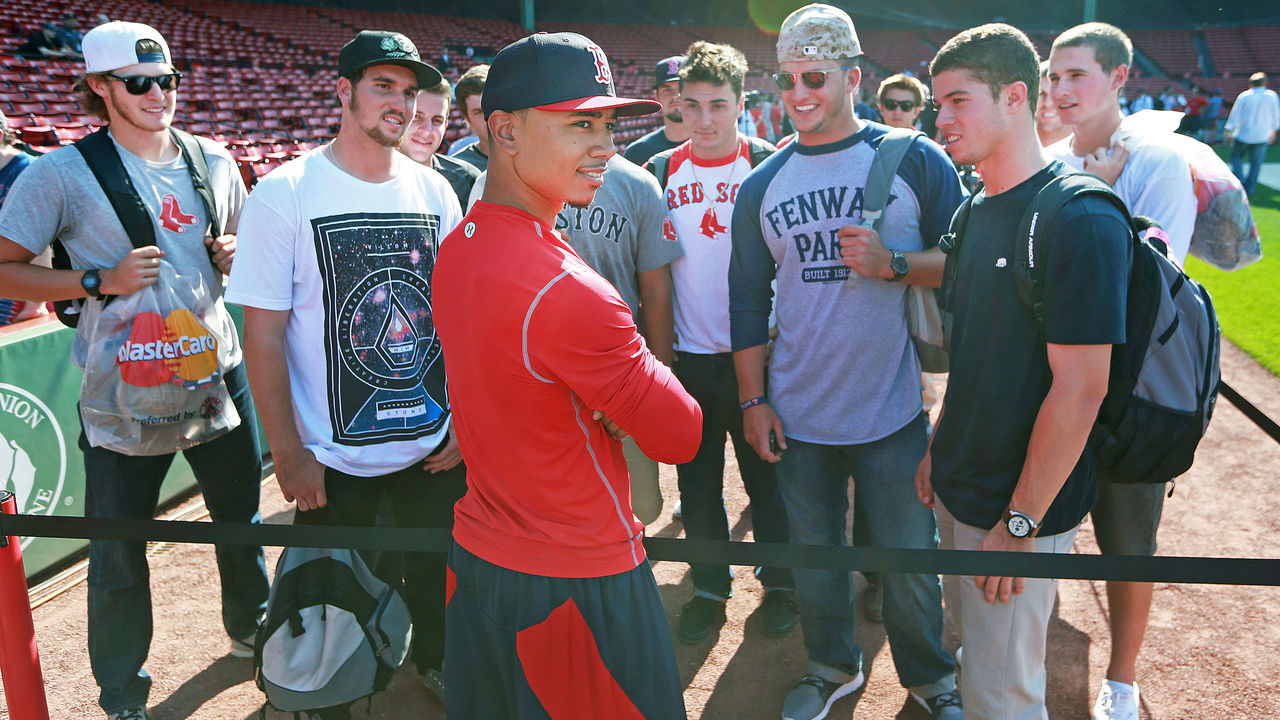 Betts, despite himself, wasn't supposed to be this good. With a slight build that more strongly evoked an aspiring baseball writer than a future MLB superstar, he was passed over by every team in the 2011 draft, eventually falling to the Red Sox in the fifth round, and there was hardly a consensus in the scouting community that his manifest athleticism could offset his far-from-elite offensive tools.
After receiving a $750,000 signing bonus from the Red Sox, Betts didn't really distinguish himself in the incipient stages of his professional career, either. In 2012, in his first full season in the minors, Betts, then a second baseman, hit just .267/.352/.307 across 71 games with Lowell of the Low-A New York-Pennyslvania League. He didn't hit a single homer.
"(Blake) Swihart was telling me - I mean, he was obviously kidding - but he was like, 'The first season that we ever played together after we were drafted, I don't know if Mookie got a ball out of the infield,'" Red Sox left-hander David Price said. "And then the next year he came back and he hit a couple homers and everybody said, 'Well alright, that's good.' Then he got to the big leagues and really took off."
Indeed, at no point throughout his ascent up the minor-league ladder did Betts establish himself as a top prospect, never once cracking the top 50 at any of the canonical publications. Then, as he was navigating a breakout campaign in 2014 - torching both Double-A and Triple-A competition as a 21-year-old while also learning (at the behest of the parent club) how to play the outfield - the Red Sox called him up, denying Betts a chance to get those rhapsodical Baseball America blurbs. The whole immediately-becoming-a-big-league-star likely helped mitigate any disappointment, though.
Since getting the call midway through the 2014 campaign, Betts - who initially toiled in the shadow of Ortiz, Pedroia, and the marquee free agents acquired over the past few winters - has emerged as one of the game's foremost five-tool stars, providing more value over that span, by wins above replacement, than every position player except Trout, Josh Donaldson, and Jose Altuve - the last three American League MVPs.
WAR leaders, 2014-18
| Name | WAR | OPS | wRC+ | HR | SB | DRS |
| --- | --- | --- | --- | --- | --- | --- |
| Mike Trout | 37.0 | .999 | 173 | 151 | 87 | -4 |
| Josh Donaldson | 27.3 | .901 | 146 | 145 | 24 | 37 |
| Jose Altuve | 25.0 | .873 | 141 | 72 | 158 | -1 |
| Mookie Betts | 23.4 | .862 | 128 | 91 | 87 | 80 |
| Kris Bryant | 22.4 | .921 | 145 | 101 | 28 | 17 |
Clearly, though, Betts is incapable of merely being great, so he's taken his game to a whole new level this season, erasing any memories of his substandard 2017 campaign by setting new high-water marks in OPS (1.212), isolated power (.412), average exit velocity (92.2 MPH), and hard-contact rate (47.1 percent). Small sample caveats apply, but the substantive changes in his batted-ball profile suggest he's a different hitter now, and betting against Betts, frankly, seems more foolish than playing him in ping pong.
"He's a special player," Price said. "Definitely noticed that in '15 whenever I was here in Toronto (as a Blue Jay) and saw those guys play, saw that young core that they had and we still have now. And Mookie's a huge part of that."
***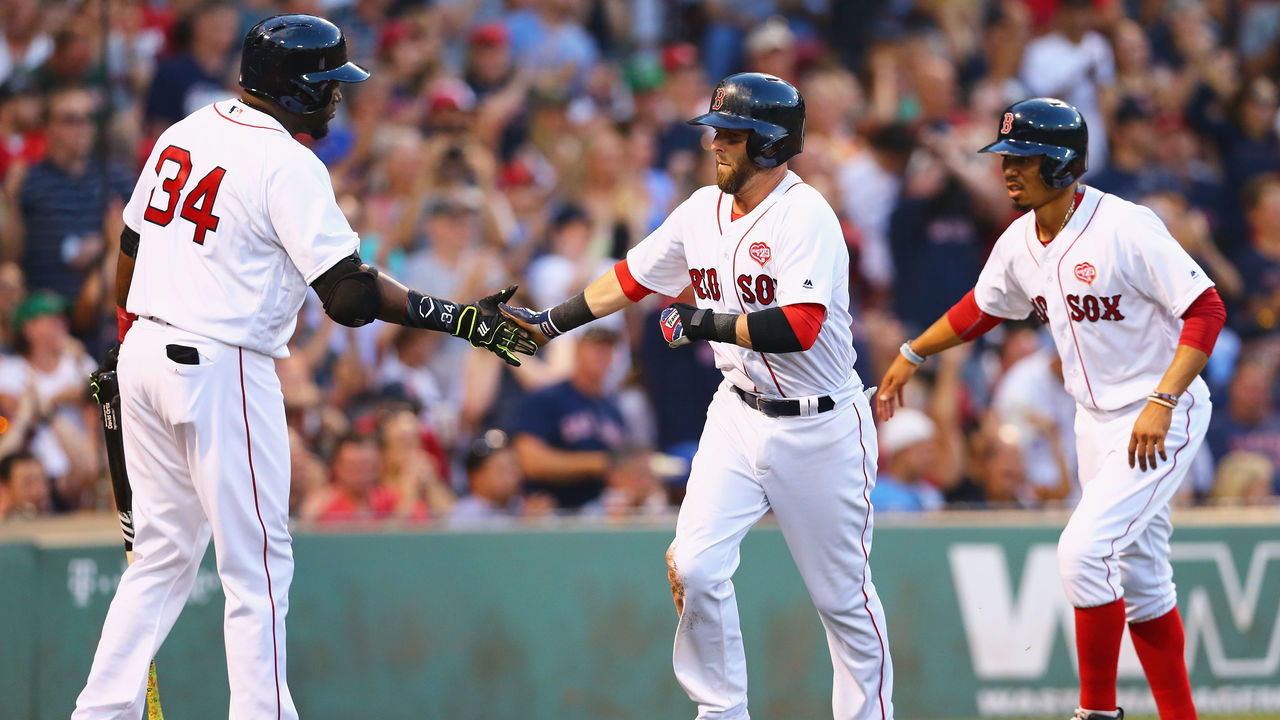 Last year, in the wake of Ortiz's retirement, leadership became a major issue for the Red Sox, even as they maintained their dominion over their division. The piddling scandals that rocked the clubhouse - from Pedroia throwing his teammates under the bus following an incident with Baltimore's Manny Machado, to Price's beef with the media - raised concerns about the team's culture that were validated, to a certain degree, when manager John Farrell was fired in October following another ignominious ousting in the AL Division Series
So, when spring training rolled around this year, Pedroia made it clear that it would be incumbent on everyone to lead and help shape the clubhouse culture.
Betts, for his part, has delivered.
"He does everything the right way," Price said. "He plays the game the right way. He goes about his business the right way. He works the right way. He's a great person. I know that doesn't matter to a lot of people, but in this clubhouse it goes a long way.
"You can be a great player, but you can be a jerk and people aren't going to follow you. People aren't going to listen to you, even if you want to be a leader or you don't want to be a leader. It doesn't matter if you want to lead of if you don't want to lead. If you have the ability that a guy like Mookie has, people are going to watch and people are going to want to follow you and do things similar to the way that you do them."
Added Holt: "I think when you're a superstar in the game, people look to you to kind of lead the way, and Mookie's done a great job of doing that. He's done it on the field, and he's kind of taken that role in the clubhouse, as well. I mean, he's still 25 years old. He's still young. For him to be able to do that shows the kind of person he is, the kind of character he has."
***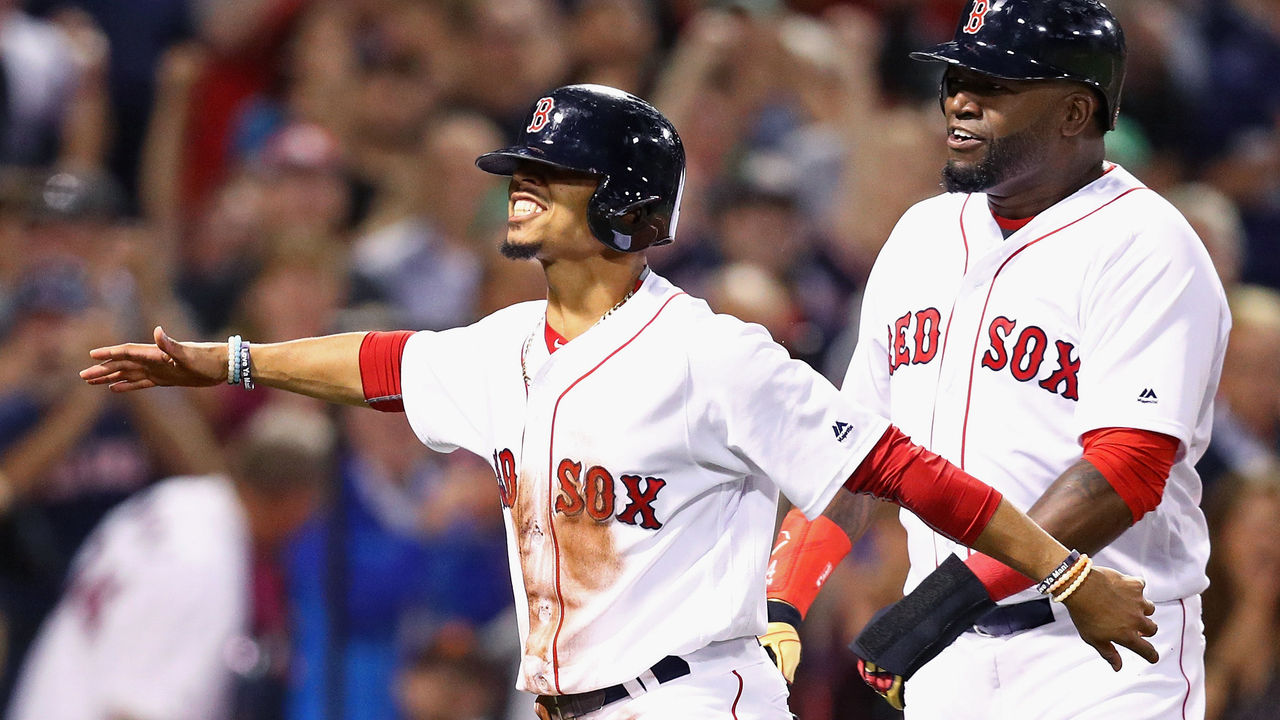 On the surface, Betts was an unlikely candidate to fill the emotional void left by Ortiz's retirement. In both disposition and composition, Betts is the antithesis of Ortiz, a larger-than-life figure with an outsized personality who dropped an F-bomb on live TV as easily as he dropped his barrel on that first-pitch changeup from Joaquin Benoit in Game 2 of the 2013 ALCS. Betts isn't quite so gregarious, and if the two stood next to one another, you might think the 5-foot-9 outfielder was Ortiz's teenage son.
But they have a lot in common, too. Like Ortiz, who was famously released by the Minnesota Twins after the 2002 campaign, Betts was overlooked by the rest of the league. Like Ortiz, Betts has a knack for the big moment (he already has four career three-homer games, the most in Red Sox history). And, like Ortiz, Betts is a singular talent who would be worth the price of admission even if the Red Sox filled their other 24 roster spots with colobus monkeys.
Betts' tenure in Boston probably won't last as long, and it definitely won't be - it can't be - as glorious, but his stint as the linchpin of the Red Sox is going to be damn good, regardless. He's good at everything, remember?
Well, almost everything. It turns out he sucks at acknowledging his own greatness.
"He doesn't think he's very good," Price said. "And I think that's the funniest part of it. He thinks he's an average to below-average player and he just doesn't know what he's doing right now, and that's why he's getting lucky at the plate. You know, I just shake my head at him every time he does something Mookie-like.
"He always says, 'Bro, I don't know what's going on,'" Price continued. "I'm like, 'Mookie, okay, like, (in) 2016 when you were saying that, part of me believed that. But this is three years in a row now. I'm not falling for that no more. You know what you're doing. You know how good you are. It's time for you to act like it.'"
(Photos courtesy: Getty Images)
Comments
✕
'He's good at everything': Modest Mookie is the new face of the Red Sox
  Got something to say? Leave a comment below!