Ranking the NL East in order of watchability
Mark Cunningham / Getty Images Sport / Getty
With Opening Day around the corner, theScore's Jonah Birenbaum previews each division to get you ready for the 2018 MLB season. Today, he's ranking the watchability of each team in the increasingly intriguing National League East, from least watchable to most watchable.
AL East | AL Central | AL West | NL Central | NL West
5. Miami Marlins
| FanGraphs proj. record | PECOTA proj. record | MVP (Steamer) |
| --- | --- | --- |
| 64-98 | 65-97 | J.T. Realmuto (2.8 WAR) |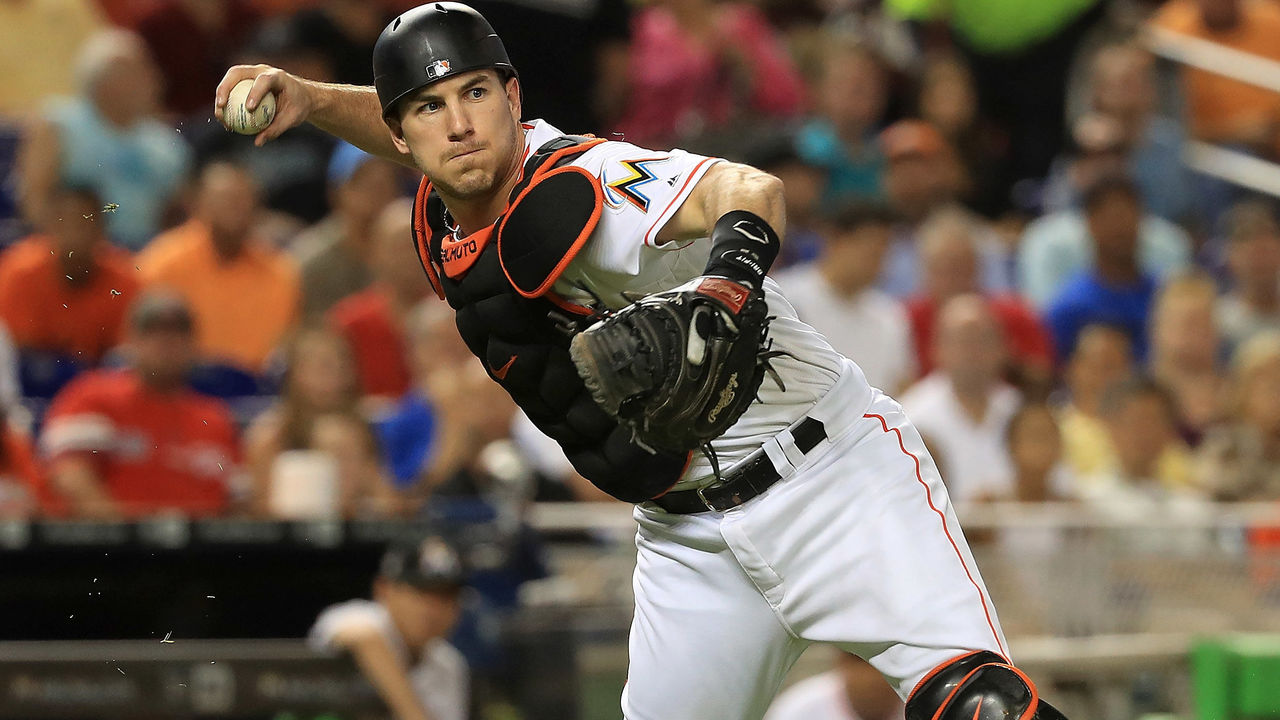 Oof. This is ... going to be a shame. An unwatchable, contemptible shame. Without Giancarlo Stanton, Marcell Ozuna, Christian Yelich, and Dee Gordon - each of them liquidated in Derek Jeter's barbaric offseason teardown - the Marlins are the baseball equivalent of the second season of "True Detective," or anything starring Kevin Hart. Assuming he isn't traded by the time you finish this sentence, their best player is J.T. Realmuto, who j-- nope, he just got traded. Sorry. (Amazingly, the Marlins will still have a J.T. in their lineup on a regular basis in 2018: J.T. Riddle, who you probably best remember as the villain from the second Harry Potter book, will be their everyday shortstop once he's fully recovered from shoulder surgery.) In a sense, the Marlins are the team that could most afford to be unwatchable, seeing as nobody watched them when they actually were watchable, but, like, yeesh. Imagine anyone saying these words in this order: "Man, I'm so stoked for the Marlins game tonight. Jose Urena is starting!"
4. Philadelphia Phillies
| FanGraphs proj. record | PECOTA proj. record | MVP (Steamer) |
| --- | --- | --- |
| 75-87 | 81-81 | Aaron Nola (3.9 WAR) |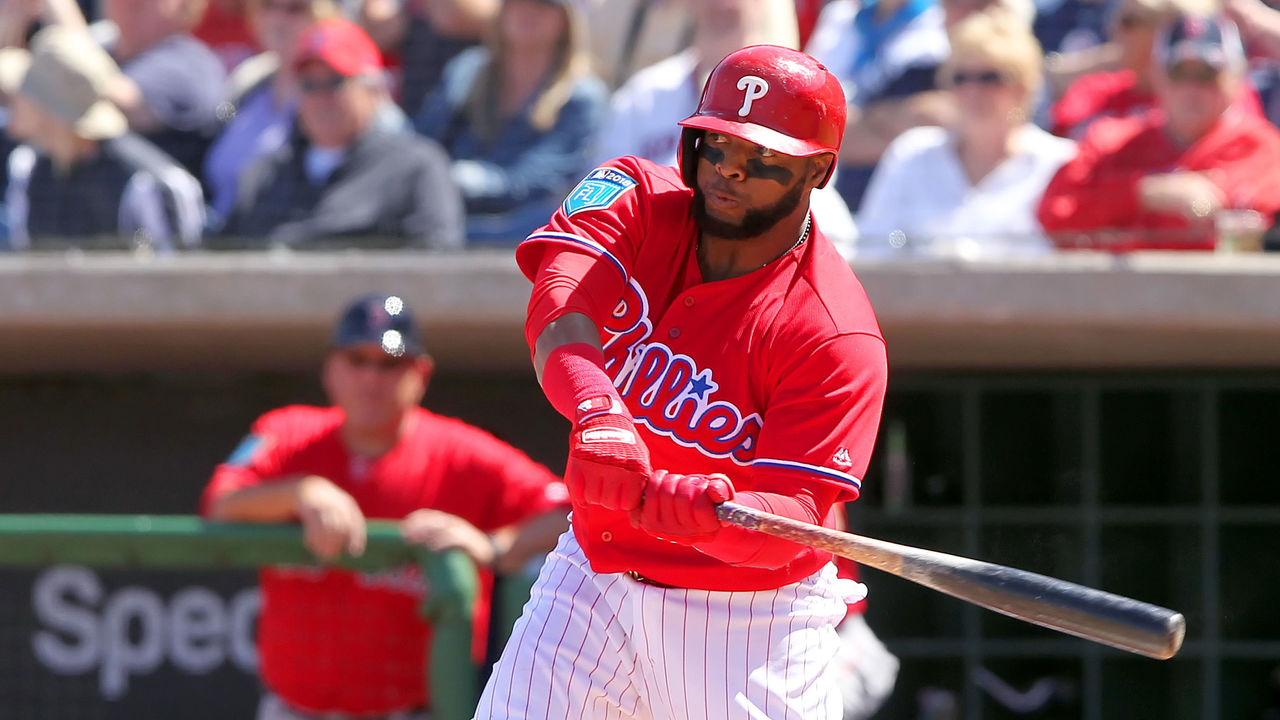 As the Phillies just proved, it's virtually impossible to spend upward of $140 million on free agents in a single offseason and still wind up the least watchable team in your division (notable exception: the San Diego Padres). This is still a development year in Philadelphia, their winter spending spree notwithstanding, but aggressive re-investment in the 25-man roster suggests the Phillies think they're close. Taking a look at their tentative Opening Day lineup, it's not hard to see why: J.P. Crawford, their first-round pick in the 2013 draft, is a veritable toolshed; Rhys Hoskins, who turned 25 last week, blasted 18 homers in 50 games with the big-league club last year; Jorge Alfaro, who also dazzled in a late-season cameo with the Phillies in 2017, is widely considered the second-best catching prospect in the game. Now, in addition to those could-be superstars, the Phillies also have some legitimate, veteran studs in Carlos Santana, Pat Neshek (yes, he's a reliever, I know), and former Cy Young Award winner Jake Arrieta. It's a compelling mix. Oh yeah, and they still have Odubel Herrera, of course.
3. Atlanta Braves
| FanGraphs proj. record | PECOTA proj. record | MVP (Steamer) |
| --- | --- | --- |
| 72-90 | 76-86 | Freddie Freeman (4.1 WAR) |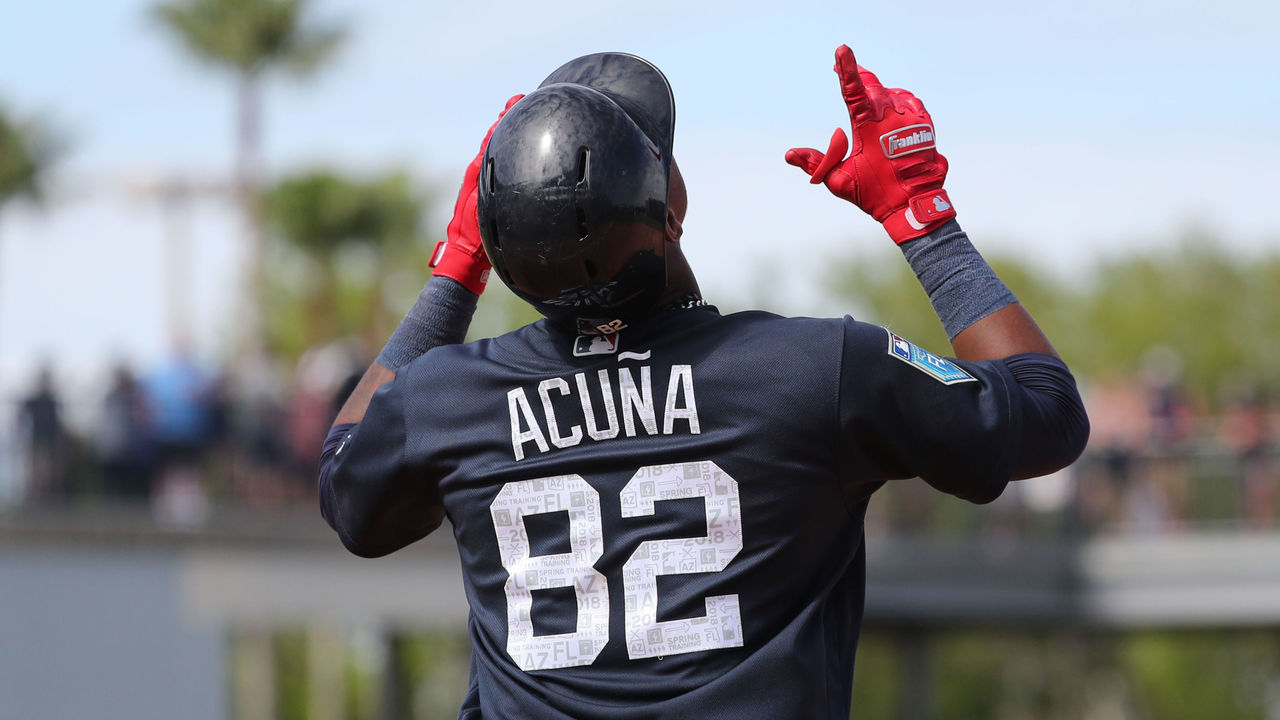 Clearly, the Braves are a little behind the Phillies in terms of their rebuild timeline - following a 72-90 finish in 2017, the only major-league free agent they signed this offseason was Peter Moylan. But with all due respect to J.P. Crawford and Jake Arrieta, the Braves will still be more fun to watch than the Phillies in 2018, mostly because of Ronald Acuna, the consensus top prospect in baseball (non-Ohtani division) thusly summed up by Baseball Prospectus' Jeffrey Paternostro in November:
Gary Sheffield came up in a discussion of the offensive profile to try to describe Acuna's combination of bat speed and barrel control. He has potential 70 game power and an advanced, all-fields approach that doesn't require him to sell out to tap into his mammoth pop. He has enough arm for right if you happen to have a 7 center fielder lying around your roster. This is how you smoke the upper minors as a 19-year-old. This is how you get an OFP 80.
Gary Sheffield! Dude is evoking comparisons to Gary Sheffield! Imagine having a 20-year-old Gary Sheffield in your team's lineup. Hell, imagine having present-day Gary Sheffield in your team's lineup. He'd still rake, I bet. Seriously, though, having the game's most heralded prospect counts for a lot, watchability-wise, even though Acuna will spend at least the first couple weeks of the season embarrassing Triple-A competition for the purposes of service-time manipulation.
2. New York Mets
| FanGraphs proj. record | PECOTA proj. record | MVP (Steamer) |
| --- | --- | --- |
| 82-80 | 80-82 | Noah Syndergaard (5.5) |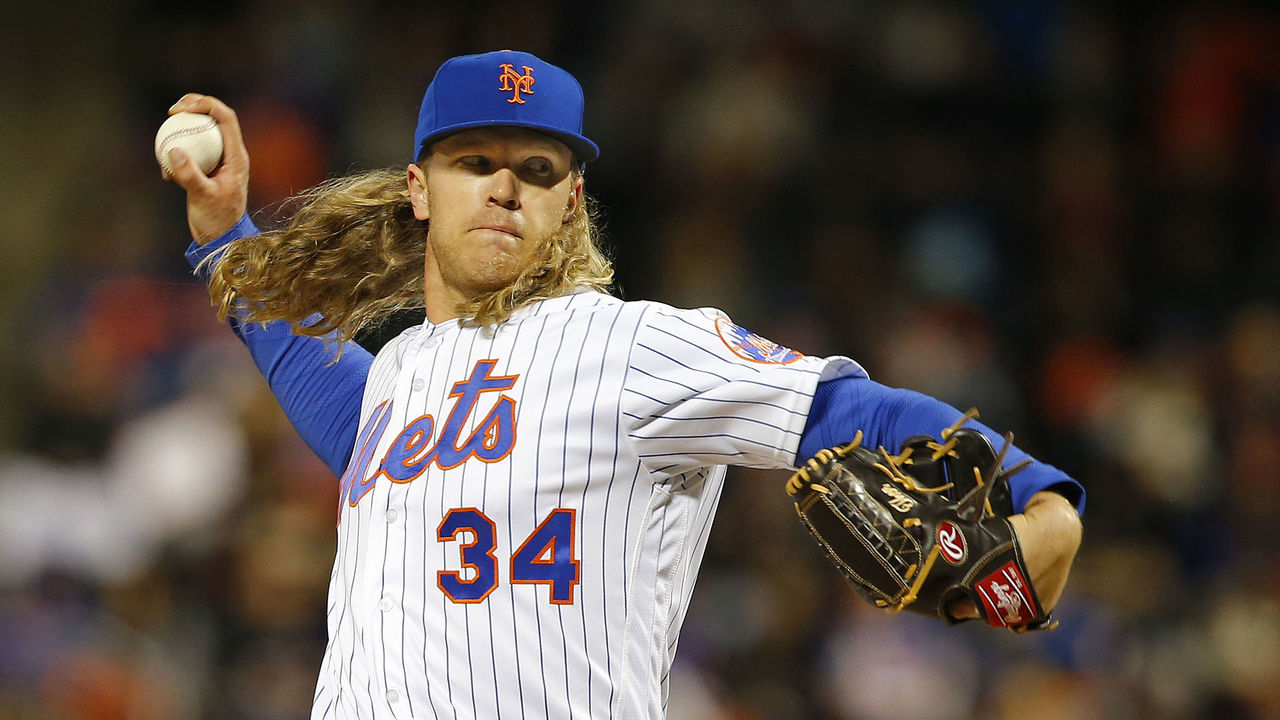 Watching the Mets is probably best suited to horror-movie fans, because the initial serenity of, say, Noah Syndergaard blowing fools away with his 101-mph four-seamer is invariably followed by some gruesome scene, like Noah Syndergaard tearing a lat muscle because the club didn't force him to take an MRI even after he complained of soreness. Still, while most Mets fans probably don't care for that whisper of doom around the corner, it does make for objectively good entertainment, especially when you're watching a team as talented as the Mets. No, really. Between Syndergaard, Jacob deGrom, Matt Harvey, Steven Matz, Jason Vargas, and Seth Lugo, the Mets could conceivably have one of the game's best rotations again, just like in 2016, while the new additions to their lineup - Jay Bruce, Todd Frazier, and, if you will, Amed Rosario - should definitely put them in a position to compete for a wild-card spot. Their grisly midseason demise will be epic.
1. Washington Nationals
| FanGraphs proj. record | PECOTA proj. record | MVP (Steamer) |
| --- | --- | --- |
| 89-73 | 88-74 | Bryce Harper (5.7 WAR) |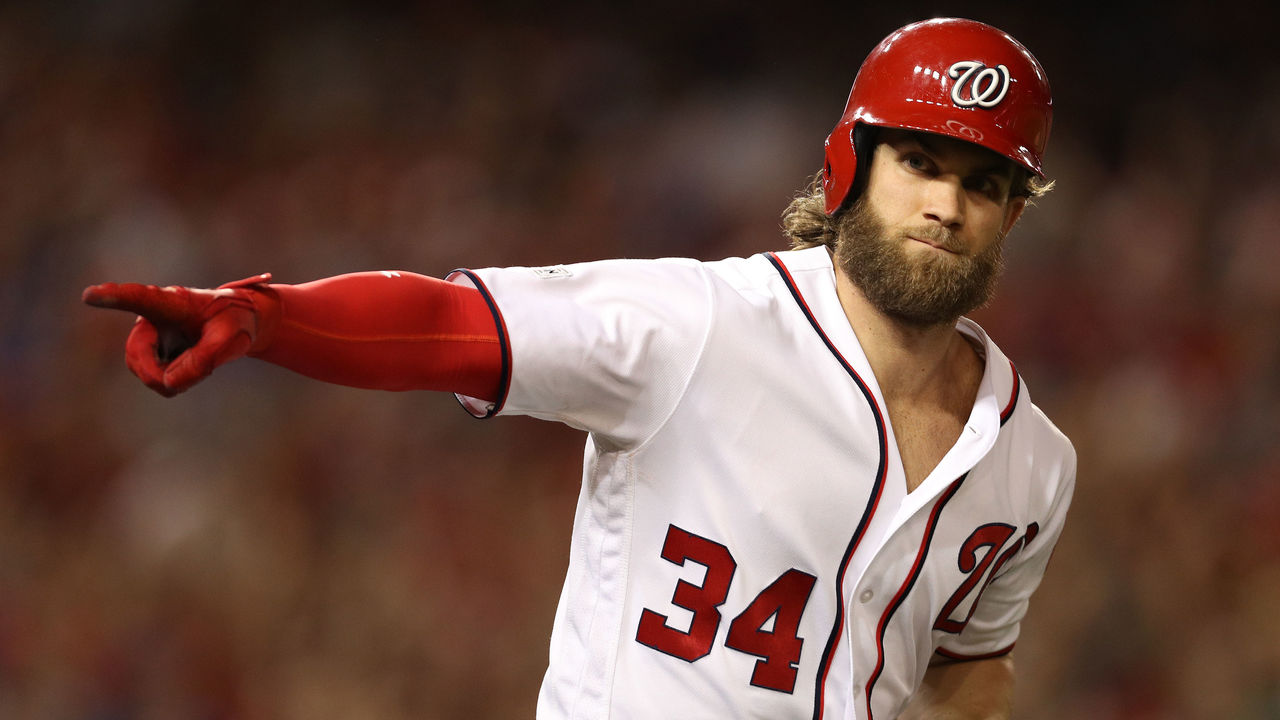 As usual, the Nationals will be a delight to watch this summer before they slip on a proverbial banana peel in the division series. If you can stomach the cognitive dissonance they inspire with their annual Jekyll and Hyde routine, the Nationals may be the best team in the league from a watchability perspective. Their lineup is totally stacked, with the obnoxiously talented and aggressively pompadoured Bryce Harper parked right in the middle of it all (and if you're a Nats fan hankering for new drinking game to try out this season, take a shot every time a MASN broadcaster mentions Harper's impending free agency; you'll consistently be hammered by the third inning). Their rotation ranks among the game's best, and each Max Scherzer and Stephen Strasburg start should be appointment viewing (frankly, neither pitcher gets enough love: Scherzer has as many Cy Young Awards as Clayton Freaking Kershaw, and Strasburg's 29.0 percent strikeout rate is the second-highest of all time among pitchers with at least 1,000 career innings). And finally, as a division rival, they'll play a principal role in the Mets' inevitable combustion. That's the trifecta, right there.
(Photos courtesy: Getty Images)
Comments
✕
Ranking the NL East in order of watchability
  Got something to say? Leave a comment below!