7 Olympians to watch over the final week of action in Tokyo
Plenty of medals are up for grabs in Tokyo between now and when the Summer Olympics conclude Sunday. Keep an eye on these seven athletes over the final week.
Kevin Durant: United States, basketball
That the U.S. men lost to France off the hop in Tokyo means they'll spend the rest of the Olympic tournament trying to save face. Gold is always the American expectation, even when the field's talented. It shouldn't be any different this year, since no country has an answer for Durant.
Despite enduring foul trouble against France and relaxing as the U.S. thumped Iran, Durant on Saturday surpassed Carmelo Anthony as Team USA's all-time leading Olympic scorer. His 23 points against the Czech Republic give him 354 in 19 Olympic appearances (18.6 per game), outdoing Melo's 336 in 31 (10.8). Beating the Czechs 119-84 powered the U.S. into Tuesday's quarterfinals, where Spain is the next opponent.
If the U.S. rallies for a fourth straight Olympic title, Jrue Holiday and Khris Middleton would achieve a rare double, winning gold and the NBA championship in the same summer. Remember, Durant almost ousted their Milwaukee Bucks in the second round, toeing the 3-point line as his fallaway jumper tied Game 7:
Wearing size 18 sneakers cost Durant that night - his Brooklyn Nets were eliminated in overtime - but if the need arises, he's uniquely capable of getting the U.S. a bucket. If the U.S. wins out this week, his three straight gold medals would match Anthony's career haul.
Jose Bautista: Dominican Republic, baseball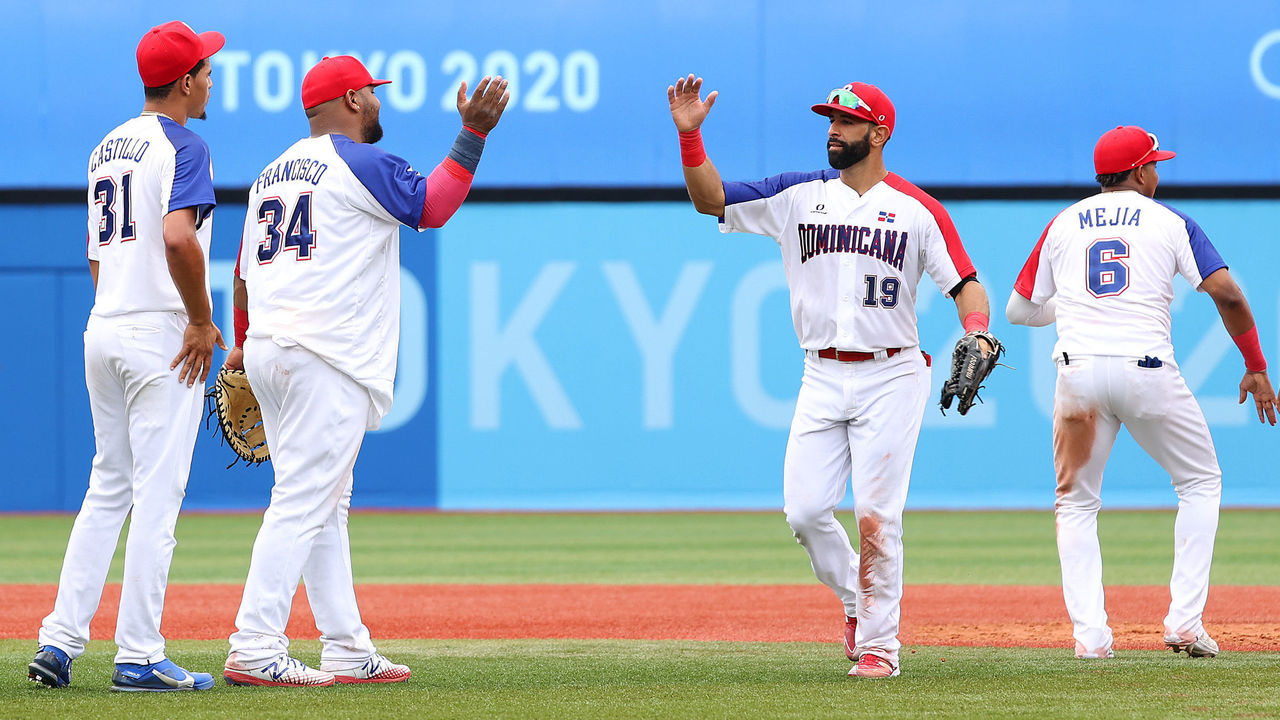 His bat flip immortalized the Toronto Blue Jays' 2015 playoff run, but Bautista's clubs didn't reach the World Series in any of his 15 major-league seasons. International glory has proved elusive, too. Bautista represented his country at the 2009 and 2017 World Baseball Classics, but the Blue Jays blocked him from the 2013 edition, citing his recovery from wrist surgery. The Dominican Republic won the tournament without him.
Can he remedy this in Tokyo? Five teams are still vying for medals in baseball's one-off return to the Olympics. The Dominicans blew a ninth-inning lead and lost to South Korea on Sunday, and they now need to win two straight repechage games to reach the semifinals. They'll face Korea or Israel in the first of those contests Tuesday at 6 a.m. ET.
In the preliminary round, the Dominicans fell 4-3 to Japan but blanked Mexico 1-0. Bautista preserved the shutout courtesy of this sixth-inning laser to the plate:
The six-time MLB All-Star is 40 now and playing at this event alongside a bunch of veteran MLB free agents. Emilio Bonifacio and Melky Cabrera are his Dominican teammates. Ian Kinsler mans second base for Israel, and Adrian Gonzalez was Mexico's designated hitter before the squad was eliminated.
Todd Frazier, Edwin Jackson, and Scott Kazmir are part of Mike Scioscia's U.S. roster, as is Simeon Woods Richardson, the 20-year-old pitcher dealt from Toronto to the Minnesota Twins for Jose Berrios prior to Friday's trade deadline. The Americans face Japan on Monday at 6 a.m. ET for a spot in the semis.
Christine Sinclair: Canada, soccer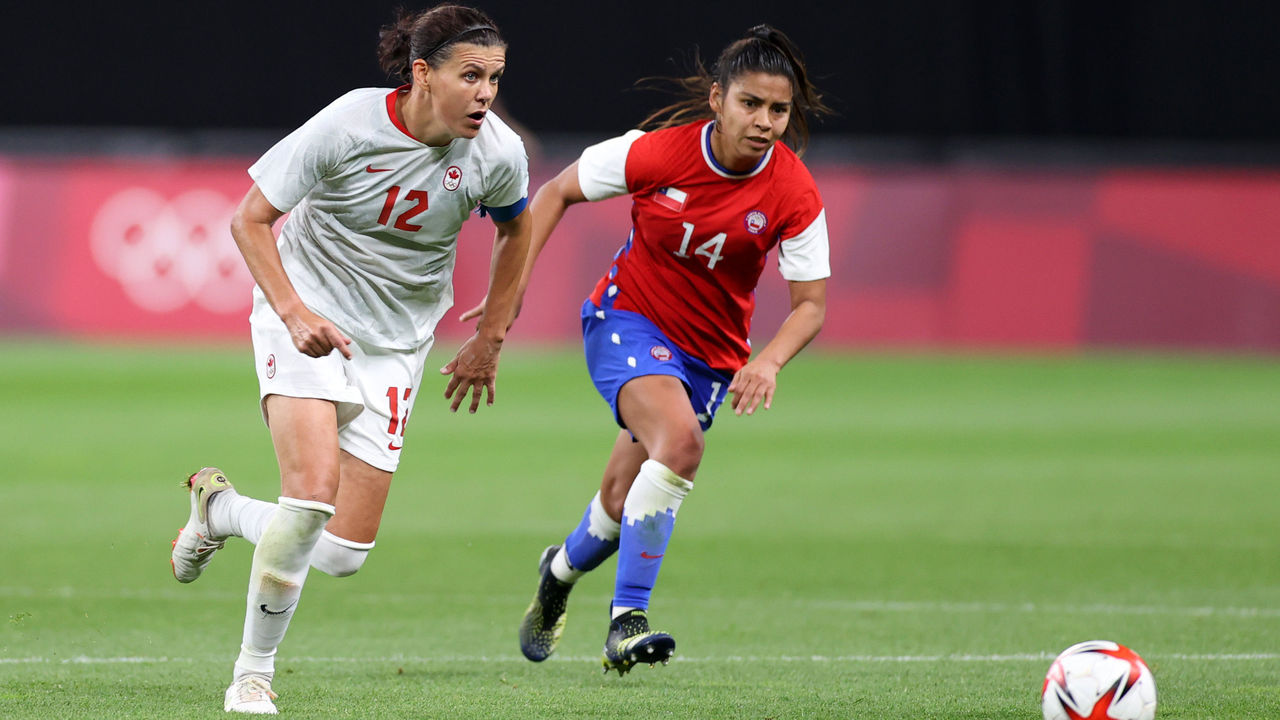 The quarterfinal win ran counter to an established trend: When a result is in doubt, Canada leans on Sinclair. Following a goalless draw against Brazil on Friday, Sinclair's opening penalty kick was denied, but keeper Stephanie Labbe stuffed Brazil's fourth and fifth attempts to secure victory.
That Sinclair got help in the clutch was richly deserved. Her 187 career goals are the most all time in international soccer, and at 38 years old she still has the juice to trouble the U.S. national team, Canada's semifinal opponent Monday at 4 a.m. ET. Australia-Sweden is the other semi, and the winners will meet for gold Thursday at 10 p.m. ET.
Sinclair was the only Canadian to score in two previous Olympic knockout defeats to the USWNT. She scored a golazo to equalize the 2008 quarterfinals before the U.S. prevailed in extra time. Sinclair then bagged a famous hat trick in the 2012 semis, but Alex Morgan netted the American winner in the 123rd minute. The U.S. won gold at that tournament; Canada claimed bronze in 2012 and 2016. What drama does Monday's encounter have in store?
Nelly Korda: U.S., golf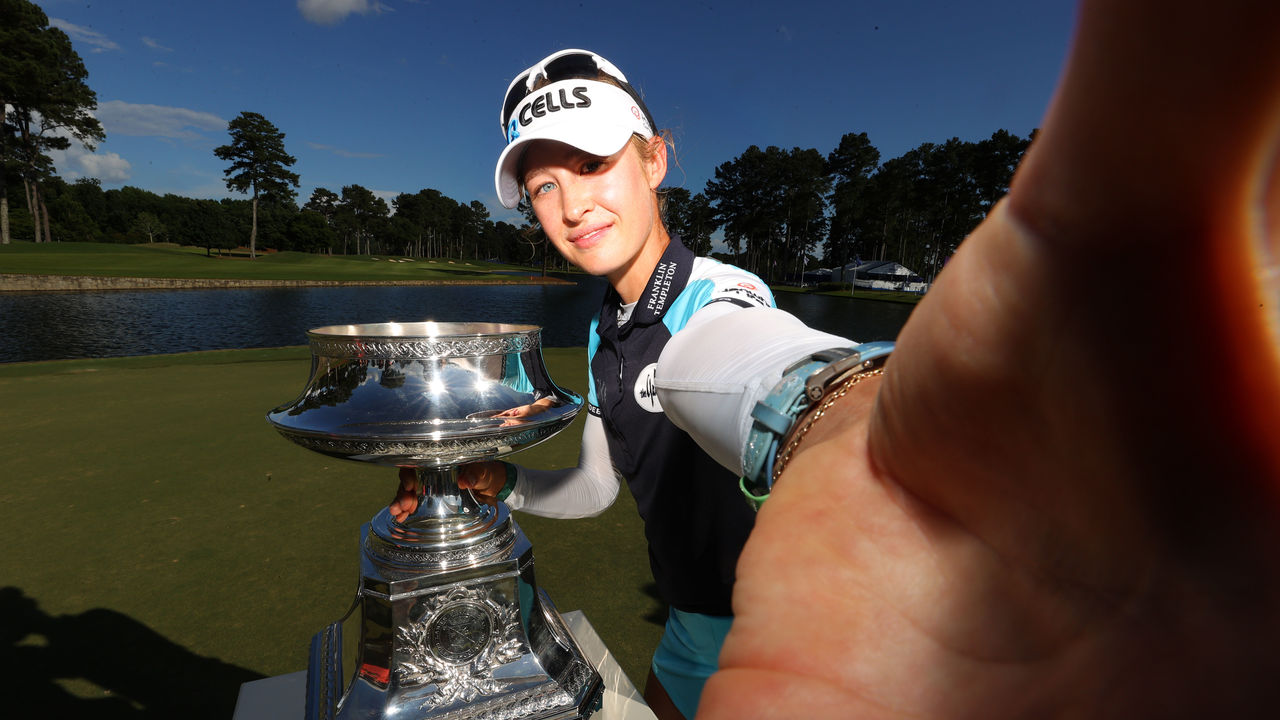 Talk about good timing: Golf is back at the Olympics for the second time since 1904, and Korda enters the women's event on a roll.
Consecutive victories last month at the Meijer LPGA Classic and the Women's PGA Championship gave her three wins on TOUR this season and six for her career. The KPMG win was Korda's first major title, and it elevated her world ranking to No. 1. Korda turned 23 last week and headlines the 60-golfer field gearing up to tee off Tuesday evening Eastern time.
Her top competition is South Korean. Jin Young Ko was the world No. 1 for 24 months until Korda displaced her. Inbee Park, the world No. 3, won Olympic gold in Rio by five strokes. Sei Young Kim (No. 4) was the LPGA's 2020 Player of the Year. Hyo Joo Kim (No. 6) tied for third at the Women's PGA Championship and rounds out the dynamite quartet.
Korda's family is supremely athletic. Her sister, Jessica Korda, is the world's 15th-ranked golfer and joins Nelly, Danielle Kang (No. 5), and Lexi Thompson (No. 12) on the U.S. women's team. Then there are the tennis players. Brother Sebastian reached the round of 16 at Wimbledon a few weeks ago; dad Petr won the 1998 Australian Open; mom Regina was an Olympian for Czechoslovakia in 1988. Two medals are in reach for the brood this week.
Gabby Thomas: U.S., track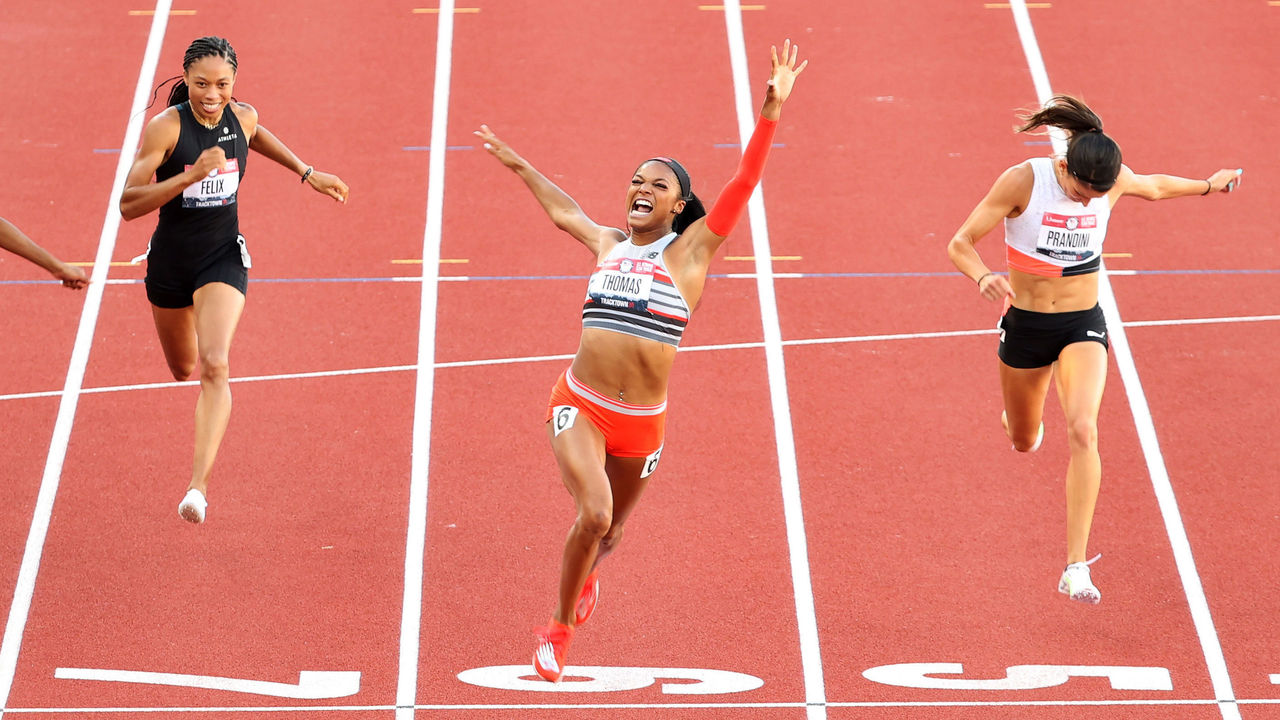 Florence Griffith Joyner's world record in the 200m - 21.34 seconds, set in the Olympic final at Seoul 1988 - is virtually untouchable. No woman has ever come closer to the mark than Thomas. She clocked a 21.61 time at June's U.S. Olympic trials, whizzing into the medal conversation at her first Summer Games.
Thomas, 24, is a Harvard graduate and epidemiology master's student at Texas, and she withstood tribulations to make it to Tokyo. Provisionally suspended in 2020 for missing doping tests, Thomas managed to prove the ban was unfounded, freeing her to run again. Weeks before the U.S. trials, a tumor on her liver was found to be benign and harmless.
Now, her path to 200m gold runs through Shelly-Ann Fraser-Pryce. Tokyo's 100m silver medallist recently upgraded her personal best at double the distance, running 21.79 at Jamaica's Olympic trials. That time is second-best in the world this year to Thomas. Expect them to push each other in Tuesday's 200m final at 8:50 a.m. ET.
Thomas said at U.S. trials that she grew up idolizing Allyson Felix, her 35-year-old teammate who could set Olympic track history this week. With one more medal, Felix would own 10 and match Carl Lewis' American record. Felix remains a podium threat at 400m and is part of the U.S. women's 4x100m relay lineup; both of those finals take place Friday.
Damian Warner: Canada, decathlon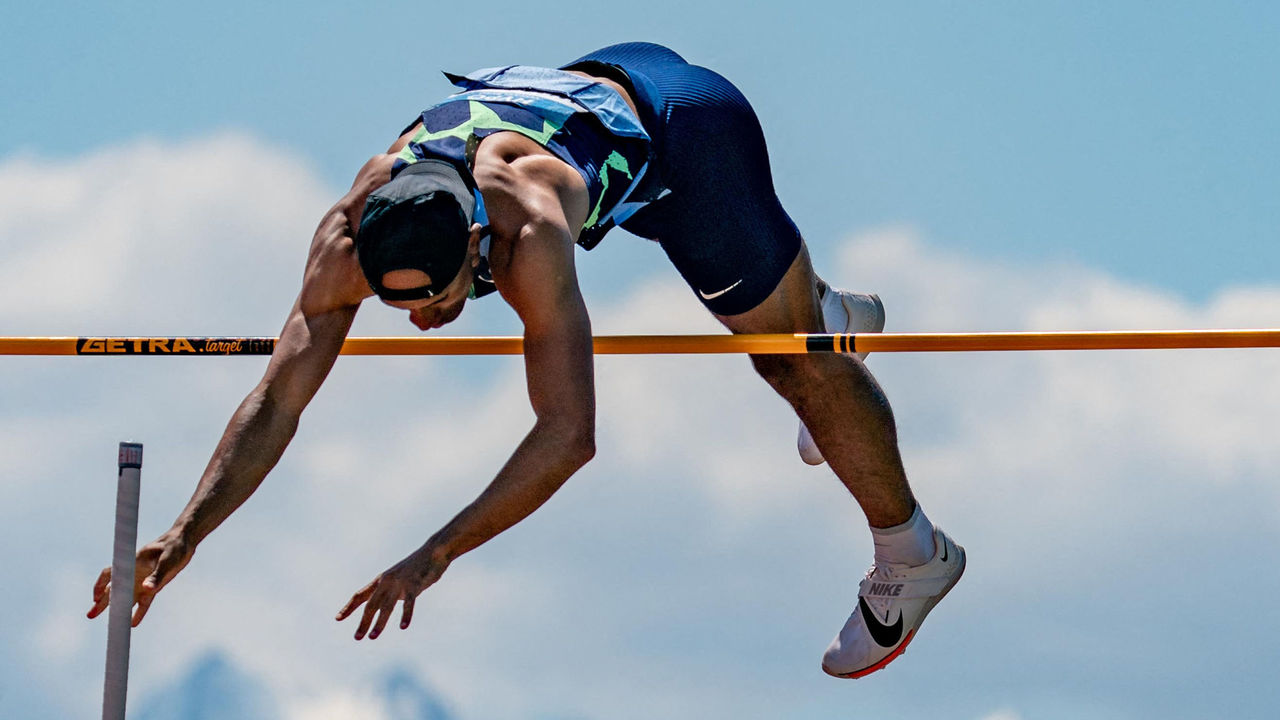 Ashton Eaton was an implacable force in this event until the American two-time Olympic champ retired in 2017. He dominated like Usain Bolt did. And just as Lamont Marcell Jacobs filled the Bolt void Sunday by sprinting to 100m gold, Warner has waited for his turn to try to rule the decathlon this week.
Warner finished third at Rio 2016 behind Eaton and Kevin Mayer, the Frenchman who broke Eaton's decathlon world record a few years ago with a 9,126-point performance. Mayer and two retirees, Eaton and Roman Sebrle, are the only decathletes who've eclipsed 9,000 points. Two months ago at a meet in Austria, Warner set a new personal best of 8,995.
The decathlon is a two-day grind that rewards stamina and versatility. The order of events in Tokyo breaks down as follows (all time blocks Eastern):
Tuesday night: 100m, long jump, shot put
Wednesday morning: High jump, 400m
Wednesday night: 110m hurdles, discus throw, pole vault
Thursday morning: Javelin throw, 1500m
Warner owns the world decathlon records in the 100m, 110m hurdles, and long jump, while Mayer is superior in shot put, discus, javelin, and pole vault. That leaves high jump, 400m, and the conclusive 1,500m race as potential swing events. If Warner or Mayer falters, Canada's Pierce LePage (PB: 8,534) could stand to benefit.
Akiyo Noguchi: Japan, sport climbing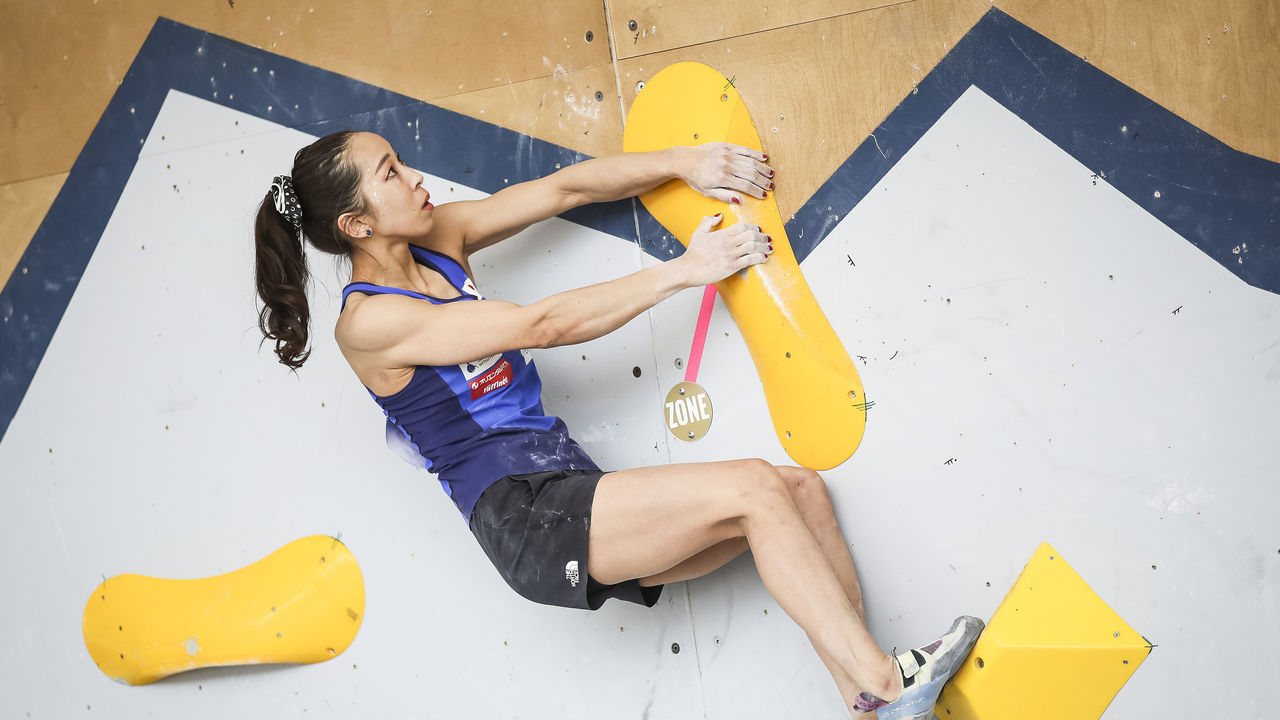 Noguchi is a legend in her sport, three times the Climbing World Cup's all-around champion. She intended to retire several years back but rethought her trajectory when climbing was added to the Olympics for Tokyo. Now, she's 32 and aiming to deliver women's gold to the host country.
That'll require her to beat the event's 22-year-old powerhouse, Janja Garnbret of Slovenia. Sport climbing is split into three disciplines: lead, bouldering, and speed. Garnbret was the World Cup circuit's best lead climber in 2016, 2017, and 2018, topped 2019's bouldering leaderboard, and won the overall (or "combined") season title all four of those years. She's the safe bet to prevail in Tokyo on Friday.
Ahead of climbing's Olympic debut, some athletes bashed the competition format, lamenting the decision to award a single set of medals for overall prowess rather than judge each discipline individually.
In lead, harnessed climbers contort on tall walls to try to navigate various routes; boulderers do the same, just on shorter walls without a rope. The mind works in tandem with all four limbs. Speed is much different, a head-to-head sprint to the top that lasts as few as seven seconds on the women's side. If Noguchi finishes close to Garnbret in lead and bouldering, the faster climber between them might top the podium.
Nick Faris is a features writer at theScore.
Comments
✕
7 Olympians to watch over the final week of action in Tokyo
  Got something to say? Leave a comment below!