Chloe Garner gave up golf. Then she muscled her way to the top of long drive
Cy Cyr / World Long Drive Association
The driver languished outside Chloe Garner's golf bag for three seasons, waiting to be unleashed again.
When the club's South African handler arrived in the United States at age 18, she was wary of the country's small NCAA courses, fearing her power off the tee would doom her to overshoot greens from Texas to Tennessee. Course management was paramount, Garner was told, and on those holes where she needed to go long, her 3-wood seemed a decent substitute. So she played inhibited until, at a coach's urging late in her collegiate career, she belatedly trusted herself to let fly.
"She just encouraged me to get (the driver) back in my hand," Garner said recently. "It was nice to have it back."
Reclaiming control of her preferred tool unlocked the totality of Garner's potential in the sport - but not immediately. Her development into a particular kind of golf star first spanned those frustrating springs at Texas A&M and East Tennessee State University, where Garner never met her own performance expectations. After graduation, three years followed during which she didn't touch a club.
Hankering for an athletic reset, Garner picked up CrossFit and discovered connections - a road back, even - to the game on which she'd soured. Top CrossFitters generate force on weight lifts from the ground up, powering quick-twitch movements that, optimally executed, blend explosivity with precise technique. It's the same balance that carries the day in long drive, the golf spinoff that demands its players bash the ball as far as possible within bounds. Last year, Garner became its women's world champion.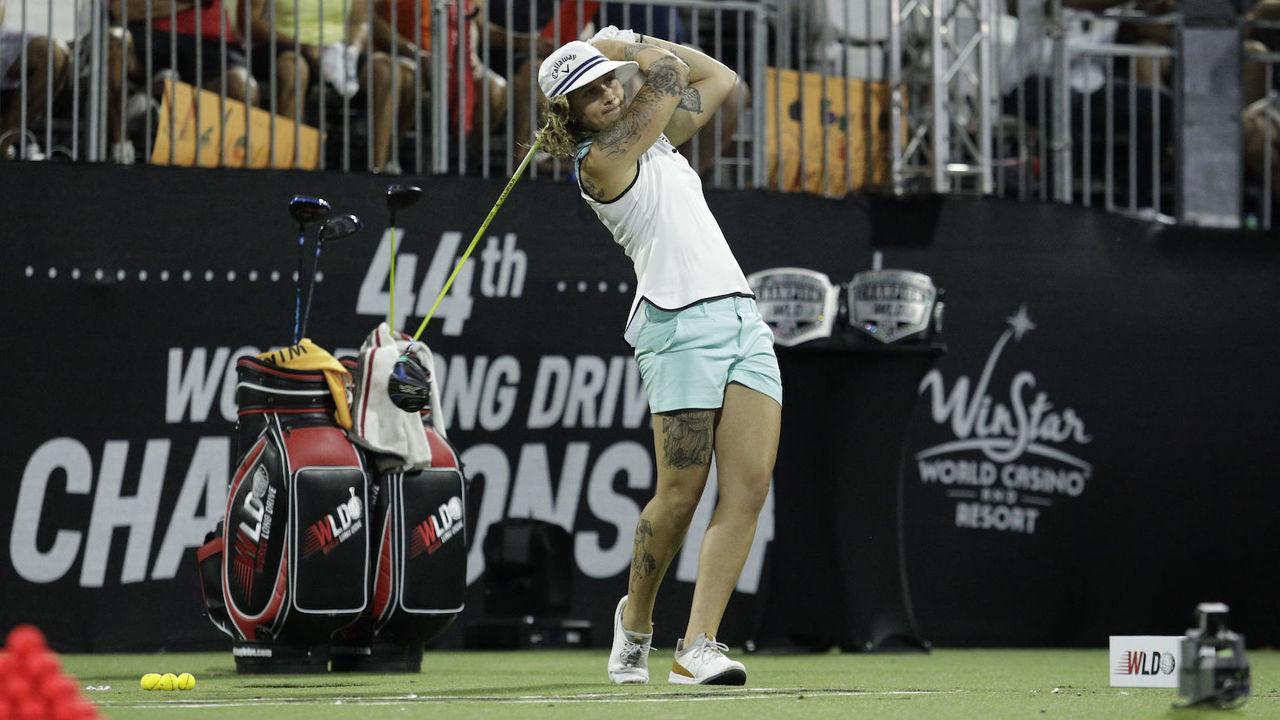 Consider it a paradox of Garner's extraordinary ascent that she lost faith in her driver a decade ago. Equipped with a CrossFitter's muscle mass and the kind of nerve under pressure that eluded her in college, she stroked a drive 347 yards in Oklahoma last September to stun world No. 1 Phillis Meti, the legend of the discipline who had quashed Garner's title ambitions in two previous finals.
"A lot of people use the word 'unbeatable' with her," said Garner, 29. "I just fed myself the idea that I could beat her - and if anyone could beat her, I could beat her. As arrogant and cocky as it is, if I thought anything less than that, then I might as well have packed up my clubs and gone home."
Summer 2020 would have been Garner's shot at authoring an encore, had the coronavirus pandemic not overwhelmed the world and compelled strict lockdown orders in Somerset West, South Africa, the Cape Town suburb where her cottage home is situated. PGA Tour action is back without fans present, as the LPGA will be soon, but the World Long Drive Tour canceled its five regular-season competitions. It's still to be determined whether this year's world championship, originally scheduled for Sept. 3-9 outside Chicago, can be held.
The long-drive championship, which dates to 1976, has staged a women's event since 2000. Garner's fellow luminaries on that side of the game include Sandra Carlborg, a Swedish veteran of the tour who won five world championships between 2011 and 2017; Heather Manfredda, the 2013 champion and twice the runner-up to Carlborg; and Troy Mullins, a former NCAA heptathlete who has sailed a drive as far as 402 yards. Pacing the pack is Meti, a three-time champ from New Zealand whose own personal best, 414 yards, is the women's world record.
In bracketed head-to-head matchups, long drivers get two minutes and 30 seconds to drill up to eight balls off the tee; the single farthest recorded distance determines who wins. Under this format, Garner advanced to championship finals as a tour rookie in 2016 and again in 2018, only to fall to Meti both years. When Meti set the stage for another victory with a 344-yard blast in the 2019 final, Garner's rejoinder - a 347-yard walk-off bomb - was historic: the longest title-clinching shot ever.
Garner's celebration - the club spike, the whirl, the collapse to her knees - befitted the magnitude of her breakthrough. Getting to that point required her, every few weeks last season, to submit to the same forbidding itinerary: flying 11 hours from Cape Town to Doha, Qatar, and a further 15 hours to the States, followed by the return trip days later. (She departed from this routine before the championship, deciding instead to train in Tennessee for a month ahead of time.)
Spiritually, you could say Garner has traveled a distance, too. How else to explain the gulf between her upset of Meti and the disenchantment that dogged her in college?
"I didn't live up to the golfer that I wanted to be (back then)," Garner said. "Physically, I could do everything I needed to in golf, but mentally, I wasn't there at all. So many girls out there who were shorter hitters than me absolutely whipped my ass, because they would keep it straight and their short game was good."
Such shots no longer concern Garner, but opportunities to simply get out and whack the ball have been scarce lately. Courses were closed across South Africa for a few months, although she finally was able to return to practice late in June. Before lockdown started, she was several weeks into a training regimen designed to bolster her absolute, one-rep strength. Gyms have been shut since, too, complicating her concurrent attempt to qualify as a weightlifter for the 2022 Commonwealth Games.
Even when that pursuit is cleared to resume, she'll have plenty left to chase in long drive, including change she'd like to see realized. Garner echoed a call Meti made in the offseason for championship prize funds to be distributed more equitably. Kyle Berkshire, the 2019 men's long-drive champ, was awarded $125,000 for winning his division, nearly four times the $35,000 that Garner pocketed.
"The discrepancy is too big. I don't think that we should be paid equally because the men's field is a lot bigger. They have a lot more competition. But we don't even get 50% of what they get," Garner said. "We're spending just as much (in expenses) to be out there competing for (the tour), providing a sport that they can broadcast."
Boosting the women's prize pool would incentivize participation at the elite level, Garner said, thereby strengthening the field that will look to dethrone her in the future. Improving in long drive means continually pushing for faster swing speed and ball speed, a hitter's go-to metrics for assessing her capacity to mash. Let fly, she hopes, and greater distance benchmarks - not to mention title defenses - will follow.
"Also," Garner said, "I would very much like that No. 1 world ranking spot that my friend Phillis has."
Nick Faris is a features writer at theScore.
Comments
✕
Chloe Garner gave up golf. Then she muscled her way to the top of long drive
  Got something to say? Leave a comment below!