20 most memorable moments from Euro 2020
Following a thrilling month of football, Euro 2020 came to an end with Italy's victory over England on Sunday at Wembley. Here's a look at the 20 most memorable moments from a tournament with no shortage of highlights.
Bocelli kicks off proceedings in style
Italian tenor Andrea Bocelli kicked off the tournament opener between Italy and Turkey at the Stadio Olimpico with a stirring rendition of "Nessun Dorma" from Giacomo Puccini's opera "Turandot." Bocelli's crooning proved to be a good omen for the eventual tournament winner. Goosebumps.
It's not delivery, it's Insigne's
After Bocelli's rousing performance, the match ball for the tournament opener in Rome was delivered by a slick remote control car. Jokes that pint-sized Italy attacker Lorenzo Insigne's car had been stolen ensued, claims that have not yet been corroborated - or denied - by the diminutive Italy star.
Schick leaves Scotland in tangled mess
It didn't take long for the leading candidate for goal of the tournament to emerge. Three days into Euro 2020, Patrik Schick virtually ended the debate - and also entered the conversation for the Puskas Award - with an audacious strike of sheer quality in the Czech Republic's win against Scotland.
In the blink of an eye, Schick silenced Hampden Park and turned David Marshall into an instant meme with a 49-yard strike. Schick later cut off speculation that it was lucky, saying he'd planned on having a go from distance after noticing Marshall stray off his line earlier in the game.
Paraglider crashes Group F clash in Munich
Confusion quickly turned to concern when a paraglider descended into the Allianz Arena before Germany's crucial Group F clash with France.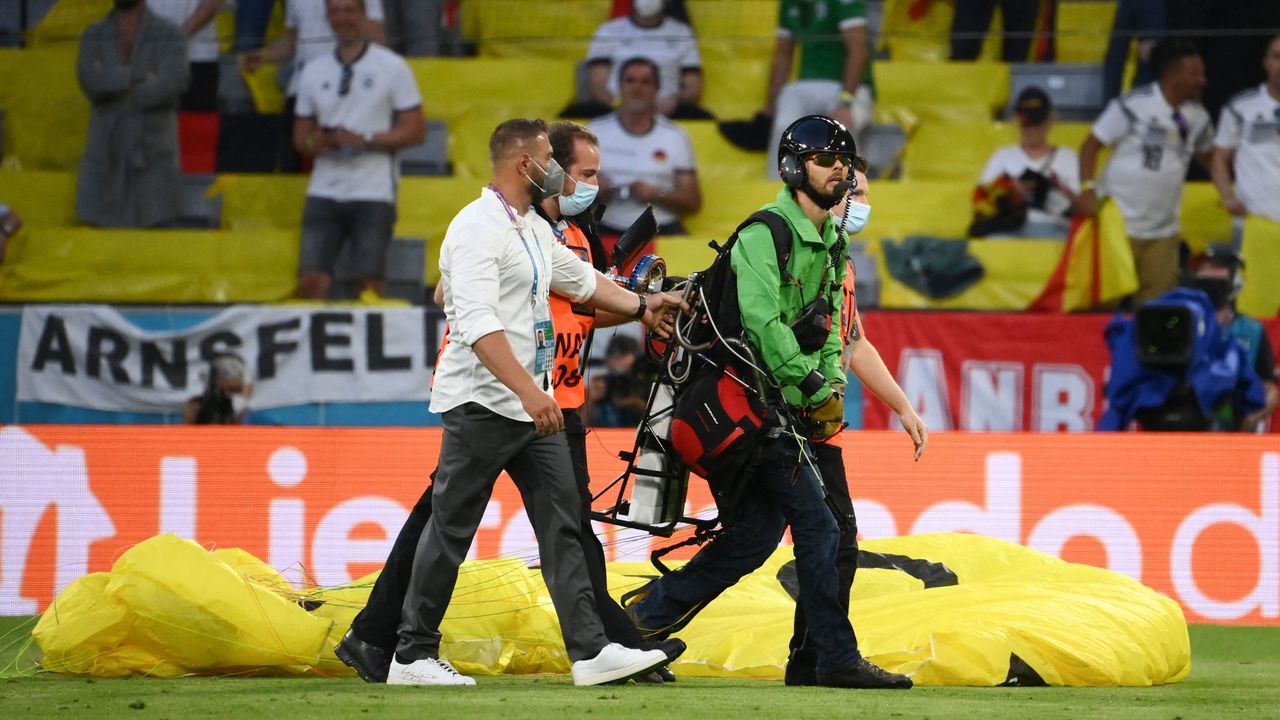 The Greenpeace activist's attempts to protest a Euro 2020 sponsor almost led to disaster when he struck the overhead camera cabling inside the stadium, causing debris to fall on the pitch and stands. Greenpeace apologized for the failed stunt, which left several people injured.
Lukaku pays tribute to Eriksen
Christian Eriksen's terrifying collapse in Denmark's opening match against Finland was, by far, the biggest story at Euro 2020. The football world unanimously shared its well-wishes for Eriksen in the aftermath of his cardiac arrest, and Belgium's Romelu Lukaku paid tribute to his Inter Milan teammate hours later during a win over Russia.
Among several touching tributes to Eriksen from players and fans alike during the tournament, Lukaku's stood out.
No Coca-Cola for Ronaldo
A frustrated Cristiano Ronaldo made headlines for all the wrong reasons five years ago when he tossed a reporter's microphone into a pond after Portugal's early struggles at Euro 2016. The incident was quickly forgotten after Portugal won the tournament.
It wasn't quite as scandalous, but Ronaldo shared his contempt for Coca-Cola during a presser at Euro 2020. He likes water. Good for him. It was enough to inspire countless memes, and the incident was blamed, perhaps questionably, for Coca-Cola's market value plunging by about $4 billion in the aftermath.
Budapest rejoices as Hungary soars
Supporters inside stadiums were a welcome component of Euro 2020, one that had been sorely missed in more than a year of games played behind closed doors or at reduced capacity due to the coronavirus pandemic.
The familiar sound of an entire stadium erupting with joy returned in Budapest when Hungary - the only nation that didn't implement attendance restraints - grabbed an unlikely lead against World Cup holder France courtesy of Attila Fiola's first-half goal. The wild celebrations continued long into the night despite France's eventual equalizer.
Emotional Denmark erupts for 4 goals
Denmark looked like a team destined to go home early following defeats to Finland and Belgium. The odds of progressing out of the group stage were predictably grim heading into the final matchday - nine days after Eriksen's traumatic incident in Denmark's opening game of the tournament.
But Kasper Hjulmand's men put on a show that the supporters in Copenhagen and around the world won't soon forget. Despite leading Russia 2-1, elimination remained a threat until Andreas Christensen and Joakim Maehle broke the game wide open with late goals to seal Denmark's unlikely place in the round of 16. The ensuing emotions on display, from players and fans, were truly moving. What a run for the Danes.
Red card turns Dutch dreams into nightmare
Despite Frank de Boer's best efforts, the Netherlands ransacked Group C before facing a brawny Czech Republic team in the last 16. The contest hung in the balance until the 55th minute when Matthijs de Ligt slipped and went down under pressure from Schick, handling the ball in the process.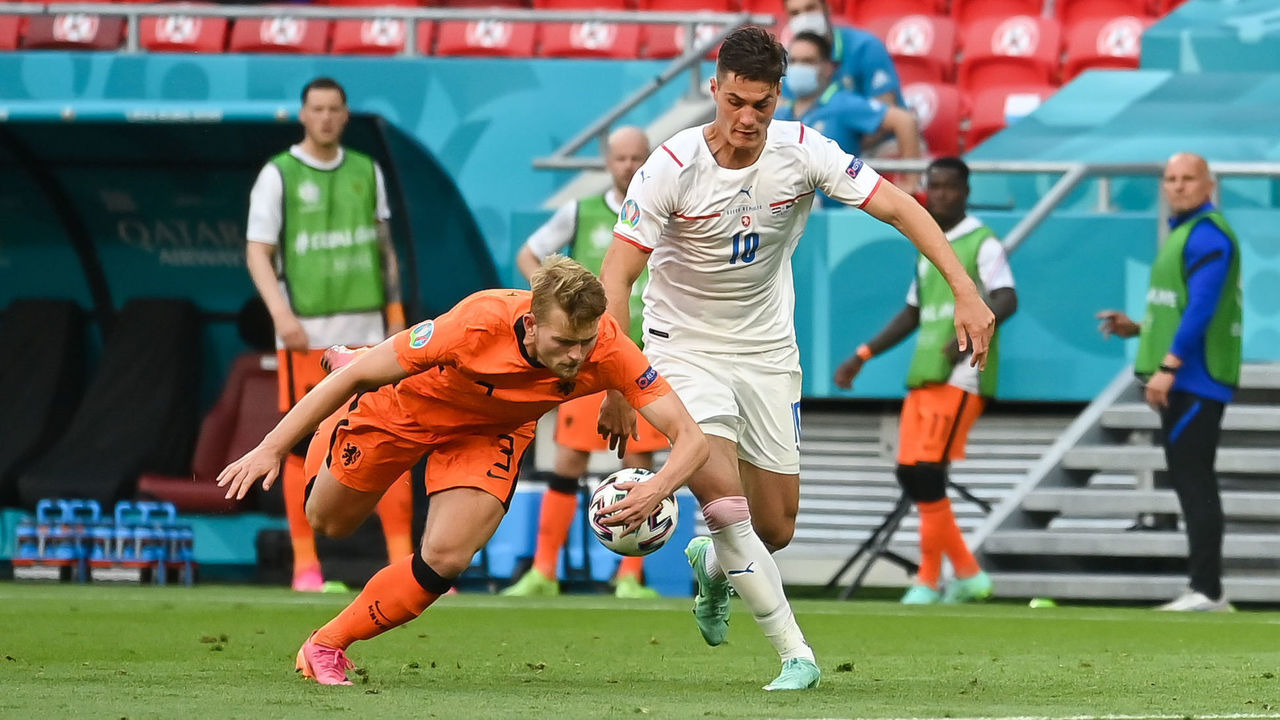 De Ligt was sent off following a VAR check, the Czechs scored twice in the ensuing 25-minute spell, and Dutch tournament hopes - like De Boer's tenure as national team boss - were toast. The Oranje's ouster was the first major shock in a tournament littered with surprises.
Manic Monday
June 28, 2021, may go down as the greatest single day in the history of tournament football: two matches; 14 goals - both stunning and bizarre; incredible late comebacks by unfancied underdogs; extra time; penalties; and the biggest upset of the competition.
None of Spain, Croatia, France, or Switzerland ended up winning Euro 2020, but they each contributed to a breathless several hours of action that we won't soon forget.
Unai Simon's redemption arc
That epic day of action began in truly outlandish fashion, with Spanish goalkeeper Unai Simon making an unbelievable error against Croatia that resulted in one of the most astounding own goals in recent memory. Own goals had a moment at the Euros, and this was the pick of the bunch.
But Simon bounced back. He could have withered after his incredible, meme-worthy blunder, but he redeemed himself by playing hero against Croatia in extra time and then again in the penalty shootout versus Switzerland in the following round. Perseverance in sports can be magical.
Switzerland beats France on penalties
While Spain-Croatia was finishing up in Copenhagen, Switzerland-France got underway in Bucharest, and right from the early stages, hilarity was afoot - Haris Seferovic, of all people, scoring early against the reigning World Cup champion was a signal that this would not be your typical match.
The back-and-forth affair saw Switzerland overturn a two-goal deficit, scoring twice in the final 10 minutes of normal time before Yann Sommer turned hero in the penalty shootout. The goalkeeper swatted aside Kylian Mbappe's decisive penalty in acrobatic fashion to give Switzerland its most famous win.
Swiss fan steals the show
Switzerland supporter Luca Loutenbach probably didn't expect to become the viral sensation of Euro 2020 when he woke up on June 28, but the roller coaster of emotions he experienced during the remarkable Swiss triumph over France was among the defining images of the tournament.
The beautiful game, indeed.
Veronique Rabiot beefs with Mbappe, Pogba families
French international Adrien Rabiot's mother - and former agent - Veronique has earned a reputation in certain circles as an unsympathetic intermediary, to put it kindly. Notable items on her CV include hostile negotiations with Barcelona and a reported tiff with Manchester City that resulted in her son's removal from the club's academy.
During France's last-16 defeat to Switzerland, Rabiot's mom "allegedly" (there's video) picked a fight with Kylian Mbappe's father, Wilfried, when she claimed the PSG star was arrogant, and she feuded with members of Paul Pogba's family after he was dispossessed in the lead up to Switzerland's dramatic late equalizer. The French camp always brings the drama.
Ukraine beats Sweden at the death
Artem Dovbyk and Ukraine manager Andriy Shevchenko danced in joy on the touchline after the former's late goal secured a dramatic victory over Sweden in the round of 16 and an unlikely quarterfinal spot.
With the match seconds away from going to a penalty shootout, Oleksandr Zinchenko delivered a beautiful cross that eluded Swedish defenders to find Dovbyk for the close-range header deep into extra time. The mood would change when Ukraine was played off the park against England, but the tournament's only true last-gasp winner was still invigorating.
England slays German demons
Mercifully, the curse has been lifted.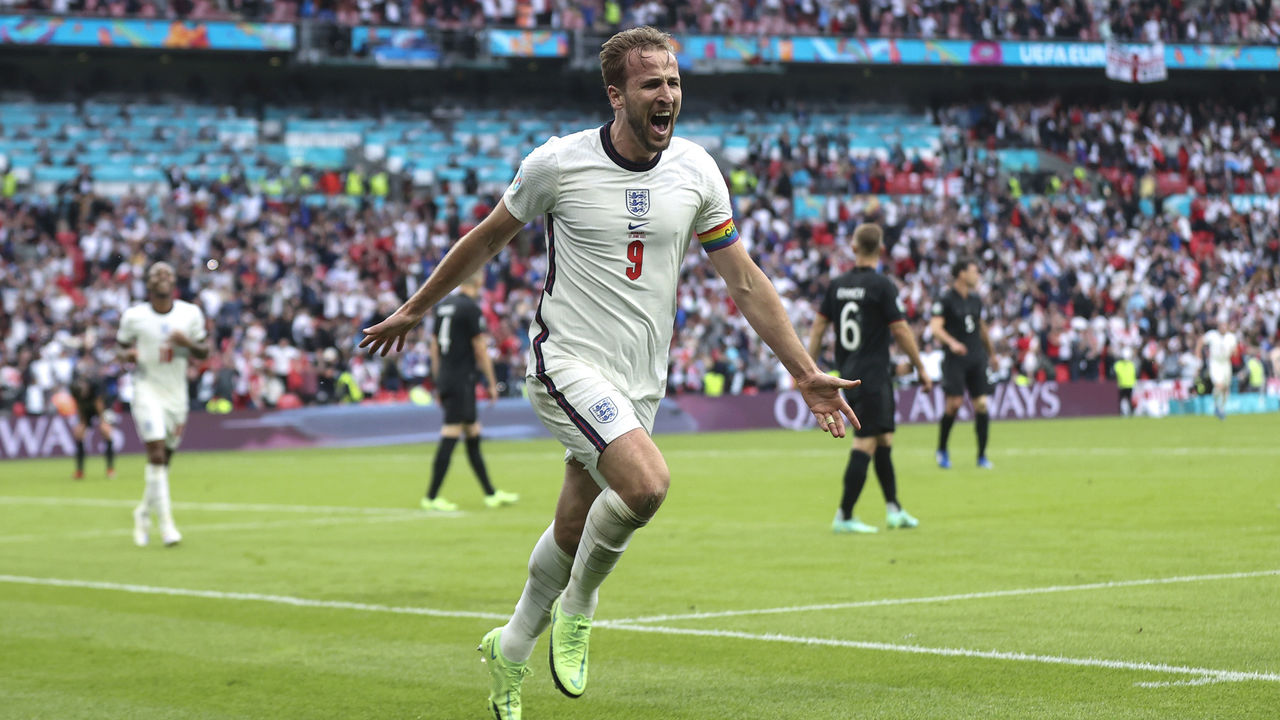 England beat Germany in a knockout match for the first time since the 1966 World Cup final, erasing years of sporting heartache and adding another accomplishment to a growing list for this young, extremely likable generation of English players. A dreaded shootout in the final ended the Three Lions' dreams of hoisting the trophy - breaking two curses in the same tournament was probably asking a bit much - but, difficult as it may be for fans to stay positive right now, the jubilation on display after ousting Germany is the energy that the country needs to take into future competitions.
Chiellini and Alba coin toss
Few players have such contrasting on- and off-pitch personalities as Giorgio Chiellini. The Italy captain is a gruff, uncompromising center-back who enjoys the art of defending more than maybe any human on the planet, but outside the confines of the field, he's as playful a character as you'll find. The transformation is quite spectacular.
Chiellini's zest for life, and football, was on full display ahead of the semifinal shootout against Spain. He seemed totally unfazed by the occasion, basking in the moment at the expense of a nonreciprocal Jordi Alba.
Jorginho's penalty vs. Spain
Coolness personified.
Jorginho's trademark hopping penalty technique doesn't always work - see the final against England - but when it does, it's absolutely glorious, particularly in high-pressure situations. Unai Simon, who apparently didn't read the scouting report, was faked out so badly in the semifinal shootout that Jorginho was celebrating his winning spot-kick the moment it came off his foot. What a way to send your team to the final.
Luke Shaw makes history
Jose Mourinho is pulling his hair out somewhere. Luke Shaw's development into one of the world's standout left-backs continued apace at Euro 2020; the Englishman was a tireless creative force for Gareth Southgate and punctuated an outstanding competition with the fastest goal ever scored in a Euro final when he smashed home a volley in the second minute against Italy.
It ultimately wasn't enough to bring football home, but few players did more to enhance their personal reputation than Shaw over the last month, and that enrapturing strike was a fine way to punctuate his tournament.
'It's coming ... to Rome'
After weeks of hearing England supporters claim the European Championship was "coming home," Italy defender Leonardo Bonucci can be forgiven for correcting the infamous adage with an Eternal City spin following Italy's victory over the Three Lions at Wembley.
No great tournament is complete without some shithousery. Bonucci saved it for the very last moment.
Comments
✕
20 most memorable moments from Euro 2020
  Got something to say? Leave a comment below!