Every week, theScore will handpick the best stories from the top five leagues and beyond, giving bite-sized accounts of the things you need to know from around European football.
So much for Messi's 'drought'
Lionel Messi's longest drought in six years was really not that long at all. He hadn't scored in 398 minutes - the equivalent of four-and-a-half La Liga matches - and yet the doubts still crept in. Such is his standard of excellence that it felt like an eternity.
So Messi went ahead and put four goals past Eibar on Saturday. Three of them came in the first half alone, the first a dazzling effort - the kind we've come to expect from him - with a shimmy here and there and a perfect shot into the bottom corner.
But it wasn't as if the 32-year-old was unproductive in previous games. Messi collected a hat-trick of assists against Real Betis on Feb. 9 and added another against Getafe. Keep in mind, he's playing through the pain of a lingering thigh injury. Barcelona should be eternally grateful to Messi, who's once again shouldering the burden of a club in disarray.
VAR makes mockery of itself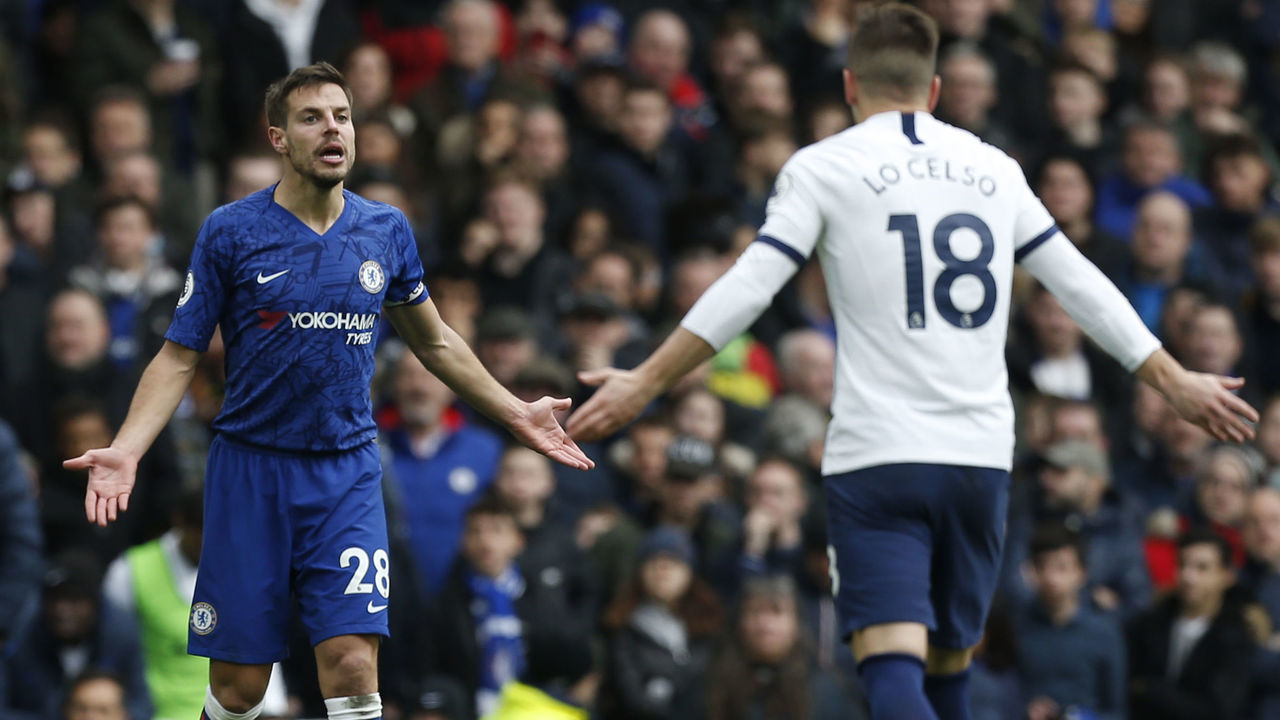 Missing the call was bad enough. Admitting it was wrong minutes later, while the game was still being played, was just defeating.
VAR decided against sending off Tottenham midfielder Giovani Lo Celso on Saturday for a stomp on Chelsea captain Cesar Azpilicueta, ignoring clear evidence of violent conduct. Officials said human error, the very thing VAR was supposed to eliminate, was the reason for the oversight. The thing is, if it can't even spot a reckless and dangerous tackle, then there's no reason at all to trust it as a key decision-maker. What's the point of this frustrating experiment if the people using the technology continue to exercise bad judgment?
Saturday's episode proves "human error" is impossible to scrub out of football. The game's stakeholders can no longer pretend VAR is an infallible solution. Maybe the right call would've been made if Michael Oliver, the designated match official at Stamford Bridge, had a chance to review the incident on a pitchside monitor. But that rarely happens. The referees' organization doesn't encourage officials to watch replays or contribute much at all to the overall process.
Haaland gunning for 50 goals
Erling Haaland's numbers are incredible. He has 12 goals since joining Borussia Dortmund in January and 40 across all competitions. He's averaging nearly two goals a game and converting nearly half of the shots he takes. He even reached a top speed of 38 kph (24 mph) while sprinting for the ball in the Champions League.
It should surprise no one. Haaland has performed at an elite level for several months now. He's not a normal 19-year-old: He already has four years of top-flight experience under his belt. If he was scoring tap-ins all season long, maybe he wouldn't deserve all this hype. But the Norwegian is producing in different situations, converting from open play, off the counter, and on set pieces. His movement is exceptional, and his shot is powerful and accurate.
Haaland has all the tools to score 50 or more goals this season.
Ronaldo won't stop scoring
With the winning goal Saturday against SPAL, Cristiano Ronaldo extended his Serie A scoring streak to 11 matches, tying Gabriel Batistuta and Fabio Quagliarella for the longest run in league history. He did it in his 1,000th professional appearance, too, showing that, at 35 years of age, his competitive spirit is unyielding.
Ronaldo has 19 goals on the run, only five of which have come from the penalty spot. This isn't about riding any luck: Ronaldo has scored with both feet, and in one extraordinary leap in December, the Portuguese international towered over his marker against Sampdoria to produce one of his trademark headers.
He's still a magnificent athlete. Any problems Juventus have at the moment are independent of his exceptional form.
Hertha Berlin sinking fast
This isn't what Lars Windhorst had in mind when he invested an initial €125 million in Hertha Berlin last year. Without a permanent head coach or any hope in sight, Hertha slumped to a 5-0 loss to Koln on Saturday, dropping even closer to the relegation zone. The club was already struggling before Jurgen Klinsmann resigned Feb. 11, but his impromptu hissy fit made a bad situation worse.
By appointing Klinsmann and signing several players in the January transfer window, Hertha hoped they had done enough to allay fears of being relegated. This season was only ever about surviving. But if they don't find a way to stay in the Bundesliga, Windhorst's ambitious targets - with Champions League football among them - may well fade to black.
To avoid a calamitous end to the season, Hertha need to get more production from Krzysztof Piatek. A club-record signing from AC Milan, Piatek is only functional when he has service. Whether his new teammates can provide that is another question entirely.
Hazard's season from hell continues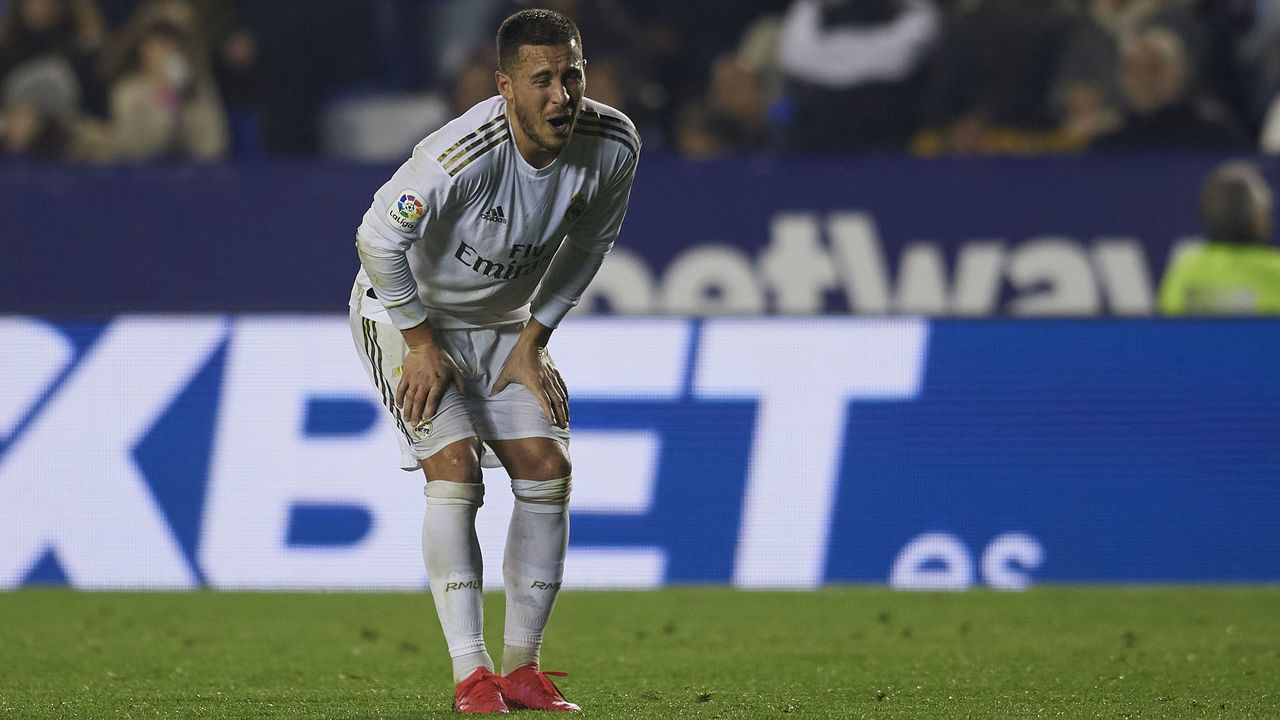 Eden Hazard waited so long to join Real Madrid. But when the transfer actually happened, he wasn't prepared for it. He showed up overweight and suffered a thigh injury early on. His first season at the Santiago Bernabeu never took off.
Hazard is now expected to miss another two months of action after aggravating his right ankle. He's only turned up 15 times for Los Blancos, and even in the games he's played, the Belgian has often looked out of place.
But his teammates haven't been particularly poor in his absence. While Hazard was recovering from his first ankle injury, Madrid went 21 matches unbeaten and won the Spanish Super Cup on penalties. Manager Zinedine Zidane also found a winning formula during that purple patch, relying on strong defensive performances to surge into first place in La Liga. Saturday's loss to Levante - one of the few matches Hazard has taken part in - knocked Madrid down to second place.