10 thoughts from Matchday 2 in the Champions League
The Champions League rumbled on this week. Below, we dissect the biggest talking points from Matchday 2 in Europe's premier club competition.
City get out of jail free with Haaland
Since Pep Guardiola took the reins in 2016, Manchester City's results have defined them as much as their brilliant passing off the ball. But this season, they've embraced the power of the individual. And when that someone is Erling Haaland, it's easy to understand why.
For so many reasons, his goal Wednesday against former side Borussia Dortmund was extraordinary. It was pure improvisation, not part of any particular plan, and that's rare for a team coached by someone as meticulous as Guardiola. Even the cross to Haaland was exceptional, a teasing cross that Joao Cancelo launched with the outside of his boot. But no coach in the world can teach what Haaland did. Leaping several feet into the air, the Norwegian met the ball with the outside of his left foot, producing enough power to smash it into the net.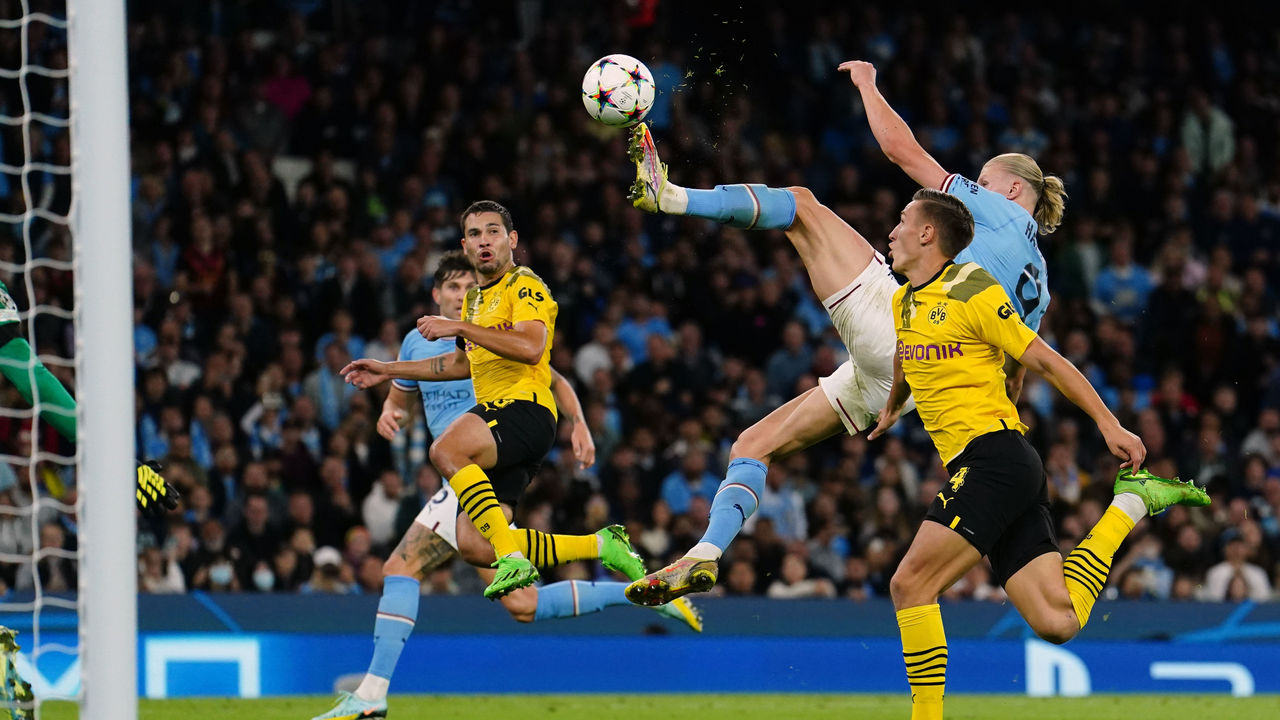 City wouldn't have won a match like this one in previous seasons. Dortmund stifled the Premier League champions, holding them to only a couple of looks at goal in the first hour of play at the Etihad Stadium. Possession didn't translate into anything meaningful. Guardiola couldn't hide his frustration.
When Dortmund led, it seemed City were destined for another disappointing night in the Champions League because it's happened before. But two moments of individual brilliance changed the game. Four minutes after John Stones equalized with a howitzer of a shot from 20 yards, Haaland showed off his outstanding athleticism to score his 13th goal of the season.
City certainly weren't going to pass Dortmund to death. They weren't going to break them down without something inventive. That's why they signed Haaland: To bail them out when the football that inspired a generation in Manchester just doesn't pay off.
Juve falling apart before our eyes
What a difference an hour, give or take, can make.
A floundering Juventus squad, in desperate need of a win, was excellent for the first 25 minutes of Wednesday's match against Benfica. They pressed ferociously, swarming the Portuguese side and hardly allowing the visitors a second to think on the ball. Arkadiusz Milik's early goal had the home crowd and home team roaring. Filip Kostic could have added a second shortly after, and Milik was inches away from another.
Under-fire manager Massimiliano Allegri dubbed this match as being more critical to Juventus' season than the Champions League opener against Paris Saint-Germain. Based on the explosive start, he got the exact reaction he was looking for. Juve, not for the first time this campaign, were flying early.
And then, in a familiar, puzzling fashion, it all came crumbling down.
That same home crowd, so boisterous during the early exchanges, jeered mercilessly after the final whistle. Juve's strong start evaporated, and Benfica claimed a 2-1 victory in Turin. The dejected players, all lined up and facing the fans, stood silently as boos rained down.
So, what gives?
Allegri's conservative tactics have seen the veteran tactician come under immense scrutiny this season, and for good reason. But something else is surely afoot. Is it physical weariness? A mental block? An inability to handle the pressure? Perhaps all of the above.
"There was a physical drop. We are missing something. Right now, we are not looking for excuses. We must take responsibility," Milik told reporters after the damaging defeat, which leaves the club's hopes of advancing to the knockout stages hanging by a thread.
"We win and lose together. It's a tough moment, and we want to come out from it as soon as possible. We lost tonight, but we can recover. We must change something, but it's hard to say what."
The squad may be in a transitional period - and missing some key injured pieces - but the issues run deeper. Changing the manager, which would be costly, might not be enough for Juve to recapture the winning spirit that defined the club not so long ago.
The Bianconeri have just one win in their last seven matches across all competitions. Until they figure out exactly what's ailing them, it's hard to see things getting better any time soon.
Promising signs for Potter, Chelsea
Chelsea still have work to do, but there's reason to be encouraged after Wednesday's improved performance in the Champions League.
Fresh off the shock loss to Dinamo Zagreb that cost Thomas Tuchel his job, Chelsea picked up their first point of their European campaign, drawing 1-1 with Red Bull Salzburg. The match could have easily ended with a win to open the Graham Potter era. Instead, the same issues that plagued Potter's predecessor ultimately spoiled Chelsea's chances of picking up three points.
Potter clearly wasn't afraid to switch things up heading into his first match in charge. He dropped expensive summer signings Kalidou Koulibaly and Wesley Fofana to the bench and recalled Thiago Silva and Marc Cucurella. However, it's Chelsea's frustrating attack that may get a makeover before the next game.
Despite dominating the Group E clash, Chelsea were once again haunted by their failures in the final third. The Blues struggled to convert chance after chance in the first half. Raheem Sterling mercifully ended the Champions League goal drought with a clinical finish just three minutes after the interval.
Even with their continued shortcomings in attack, victory looked to be a certainty until a missed Silva tackle paved the way for the visitors to silence Stamford Bridge with a 75th-minute equalizer. Noah Okafor's goal for Salzburg came less than 10 minutes after Potter removed Pierre-Emerick Aubameyang and Kai Havertz from the game.
While that's a decision he may regret, it's hard to blame the 47-year-old for altering an attack that's been so ineffective this season. Expect more changes as he continues to put his mark on the team.
Valverde getting his flowers
It can be difficult to stand out individually on a team that includes celebrated superstars like Vinicius Junior, Luka Modric, and Karim Benzema - likely the next Ballon d'Or winner. That's to say nothing about the blossoming midfield stars who will shine at the club for years to come or the highly decorated defenders.
But Federico Valverde is finally earning the plaudits he deserves. The tireless, versatile Uruguayan is already beloved by manager Carlo Ancelotti. But his recent scoring exploits have caught the attention of the wider football world.
Valverde highlighted his importance to Ancelotti and Real Madrid again Wednesday, breaking the deadlock and relieving the tension inside the Santiago Bernabeu with a classy finish. The goal spurred the Champions League holders to an eventual 2-0 victory over RB Leipzig.
"(Valverde) is a leader, and Federico is very, very important to us," the Italian bench boss said recently. High praise for a 24-year-old, especially considering some of the aforementioned teammates he shares the pitch, and locker room, with.
He's the engine that can power Real Madrid when they need a little extra kick, and his tenacity helps lift his teammates when necessary. As Ancelotti will be the first to admit, Valverde is a manager's dream.
Milan proving they belong again
AC Milan looked very different the last time they won at home in the Champions League. Mario Balotelli led the line alongside Alessandro Matri, and Robinho, then nearing the end of his career, was a late substitute. Sulley Muntari also scored on that night nine years ago. It was a different time and a scary one for fans of the club.
Milan finally ended that long, miserable run Wednesday, overpowering Dinamo Zagreb to win 3-1 at San Siro and go top of Group E. Playing at a high tempo from start to finish, the Rossoneri hemmed Zagreb in their own end for large stretches. They also won a number of ground duels to keep their opponents from gaining a foothold in the match. When Zagreb threatened to mount a comeback, Milan showed their composure, using possession to take any sting out of the game.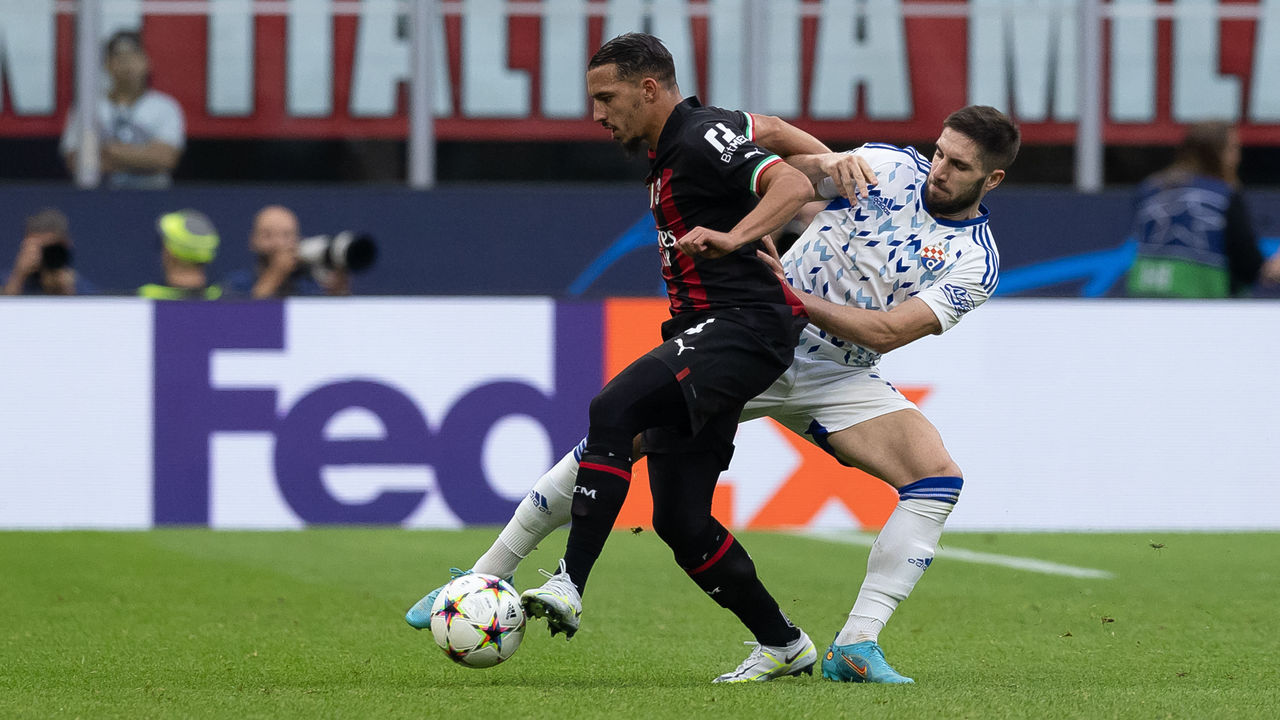 Milan boss Stefano Pioli had urged his players to learn from last season's Champions League campaign - the club's first in seven years and first for many of its players. Milan finished last in a group consisting of Liverpool, Atletico Madrid, and Porto, partly because they couldn't manage games properly. But now they've taken the next step.
Milan have restored San Siri as a fortress, going unbeaten at home in 14 matches while adapting a style of play that works well in Europe. Defender Simon Kjaer said after last weekend's win over Sampdoria that Milan are "more European than Italian football." Pioli doubled down on his defender's assessment after Wednesday's success, saying his team can and should score more goals.
Here are the main talking points from Tuesday's matches ...
Son becoming a big problem for Conte
Son Heung-Min has now gone eight games without a goal, and if his performance in Tottenham Hotspur's surprising 2-0 defeat to Sporting CP on Tuesday is any indication, the drought will continue for some time.
Many expected Son to take his game to the next level, and rightfully so. The South Korean forward finished the 2021-22 Premier League season with 12 goals in his final 10 appearances, enough to earn him a share of the Golden Boot award. But his form in front of goal since the start of August has dropped dramatically. Son's failed to convert any of his 18 attempts on goal, and only half of those have been on target.
Son didn't register a single shot Tuesday against Sporting 'keeper Antonio Adan, and one of his only two touches in the penalty area came from an offside position. He just couldn't connect with the rest of his teammates. Clearly frustrated, Spurs boss Antonio Conte replaced him after 72 minutes - and Son's lucky he even lasted that long.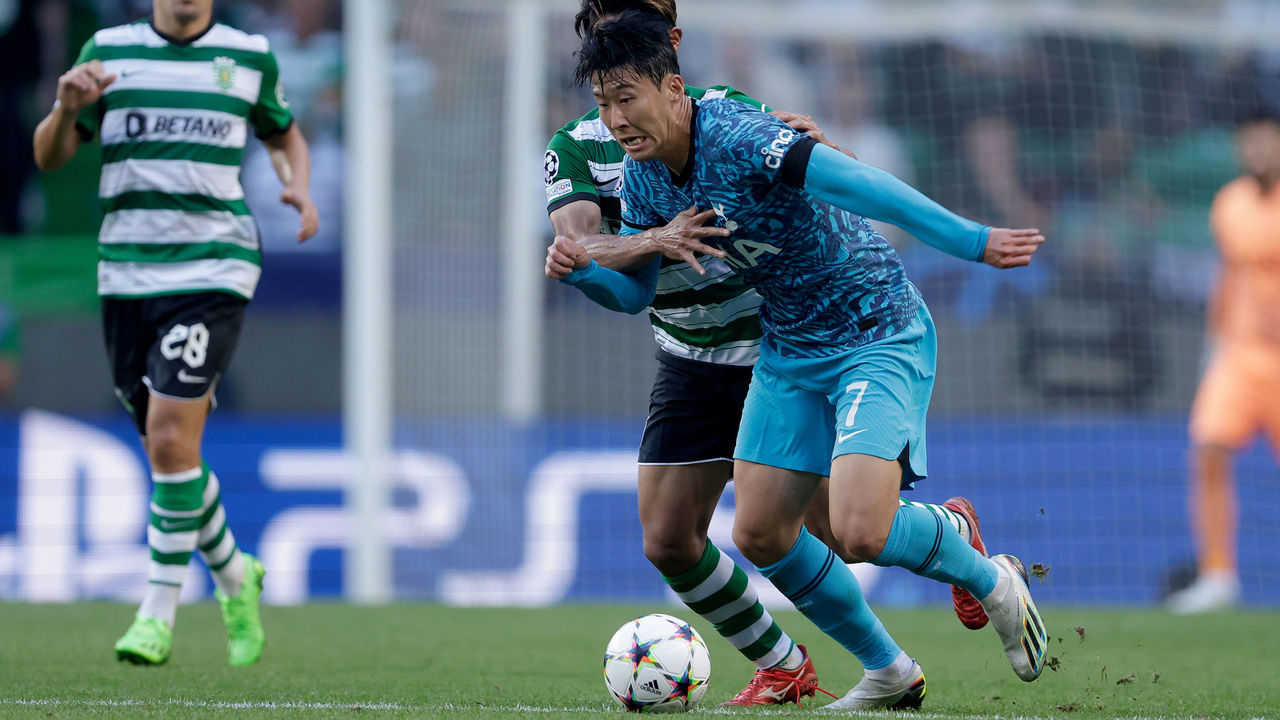 The 30-year-old's substitute Dejan Kulusevski showed much more attacking impetus in the final quarter of an hour, appearing on the left and right to create chances. With Richarlison also comfortable playing on the left wing, Son's place in Conte's starting lineup could, and probably should, come under scrutiny.
Richarlison has played extremely well in his limited time on the pitch, showing greater compatibility with Harry Kane and the will to get into scoring positions. Initially signed to provide depth, the Brazilian forward could now earn a significant run in the team, with Kane up front and Kulusevski returning to his usual place on the right. That spells trouble for Son, whose native South Korea is banking on him to lead the way in the World Cup. But Conte can't afford to wait for anyone - not even one of the Premier League's best players.
That's more like it, Liverpool
Jurgen Klopp got the response he demanded.
In a game Liverpool desperately needed to win after opening their Champions League campaign with an embarrassing defeat, Klopp's men delivered a strong defensive performance on their way to beating Ajax 2-1 and picking up their first three points of the tournament.
The result offered a huge boost for a Liverpool side that was left reeling after last week's abysmal performance in Italy.
In the aftermath of the 4-1 loss to Napoli, there was plenty of uncertainty about the Reds' ability to rebound from what Klopp described as the team's "worst" performance since his arrival. Klopp delivered "four or five days of absolute truth" to his struggling squad.
Although Liverpool's route to victory was anything but direct, the rallying cry seemingly worked. After Mohamed Salah's first-half goal, poor play from Trent Alexander-Arnold and Virgil van Dijk was largely responsible for Ajax's equalizer before halftime. The Reds' attack went sterile after the break until unlikely hero Joel Matip's 89th-minute winner sent Anfield into a frenzy.
Although Liverpool have a ways to go before they're comparable to the outfit that dazzled last season, Tuesday's victory was undoubtedly a relief for a club that's underachieved for much of the season so far.
When heavyweights collide
That was fun.
Bayern Munich and Barcelona, familiar foes in recent seasons, delivered a rousing spectacle in Bavaria on Tuesday. It was only a group-stage affair, but the almost unhinged intensity and elite skill on display were befitting of a final. Both teams pressed fiercely, trying to play on the front foot and not allow their illustrious opposition any time to breathe. Tackles were flying, and bodies were often strewn across the pitch as the two sides went blow-for-blow, racing up and down the field and exchanging rapid attacks peppered with quick, clever passing sequences and exquisite dribbling.
Alphonso Davies and the rejuvenated Ousmane Dembele - and fellow winger Raphinha - engaged in a series of explosive tussles that were as entertaining as the actual match itself. A game within the game. Teenage midfielders Pedri and Gavi were two standout players in the first half as Barcelona, looking to regain their status as Europe's elite footballing institution, played with the incisiveness, inventiveness, and swagger of their peak years. The club's financial future may be tenuous, but things look bright on the pitch.
But Bayern, despite still looking vulnerable defensively when put under pressure, didn't crack. Julian Nagelsmann's decision to introduce Leon Goretzka to begin the second half was vital, and the German juggernaut helped turn the tide in his side's eventual 2-0 victory.
"In the first half we had a lot of chances to score, and when you forgive so much against a team like this, you end up paying for it," Pedri, wise beyond his years, said following the defeat.
Those ebbs and flows are the hallmarks of memorable Champions League nights.
The group stage of Europe's premier club competition has been increasingly neutered as the gulf between football's wealthy elite and everyone else has continued to grow over the years, making it more difficult for Cinderella stories to develop. But Tuesday's clash at the Allianz Arena was a reminder of everything that's still good about the tournament. When heavyweights collide, it's still the most riveting show around.
Lewandowski's rare off night
Captivating as Tuesday's match in Bavaria was, it didn't quite go according to plan for Robert Lewandowski.
The prolific Pole, who scored 344 goals in 375 Bayern appearances before departing for Barcelona this past summer, was given a predominantly warm reception upon his return. But a smattering of boos emanated from a fan base that isn't totally at peace with the acrimonious nature of Lewandowski's departure. Not quite hostile, but there was tension in the air.
"I think for Lewy, it was really an emotional game to come back," said Bayern captain Manuel Neuer after the match. It's impossible to know if that harmed the forward - even the most accomplished veterans can get butterflies - but whatever the reason, Lewandowski was just slightly off at the Allianz Arena. A rare sight over the years.
The 34-year-old spurned two glorious opportunities in the first half, whistling a volley just over the crossbar from inside the box before sending a close-range header at the back post right into Neuer's chest. Another good chance went begging when Noussair Mazraoui made a last-ditch block late in the first half. From there, Bayern's defenders corralled him, and whenever Barca did scamper forward menacingly, Lewandowski couldn't find the right timing and connect with his teammates.
Lewandowski had nine goals in his first six games with Barcelona going into Tuesday's encounter, but his dream start to the season ended with a thud in the one match he was surely more excited about than any other.
What's happening in Group B!?
This comes with the caveat that it's still very early - we're only two games into this campaign's Champions League, after all. But Group B, against all odds, is already shaping up to be a wild ride.
Club Brugge sit atop the quartet with a perfect record after waltzing into the Estadio do Dragao, a typically intimidating venue, and crushing FC Porto on Tuesday. Despite losing Charles De Ketelaere over the summer, the Belgian club certainly wasn't lacking an attacking spark in its 4-0 rout.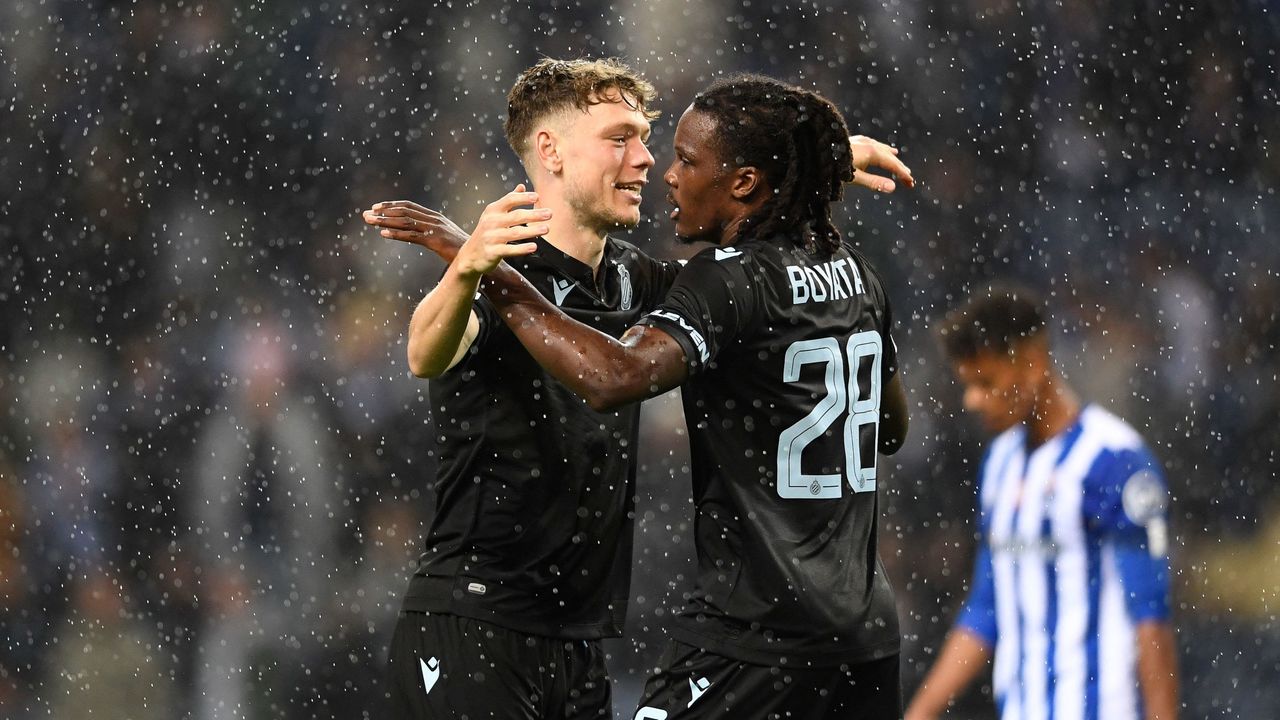 The surprises didn't stop there, though, as Bayer Leverkusen put their woeful early-season form behind them to claim a 2-0 win against overwhelming group favorites Atletico Madrid. Leverkusen went into the match having lost six of their eight games in all competitions to begin the new campaign, so naturally, they shut down Diego Simeone's side. Throw all reason out the window.
Group B, viewed after the draw as lacking much intrigue or excitement, is flipping the script.