theScore breaks down the most important developments in the Champions League by dissecting the first legs of the last-16 ties. Here are the biggest takeaways from an entertaining slate of matches.
'Cholismo' still reigns at Wanda-era Atleti
"Cholismo" was a word coined to describe the pragmatism and collective grind of Atletico Madrid under Diego Simeone. However, as the team added attacking talents like Thomas Lemar and Joao Felix over the last two seasons, Simeone's approach and the term itself seemed dated and increasingly ill-suited to Atleti. The expensive attack wasn't producing enough goals and appeared unable to satisfy the organization and conservatism demanded by the Argentine. Cholismo was holding them back.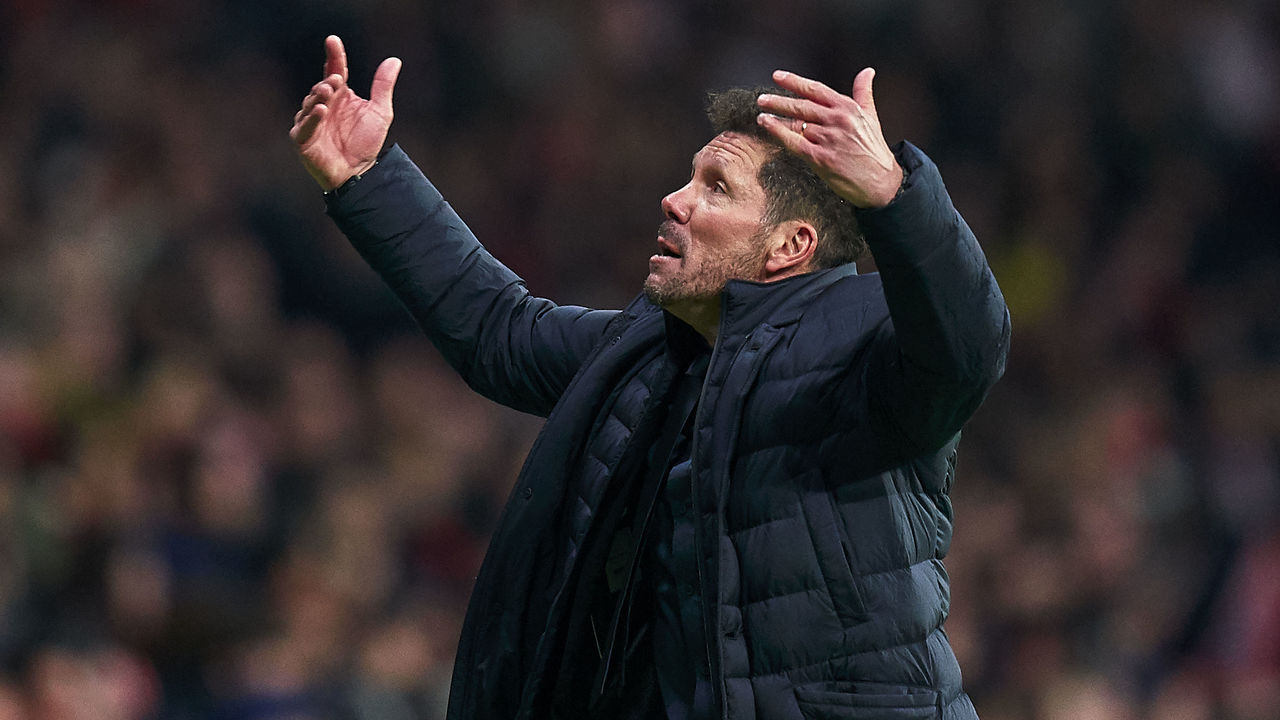 But then Atleti produced that throwback performance against Liverpool, suffocating their opponents after Saul Niguez's early goal and eking a 1-0 win in front of a deafening Wanda Metropolitano crowd. Going to Anfield and keeping Jurgen Klopp's men at bay for another 90 minutes may be too much of an ask, but Simeone will use the first leg as encouragement that his defense-first tactics have a future in the Lemar, Felix, and Wanda era of Los Colchoneros.
Mbappe vs. Haaland is up for debate
The Lionel Messi versus Cristiano Ronaldo duel has lasted longer than a decade, but with the pair now a combined 67 years of age, there's an appreciation that their powers will wane. There's also an understandable appetite for the next dichotomy in European football. Following the first leg between Borussia Dortmund and Paris Saint-Germain, it's reasonable to suggest that Kylian Mbappe and Erling Haaland will claim Messi and Ronaldo's mantle.
Mbappe, 21, was immediately ushered to the top of the game during Leonardo Jardim's first reign at AS Monaco and has since corralled an obscene amount of winners' medals, including one from the 2018 World Cup. By comparison, hardly anybody knew about Haaland at this time last year, but his nine goals in a single match for Norway's Under-20 squad last May, his Champions League group stage performances for Red Bull Salzburg, and an incredible start at Dortmund have catapulted the 19-year-old to superstardom.
In five years, will Mbappe versus Haaland be keenly debated in bars and on social media?
It's time to take RB Leipzig very seriously
Jose Mourinho moaned about Tottenham Hotspur's injury problems prior to the opening leg in north London, but he failed to acknowledge the restrictions Julian Nagelsmann was dealing with in his own squad. The young tactician couldn't call upon Dayot Upamecano, Willi Orban, or Ibrahima Konate for his defense, so he surprisingly selected Chelsea loanee Ethan Ampadu to man the heart of RB Leipzig's back-three.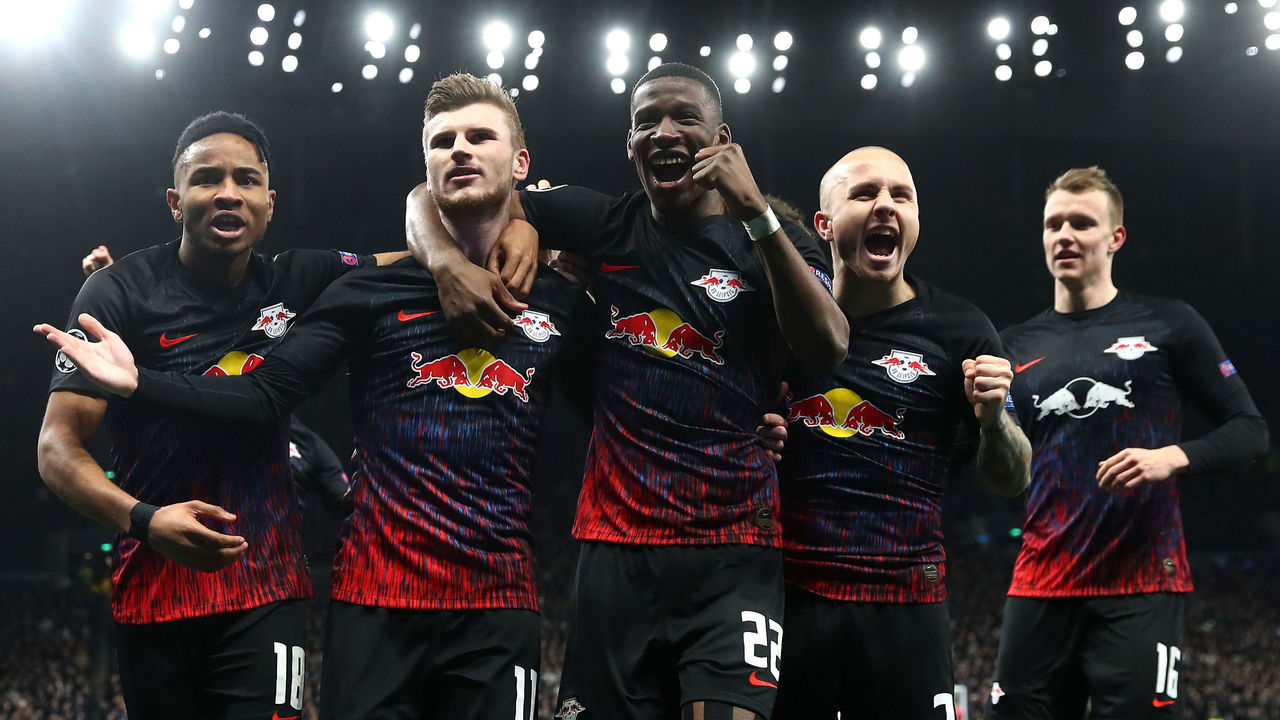 What ensued was one of the most dominant 1-0 wins you could imagine. Wing-back Angelino, who was underwhelming for Manchester City over the first half of the campaign, was a constant menace down the left. Patrik Schick held up the ball well in attack, rarely losing it and firing more shots than anyone else in the park. Timo Werner justified his Liverpool links with an all-action performance and a coolly taken penalty. Ampadu dictated the tempo and defended unfussily in the backline.
RB Leipzig are only one point adrift of the Bundesliga summit, but they also have the skill and depth to mount a challenge for Champions League honors.
Atalanta only know one speed
Atalanta's attack is one of the best in Europe. Once they start scoring, it's hard for them to stop. That's why they've won eight matches by three goals or more this season. But that's not to say they're perfect - Atalanta will gun down opponents, but they'll also shoot themselves in the foot.
Beating Valencia 4-1 at the San Siro didn't come without a few frightening scenes at the back. Goalkeeper Pierluigi Gollini was livid with his defenders, and he openly argued with them at the end of the match while the rest of the stadium celebrated a historic result. Gollini made several big saves to keep Valencia from eating into the lead, but he couldn't save them all. Valencia's only goal came off a needless turnover, and there could've been more.
For better or worse, Atalanta's only speed is full speed. Attack or go home. If nothing else, it makes them one of the most entertaining teams in the tournament.
Bayern's Davies shines at Stamford Bridge
Alphonso Davies' stellar performance in Bayern Munich's deserved 3-0 win at Chelsea hardly came as a surprise to those familiar with the teen's litany of talents. The 19-year-old Canadian winger has starred at left-back since Lucas Hernandez's ankle injury forced David Alaba to deputize at center-back.
Under the glittering spotlight of a Champions League soiree in the English capital, Davies was irrepressible. The former Vancouver Whitecaps standout had 95 touches and 91% passing accuracy, completed six of seven take-ons, and created two chances - the second of which resulted in Robert Lewandowski's tournament-leading 11th goal. And that was just in attack. Davies also won eight of 10 duels, recovered possession on eight occasions, and was not dribbled past once. He is Germany and Canada's secret no longer.
Chelsea have a long way to go
The gulf in class was clear at Stamford Bridge on Tuesday. Though Chelsea crafted chances, they were thoroughly outplayed by a Bayern Munich side that is simply far more talented; bringing Philippe Coutinho, Leon Goretzka, and Corentin Tolisso off the bench is an incredible flex. Tactics, clever schemes, and the odd fortunate bounce can carry a team deep in this tournament - Chelsea know that better than most - but at the end of the day, the gap in quality was simply too much to overcome. Afterward, Frank Lampard admitted his side has a long way to go before it can truly compete with Europe's elite.
"It was a harsh lesson," he said.
"There's a lot to their team we have to respect. Today was a clear show there's a lot of work to be done. I've felt that all the way through since taking the job. They (Chelsea players) need to use it as a positive effect. They won't feel like it this evening, but what they need to do is understand the levels of the Champions League when you get to the knockout stage."
This summer will be crucial to determining just how quickly Chelsea can take the next step.
Barcelona still lack sharpness
At various points of Tuesday's match at Napoli's intimidating San Paolo Stadium, Barcelona played hypotonic passes back and forth, side to side, with patience and relative ease. That's all fine and dandy. But most of those passes had zero effect on the Italians, who defended with numbers and largely kept their Spanish counterparts at bay. Barcelona hired Quique Setien specifically to play with style, and that's yet to show through.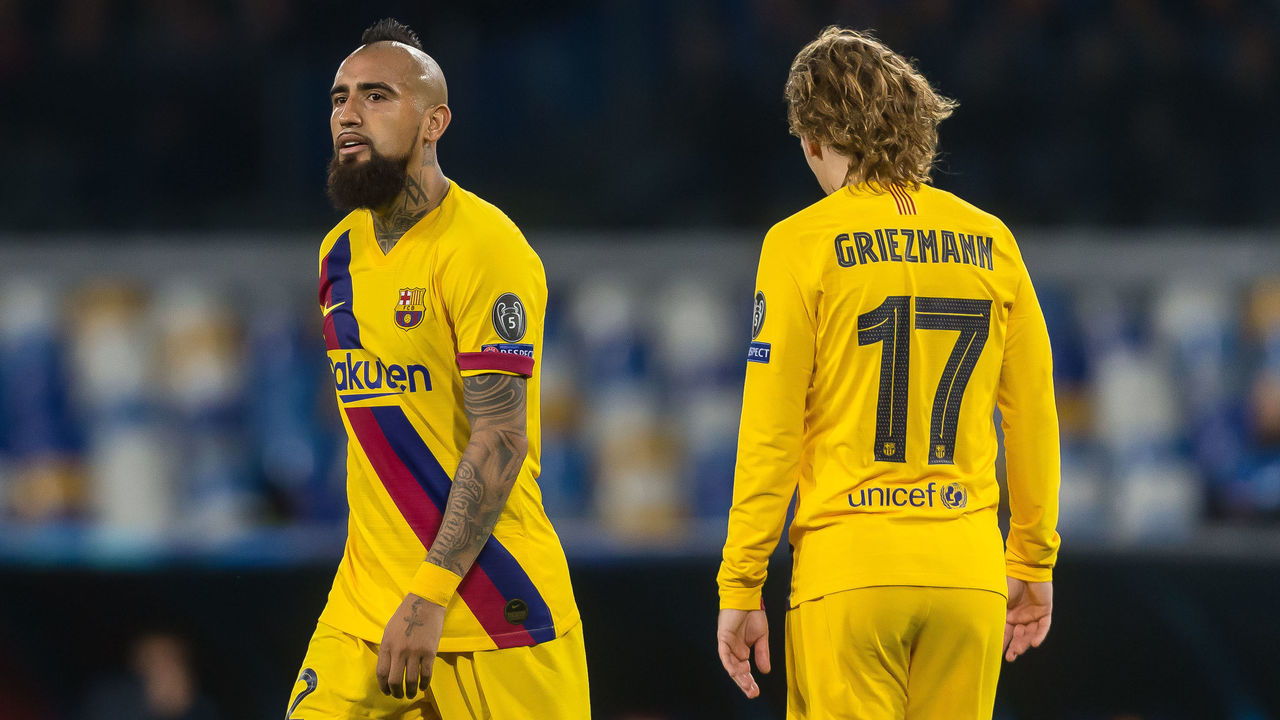 There are mitigating factors here. Setien's squad is thin, aging, and missing the quality of depth that Barcelona's past teams had in abundance. That's on the board, but Barca can still play better. Even when they control play and complete more than 90% of their passes, they don't really do much at all. They don't consistently create enough combinations or space for themselves.
But again, Barcelona are capable of doing it. Antoine Griezmann's goal came off a quick passing sequence that left Napoli relatively motionless. This team will need more of that if it hopes to succeed in this tournament.
Lack of urgency condemns Juventus
Lyon deserve plenty of plaudits for Wednesday's surprising 1-0 victory over Italian champions Juventus at the Groupama Stadium. The French side came into the match sitting seventh in Ligue 1 amid an erratic campaign but carried the play in the opening half before Lucas Tousart's goal, and then, when the visitors finally decided to turn up the heat, defended resolutely.
But for all the credit Les Gones have garnered, Juventus are getting hit with double the blame - and rightfully so. Maurizio Sarri's team looked devoid of ideas for roughly an hour. More concerning, and perhaps an indictment on the chain-smoking manager, Juve looked disinterested for long stretches of the match. The approach was all wrong. Slow, nonchalant, and second to every ball, it wasn't until the waning minutes that Juventus began playing with some semblance of urgency. By then, it was too late; the Italian side finished with just one shot on target.
Spurred by the introduction of Aaron Ramsey - and substitution of the woeful Miralem Pjanic - they created some late chances, but never truly threatened Anthony Lopes in goal. Even if they overturn matters in the second leg in Turin, this side looks incapable of making a meaningful run in this competition.
Gabriel Jesus proves himself to Guardiola
It took some guts to start Gabriel Jesus ahead of Sergio Aguero, but the Brazilian vindicated Pep Guardiola's bold decision in Manchester City's 2-1 win over Real Madrid, performing tactical gymnastics in a hybrid role as a left midfielder and striker. Jesus hunted down and dispossessed some of Madrid's most dangerous players and showed incredible discipline in City's end but didn't compromise his own attacking side. Whenever City regained possession, the 22-year-old sprinted back into position up front and probed for openings. He finished with four shots, including the equalizer that set up the memorable victory.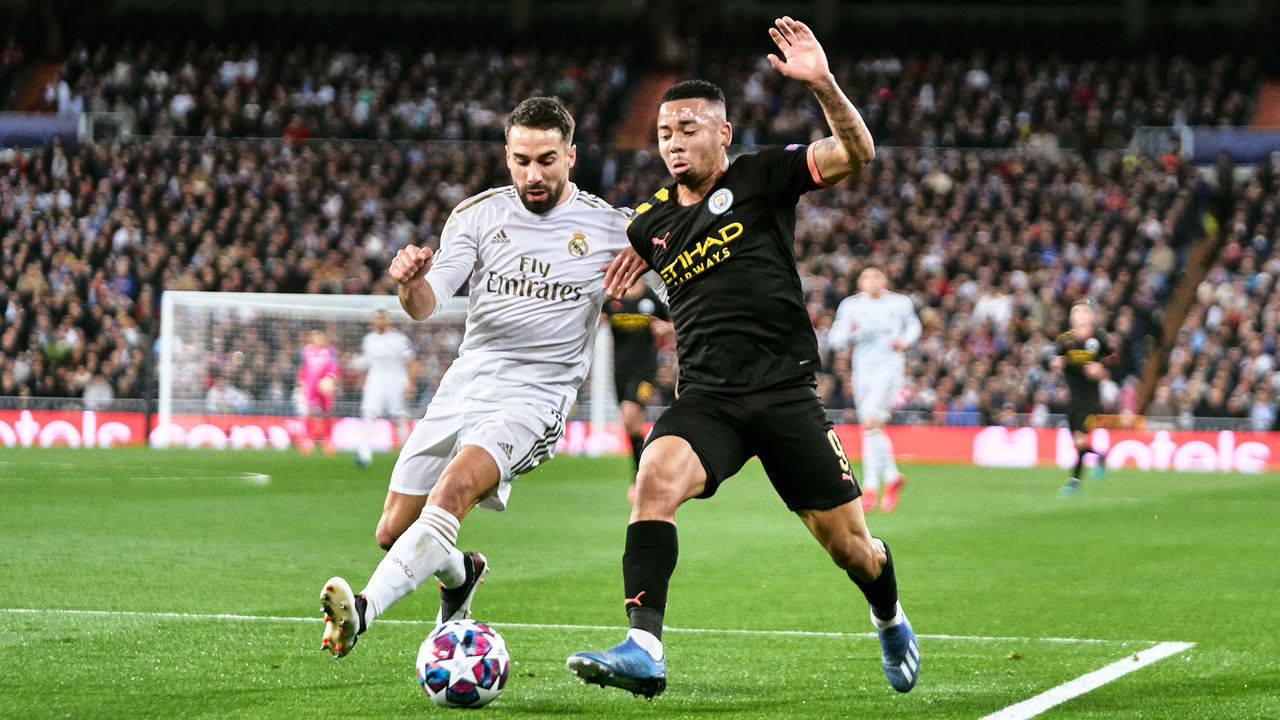 Guardiola has already turned Aguero into a more complete player, and now, he's performing a similar transformation with the Argentine's understudy. Jesus followed Guardiola's very clear demands from start to finish, dropping deep when Madrid attacked and winning the ball back in difficult situations. The stats don't lie: Jesus racked up four tackles, two interceptions, and three blocks. He was responsible with and without the ball, a key pawn in Guardiola's shape-shifting system. Jesus earned the chance to see off Madrid in the second leg.
Real Madrid season's crumbling swiftly
Spanish giants Real Madrid are making a habit of allowing campaigns to collapse in the blink of an eye. Last season, Real were eliminated from the Copa del Rey semis at home against Barcelona days before suffering a league defeat to the Catalan colossus and getting bounced from the Champions League courtesy of a spirited comeback from Ajax. That all happened in the span of a week.
Deja vu for Los Blancos, who drew 2-2 at the Bernabeu to lowly Celta Vigo and then suffered a shock defeat at Levante that handed Barcelona top spot in Spain's top flight. Days later, Real's hopes of a record-extending 14th European Cup have been dented by City's 2-1 win in the Spanish capital. Next up: Barcelona at the Camp Nou. A loss for Zinedine Zidane and Co. would see the gap between the two swell to five points. Season over?