FIBA World Cup
When: Sunday, Sept. 15 at 8 a.m. ET
Where: Wukesong Sport Arena, Beijing, China
Watch on: DAZN, LiveBasketball.TV
Spain and Argentina will square off on Sunday for the FIBA World Cup.
Both battle-tested nations have impressed over the past two weeks in their quest for international basketball supremacy.
Second-ranked Spain topped a strong Serbian squad in the second round before outlasting Australia in a thrilling double-overtime affair in the semifinal.
Argentina also notched a victory against the fourth-ranked Serbs in the quarterfinals and knocked out a formidable French team in the following round to punch its ticket into the championship game.
Here's everything you need to know about both countries before the title game.
Tale of the tape
| Argentina | | Spain |
| --- | --- | --- |
| 87.6 | Points | 82.9 |
| 39 | Rebounds | 38.9 |
| 20.3 | Assists | 23.1 |
| 45.7 | FG% | 44.8 |
| 36.8 | 3-PT FG% | 31.9 |
| 22.1 | Points off turnovers | 18.1 |
| 12.1 | Fast-break points | 10.9 |
| 37.4 | Points in the paint | 32.9 |
Head-to-Head
Spain holds a 5-2 advantage in seven all-time world championship meetings, but Argentina came out on top in their most recent matchup nine years ago.
Four of those games have been decided by five points or fewer, but the stakes have never been this high, outside of perhaps the Spaniards' one-point semifinal victory in 2006 en route to their only world championship title.
| Date | Score | Winner |
| --- | --- | --- |
| Sept. 2010 | 86-81 | Argentina |
| Sept. 2006 | 75-74 | Spain |
| Aug. 1998 | 77-64 | Spain |
| July 1998 | 68-67 | Spain |
| Aug.13 / 1994 | 74-65 | Argentina |
| Aug.11 / 1994 | 72-70 | Spain |
| July 1974 | 96-89 | Spain |
Key matchups
Marc Gasol (Spain) vs. Luis Scola (Argentina)
Father time is knocking on Gasol's and Scola's doors, but neither player appears interested in answering.
Gasol poured in 33 points, six rebounds, four assists, and two blocks in Spain's semifinal win, while Scola totaled 28 points and 13 boards to lead Argentina into the championship game.
The Spanish center has been enjoying a productive tournament, playing an important role in his country's offense with his screen setting and passing. But his three triples against Australia are an encouraging sign, considering he hadn't hit a 3-pointer since Spain's final game of the first round.
The Toronto Raptors big man is capable of hitting threes as the trailer or in pick-and-pop sets. If Gasol gets going from downtown, he'll unlock more options for Spain's offense.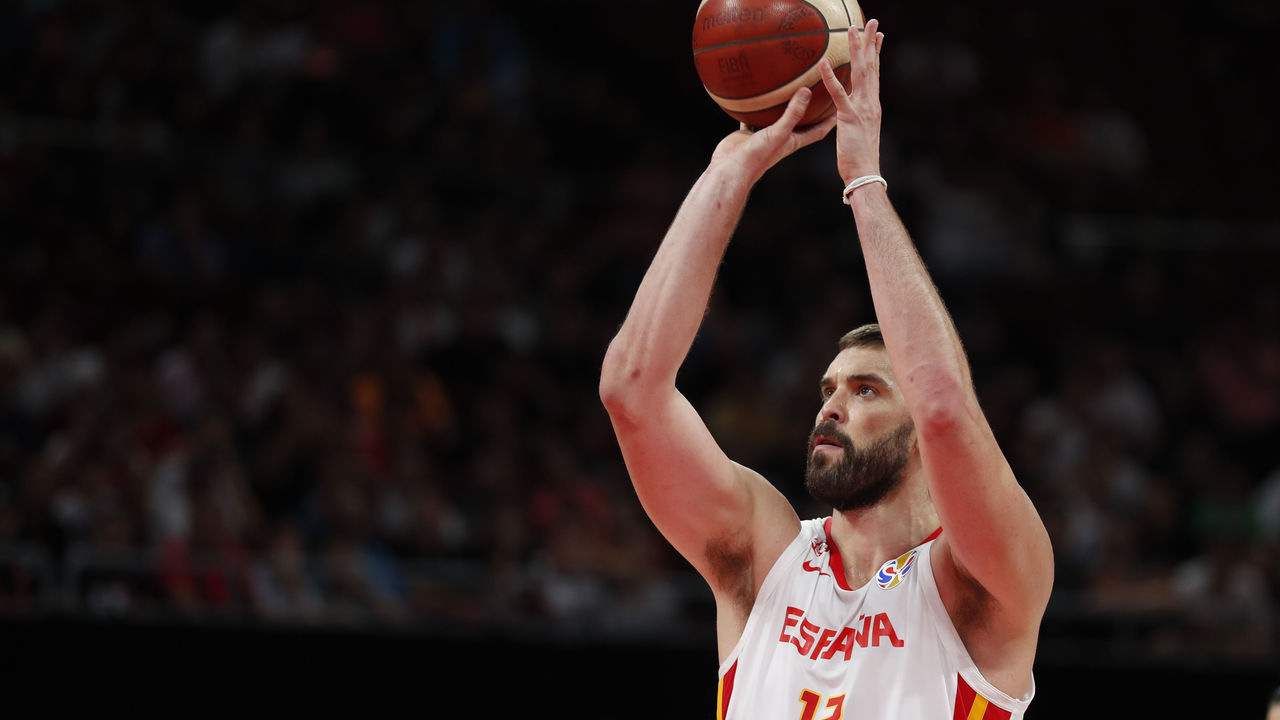 Scola, meanwhile, seems to be getting stronger with each round. The 39-year-old has posted three straight 20-point games and is shooting 51% from the field - including a 50% mark from beyond the arc - during that span.
Like Gasol, the 6-foot-9 forward is an effective pick-and-pop shooter. This could force the Spanish veteran out of the paint and open more opportunities for Argentina to attack without the opposition's best rim-protector.
Ricky Rubio (Spain) vs. Facundo Campazzo (Argentina)
Rubio and Campazzo are two of the World Cup's top playmakers, ranking sixth and third, respectively, in assists per game.
In the quarterfinals, the Phoenix Suns floor general passed retired Argentine guard Pablo Prigioni as the tournament's all-time assist leader. Spain loves to get out in transition, and Rubio is always looking to push the ball ahead to his teammates off a missed shot or turnover.
The 28-year-old has great chemistry with Gasol and is an outstanding finisher at the rim. Rubio has never been a great three-point shooter with his unorthodox shot mechanics. However, he's shooting just under 38% from distance during the World Cup, so Campazzo must respect Rubio's outside touch.
The 5-foot-10 Argentine might not ply his trade in the NBA, but he's become one of the tournament's most exciting players. Campazzo can just about get the ball to anybody on the floor from any angle. If Spain's defense is napping, he'll burn them with a slick pass.
Campazzo isn't afraid to pull the trigger from distance either, hitting 41.5% on nearly six attempts per contest. He has a nice step-back jumper and can pull up on a dime. However, Rubio is a solid defensive guard and his ball pressure might take Campazzo off his game.
X-factors
Sergio Llull (Spain)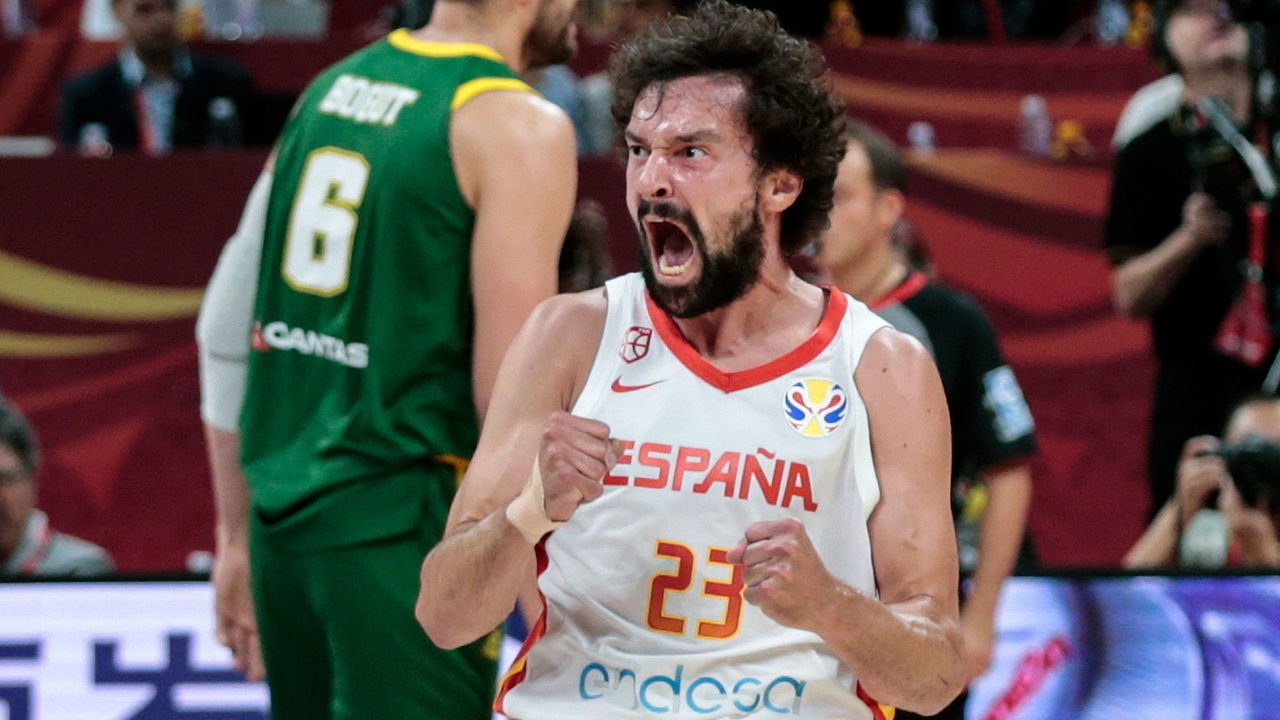 Llull is considered one of the top players outside of the NBA, boasting two EuroLeague championships and a EuroLeague MVP award on his resume. The 31-year-old is having an up-and-down World Cup, but his championship pedigree showed against Australia in the semifinals.
The Real Madrid standout finished with 17 points and six assists - including a pair of triples in the second overtime frame. Llull is more than capable of creating his own scoring and shares some of the ball-handling duties with Rubio. With Spain's offense not producing as in years past, any secondary scoring and playmaking from Llull will alleviate some pressure off Rubio and Gasol.
Nicolas Laprovittola (Argentina)
Laprovittola has cooled off since scoring 15 of his 17 points from beyond the arc in Argentina's opening contest. Since then, he's averaged 7.7 points per game on 26.7% from downtown.
Like his Real Madrid teammate, Llull, the Argentine has performed below his standards but also has a proven track record. Laprovittola is the reigning Spanish League MVP and earned All-Liga ACB first-team honors after averaging 17.2 points and 6.4 assists last season.
Even if Laprovittola fails to rediscover his stroke, he'll remain an asset due to his high basketball IQ and court vision.