Paul Pogba is destined to be a superstar. At the tender age of 20, the French international (which is an incredible accomplsihment in its own right) is already a vital piece of a Juventus side that is well on its way to a third consecutive Serie A title. 
Manager Antonio Conte knows it - Pogba has started 22 of the club's 26 Serie A games so far this season.
President Andrea Agnelli knows it - he continues to work on extending the youngster's contract, telling reporters during a recent UNESCO event that he has absolutely no desire to see the midfielder wearing another kit.
Unfortunately for both men, the rest of the world knows it, too.
With each passing week, rumors continue to circulate that free-spending clubs such as Paris Saint-Germain and Real Madrid are preparing mega-money offers to lure the Frenchman away from the Juventus Stadium.
The latest, courtesy of Italian daily La Gazzetta dello Sport, claims that the former have tabled a bid of €70 million for Pogba's services.
It's not quite Gareth Bale money, but it would make even the most staunch Juventus supporter think twice about their desire to see the prodigious talent remain with the Bianconeri.
Thus, the question is a simple one. With the world's biggest clubs descending on Turin with check books flung wide open, should Juventus sell? 
You would be insane to turn down that offer
Think of everything you could do with that type of money - which translates to just over $83 million. Consider that he was purchased on a free transfer, and such a sale would go down as one of the best pieces of business in the history of the sport.
Sound familiar? It should.
Obvious parallels exist with another French maestro that once donned the famous black and white stripes of the Old Lady. 
When Juventus sold Zinedine Zidane to Real Madrid in 2001 for what was then a world record fee of €59 million, former chief Luciano Moggi reinvested the small fortune to build the next great generation at the club.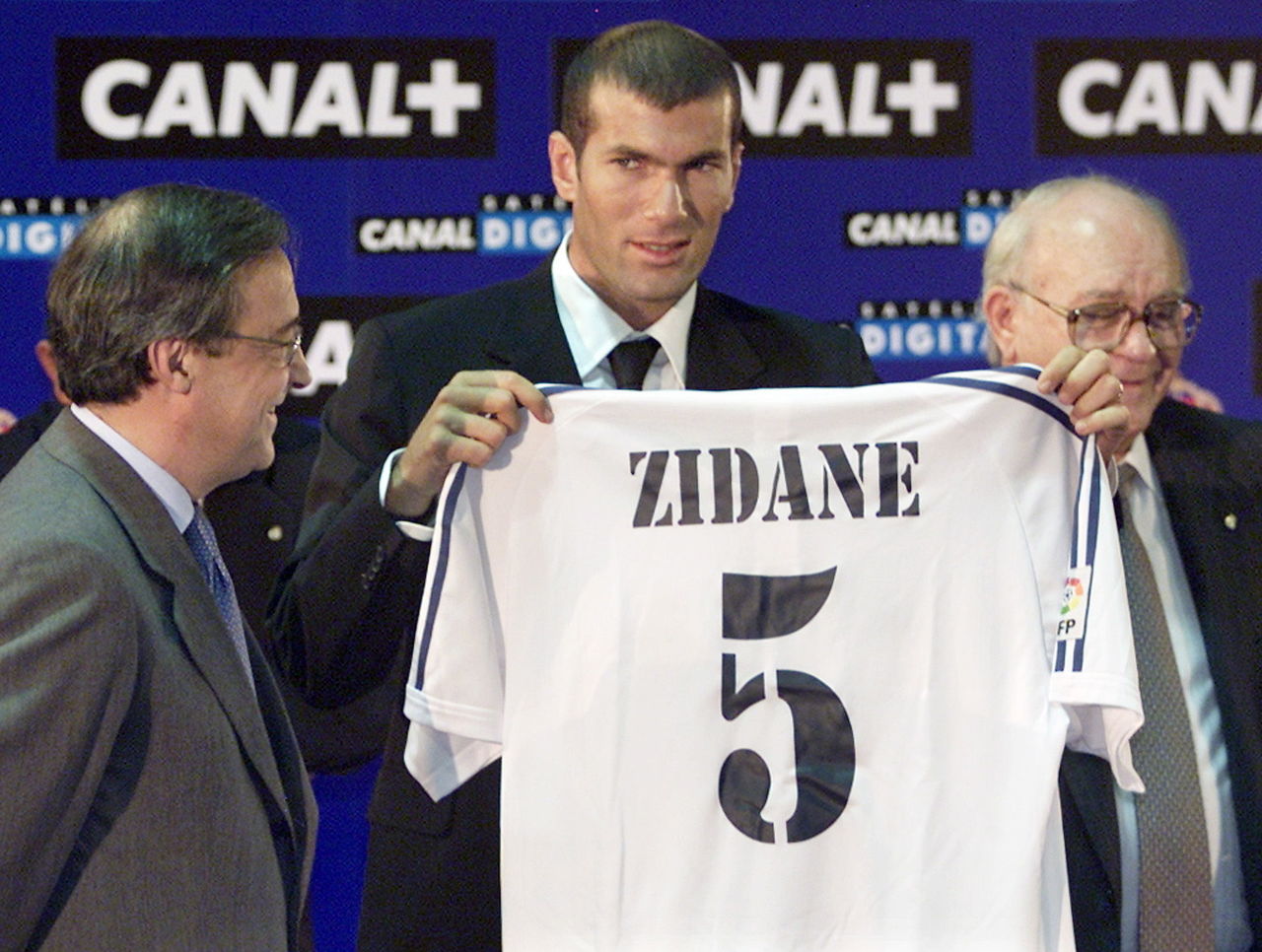 [Courtesy: Reuters]
Zidane out meant Pavel Nedved, Gianluigi Buffon and Lilian Thuram in. The rest, as they say, is history - be it marred by scandal or not.
Selling Pogba would give current general director Beppe Marotta the ability to re-stock the cupboards for the long haul. Marco Verratti? Perhaps. Need another striker, or maybe a defender, take some money from the Pogba pile.
A potential sale may also be born out of necessity.
Much of the discourse on this very topic has conveyed the belief that Juventus' financial situation -- and that of the Serie A in general -- means the club will have no choice but to sell the versatile midfielder. Serie A is not the powerhouse it once was, and with players earning ludicrous wages elsewhere in the world (see: Rooney, Wayne), it stands to reason that Pogba's best opportunity at maxing out his earnings lies elsewhere.
With that in mind, and with a new contract still not agreed upon, do you take the risk of hanging on to Pogba too long, only to see him leave in the same manner in which he departed Old Trafford? 
That would be a disaster.
Of course, you could also hang on to him for another five years, by which time he could very well be worth double what he is now, and facilitate the largest transfer in football history.
You don't sell someone with that type of potential
Arriving from Manchester United in the summer of 2012 for less than £1 million in compensation, the Frenchman's reputation as a difficult player with an over-inflated ego preceded him. This was, after all, a teenager who forced an exit from Manchester United because he felt he wasn't being utilized enough by Sir Alex Ferguson. 
Most players would never consider making enemies with the legendary Scottish manager. 
That's the sort of thing that results in a hairdryer being launched at your head.
Paul Pogba is not most players. It didn't take long for Serie A, and then the world, to recognize that.
Upon his arrival in Turin, Pogba was faced with the daunting task of breaking into a midfield that boasted arguably the most impressive trio in the world, as Andrea Pirlo, Arturo Vidal and Claudio Marchisio roamed the center of the pitch at the Juventus Stadium.
Just over 18 months later, Marchisio has been relegated to the bench. It's now Pogba standing as the obstacle for any incoming player who has the unfortunate distinction of occupying the same position.
Only Vidal, Carlos Tevez and Gianluigi Buffon (by default) have made more appearances so far this season. Remarkable when you consider his age. Understandable when you watch him play. His versatility is matched only by Vidal, as Pogba has been utilized as both a deep-lying playmaker and also given the freedom to roam about where he sees fit.
Thirteen goals in two seasons with the club may not raise the hairs on your neck, but the spectacular variety of some certainly will.
[Courtesy: World Soccer Talk]
Despite Andrea Pirlo doing his best impression of a fine wine, he will not be able to play forever. At 34 years of age, life after the bearded genius is quickly approaching. With Pogba in the fold, that thought isn't nearly as frightening.
That future is exactly what Juventus should be looking towards.
Knocked out of the Champions League in the group stage at the hands of Galatasaray this season, the Bianconeri have aspirations of making an impact in Europe. You don't do that by selling players who have the potential to become the very best in the world.
Here again, is Agnelli on the topic, per ESPN.
"We're building a side year on year and the work we've done so far has been incredible. Paul represents this growth. Let's not forget that two years ago, nobody knew who he was and we were the first to spot him.
"If other clubs admire our discoveries, then we can only be proud about that. Pogba is our own world heritage."
Do you cherish your heritage? Or do you ship it off to the highest bidder and then look back on the good old days?
Decisions, decisions.