Inside Europe: How Chris Smalling revived his flailing career at Roma
Gabriele Maltinti / Getty Images Sport / Getty
Welcome to theScore's weekly column on European football. Every Monday, Anthony Lopopolo scours the continent's top leagues for the biggest stories.
When Paulo Fonseca was named Roma manager in June, he made a request. He didn't ask for a massive signing or a big budget, but one particular player: Chris Smalling.
The price was right - Smalling was available on loan for a paltry €3 million - but everything else seemed off. The 30-year-old had lost confidence, and then playing time, at Manchester United. Fans targeted Smalling when he signed a new contract, seeing it as an extension of mediocrity.
But Fonseca saw what everyone else couldn't see: a physical and assertive defender with deceptive speed, not to mention a player still in their prime. In other words, the perfect defender for Fonseca's high line.
"Coming in and having my first sessions this week, I can see it is a team that wants to press, that wants to be aggressive," Smalling said upon arriving in September. "He wants a defender that is aggressive and can cope with the runs in behind and, yes, I think it is a perfect fit."
Over the first 13 matches of the season, it has been exactly that. Smalling has become one of Roma's most important players and a leader at the back. If his partners are lagging behind the defensive line, Smalling will usher them forward with an authoritative wag of the hand.
He also pops up in the opponent's half. If Roma are taking a corner kick, he'll hang high until the play dies out. Smalling scored and assisted two goals in Sunday's 3-0 win over Brescia using that exact approach, lingering in the penalty area like a predator in waiting. Considering Roma's dead-ball prowess - they've scored a league-leading eight goals from set pieces - Smalling is finding ample opportunity to contribute in the attacking phase.
He has always been capable. What's changed is the way he's being used.
He's not playing better because Serie A is slower than the Premier League. Smalling is thriving in a system that highlights his best attributes and allows him to play on the front foot. It's a world away from Jose Mourinho's United, which called on defenders to sit back and react to the pressure. Smalling is better served by taking the initiative and being proactive, which is what Fonseca has told him to do.
"I feel more on guard, that I have to do a lot more because the manager wants us to play a high line," Smalling told The Athletic.
Much like Davinson Sanchez - the risky Tottenham defender with a knack for outrunning opponents - Smalling will push up and press knowing he can recover his original position in short order. He's won foot races against some of the most daunting strikers in Serie A, including Atalanta's Duvan Zapata.
He's had these traits from the beginning. Alan Walker, who gave Smalling his debut at non-league Maidstone in 2007, said his "height and power drove him on."
"He was always an extremely good athlete," Walker said.
But it takes more than pace to do what Smalling is doing. He may not be the greatest passer of the ball but he's reading the game intelligently, anticipating where his man will go and getting close enough to deny them space. It's not the stuff that wins headlines or even admirers - England manager Gareth Southgate has consistently overlooked Smalling on the grounds that he's poor with his feet - but it's deadly effective in a league as tactical as Serie A.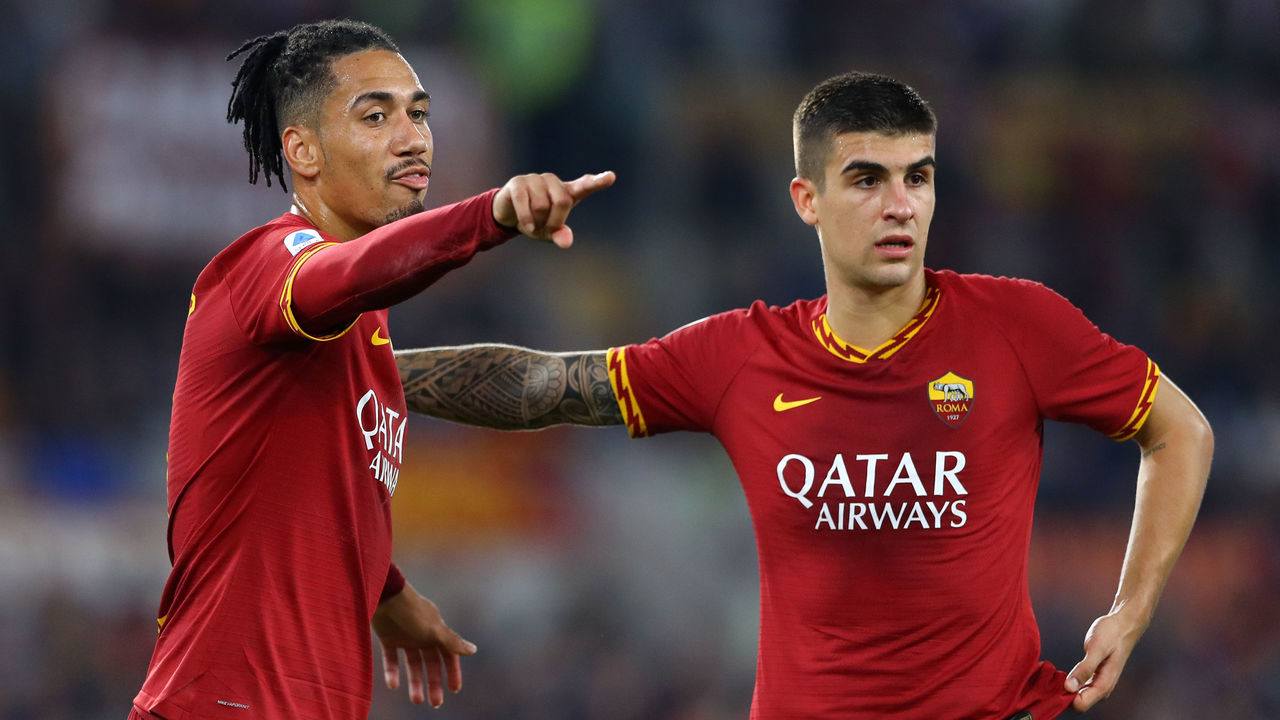 Fonseca is relentless too, demanding his team maintain the same tempo in good times and bad. In a match against Udinese, Roma continued to keep a high line even after losing Federico Fazio to a red card in the 31st minute. The defense practically stationed itself on the halfway line, daring Udinese to break through, and it worked. Smalling scored off a corner, and Roma won 4-0.
None of it would matter if Smalling neglected his regular duties at the back. Thanks in part to his aerial prowess - he's won more duels (41) than any other defender in Serie A this season - Roma have kept clean sheets in more than 50% of the matches he's started. No-nonsense defending may not be sexy but Smalling is more than capable of clearing his lines. He's a defender's defender.
Add it all up and it becomes clear why Roma are working so hard to sign him outright. The Giallorossi reportedly hope to strike a €15-million deal, which would be a significant bargain for a player in such a rich vein of form.
All it took was a few months outside the crucible that is Manchester United to see Smalling for what he truly is.
Comments
✕
Inside Europe: How Chris Smalling revived his flailing career at Roma
  Got something to say? Leave a comment below!