Every Monday, theScore's Daniel Rouse will break down the weekend that was in English football. Welcome to the "Eye on England."
During his first season in charge of Manchester City, Pep Guardiola focused heavily on fine-tuning Raheem Sterling's positioning. He wanted Sterling to stand wide on the right, receive the ball on the turn, and swiftly make for the byline. He wanted him to anticipate attacks down the left by running to the far post, where he could be rewarded with tap-ins.
In the subsequent 2017-18 campaign, Sterling scored 18 goals and assisted 11 as City frolicked to a record 100 Premier League points. The Pep talks had paid off.
Then, partly prompted by Leroy Sane's slashed first-team minutes, Guardiola changed things last term. Sterling was regularly moved to the left and, in his stead, a myriad of skilled players were fielded on the right.
Now, the approach continues to mature after another title-winning season. Kevin De Bruyne, Bernardo Silva, and Kyle Walker were indomitable on the right for prolonged periods of Saturday's VAR-smeared 2-2 draw with Tottenham Hotspur, and Sterling, roaming on the other side of the park, was at his most dangerous.
It's the variety of City's right-hand side that's so uncontainable. Silva is magnificent off the ball, constantly pursuing opponents and angling runs to make space when his teammates are in possession. The intricacies of his play when he has the ball are better still, such as when he wriggled his way through Erik Lamela, Danny Rose, and Tanguy Ndombele near the end of Saturday's first stanza like a cartoon mouse cockily swerving the swats of a pudgy cat.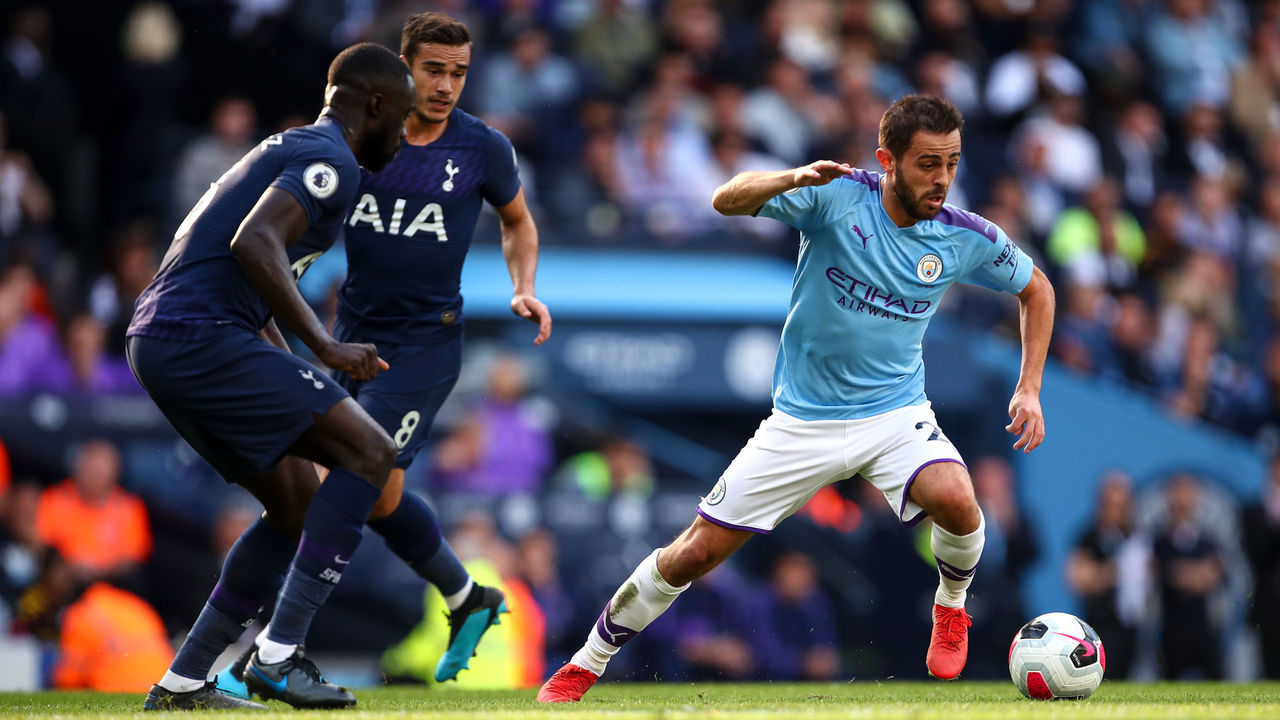 Walker appears stronger and fitter this season, and he is perhaps benefitting from one of the oldest motivational ploys in the book: the purchase of an expensive player in the same position. Joao Cancelo - who cost City a handsome €65 million - shouldn't be rushed into the lineup after Walker hurtled down the right to open routes for his colleagues or to uncover enough space for himself to cut the ball back. He completed the same number of dribbles as Silva (three) over the 90 minutes.
The quality of De Bruyne's two assists drew the most attention. The predatory swoop of the Belgian's first delivery made it look as if Sterling would be snatched by the ball and carried to its young; the second assist was a skipping missile met by Sergio Aguero for a straightforward finish, which followed some patient exchanges between Walker and Silva.
After just two weeks, De Bruyne already has more assists (three) than he did for the whole of his injury-plagued 2018-19 campaign.
Overall, the ensemble on the right provides a wealth of supply for Sterling that is difficult for the other team to anticipate. When he was on the right, it was often Sane dispensing inviting low balls for Sterling, but the ever-changing cast at left-back - and David Silva's typical duty of releasing Sane with the move's penultimate pass - meant there was little variety thereafter. Sterling's other goals would be the result of some remarkable individualism or him scampering onto the end of a searching long punt upfield.
Sterling's touches vs. Tottenham:
Sterling still uses his range of skills to carve out chances, and Walker is laboring to mirror Sane's trademark service. But, on the left, Sterling can also feast on De Bruyne's wide repertoire of passes (like when he netted the fourth headed goal of his career on Saturday) and the spills from Bernardo Silva's constant hassling or his cute creations.
It's clear that Sterling prospers from a much richer supply chain on the left than he ever did on the right. He should run Harry Kane, Mohamed Salah, and others much closer for this season's Golden Boot award.
Further thoughts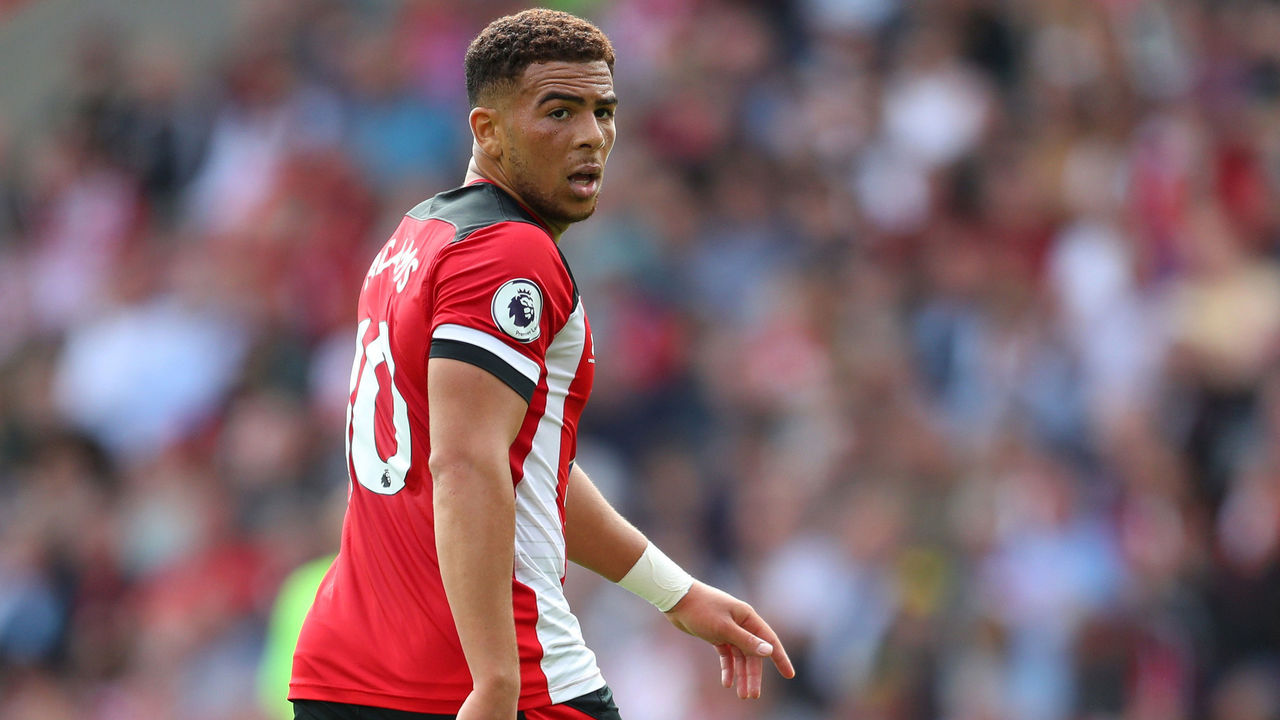 Saints nothing to worry about
Five goals conceded in two losses is never a good way to begin a season, but Southampton will be fine. Che Adams' close control and low center of gravity make him a valuable tool for the likes of Nathan Redmond and Moussa Djenepo to bounce balls off, and last term's 22 Championship goals are a strong indicator that Adams will exceed Shane Long's season average of five Premier League tallies. The transactions and tactical tweaks over the opening eight months of Ralph Hasenhuttl's reign have been overwhelmingly positive, and Southampton were unlucky not to glean at least a point from Liverpool on Saturday.
Puscas, not Puskas
Reading's rudderless recent years have, somehow, not resulted in a descent into the third tier. But now, following the shock signing of a robust Romanian from Inter, there may be something worth watching at the Madejski Stadium. George Puscas scored in his first start in a League Cup meeting with Wycombe Wanderers last Tuesday, and he followed that with a two-goal outburst in Sunday's 3-0 win over Cardiff City. For the game's opener, 6-foot-6 Aden Flint couldn't lay a glove on Puscas as he chewed up over three-quarters of the pitch's length before measuring a slick finish past Alex Smithies. It seems Puscas' four goals at the summer's European Under-21 Championship weren't an anomaly.
Ceballos shines
Unai Emery's philosophy was realized when Dani Ceballos squeezed Johann Berg Gudmundsson off the ball and let it squirm to Pierre-Emerick Aubameyang for Arsenal's match-winner against Burnley. Ceballos is a key part of a press that should draw more chances through opposition errors and dodgy clearances this season than Mesut Ozil would've created from a No. 10 role. The modern era calls for energetic midfielders who can win the ball, cover obscene amounts of ground, and create, and Ozil was too much of a luxury while he just satisfied the latter element. Ceballos was probably the weekend's top performer as he superbly kept the ball despite exerting risk with a game-high four key passes and wonderful switches of play.