Every Monday, theScore's Daniel Rouse will break down the weekend that was in English football. Welcome to the "Eye on England."
Kurt Zouma lofted it in the vague direction of Tammy Abraham. It was a whack from the back that wouldn't have landed in Chelsea's attacking third, but Harry Maguire didn't take any chances. Largely untroubled, he rose to meet the ball and barely advanced play 10 yards when he headed it out of bounds.
Old Trafford roared in appreciation.
Maguire is an unconventional marquee signing for Manchester United. He isn't a marketable maverick with swagger or a flirty wink. There is no lifted collar or fancy pattern shaved around his ear. In the simpler past, he'd probably be paid a pittance to do the mucky work on a farm or lug kegs into grim taverns from the back of a rickety wooden cart. But, in 2019, he's a strapping £80-million defender for one of the biggest, yet notoriously mismanaged, clubs in the world.
His 28th-minute header to nowhere - and, indeed, the several other occasions when he thumped it out for throw-in - during Sunday's 4-0 trouncing of Chelsea depicted something that United have lacked for some time. In recent years, fans reared on no-nonsense defenders like Steve Bruce, Jaap Stam, and Nemanja Vidic have endured sights like Phil Jones scrambling on his hands and knees and gawping at a forward who brushed him off like a stray eyelash. Center-halves weren't the only gripe, with weathered wingers often bundled into the full-back positions.
Maguire, on the other hand, unfussily bludgeoned the ball to safety a game-high seven times against Chelsea. He'd probably attack an asteroid with his dome and won four aerial battles while he regularly tracked Abraham - the second-deadliest header of the ball in the 2018-19 Championship campaign, no less. He's deceptively elegant in possession. He led his colleagues and opponents in interceptions and blocked shots in Stretford. He probably isn't worth what United paid Leicester City for him (yet), but defensive gaffes along the backline will decrease with Maguire in the ranks. He's not flashy, and that's exactly what Ole Gunnar Solskjaer's side needed.
The general consensus was that Manchester United had an awful summer window, and they did. The wage bill is weighty while Alexis Sanchez, Fred, Chris Smalling, Matteo Darmian, and Marcos Rojo remain on the books with little indication they still have roles at the club. Strangely, there didn't seem to be significant efforts to extend Ander Herrera's contract, and the midfield will miss his aggression and energy after he joined Paris Saint-Germain for nothing. The continued absence of a sporting director is the most troubling takeaway from the close season, with Ed Woodward, the despised conduit of the owners (the Glazer family have ripped £1 billion from the club in interest, costs, fees, and dividends since 2005, according to the Guardian's David Conn), continuing to negotiate transfers despite his woeful track record.
Overall, United's actual transfer activity was scarce, but that doesn't mean it was entirely poor. The club had a bad summer and improved its defense. Aside from Maguire, Aaron Wan-Bissaka is a considerable upgrade on Antonio Valencia at right-back. The £45-million youngster's reputation of continually thwarting left-sided attackers was furnished further in the Blues' visit by winning nine of his 11 duels, and he nipped in with three interceptions. Ross Barkley, buoyed by a promising preseason campaign, was nullified by the uncompromising Wan-Bissaka. United's new boy, like Maguire, didn't concede a foul.
Wan-Bissaka's attacking contributions must improve - over the 2018-19 term, he played more minutes but unloaded 57 fewer key passes than the Premier League's leading full-back in that category, Everton's Lucas Digne - but his two successful take-ons and ball retention throughout the 90 minutes were indications that this aspect of his game will develop. Solskjaer described his fresh recruit as a "proper Man United defender" in the post-match press conference.
Another recent arrival, Daniel James, scored United's fourth, but buying young and British doesn't necessarily mean the future is brighter for the Red Devils. Maguire and Wan-Bissaka are immediate short-term solutions, a rapid tightening of a backline that was calamitous even under the cripplingly conservative Jose Mourinho. The raft of lingering issues on the pitch and in the boardroom can be sorted out later but, for now, United may possess a defense that can establish them as the fourth-best team in England and return the club to the Champions League.
Further thoughts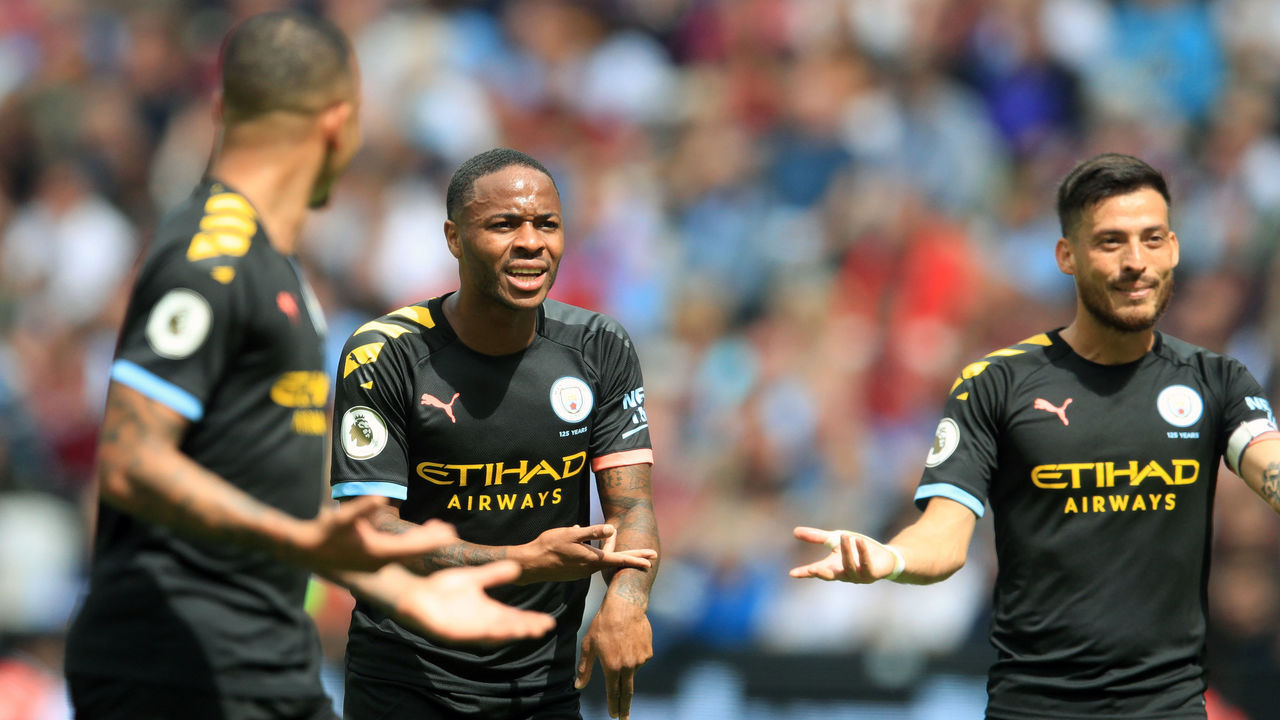 Premier League less fun with VAR
VAR's overall influence on Manchester City's 5-0 win at West Ham United was negative. The explosive spontaneity of celebrations will never be the same while there is a lurking concern that the folks in the booth are searching for ways to chalk off goals. For fans - and that's the vast majority of people with any connection to the sport - football is a hobby, so why would we allow the implementation of something that lessens its joy?
Sharp Blade
Billy Sharp, the Blades' self-proclaimed "fat lad from Sheffield," was the perfect player to earn Chris Wilder's throng a point at Bournemouth on Saturday. Only Harry Kane has notched more goals across England's top four tiers since Sharp joined Sheffield United for a third stint in 2015, and he was characteristically clinical when he netted with his first shot in Premier League football. "It was what I dreamed of last night and it was a proud moment for me and the family," the 33-year-old told BBC Sport after the match.
Blackpool rock
Blackpool sit atop the table after two matches of the League One season. Why does this matter? The Oyston family drained nearly £27 million out of Blackpool following their single 2010-11 Premier League season, prompting fan boycotts of Bloomfield Road while their cash-strapped team tumbled down the divisions. Now, after the Oystons were removed from the boardroom in February following a prolonged court battle, the seaside town has its club back and, as a bonus, some pretty good players, including Liverpool product Jay Spearing and winger Sullay Kaikai. Blackpool's home attendance has doubled from last season's average since the odorous Oystons packed their bags.