One of the first things Davie Robertson did when he returned home was tuck into a portion of fish and chips.
Robertson was recuperating after another season in charge of Real Kashmir. Despite the modest budget and facilities in Srinagar, the Scotsman has guided the club from the obscure depths of Indian soccer to the very top in two-and-a-half years.
But Real Kashmir's lacking amenities are the least of Robertson's worries. He happens to work in one of the most dangerous places on the planet.
"Maybe 15 minutes before the end of the game, the other team equalized, and they were on the pitch again," he described of a match against a nearby village team early in his reign. Opposing fans had already braved the armed security and stormed the pitch on multiple occasions, but things were about to get much worse under the flickering floodlights.
"This time one of our players got hit in the head with a gatepost. He was obviously knocked out and everybody's on the pitch - it was probably the scariest moment of my life. Then the (home team) owner's security guy just grabbed me and ran me into a car. I had to hide in the back of this 4x4."
Into the unknown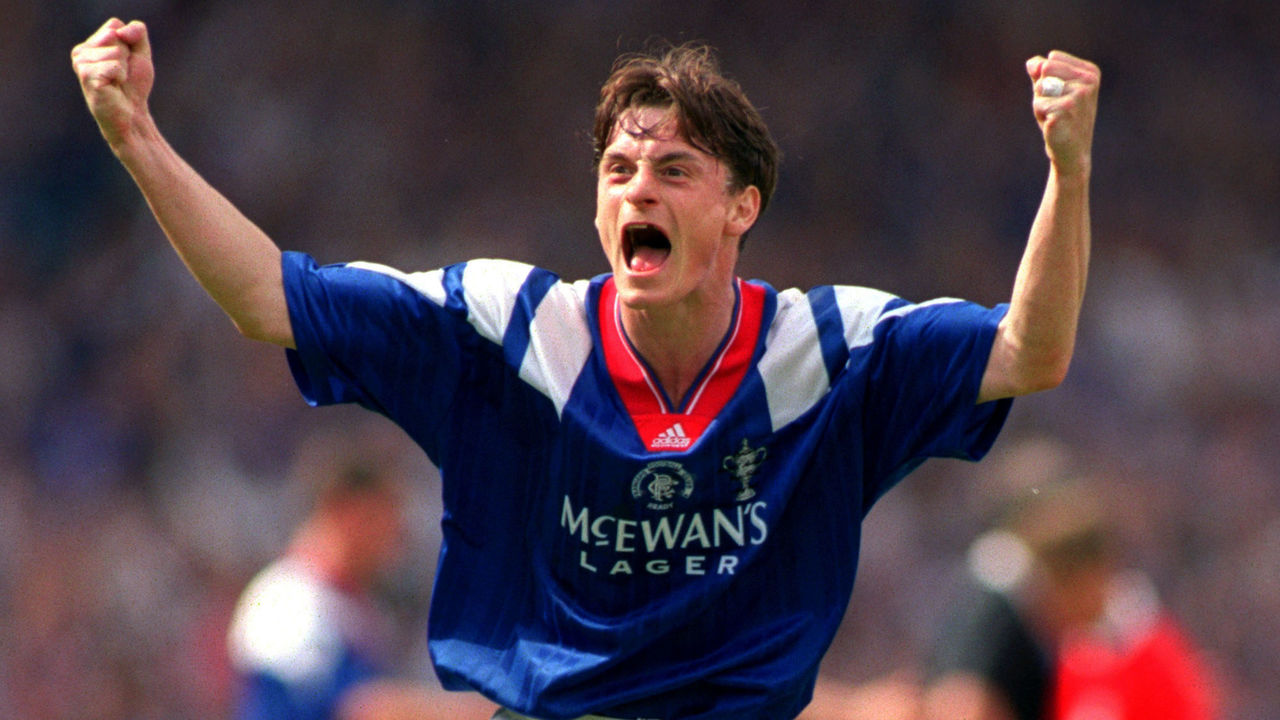 Robertson was a hard-tackling left-back in his playing days. As a youngster, he worked his way through Aberdeen's ranks to become a first-team regular under Alex Ferguson. Scottish giants Rangers then signed Robertson for a club-record £1-million fee in 1991. There, he won six consecutive league titles before joining English champions Leeds United. Injuries caught up with Robertson, but his footballing education and fierce competitiveness promised a fruitful coaching career.
But it wasn't that easy. Robertson found himself a victim of an era during which a glut of ex-players were applying for the relatively few coaching gigs available in British football. He moved to the United States and had been overseeing youth training drills for the best part of a decade when Real Kashmir called.
"It wasn't so much cutting off options because I didn't really have any options," Robertson told theScore when asked if he was concerned about shifting even further off the U.K. radar.
"I knew Kashmir was in India but I didn't know anything about it, the troubles there. I just jumped on a plane and had a go at it."
His wife Kym single-handedly moved the family home back to Aberdeen when her husband took what she describes as a postman's wage in Kashmir. The transition wasn't easy for Robertson, either, who sought comfort back in the States after less than a month in India. He was a stranger braving the Kashmiri winter, with no knowledge of the area and no internet to contact loved ones back home.
"I just couldn't cope with it, but the owners persuaded me to come back. I'm really glad they did; otherwise, this would've never happened."
So Robertson finally set to work in a battleground for Indian troops and Islamic militants. The club itself seemed to clash with its setting: it was a brand-new outfit owned - perhaps encouragingly, given the area's issues - by one Muslim and one Hindu, and Robertson proudly claims the squad he hastily assembled represented seven different religions.
'A very bleak and bad picture'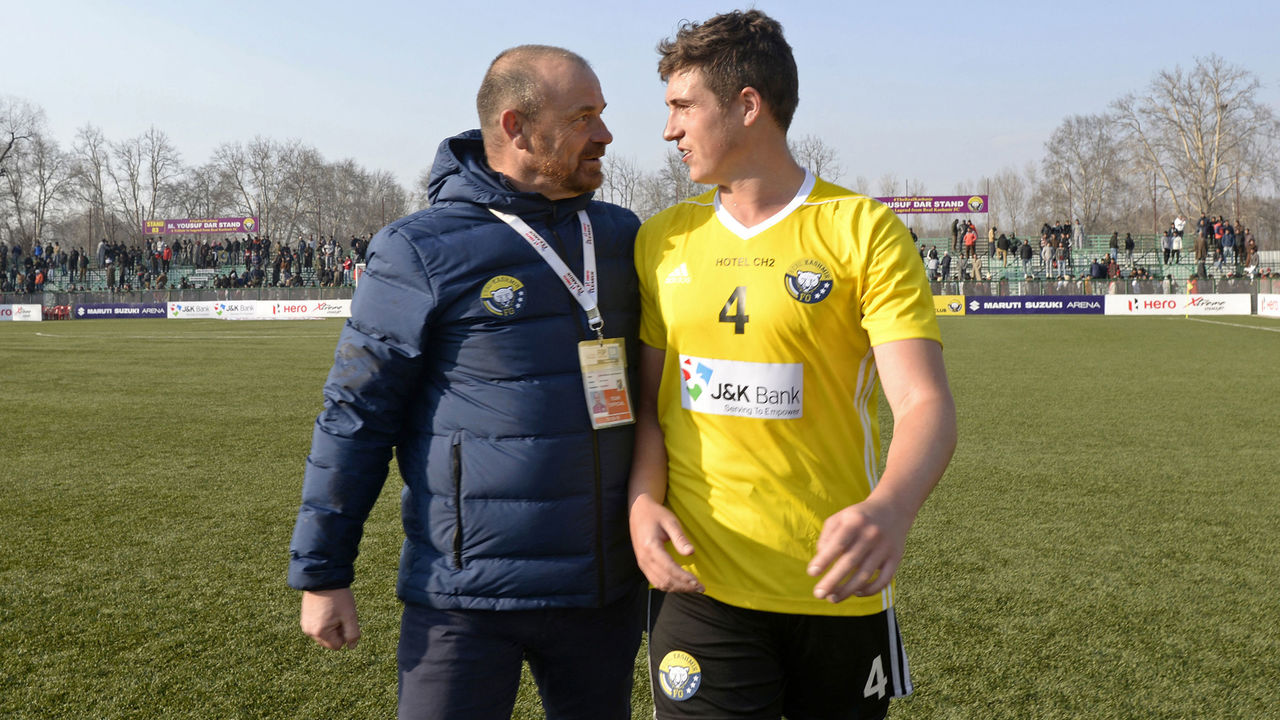 Of course, homesickness can creep in when stints away reach seven months, but it can be treated. Robertson tempted his eldest son, Mason, from part-time Scottish football to join Real Kashmir's first season in India's top flight. Robertson Jr. initially spent hours in his hotel room playing video games but is now embracing the local area, often dining out with teammates in Srinagar.
Robertson Sr. believes his son was one of the division's best players during the 2018-19 I-League season.
"He'll give coaching points to some of the players, he'll shout, he'll encourage them. I think it's maybe a comfort that I'm here but it's maybe confidence that he's doing well," the 50-year-old said of Mason's personal growth in Kashmir.
"I think at the start he was a bit quiet but he's played really well, he's confident, and he's more outgoing than what he was."
Kallum Higginbotham, an English forward who was playing in Scotland for Dunfermline, signed with Real Kashmir last month. The British contingent is growing - the assistant manager, Jimmy Lindsay, was brought aboard two years ago and a Scottish goalkeeping coach is en route - but Robertson "paints a very bleak and bad picture" before they arrive. He wants to ensure they're prepared for life in one of the world's most militarized zones.
"I was always concerned when I'd go to training after there'd maybe been a shooting or something but it's just normal. It's just daily life. It's what they're used to," he said.
"You think, 'Oh my God, what's he doing out there?' but when you know the people and how it all works it's actually a great place to be."
Mellowing amid the bombs and bedlam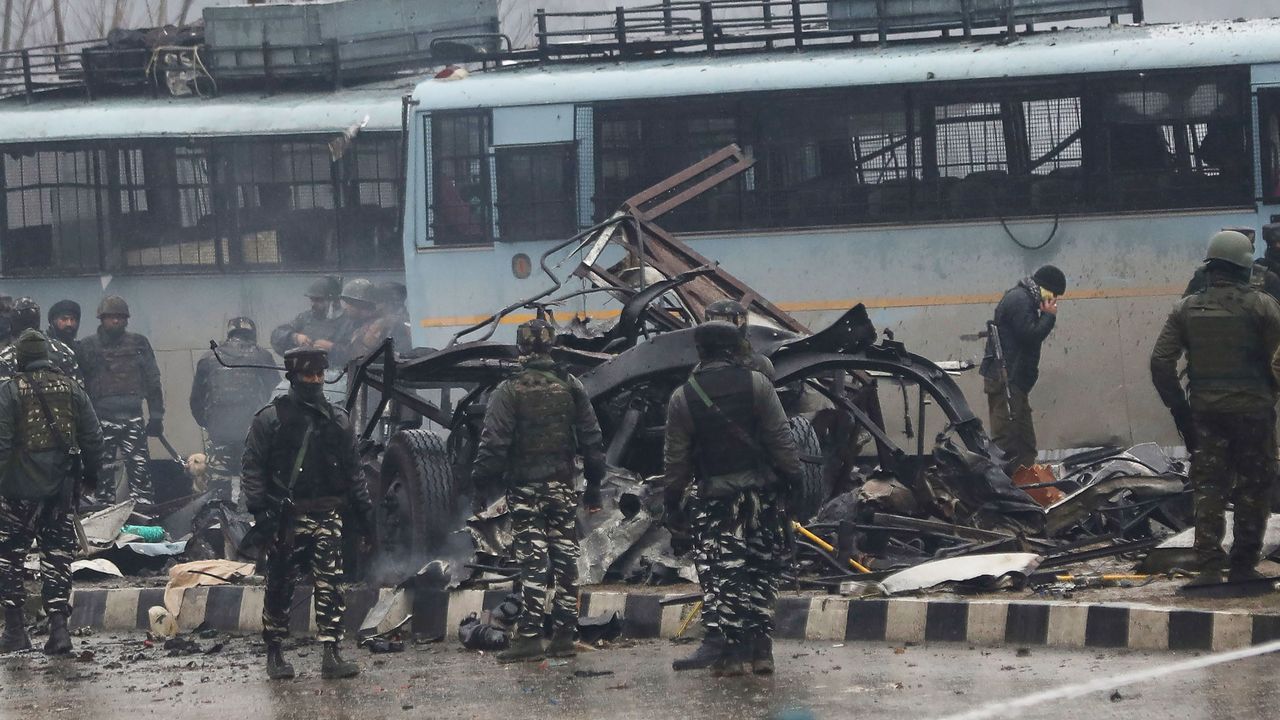 Real Kashmir were closing in on the 2018-19 I-League title, but then the bomb went off. On Feb. 14, 2019, Adil Ahmad Dar drove a vehicle loaded with explosives into a center of a 78-bus convoy carrying Indian forces in Pulwama, a settlement under 20 miles south of Srinagar. Dar, who was just 22, killed 40 people.
Robertson was used to death, protests, and strikes being a daily occurrence in Kashmir - at least 492 soldiers, militants, and civilians were killed in the valley in 2018 - but the Pulwama attack put the region under the global microscope. Traveling to Kashmir was to put your own life at risk.
Two teams refused to play matches in Kashmir near the end of the league campaign. Real Kashmir's home tie with Minerva Punjab was abandoned, with both teams awarded a point. Robertson's side was defeated in another "home" match against East Bengal, which the league moved to a neutral venue over 500 miles away in New Delhi.
Real Kashmir finished the I-League season in third place.
"If we'd have actually played those two games at home, I think we would've won the league. But these things happen and it's just part of it," Robertson reflected. "Bizarre things happen."
Robertson admits the bombs and bedlam of Kashmir have, somewhat contradictorily, mellowed him. He thinks he's a better person. The competitive full-back who hoarded medals for Rangers would stew over missing out on a title but, in India, the human aspects far outweigh football. He cares deeply about his players and loves the "fantastic people" of Kashmir. He's brought an embattled area happiness and pride through football.
"It would be very difficult to see somebody else coach them," he admitted.
"Out of all the clubs I've been at, played at, coached at - it'll probably be the saddest day ever when I leave there."
Job offers have arrived from Asia and the Middle East since his successes with Real Kashmir, but none from Scotland. Maybe it's for the best. Robertson has found an inner peace in Kashmir that can't be found at the bottom of a bag of fish and chips. His tumultuous "second home" is calling.
"There's a lake. There's street food, barbecued chicken and things. I love just sitting on the water's edge."
"Real Kashmir FC," a documentary that follows Davie Robertson's chaotic 2018-19 campaign in India, will soon be available on Amazon Prime.