GREATER MANCHESTER - Time stands still in Hyde. A prestigious Pub of the Year award proudly hangs on the wall in The Sportsman on Mottram Road, but it was handed that title two decades ago. It appears not much has changed since then; an accusation that could extend to the grumpy pub dog - whose gray hair is incongruously paired with boyband-blonde curtains on the top of his head - that barks when people try to leave.
Down the street, an old passageway up to Hyde United's Ewen Fields is cordoned off by metal fencing. Behind it, crisp packets and beer bottles are strangled by weeds. Up at the ground, club board members and referee assessors congregate in the Pete O'Brien Lounge and compete in nostalgic pre-match quizzes with answers like "The Everly Brothers" and "Frasier." Outside, people wisely huddle under the stands, readying themselves for another onslaught of rain.
"It's the same every week," the barmaid mused. She could have been referring to anything, but she was lamenting another goalmouth scramble that amounted to nothing. Upon hearing that Gabriel Jesus had put Manchester City ahead at the Etihad Stadium four-and-a-half kilometers down the road, a local quipped that the divine intervention of the Brazilian's namesake would be needed if the red-clad Tigers were to beat Marine in seventh-tier action.
Hyde United cost between £200,000 and £250,000 annually to remain afloat. That's approximately the weekly wage of a City bench-warmer. The contrasts are stark, but there are nicks in Ewen Fields' paintwork that hint at an association between the two clubs.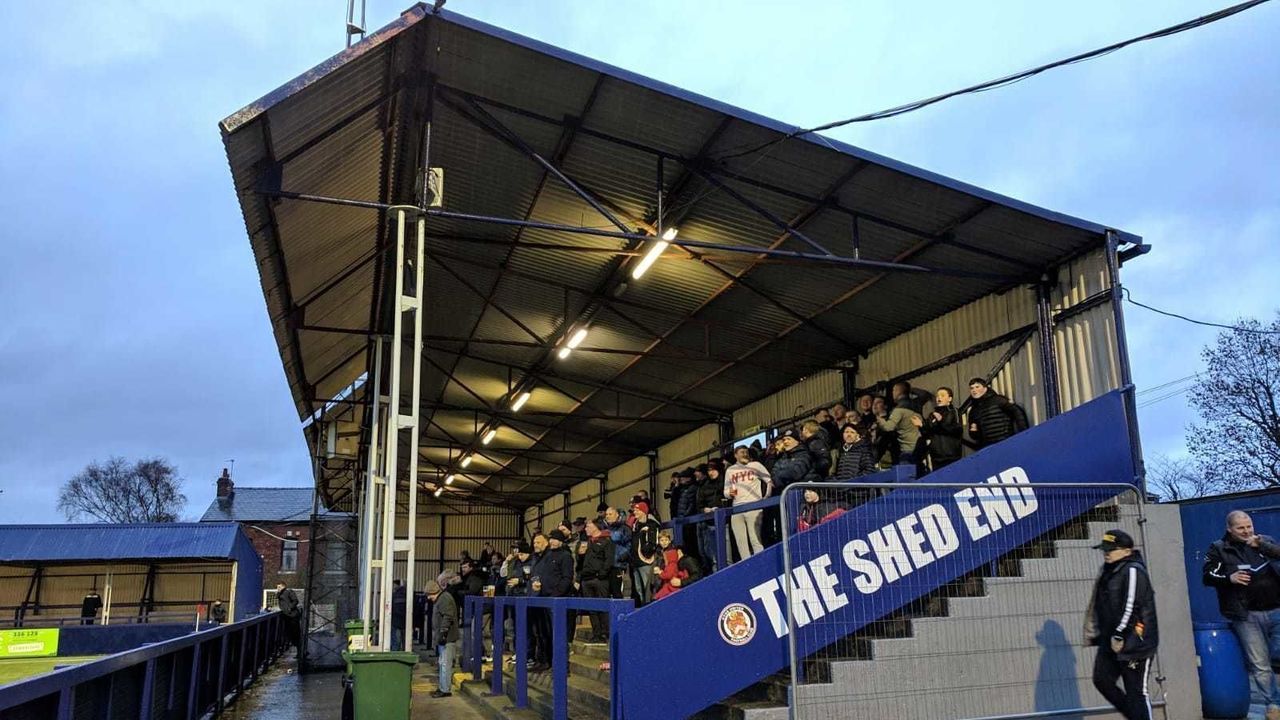 "The ground today is still painted blue because it keeps better than the red, to be quite honest with you," Pete Ainger, who operates as the community and general manager at Hyde, told theScore.
'They wanted to put their stamp on it'
Manchester City and Hyde United formed a partnership in 2010, which allowed the Premier League club to stage reserve and youth-team games at Ewen Fields while their new £200-million complex was built in Beswick. There had been prior arrangements that saw non-senior City sides playing at Hyde's ground, but this latest understanding left an indelible mark.
Soon, the name of City's primary sponsor, Etihad Airways, was plastered all over the venue and was accompanied with advertising hoardings trying to tempt tourism to Abu Dhabi, the home of the giants' opulent ownership group. City's crest was beside Hyde's at the top of the main stand that, like the other fan enclosures, had a new blue paint job. Barring a few chips that betray its previous red finish, the paintwork still matches the seats City also installed.
"City insisted that was part of the deal," Ainger stated. "They insisted on a makeover and they wanted to put their stamp on it."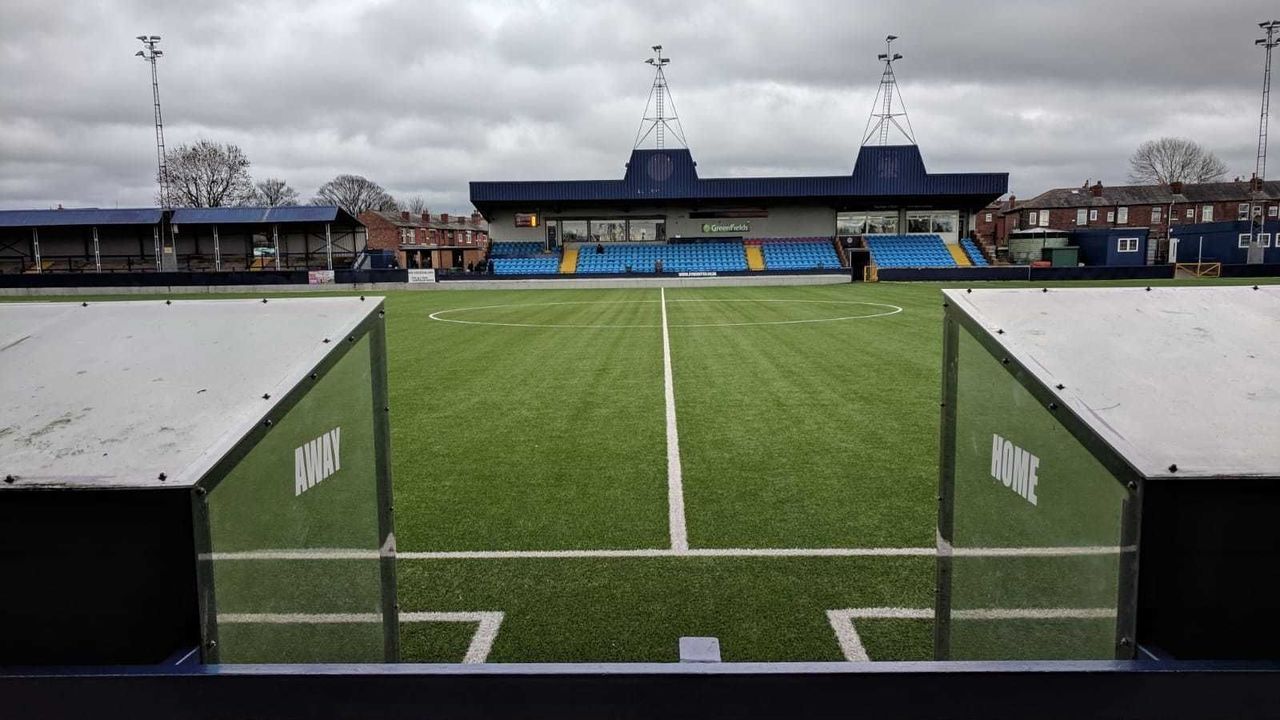 In some ways, Hyde United were indebted to Manchester City. Sponsorship issues and players being tied to generous, two-year contracts had the club in severe threat of being dissolved, but a bucket collection at the Etihad Stadium during a Monday-night match in September 2009 raised what chairman Steve Hartley believes was around £8,000. It kept the club going.
But the additional capital, relaid pitch, and other renovations that City promised if their youngsters could use Ewen Fields for a few years meant Hyde United could eventually wipe out around £250,000 in debts and aspire for more than survival. To sweeten the deal for their illustrious neighbors, the non-league outfit volunteered a drastic self-makeover.
Stripping of an identity
"United" was dropped from the club's name, removing any risk that City supporters would think Hyde had ties with Manchester United. The excuse still maintained by some club officials was that the return to Hyde FC was a respectful nod to the side's original name, which stood between 1885 until the end of the First World War. Ainger, who was just a fan at the time, admits the justification seemed disingenuous and convenient given it was the club's 125th anniversary. It also didn't explain many other things at the club turning from red to blue, including the crest.
More sympathetic supporters could understand Hyde's desperation for money, but many were turned off rooting for a team that would readily sacrifice its identity. The risk had to pay off - and some of that payoff would have to be seen in gate receipts.
"Not the last World Cup but the World Cup before there was something like 19 players who had played on this pitch," Hartley claimed. "(City) had the Under-21 European games on here as well, so we had Barcelona, Marseille, Celtic ... Those games were quite well attended."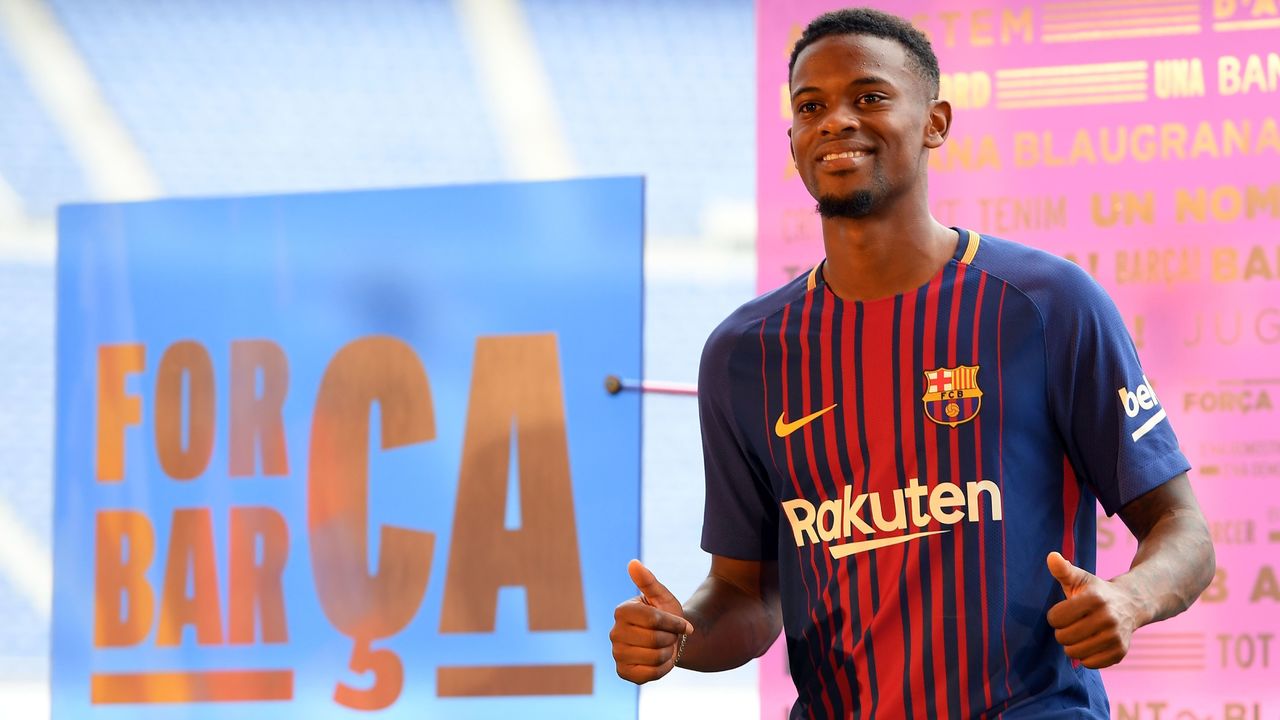 In one of the final few matches City's youngsters played at Ewen Fields, they faced a Benfica side featuring Nelson Semedo, Goncalo Guedes, Victor Lindelof, and Helder Costa. Ewen Fields had wider appeal than just non-league football. More punters were clicking through the turnstiles.
Those behind the scenes at the club insist it was not bankrolled by City, but Ainger believes the rental agreement covered about a quarter of Hyde's annual turnover. The outfit subsequently enjoyed an ascent into the Conference Premier (now the fifth-tier National League) for the first time in its history, and remained there for two seasons.
Hyde 'slipped off the radar'
The owner at the time - a record dealer from Leicester named John Manship - was unable to keep Gary Lowe and Martyn Booty aboard after they guided Hyde United to the top division of non-league football in 2012. The playing budget was understood to be an issue for the outgoing manager and his assistant. And following some famous victories in their first Conference Premier campaign - they beat Cambridge United home and away, and won at Stockport County's Edgeley Park - they collected an embarrassing haul of 10 points in the 2013-14 season, which left them a colossal 41 points adrift of safety.
Hyde United were in freefall while City's teams - of both genders - moved into their extravagant new headquarters in 2014. From an outside perspective, they promptly left via the backdoor - practically leaving unopened mail on the front doormat and Blu Tack on the walls - before the end of the five-year partnership. City had taken what they needed. An unwritten pledge to play pre-season friendlies at Hyde wasn't being honored by the third year.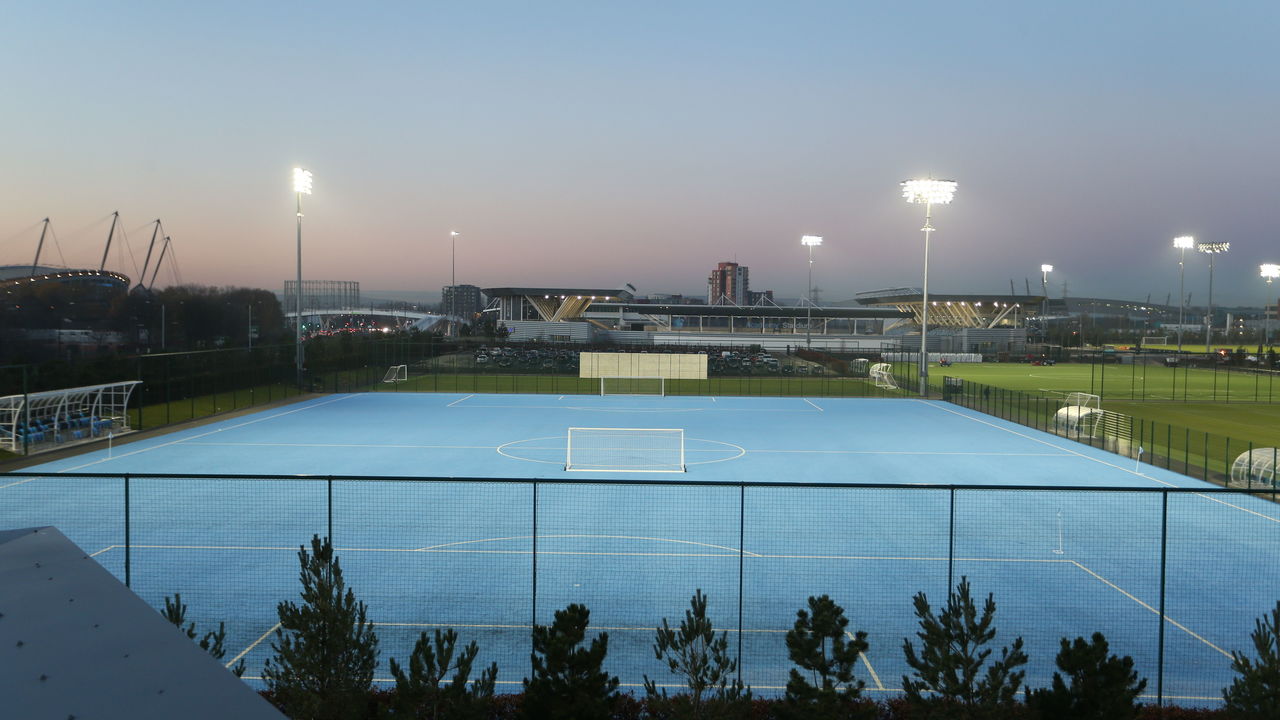 In January 2019, Marine, currently battling against relegation into the eighth tier - as usual - won 2-1 in Hyde. The finances aren't anywhere near the dire state of late 2009 but, in a region teeming with non- and lower-league clubs, Hyde United could be viewed as just another team withstanding the unrest and instability that defines Brexit-era Britain.
"I think they've slipped off the radar since City pulled the plug," a director from a nearby non-league rival told theScore. "It's not been a great period for them as they've tried to recover but at least they're going back to their roots now."
Putting things right
Hartley credits Manship for establishing a community focus at Hyde before agreeing to sell to a supporter-led consortium in 2015. That has continued and it's helping Hyde re-establish a foothold in the community and forge an identity uninhibited by Manchester City.
Renegotiating the ground lease with the council allowed a 3G pitch to be installed. As a consequence, Ewen Fields is now utilized seven days a week by Hyde, the general public, and even Rochdale's youth team led by former Bolton Wanderers midfielder Fabrice Muamba.
Education has been brought to the fore of the club's values. Academy players can attend classes at the ground and attain undergraduate degrees in disciplines such as sports science. Ainger hopes the critical role of Hyde United in young peoples' lives will see them and their parents develop an affinity for the club that will see them on Ewen Fields' terraces for years to come.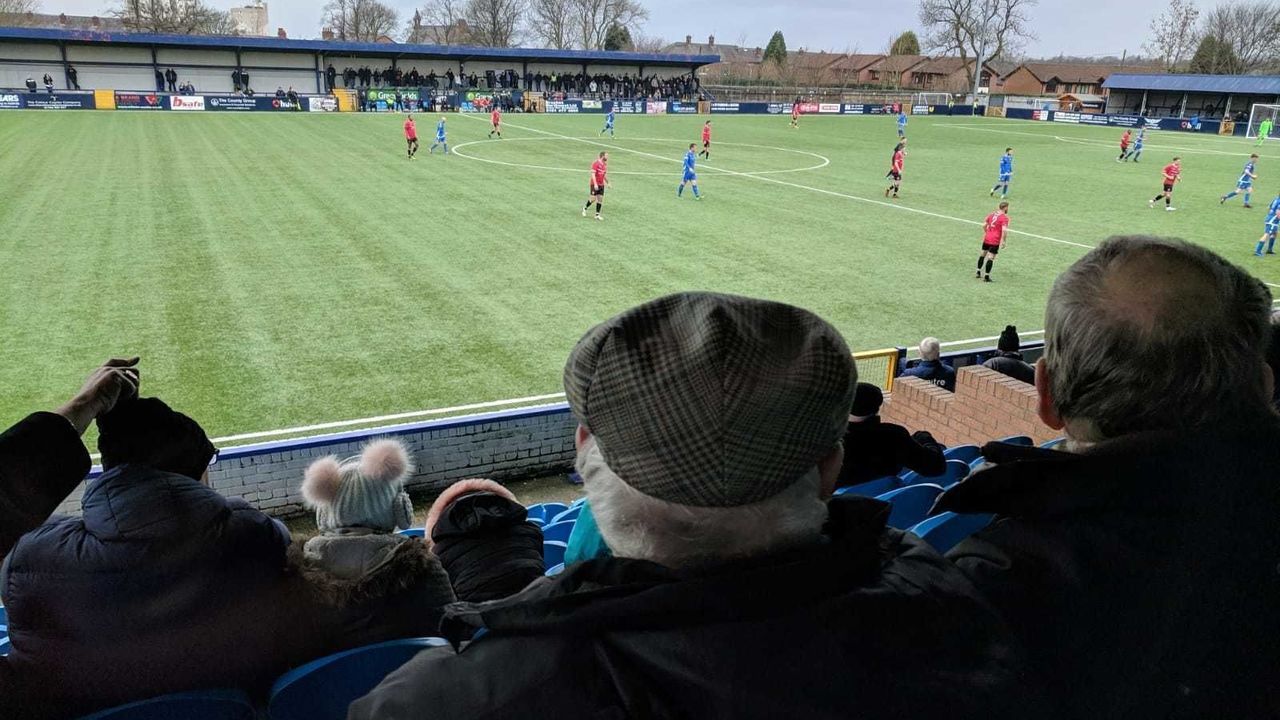 More thought is being put into the general running of the senior squad, too. GPS vests are giving manager Darren Kelly greater insight into his team's limitations and work ethic, while his residence in York and his assistant's home near Leeds is giving Hyde a chance to pick up players from England's largest county, Yorkshire. These slight advantages in recruitment can be telling when there are so many clubs scrambling for exposure and resources across Merseyside, Cheshire, Lancashire, Greater Manchester, and Derbyshire.
The biggest change to Hyde's identity, however, was brought about by putting things right.
"When we became a community club we decided we'd review it," Hartley said while gazing at the game's opening exchanges through the window of the Pete O'Brien Lounge. "We asked the supporters and the consensus was we'd like to return back to Hyde United again."
Following what felt like an interrogation from the Football Association, a return to the old name was approved. The club was back and has since developed a synonymy with the town. There is a younger demographic at Hyde than at many non-league grounds, and people are laughing and singing in The Shed End. Hyde United have been refreshed, and it was done without any monetary or interior design assistance from Manchester City.
"They built their own academy stadium - they don't need Hyde. They built their own training facility - they don't need Hyde," Ainger offered with a smile. "They don't need anybody do they, really?"
City may not need Hyde, but Hyde don't need them either.